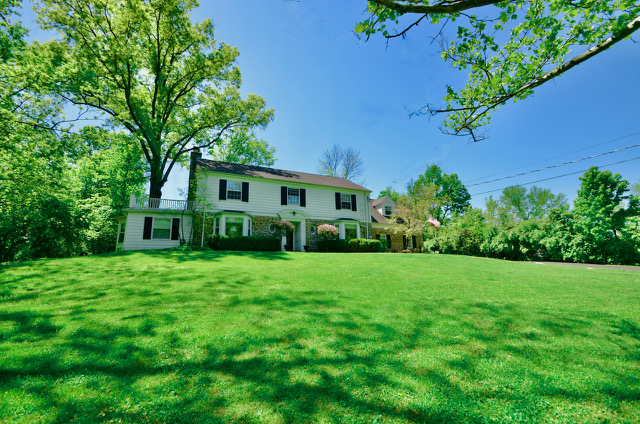 I've spent years writing about the most beautiful homes in the tri-state—first for WCPO's Around the House, then for this magazine's real estate page. I've written about Frank Lloyd Wright homes; José García homes; the Gwathmey and Michael Graves homes in Indian Hill. I've written about castles, Sears bungalows, a 10,000-square-foot home with an indoor beach, a former barley farm, a Swiss Chalet. I toured Laurel Court in College Hill, the Keys Crescent Castle in East Walnut Hills, and the Probasco house in Clifton. In 2004, I produced a documentary for public television on two local mid-century modern architects, Carl Strauss and Ray Roush.
But this house is different. This house is my own.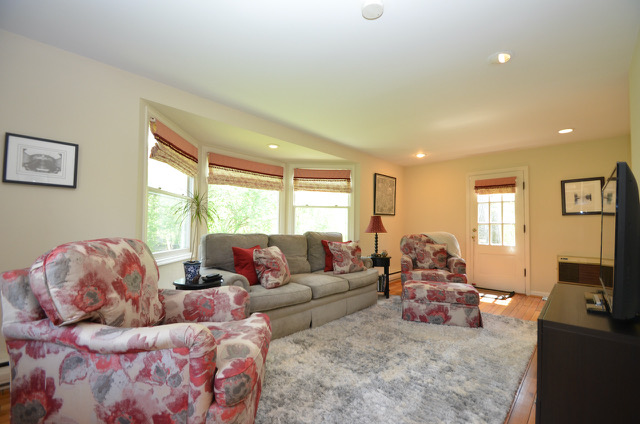 My husband and I found it by accident. Quite honestly, I think it found us. We were looking at a different house up the street when the owner of this one came by on her morning walk. The minute she pointed to this wood-stone-and-brick colonial through the trees, we fell in love. It took a year of negotiations, but we ended up buying the place. Ironically, it even has its own Strauss/Roush room—a former side porch that the architects converted into a family room. I always wondered if Carl Strauss had a hand in bringing us here from the great beyond. A thank-you of sorts for the film.
I've also always wondered why it was that we were drawn to an 82-year-old home that was more classic Americana than high design—a big, old place where we've had no shortage of major projects. But the pluses have far outweighed the minuses of living here and—strangely, in spite of my job, I guess—those pluses had nothing to do with updated countertops or finished basements, or any of the kinds of things you see on HGTV.
I love the yard—how it looks like a park with a creek winding through it, and how the home sits on a private lane, with the few neighboring homes barely visible when the leaves fill in on the trees. I love that our boys grew up here—free, running barefoot through the grass, catching frogs with neighbor kids in the creek, camping in a tent at night, sledding down the hill after a big snow.
I love the Strauss and Roush family room, because it reminds me of two great men and all the groundbreaking work they did here in Cincinnati. I love the upstairs porch, where you can see stars and harvest moons when the time of night is right. I love the dining room, which has hosted so many friend and family gatherings, the shiny hardwood floors, the small kitchen garden I grow each summer out back and the creek after a steady rain when water flows over the rocks. I love seeing the sunset out the back door as I make dinner and I love the patio, where I work on sunny summer days.
Most surprising of all, I love the silly, L-shaped kitchen. This is funny, because I used to hate it, the way George Bailey did the loose banister knob on his staircase in It's a Wonderful Life. But after some minor renovations and upgrades, I learned you can cook just fine in a kitchen whether it looks like it belongs on HGTV or not. Life goes on. You survive and thrive.
I learned to can in this kitchen—pickles, roasted tomatoes, peaches, salsa, strawberry and blueberry jam. I've baked every birthday cake for 15 years here, too, and made Easter cupcakes, pierogis for our Polish Christmas Eve dinner and iced heart cookies on Valentine's Day. It has been a place of pure joy, a place where, when the boys had bad days and nothing was going right, I could make them happy at least with a snack and a listening ear. A place where I could sit quietly with my thoughts after the morning rush of work and school, and watch the birds making a nest in the bush beside the window, or the resident bunny nibbling on a patch of clover out back.
The house is for sale, now, as the last Murtha bird prepares to leave the nest. We could stay, but all the boys have headed south for school and work, and we want a different kind of life—one that involves more travel, visiting all of our people out of state. Besides, it's time, I think, to pass the place along to the next generation of owners. It's time to let someone else enjoy living in a home that feels like a retreat—close to everything and yet completely off the beaten path, away from the chaos of the rest of the world. A place that has more than graciously accommodated us, its most recent stewards, for 15 years and counting.
Facebook Comments