7975 Indian Hill Road, Indian Hill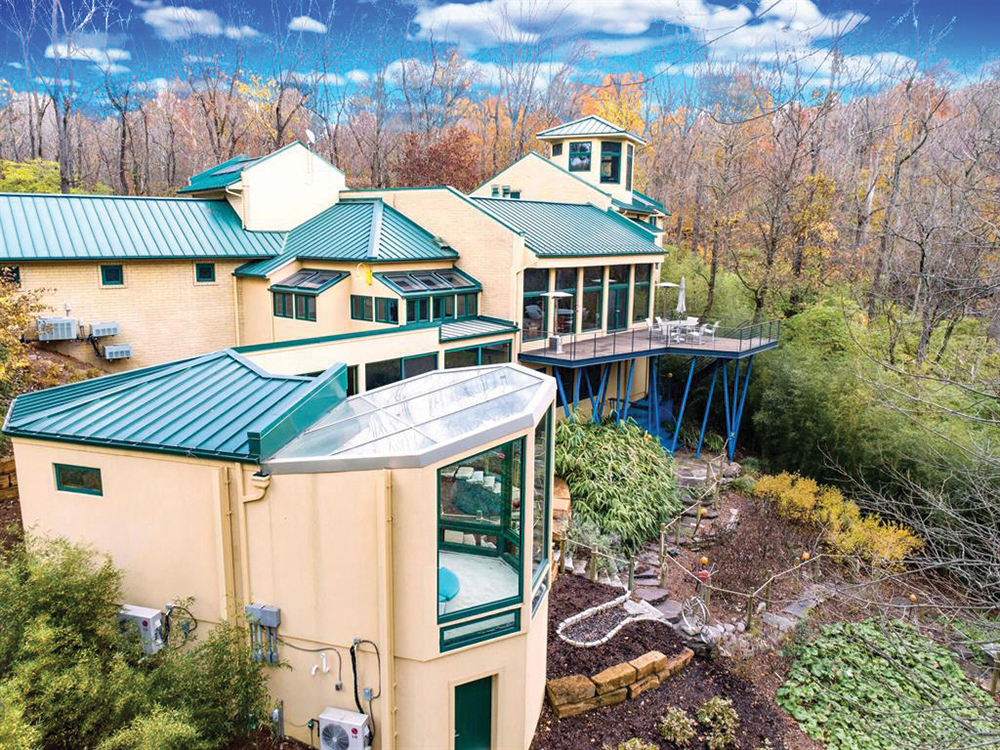 On the website for the corporate cleaning company that Anatole "Tony" Alper founded, he's quoted as saying: "If you do not strive for the impossible…you will end up with nothing more than the ordinary." Unfortunately, Alper, also a local arts patron, passed away in 2017. But judging from his former Indian Hill home, that quest for "more than ordinary" extended well beyond his workplace. Built in 1996, the custom blonde brick and green metal-roofed home was designed by the Fearing/Bauer-Nilsen Studio (the latter likely being Otto Bauer-Nilsen, cofounder of local architecture firm GBBN), and erected beside an undated but very old home, whose foundation was unearthed when Alper's driveway was built (the foundation is still in place, near the property's entrance).
Alper's home has so many unique features, it's impossible to focus on just one. Where do you start? An arched glass entryway with a lighted floor leads to a long front hall-slash-art gallery; red glass tic-tac-toe "windows" highlight the curved wall leading to the home's lower level; a second-story art studio overlooks both the front yard and the interior of an oversized kitchen pantry; the Snooker room features a mirrored ceiling (so players can see shots from overhead); a spacious crow's nest–style loft overlooks a backyard creek with waterfall; a secret wine cellar hides in the lower level; and the indoor salt water pool comes complete with in-water hydraulic bar, thatched ceiling overhead, and an adjacent, heated sand beach (also indoor). There's even an automated foot wash station between the beach and pool so guests don't track sand in the water.
We could go on for days about Alper's use of color in the home, too—a bold orange master bedroom, a master bath with twin lavender sinks (never mind the toilet whose lid automatically opens when you walk in the water closet), a tropical mural on the beach-side walls and a lime green ping-pong room. It may be unusual, but "this home always makes people smile," says listing agent Kim Vincent. In a design world currently inundated with gray interiors, we say it's a refreshing change of pace.
Click through our gallery to see more photos of this home:
Facebook Comments