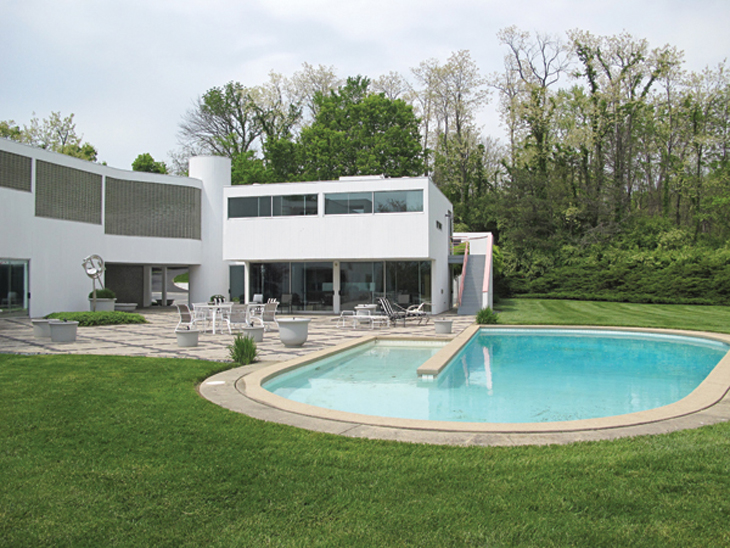 On a rolling six-acre lot off Drake Road in Indian Hill sits one of Cincinnati's most notable post-modern residences. On the market for $2 million, the white 1980 structure feels as much like a sculpture as it does a house. Designed by acclaimed "New York Five" architect Charles Gwathmey and his partner Robert Siegel for Lloyd Taft, grandson of President William Howard Taft, this home earned the American Institute of Architects' National Honor Award in 1984. Gwathmey's the man behind another local space: the Tangeman Student Center at the University of Cincinnati.

The tunnel-like entry is unassuming, but the narrow front hall eventually gives way to a sprawling great room complete with a massive, two-story wall of windows. The glass—which spans the entire south side of the main structure—offers sweeping views of the wooded backyard, but also provides an up-close look at the structure's three-story, sectioned, rectangular facade, which frames the home's rear exterior.

The view is best a short distance from the house, where Gwathmey thoughtfully anchored a long pink pipe-like sculpture in the grass. Though many believe Gwathmey built it to serve as a false horizon for viewers on the inside looking out, those who stand next to it and look in are rewarded with an amusing view: The facade's geometric lines create the illusion of a life-sized modern doll house.
Gwathmey's original "pink pipe" theme remains in railings, decorative features, and even in circular pink air conditioning vents. White walls are accented throughout by vintage 1980s teal and soft pink—original color choices that have been respectfully maintained. In this house, the past is definitely present.
Facebook Comments