It's safe to say that Matt Kuhnell likes metal. Not only does he own Steel Quest, a structural steel design and construction firm, but his house—from the wall studs to the exterior paneling—is mostly made of metal, too.
Kuhnell commissioned local architect/modernist extraordinaire José Garcia to design this Symmes Township dream home for his family of six. "José had this vision," says Kuhnell. "He gave us a rendering and we really didn't change anything"—right down to the steel studs, which Kuhnell supplied and Garcia showcased in the exposed, two-story great room ceiling. Kuhnell's wife, Holly, tempered the interior design slightly to make it more family-friendly, but for the most part Garcia was given an architect's dream: free rein.

The 6,222-square-foot home's exterior is clad entirely in zinc panels, which are essentially self-healing and can last 100 years. (Garcia used a similar siding when he updated a Ray Roush–designed home in Hyde Park.) The interior finishes are all über-low maintenance: a lot of stainless steel, but also concrete, glass, stone, and glass tile (there's almost no wood or drywall here).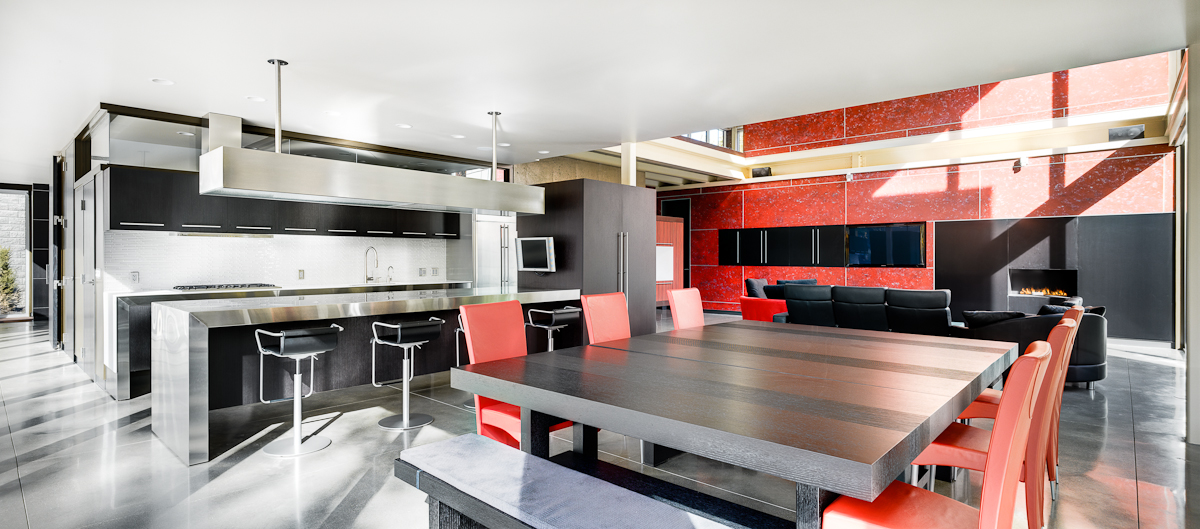 Lest readers think this Symmes Township home—which is currently on the market for $2.2 million—is all work and no play, the Kuhnells are happy to point out that the concrete floors make it easy for kids to skateboard inside, and that the second-floor media room/playroom comes complete with a 110-inch HD projection screen, a built-in stage, and a galvanized metal barn door.
And then there's the glowing red resin sink in the Corian-walled, pebble-floored guest bath. No kidding—there's a light source inside the sink. What more can we say? Best. Powder room. Ever.
Facebook Comments