Hal McCoy expected to cover the Cincinnati Reds for the Dayton Daily News until he was called off to the Big Press Box in the Sky. But a lousy economy and a flagging newspaper industry benched him before his final inning. What can you say about a highly esteemed, exceptionally insightful, legally blind sportswriter? They don't make 'em like that any more.
This was not the way one should meet Hal McCoy.
He was not in his natural environs, up in the press box watching Pete Rose in his explosive batting crouch or Johnny Bench climb the wall behind the backstop or writing about the time Eric Davis robbed Jack Clark of two home runs over two consecutive nights. Nor was he in the locker room, sitting down with Tony Perez or Barry Larkin or Brandon Phillips before deadline. All of that was over. Gone for good. Fini. Now the imposing figure with stiff gray hair and yellow-tinted glasses stood, his hands in his jean pockets, watching his wife Nadine answer a question from a reporter visiting their suburban Dayton home.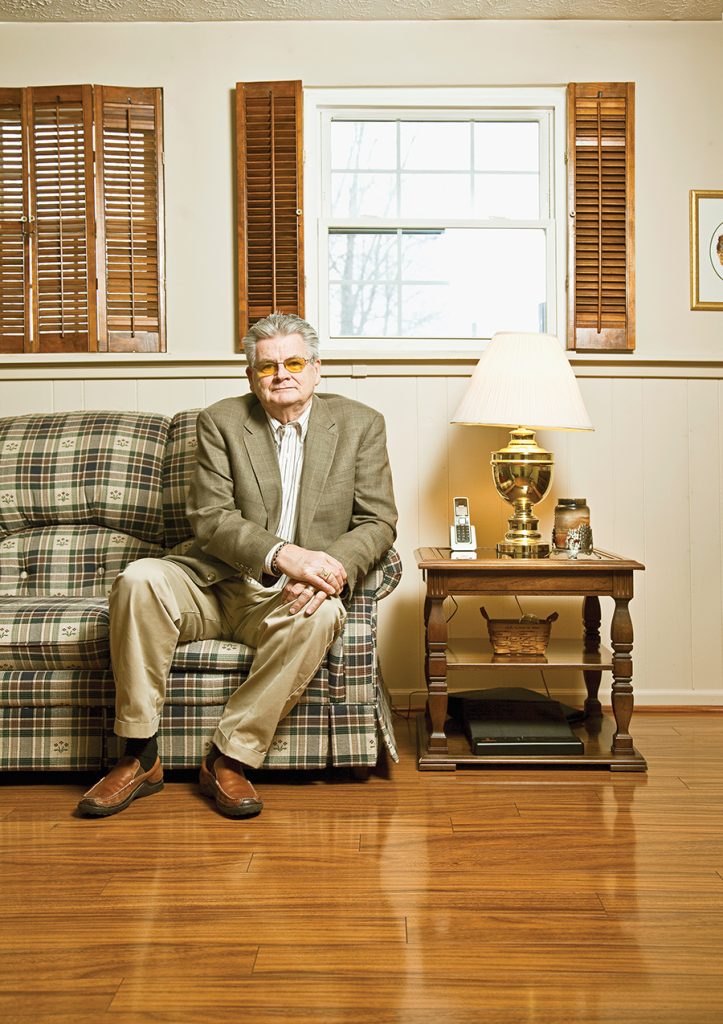 "Am I still mad?" Nadine said, when asked about the circumstances of her husband's exit from the Dayton Daily News months before. It was late December, 2009—the time of year when Hal, by his own admission, is a bear to live with—puttering around the house, waiting for the day pitchers and catchers report to spring training and he can return to his other true love.
"I wouldn't say I'm mad," Nadine said. "I'm just disappointed that after all he had done for the News, they wouldn't let him go out on his own terms."
"Aw," Hal shot back, "she's still mad."
"Will you hush?" Nadine said. "You're going to get me in trouble."
For 37 years, Hal McCoy covered the Reds like no beat writer of his age, writing with wit and grace and humor about the oldest franchise in the game. By the time of his quasi-forced retirement last year, he'd already ascended the throne as another "dean" of American baseball writers; had won the J.G. Taylor Spink Award for "meritorious contributions to the field of baseball writing" from the Baseball Writers' Association of America; and had served two generations of Reds fans—particularly in the city of Dayton and the northernmost reaches of Redsland—as the authoritative voice on the team. More important, perhaps, was that since 1973 McCoy had been a part of something greater—part of the confluence of beat writers from Cincinnati and Dayton, along with visiting reporters from Columbus and Lexington and Louisville, who helped promote and maintain the Reds as a multi-state team, stretching across the region from Indiana to West Virginia and beyond. Now, along with the end of newspapers as we once knew them, it seemed McCoy was taking that era with him.
McCoy's departure from the paper is certainly one of those stories—of a beloved newspaper man informed late in the game that he was too expensive to hold onto, that there was a welcome benefit and buyout package waiting for him should he decide to leave. But McCoy was the News, was Dayton, was the Reds, and had always been led to believe that he could cover the team as long as he wished—even after he went legally blind in 2003. That presumption came to an end last August. The team was in San Francisco, and McCoy, who had made nearly every road trip in his nearly four decades covering the Reds, had been grounded from this one for budgetary reasons. From all over the newsroom, News editor Kevin Riley had been calling in people eligible for a "retirement incentive offer," telling them what the next year would look like should they decide to stay. According to Hal, when he and Nadine entered Riley's office—his wife has driven him nearly everywhere (except the ballpark) since he lost his eyesight—the editor told him he was welcome to stay at the paper, but that as of the 2010 season the News would no longer devote staff resources to cover the Reds.
"You mean on the road?" McCoy remembers asking.
"Not at all," Riley replied.
Hal and Nadine sat in Riley's office stunned and silent for a few minutes. The Reds had been the main thrust of Hal's adult life. He had covered the Big Red Machine in its glory and its demise-by-ownership. He'd led the paper's investigation into Pete Rose's betting on baseball and chronicled the star-crossed era of Ken Griffey Jr. There was no way he could stay on full-time without the team. The rhythm of his days—from spring training to the cold, last games of fall—would be broken. What would be the point in hanging on?
"It was my decision," Riley told me later. "We were looking at our budgets for the coming year and, like a lot of newspapers, we're under great financial pressure. In this new landscape we have to decide what makes us unique. We had already made the decision to no longer use staff resources to cover Ohio State football and the Bengals. We have to look at what the Dayton Daily News can do uniquely for its readers. By no means was this an easy decision."
In this new landscape…. Well, you have to feel for the guy. Here was the editor of a well-respected regional paper being forced to put one of his star reporters out to pasture in a last-ditch effort to help the paper itself survive. It is a sad and profoundly unenviable situation—for newspaper staffs, of course, but even more so for the cities, towns, and communities they serve—and one that editors around the country increasingly find themselves in by the day. But back in December, sitting in Riley's office, it was worse for McCoy. All those years spent building a reputation as the best Reds beat writer in a four-state region and one of the elder lions of the baseball writers' dwindling herd, and this is the thanks he gets?
McCoy wanted to break the news first, of course. Shortly after leaving his meeting with Riley—without giving him an answer—McCoy announced his departure to readers via his blog, "The Real McCoy." He told readers that he understood. The roughly $175,000 it took to cover the Reds each year was simply a financial burden the paper could no longer bear. Still, it was a staggering denouement to a storied career of a man who in many ways mirrored the players he'd covered. Hal's dad, Harold McCoy, who worked in the BFGoodrich rubber plant, was like Pete Rose's father—a semi-pro ballplayer who had his son throwing baseballs against the house by the age of 3. Eventually, Hal became a star player at Akron East High School and went to Kent State on a partial baseball scholarship. Since 1962, save for a brief stint at the Detroit Free Press, he has worked as a reporter in Dayton—first for The Journal Herald, and then the News.
What made his coverage even more remarkable in recent years was his blindness. In 2003, having already lost vision in his right eye following a stroke in the optic nerve, he suffered a stroke in his left eye as well. When he showed up to spring training that year, he looked around the Reds locker room, unable to make out the faces of players, unable to see the familiar terrain. Feeling dejected and at a loss for how to handle his sudden handicap, he told then-third baseman Aaron Boone what had happened and said he wanted to quit. Boone pointed his finger at McCoy and told him, "Don't ever let me hear you say the word quit."
"He said he would have to walk away and I told him that wasn't a good enough reason to hang it up," Boone recalls. "I get a lot of credit, but it was just a case of God using people in mysterious ways to help another person. I think it just simply caused him to do some soul searching and it turned into a really good situation."
By no means has it been easy. McCoy has relied on other writers to get to and from the ballpark during spring training, and the News hired a driver to take him to and from home games. He has trouble with day games and has no • Continued on page 146 peripheral vision; he can see the pitcher throw to home plate, but loses track of the ball if it's hit in the air. Instead, he follows the movement of the hitter and watches the reaction of the outfielders. He hasn't actually "seen" a home run since 2002. Nonetheless, as his fellow Hall of Fame honoree Marty Brennaman notes, "If you didn't know any better, you really wouldn't know anything was wrong with him."
McCoy's eyesight, or lack thereof, only added to his legend. Which is why the announcement of his impending exit reverberated not only throughout the region but across sports journalism. When he hit the road for the last stretch of the 2009 season, his fellow writers greeted him in St. Louis with a box of Padrón cigars. There were acknowledgments in Milwaukee and Pittsburgh, and a long conversation with Major League Baseball commissioner Bud Selig in his Milwaukee office. Mired in their ninth consecutive losing season, the Reds honored McCoy with a day of his own at Great American Ball Park, with 200 friends, colleagues, and family. "It was both sad and heartening," McCoy says. "Sad because I knew it was the last time I'd be going there. That's what I'm going to miss the most—the people in the press box, the camaraderie."
McCoy's exit is not just another story of a fading medium. It signifies the end of a powerful voice that helped perpetuate loyalty to the Reds across a swath of the Midwest—a local voice that brought Major League Baseball a touch closer to home. Your local reporter talked to Joey Votto. Your guy or gal sat down with Jay Bruce to talk about hitting (or in his case, not hitting) the breaking ball. This year only one newspaper reporter—The Cincinnati Enquirer's John Fay—and Mark Sheldon from mlb.com will cover the team on a consistent basis.
"Writers can't provide insight if they aren't here to ask the questions, if they aren't here to interact with our players, manager, and coaches," says Rob Butcher, director of media relations for the Reds. "Having several beat writers gives our fans more than one perspective on any single trade or roster move…. The more newspapers that cover us, the more fans we reach at relatively little cost."
"It hurts the fans," says Brennaman, the irreplaceable radio voice of the Reds. "I love different opinions, different slants, different writing styles. Anyone can write a story that's just laid out—a very impersonal, cut-and-dry, cookie cutter report on the game—without knowing what the hell he's talking about."
And while there are some—particularly those who break news on Twitter—who contend that a variety of other sources have more than amply filled the hole left by the crumbling of traditional media, in truth there is no replacing what multiple writers all working the same beat can give to readers. A group of informed, authoritative voices competing to scoop one another simply means the reader gets better insight into the machinations of the team, rather than the current alternative: diminishing substance from established news sources on one end of the media spectrum and a tower of obstinate babble (sports blogs, Twitter feeds, talk radio) on the other.
"That's bad," McCoy says. "You're getting one [print] voice. This is not to say John Fay won't be on his toes, because he's a tough newspaper guy. But if you're just one guy there's an opportunity to rest, to take a day off. You don't have to worry about getting scooped. That's what I hate."
For his part, Fay doesn't consider himself the lone voice covering the Reds. But he acknowledges that "it'll be different. It just keeps getting smaller and smaller. We've seen the Post go under and the Dayton Daily News stop covering the team. It's just strange and sad. The press box has become a lonely place and I can't see that trend changing."
What hasn't changed is this: Being a baseball beat writer remains the toughest job in sports journalism. It's a gig that consumes every waking moment, relationships, and any chance for what we Americans consider a normal life. From February through October, the team's time is your time. There are road trips and 162 game stories, plus other features and perhaps a "notebook" or a column. It is, as former Washington Post columnist Tony Kornheiser recently noted on his Washington, D.C., radio show, less of a career than a lifestyle. And it requires a set of personal skills that very few reporters have. A baseball locker room consists of men from different countries with different skill sets who, over the years, have become increasingly disinterested in talking to the press. Writing about our national pastime on the beat means facing a player after you've scolded him in the morning edition. That can get uncomfortable. Yet it is in this very atmosphere that McCoy has thrived. He knew that if you spoke to Rose first, Bench would shut you out. And he knew how to tease a quote out of the often-recalcitrant George Foster. ("You had to humor him before you got serious with him," McCoy recalls.)
"The most important thing was he was fair," says Eric Davis, who remains McCoy's favorite Reds player. "He and I talked a lot about the game and he helped me tremendously with my role and how I approached the media."
This applied even when McCoy made what he considers the worst mistake of his reporting career. In the late 1980s, rumors swirled of a Davis trade to Philadelphia falling through because the Phillies were worried Davis was on drugs. McCoy went with it, without reporting further. It wasn't true. The next thing McCoy knew, he was apologizing to the rail-thin slugger. "That's why I have so much admiration for him," Davis says. "He sat down with me and talked about the situation. You never saw the ego in Hal. There was never a chip on him. That's something you don't get with a lot of other reporters."
He didn't endear himself to everyone. According to McCoy, he and Joe Morgan have not spoken since 1979, when he wrote that the Big Red Machine's era was over and Morgan was no longer needed. Since then the two have been alone in elevators, stood next to each other at the urinal, and played doubles tennis against one another without ever speaking a word. When McCoy received the Spink Award during the induction ceremony at the National Baseball Hall of Fame in 2002, he says Morgan said hello to his entire family but brushed by him when Hal stuck out his hand. (Morgan, who now works as an analyst for Sunday Night Baseball on ESPN, still refuses to speak about McCoy. But he insists, "I did congratulate him [at] the Hall of Fame.")
McCoy also had a way of irking Reds owners and team management. For four consecutive seasons, Marge Schott banned McCoy from the press dining room because she didn't like some of the critical things he'd written about her. (Eric Davis, among others, would send pizzas up to Hal in the press box.) When McCoy learned from five players that former Reds general manager Jim Bowden had told them not to talk to him, it led to a shouting match in which Bowden denied the statement. To which McCoy shouted back: "Are you calling five of your players liars?"
One might think that 2009 would rank as the worst season of McCoy's life. Not so. That distinction belongs to 1989, to a spring that began with Reds manager Pete Rose telling McCoy that he'd be gone for a couple of days—the commissioner just wanted Pete's advice on something—and that ended with Rose's lifetime banishment from baseball. When asked to run the paper's own investigation into Rose's gambling, McCoy took it on while writing game stories and coming face-to-face with the Hit King on a daily basis.
"I didn't know it at the time but one day I was sitting in his office and he called up Sparky Anderson and asked Sparky, 'How's your pitcher tonight?' " McCoy says, recalling an exchange he had with Rose before the '89 season. "I said, 'Pete, Detroit is in the American League. Why are you asking Sparky about his pitcher tonight?' He said, 'You know me Hal, I just love everything about baseball.'
"John Dowd [the attorney hired by Major League Baseball to investigate Rose], in his report, describes a red folder where Pete kept his bets—and I'd seen it," McCoy continued. "I'd seen him writing in it. I knew he had a sickness. He made no secret about betting on horses and the dogs and college basketball and pro football. If you do all that and you know baseball so well, you've got to figure he's doing that too. But I didn't think he would be that stupid. He thought he was the world's greatest baseball player, that nothing would happen to him."
The scandal and McCoy's coverage of it strained what had been a great friendship for nearly two decades. The strain lasted until a few years ago when McCoy says the two put aside their differences. Rose, in another classic instance of Pete-being-Pete, says there were no differences to straighten.
"I never had a problem with anybody," Rose says. "It just seemed that the investigation bothered him more than most writers for a long period of time. Look, I screwed up, what can I do about it? He chose his allegiance to the commissioner's office early in the investigation. But when you say we 'made up,' there was nothing to make up for. I understood he had a job to do, but sometimes it's hard for some guys to get a second chance."
That summer of our discontent was followed by the 1990 season, with the Nasty Boys and Jose Rijo and sweet Lou Piniella leading the team to an improbable wire-to-wire World Championship. McCoy covered that ride from beginning to end. Should the team pull itself together and repeat the miracle, he won't be there—not as he should.
It wasn't supposed to end like this. Like many of the athletes he covered, McCoy didn't get what he wanted: two more years on the beat, perhaps, or the long shot chance to leave the Reds as he came to them—as winners. As a newly minted contributor to Fox Sports Ohio, he went to see the team play at its new spring training facility in Arizona. This new gig requires him to write three columns a week for the Fox Sports Ohio Web site, record podcasts, interact with fans online, and occasionally appear on TV. He'll also continue to post entries on his blog for the News, while writing his Sunday column for the paper, "Ask Hal." But he is now an existential free agent—a man whose livelihood has been taken from him—searching, hoping to stay part of the game. His game.
In his famous baseball book The Boys of Summer, Roger Kahn recalled how Ring Lardner, another famous sportswriter, once observed, "Nothing on Earth is more depressing than an old baseball writer." Kahn added: "It was my fortune to cover baseball when I was very young." That was McCoy's fortune to, but then he stuck with it. He's 69 now, and though he may be down about his situation, he is not depressed and certainly not depressing. "There's a kind of a balance to my career," he says. "The first eight years I covered the Reds they had all winning seasons, and the last eight they've had all losing seasons. I was hoping I could go out covering a winning team because I wore out the L, as in loss, on my computer. I was really, really hoping to cover the Reds in the playoffs just one more time."
McCoy is wearing a wool pullover and stretched out in the sunroom of his house while his wife putters around in the kitchen. His meaty ring from the Hall of Fame sits like a gold meteor on his right ring finger. He is thinking about his future. "I'm not done writing about baseball," he finally says. "I just won't be a beat writer anymore."
Facebook Comments