The new company aims to produce family-friendly professional productions with "a ton of heart" for suburban audiences.
The marketing writer-turned-author explores rural beauty and danger, the drama of middle-age, and what's coming next.
Peter Bronson discusses his new book about the tragic 1977 fire and its connections to 40 years of Northern Kentucky corruption and organized crime.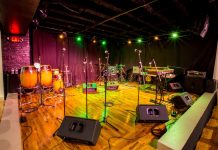 Local artists and music legends alike are preparing to return to Cincinnati stages. Here's what to expect.
Summer programming at Nick Rose-Stamey's nonprofit Band in a Bus is a way for kids to let off some "STEAM."
The latest exhibit brings together seven local female artist collectives with a variety of styles under one roof.
The veteran rappers want the world to know where they come from on their second album, God God Us.
The nation's second oldest zoo has hosted dogs, birds, Native Americans, cantankerous elephants, escape-minded cats, and opera singers over its distinguished history.
Zephon Price is on a mission to let his clients take control the narrative and get out of the post-breakup funk.
Self-made rapper and producer GrandAce releases his latest project, French Vanilla, on May 4. In it, he looks closer at his surroundings.