NAME: Ashley and Austin Heidt
AGE: 36, 33
WHO ARE THEY: Owners of Dear Restaurant & Butchery in Hyde Park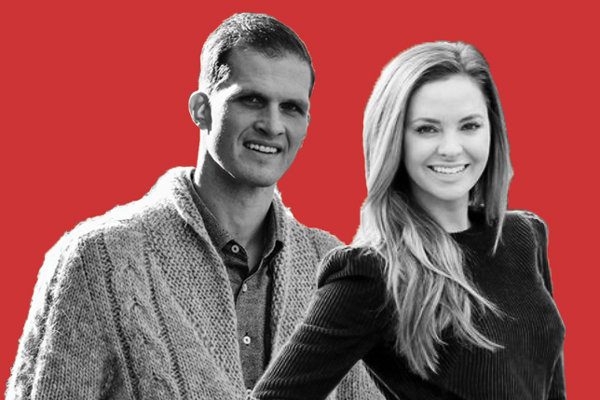 What are your Cincinnati roots?
Ashley: Austin grew up in East Walnut Hills and went to St. Xavier High School, and I grew up in Anderson and went to Anderson High School. I ended up staying here to attend UC and then got my first job at American Financial Group. I was there for seven years and then met Austin and took on this restaurant venture with him.
Austin: I went to school at Denver University for hotel restaurant management, then moved from Boulder to New York for a graduate degree from Cornell and California for the Greystone Culinary Academy. I moved back to Boulder to work at Frasca Food and Wine, one of the better neighborhood restaurants in the country.
Did you always know you wanted to work in hospitality?
Austin: Definitely, I had a love for food and really liked cooking. I started out working in my aunt's culinary business at 12 and 13 years old, family celebrations over food and wine. I worked at Pigall's during high school; helping open that place and see it come to fruition was life-changing.
What brought you back to Cincinnati?
Austin: I moved back here in 2017. I was in San Francisco at the time, considering opening up a restaurant, but it just didn't feel like the right place to do it. I wanted to go somewhere where I could do something that wasn't exactly being done yet. Thinking about home and Ashley made that decision very easy.
When did you open Dear Restaurant & Butchery, and how do you describe the vision behind it?
Ashley: We opened our market and butchery area on July 21, 2020, and then we opened for indoor dining October 29. Dear is a love letter, an invitation to experience something memorable and something beautiful here. We want to be your home away from home to celebrate the small moments and little victories. We just want everyone who comes in to feel that they had the best experience.
Austin, did you feel like you were rediscovering the city after leaving for 15 years?
I really fell in love with Cincinnati in a way that was totally different from what I appreciated during childhood. But at the same time, it linked to what I loved about growing up here and coming to Hyde Park Square and going to the classics like Graeter's and the restaurants I grew up with. Jean-Robert de Cavel is still here, and Jeff Ruby's and Nicola's and places that have been here for ages are still cranking. That's been great to see.
How has Cincinnati remained the same?
Ashley: I'll always have fond memories of growing up here and having both of our families here. And I just feel so lucky. Cincinnati is and will always be home, and there's comfort to that.
What's your favorite new discovery since returning?
Austin: I've been hiking a lot and have discovered natural places out toward Eastgate. There's a big preserve around Milford and Indian Hill, a lot of horse trails that are just gorgeous, creeks and rivers, lots of waterfalls, and the Little Miami River. Aside from that, this is my first restaurant experience as an owner, so I learned so much through all of this since opening this past year. I love meeting and getting to know the small local vendors we use.
What keeps you here now?
Ashley: I would say definitely family. I'm pregnant, actually! We are here for good, and plan to travel a lot. And Dear is now our family. We're so lucky to have such a great team. We're hoping this isn't the first of our ventures.
Facebook Comments