When Cristian Pietoso began studying at the Culinary Institute of Florence in Italy, he remembers his instructor taking roll call and pausing upon seeing a familiar last name. Contrary to the professor's initial thought, Pietoso explained that no, he does not have any brothers, but that his father studied at the same institute 20 years prior.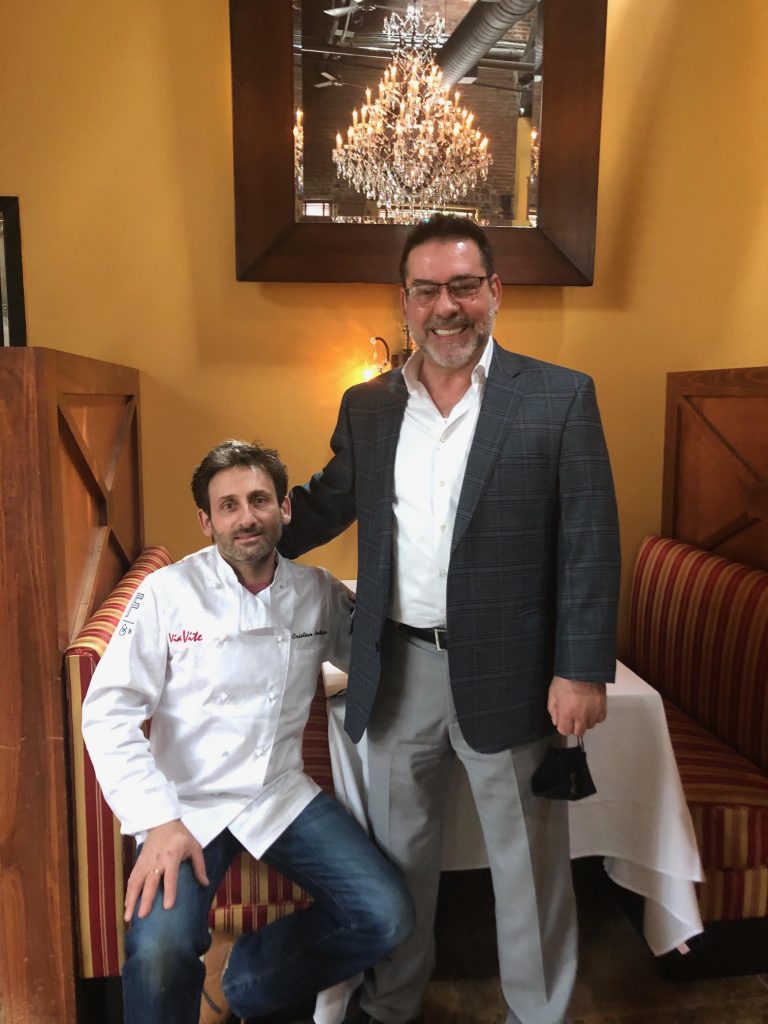 The father and son duo has been involved in the restaurant industry in both Italy and the United States for a collective four decades. Now, Pietoso is continuing his father's legacy by taking over Nicola's, a Pendleton staple since the mid-1990s.
Nicola Pietoso opened Nicola's in 1996, and the eatery has since become a Pendleton neighborhood stalwart and one of the city's longest-standing fine dining restaurants. Eight years into its run, he gave his son the responsibility of heading Nicola's kitchen. He spent the next five years working with his father.
"For me, it was great because I went to school to do something I love to do," says Pietoso, who moved from Italy to take the role. "I never felt like I have to go to work. I was always stoked to go to work."
Inspired by his grandmother and aunts, Pietoso says there were two things that motivated him to follow in his father's culinary footsteps: traveling and creativity. The ability "to be a free spirit," and to create and travel the world has made all the difference in his success.
While working with his father, Pietoso realized he wanted to open a place that was all his own. At the time, he had intended to open a small hole-in-the-wall style lunch eatery. But, after being presented with a larger space from 3CDC and an encouraging push from his father, he opened Via Vite with Nicola on Fountain Square in 2007.
In 2012, Cristian and his wife Amanda became the sole owners of Via Vite and three years later, Pietoso opened the first location of Forno Osteria + Bar. Later that year, he opened Americano Burger Bar (which was sold in 2020), and in 2018, he opened the Montgomery location of Forno. Nicola's marks the fifth establishment in the city under his leadership.
"I was certainly not expecting [to take over the business]," Pietoso says. "But I am honored and thrilled to do it because Nicola's is an institution in this city. There's a good legacy there to build upon and I'm really excited for that."
The seasoned chef and businessman says patrons can expect to see the new ownership reflected in the restaurant's ambiance. Elements like new light fixtures, staff uniforms, and menu updates will elevate the current dining experience at Nicola's.
The Nicola's staff members will don clean and crisp uniforms as they serve guests authentic Italian dishes like eggplant parmesan, potato gnocchi, and Nicola's signature veal filet. Private events will now also be held in the restaurant's renovated wine room and Pietoso says the courtyard is currently being converted into an outdoor patio complete with a full-service bar. He notes he is making an effort to embrace the culture of Nicola's and its people in both the front and back of the house.
Never one to confine his creativity, Pietoso takes pride in the variety of his restaurants. From rustic Italian cuisine at Forno to modern and trendy classics at Via Vite, Pietoso has created an eatery empire to satiate anyone's taste buds. Nicola's, he says, focuses on blending high-end Italian food with friendly service and a comfortable atmosphere.
"Nicola's has always been a staple, so we want to create that experience that people are remembering not just on the special occasions," Pietoso says. "The goal is to become a frequent diner. We want to make sure that it is memorable as it has been for the past 25 years."
On April 14 & 15, Nicola's celebrates its 25th anniversary with a five-course wine dinner. Dishes like scallops, foie gras, and tomahawk steak will be served alongside a variety of wines that Nicola has been collecting over the past 15 years. This extravagant event will celebrate the impact Nicola's has had on the Cincinnati community for more than two decades.
"At Nicola's you feel like you're in a timeless place that has been there forever," Pietoso says. It's not one of these new places that come and go, it has the history and you feel like time kind of stops."
Facebook Comments