Not that long ago, Vine Street was considered by a noted world traveler to be one of the nation's signature streets. According to the 1943 WPA Guide to Cincinnati, old-time thespian Tom Wise claimed there were only three streets worth visiting in America: Broadway in New York, Market Street in San Francisco, and Vine Street in Cincinnati. Wise was a lifelong comic actor and appeared in plays across the U.S., frequenting Cincinnati theaters from 1890 until just before his death in 1928.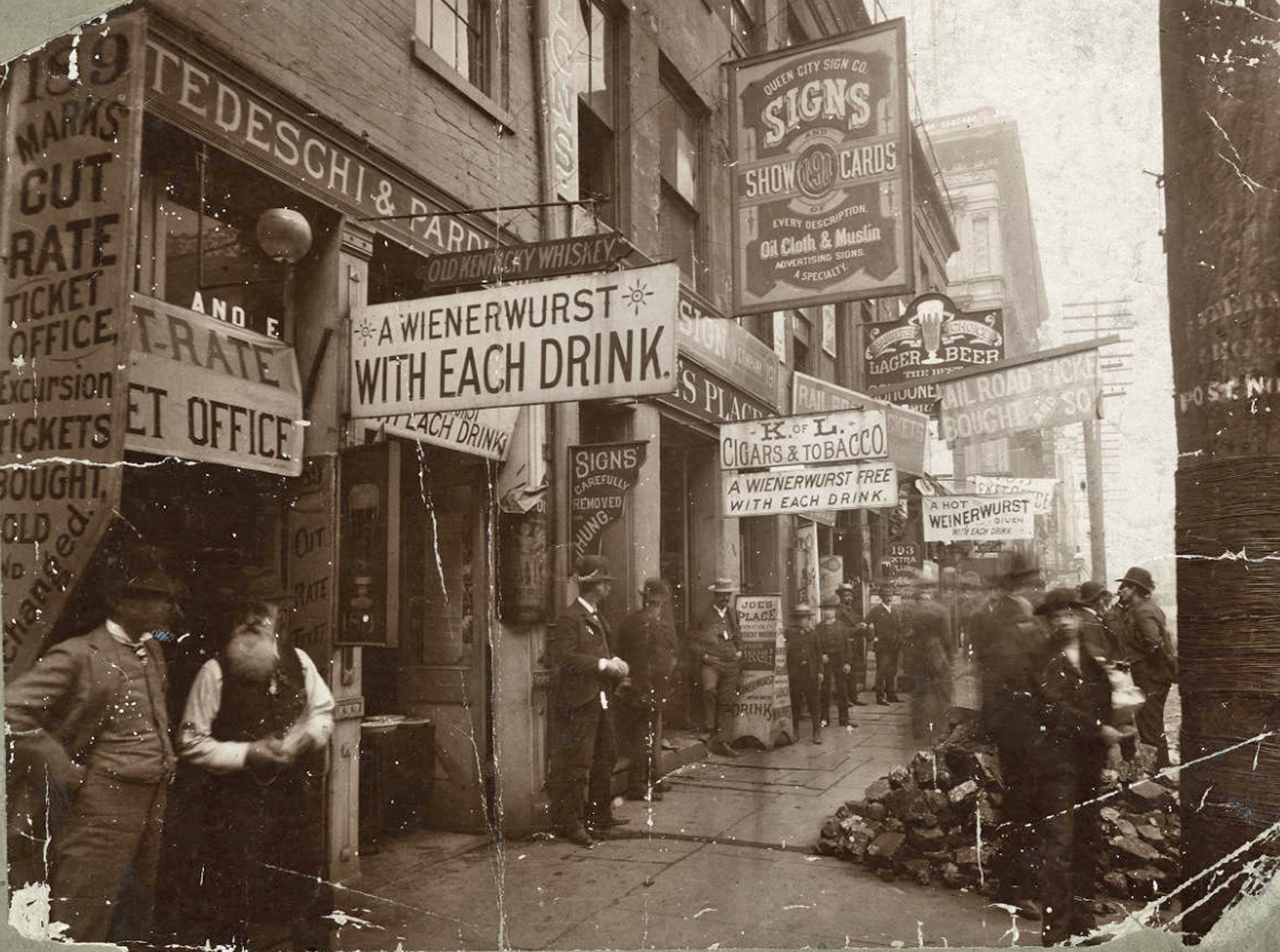 Vine Was West Before It Was Center
Today, Vine Street divides east from west street addresses in Cincinnati. Until 1896, Main Street was the dividing line, so addresses around Vine Street had a "west" prefix. That changed when city council decided to renumber the entire city in 1891. It took years before council backed up the resolution with a budget, but renumbering finally took place. Consequently, post-1896 addresses are often located blocks away from their pre-1896 locations.
Never Thirsty
According to the WPA Guide, a stretch of Vine Street measuring less than two miles, between McMillan Street and the Ohio River, boasted no fewer than 113 drinking places during the 1890s. In the block between 12th and 13th Streets alone, there were 23 saloons or beer gardens. The roster of celebrated hot spots on Vine Street included the Atlantic Garden, Pacific Gardens, London Concert Hall, Kissel's Concert Hall, Schickling's, Schuler's, Schuman's, Commodore, Coliseum, Gabriel's, Weber's, and Wielert's.
Exhausting Carrie Nation
It is a matter of legend (the original source has not been identified) that Cincinnati's Vine Street overcame the anti-booze ardor of temperance firebrand Carrie Nation during her 1901 visit to Cincinnati. Although she spoke to packed houses and toured the local dens of iniquity, she did not smash a single window nor shatter even one barroom mirror. Asked why, Nation allegedly replied, "I would have dropped from exhaustion before I had gone a block."
The Nasty Corner
Carew Tower occupies a plot of land that was once the most reviled spot in all of Cincinnati. One newspaper claimed pedestrians crossed the street "to avoid its stenches and unwashed loafers." Owned by heirs of David K. Este, it was known as the "Nasty Corner." Department store magnate Joseph T. Carew was so disgusted by looking at the squalor from his office window that he bought the corner and built his own skyscraper there.
First Skyscraper
The world's first concrete skyscraper, the 15-story Ingalls Building, is located at Fourth and Vine. The brick-faced structure was designed by Alfred O. Elzner and George M. Anderson and completed in 1903. Scoffing critics said that any building constructed of concrete poured into molds would topple of its own weight. One Cincinnati editor reportedly stood in front of the building for an entire night, expecting to score a scoop when it collapsed. Engineers agree that the office building (now being converted into a hotel) can remain standing a long time.
Freaks and Geeks
Human oddities such as Jo Jo the Dogfaced Boy, the Wild Man of Afghanistan, Big Winny the Fat Lady, a convention of tattooed men and women, and "Plutano" and "Waino" from the forests of Borneo were among the huge draws at the Vine Street Dime Museum. Located at the southeast corner of Sixth and Vine, the Dime Museum was a curious combination of freak show, art gallery, zoo, vaudeville theater, and natural history collection.
Not the Longest
Although Vine Street runs from the Ohio River all the way north to the city limits in Hartwell, it is not Cincinnati's longest street. River Road, at 11.4 miles, is the longest street in Cincinnati, followed by Reading Road at 8.1 miles. Vine Street places third at 7.6 miles, followed by Eastern Avenue at 7.2 miles. Although, if you Google "longest street in Cincinnati," top results somehow claim it's Vine.
Changing Horses
Statues of two presidents with tragically abbreviated terms grace Piatt Park, located along a stretch of Eighth Street known as Garfield Place. The statue of assassinated James Garfield looks down on Vine Street today, but that wasn't always the case. Originally, the equestrian statue of William Henry Harrison trotted eastward at Vine Street, while Garfield overlooked Race Street. As the city spruced up for its Bicentennial in 1988, Garfield took Harrison's spot on Vine street and Harrison marched west to the Elm Street end of the park.
Cradle of Chili
The progenitor of the Queen City's distinctive contribution to American regional cuisine, Cincinnati chili, was first served by the Kiradjieff brothers, John and Tom, in 1922 at their delicatessen at 814 Vine Street. The deli was eventually renamed Empress Chili after the burlesque theater next door.
Why Short Vine?
Today, Vine Street makes an inexplicable jog eastward just north of Calhoun Street. A few blocks farther north, Vine jumps back westward. The intervening stretch, serving as the Main Street of Corryville, is known as "Short Vine." Until the mid-1960s, Short Vine was connected directly to Vine at both ends, with the thoroughfare angling eastward from Calhoun. The creation of the University Village Shopping Center lopped off a piece of Vine between Calhoun and Corry streets, taking Short Vine off the main drag.
A Haunted House?
Journalist and author Ambrose Bierce, an Ohio native, published in 1888 a short story titled "A Fruitless Assignment." The story takes place in 1859 in Cincinnati and describes the supernatural experiences of a reporter for The Cincinnati Commercial assigned to spend the night in a vacant house on Vine Street. No one has identified a house that may have inspired this tale, and it's assumed that Bierce constructed the tale entirely from his imagination.
The Riot of 1855
Vine Street was the battleground on Election Day in April 1855 as supporters of the anti-immigration Know Nothing party attacked the growing German community in the neighborhood just starting to be known as Over-the-Rhine. A minor tussle between nativists and a German marching band escalated into armed aggression, including cannon fire. The major skirmish centered on barricades the Germans erected on Vine at 14th Street. Fighting raged for three days. No accurate count of casualties was ever established.
Sound Familiar?
Folks from Philadelphia claim that Cincinnati stole their scrapple and called it goetta. They have a better claim to our street names. When Israel Ludlow platted the downtown area, Philadelphia was capital of the new country and our largest city, so he named Losantiville's streets after Philadelphia's system of "tree" streets crossed by numbered streets. William Penn laid out Philly's Vine Street in 1682. You will also find Walnut and Race streets in the City of Brotherly Love.
Birth of the Strip Tease
There is a fair amount of controversy about the origins of that classic burlesque entertainment known as the strip tease. More than one source points to Heuck's Opera House at the corner of 13th and Vine as the birthplace of this erotic spectacle, and the birthday sometime in November 1901. Brought to Cincinnati by manager James Fennessy to perform the pseudo-Oriental "cooch" dance at Heuck's, Millie De Leon, known as the "Girl in Blue" discarded her elaborate costume at an after-hours show that shocked the city, but made her career.
Roebling's Lament
John A. Roebling wanted his suspension bridge to create a grand thoroughfare from Vine Street across the Ohio River to Covington. A powerful lobby of ferry operators stymied his plan. Roebling lamented the lost opportunity until the day he died. "No avenue in any of the large capitals of Europe," he lamented, "could now compare in beauty of grandeur with that long vista which would be presented by the line of Vine Street on the one side, continued in a straight course by Scott Street on the opposite shore."
Who's That Old Lady?
When Grady Decamp authored his 1991 history of The Cincinnati Enquirer, he titled it The Grand Old Lady of Vine Street. That was a euphemism. Most of the other newspapermen in town (and many of the readers) referred to the graphic-poor, boringly laid-out Enquirer as "The Grey Lady of Vine Street." Now located on Elm Street, the newspaper boasted a Vine Street address from 1857 to 1992.
Facebook Comments