The month was September, and the year was 2010. I arrived at Great American Ball Park about an hour before the game was scheduled to begin, and I experienced something I'd never felt before at GABP. There was electricity in the air. It was palpable. The upstart Cincinnati Reds, holding a six-game lead with six games to play, were on the verge of claiming the Central Division crown. After nine frustrating losing seasons in a row, fans were jazzed.
As the game began, I glanced down to the right field grass, just below my seat in GABP's moon deck. Jay Bruce, then just 23 years old, jogged out to take his position. It was already his third season in the big leagues, but 2010 was the year he broke out as a star, hitting .281/.353/.493 with 25 homers.
Over the years, as I've thought about the moment Bruce provided later that night—an evening that would go down in Reds history as "Clinchmas"—my mind often wanders back to his big league debut. If you remember, before the 2008 season, Bruce was the consensus No. 1 prospect in all of baseball. A first round pick of the Reds (12th overall) out of West Brook High School in Beaumont, Texas, he'd steadily mashed baseballs throughout the minors until finally, in late May, he received the news that he was headed to the big leagues.
Expectations for Bruce were through the roof, and it wouldn't have been surprising if the weight of those predictions about his future were too much for a kid who had just turned 21 years old. Not a chance. He went 3 for 3 with two walks in his major league debut. After his first week with the Reds, Bruce was hitting .577/.667/1.038 with three home runs and seven RBI. Piece of cake, right?
About three weeks after that memorable debut, I happened to be in New York when the Reds came to town. I made plans to head up to (old) Yankee Stadium for the first game of the series, obviously excited to catch Bruce for the first time. That day, I saw something that amazes me still. Walking around the city on the day of that first game in the Big Apple, I saw at least 10 people wearing Reds "shirseys" with Bruce's name and number on the back. On the mean streets, less than a month after he played his first game.
Bruce picked up a hit and a walk and scored a run in five plate appearances that night. His slash line dropped to .315/.406/.500. Yeah, I decided, this kid can play.
Back to Clinchmas. Bruce, you'll remember, was part of a youth-led movement that had taken the National League by storm ahead of schedule. Joey Votto, Johnny Cueto, Homer Bailey, Mike Leake, Drew Stubbs, and he were all 26 years old or younger that season, and each played key roles for the surprising Reds.* But it was Bruce who strode to the plate to lead off the bottom of the ninth, with the Reds and Astros tied 2-2.
[*The situations aren't exactly similar but, yes, I'm sitting here dreaming that a version of that youth movement could have the Reds in a similar spot five months from now.]
The electricity I mentioned before? It ratcheted up a notch as almost every one of the 30,151 fans in attendance stood for Bruce's at-bat against Houston reliever Tim Byrdak. Jay stepped into the box and, just before the pitch, reached his left hand back toward the catcher like he always did. I'll always remember that little idiosyncrasy the way fans of a certain vintage talk about the way Joe Morgan wiggled his elbow at the plate.
On the first pitch, Bruce hit a towering drive to center field for a walkoff home run. Pandemonium ensued inside the stadium. Until the Reds win another World Series, it's likely to remain my favorite experience inside a ball park.
So Bruce was a big-time prospect and hit a big home run, but later in his Reds career some fans branded him a disappointment, alleging that he didn't live up to his promise as a No. 1 prospect. It's nonsense, and I hope those charges have faded in the years since he was traded to the Mets for a bag of magic beans.
In nine seasons with the Reds, Bruce made three All-Star teams (more than Eric Davis and Johnny Cueto, for whatever that's worth) and won two Silver Slugger awards. He finished his career with 319 home runs; 233 of those came with the Reds, putting Bruce at No. 7 on the franchise's all-time list. He hit .244/.314/.467 over 14 seasons in the big leagues. No, he was never an MVP, but he was a consistently an above-average player and was essential to the fun Reds teams of the early 2010s. He's a surefire Reds Hall of Famer. If only every Reds prospect had such a disappointing career with the team, right?
Those who encountered Bruce during his career in Cincinnati, however, will not remember him by his stats. They'll remember him as a genuinely nice guy. Seriously, try to find someone who will say something bad about Jay Bruce, the person. You'll be looking for a while. He was just incredibly affable to everyone he ever encountered, and in the bright lights of the big leagues that's more rare than we'd like to think.
If you've followed the coverage of Bruce's retirement announcement, you saw Clinchmas mentioned every time. It's the single moment that most Reds fans will think about when they think of Jay Bruce. For me, however, there's another moment that stands out: my son's seventh birthday.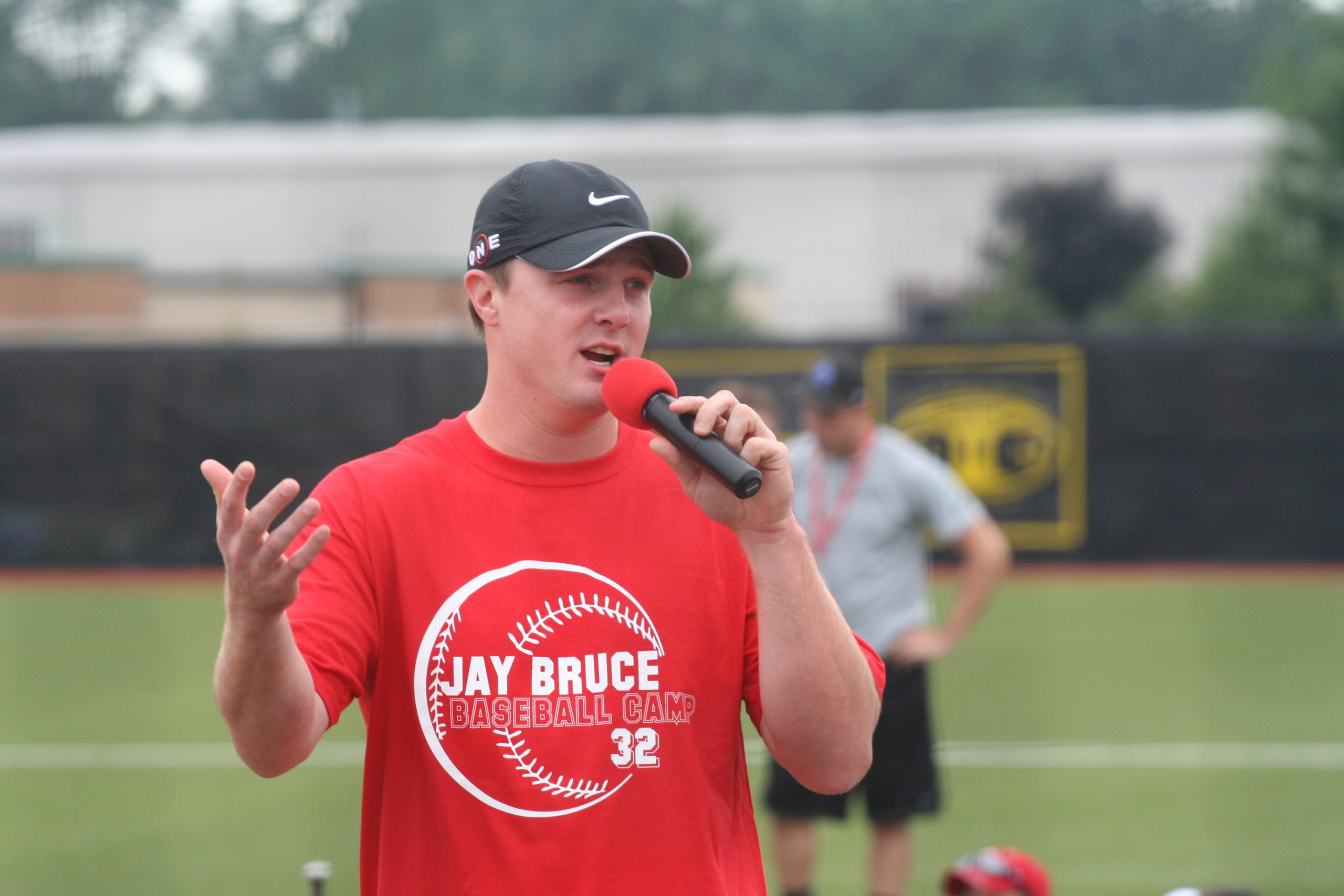 Bruce put on a baseball camp for kids for a while. I took my son Casey in 2011, just 10 months after Bruce put the Reds into the playoffs with that home run. It was held out at Prasco Park, where the Reds' alternate site was located last year, and was a typical camp of this type. You know, drills led by area college and high school coaches along with some brief appearances by big leaguers like Scott Rolen.
Bruce seemed to be all-in, though, and certainly appeared to be having a blast with the kids. The campers were separated into teams on day one, and on the last day they played games against the other teams. Bruce pitched in every single game, going from one field to the other, interacting with the kids and encouraging them.
Eventually, he reached the field where my son's team was playing. Bruce delivered a pitch, and a ball was hit between first and second. Casey was playing first base and he made the play, tossing it to Bruce, who was covering first, for the out. It was not a particularly special play, but Bruce did what we'd seen him do with countless players that week: He sprinted over to Casey and put his arm around him. He made a kid, on his seventh birthday no less, feel like he was a big league superstar.
For the rest of my life, you'll never convince me that Jay Bruce is anything other than a Reds legend.
Best of luck in retirement, Jay. Rest assured that you made a lot of fans along the way.
Chad Dotson authors Reds coverage at Cincinnati Magazine and hosts a long-running Reds podcast, Redleg Nation Radio. His first book, The Big 50: The Men and Moments That Made the Cincinnati Reds, is available in bookstores and online.
Facebook Comments