We've been designing Cincinnati's built environment for more than 200 years. These 20 iconic structures blend the past and the future into what feels like home.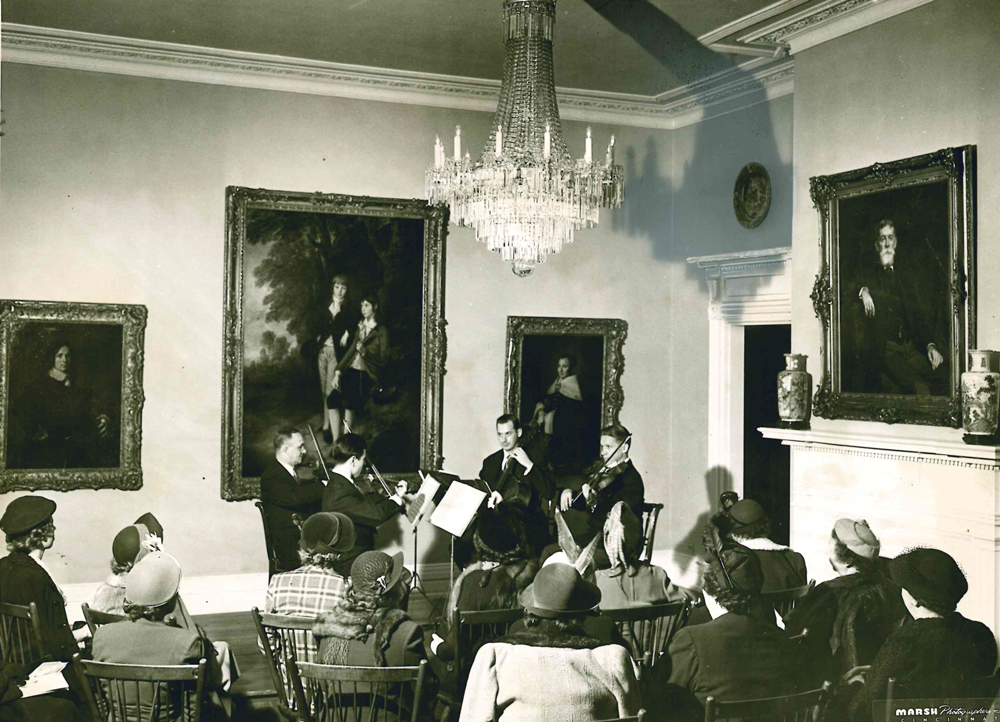 Taft Museum of Art, Pike Street, downtown
Built: Circa 1820
Original Use: Private home
Current Use: Museum
Architectural Style: Federal in the Palladian style
Significance: Designated as a National Historic Landmark in 1976, this stately downtown residence-turned-museum was originally commissioned by businessman and two-term Cincinnati mayor Martin Baum, though a financial crisis meant he couldn't complete the project. Prominent Cincinnati lawyer and winemaker Nicholas Longworth acquired the residence in 1829 and notably hired African-American artist Robert S. Duncanson to paint the foyer's still-intact and carefully preserved landscape murals. Iron tycoon David Sinton later bought the house and passed it to his daughter Anna. She and her husband, Charles P. Taft, half-brother of William H. Taft (who famously made his presidential nomination acceptance speech from the home's portico in 1908), filled the home with what was then one of the world's most valuable art collections. They donated the home and art to the people of Cincinnati, opening the museum to the public in 1932.
Next: The Taft marks its bicentennial by refurbishing the building's exterior siding; removing, repairing, and reinstalling windows and shutters; and overhauling its ventilation system to better regulate temperature and humidity. The historic galleries will be closed October 2020 through February 2021, but approximately 80 works from the museum's permanent collection will remain on display in the Fifth Third Gallery throughout the process.
---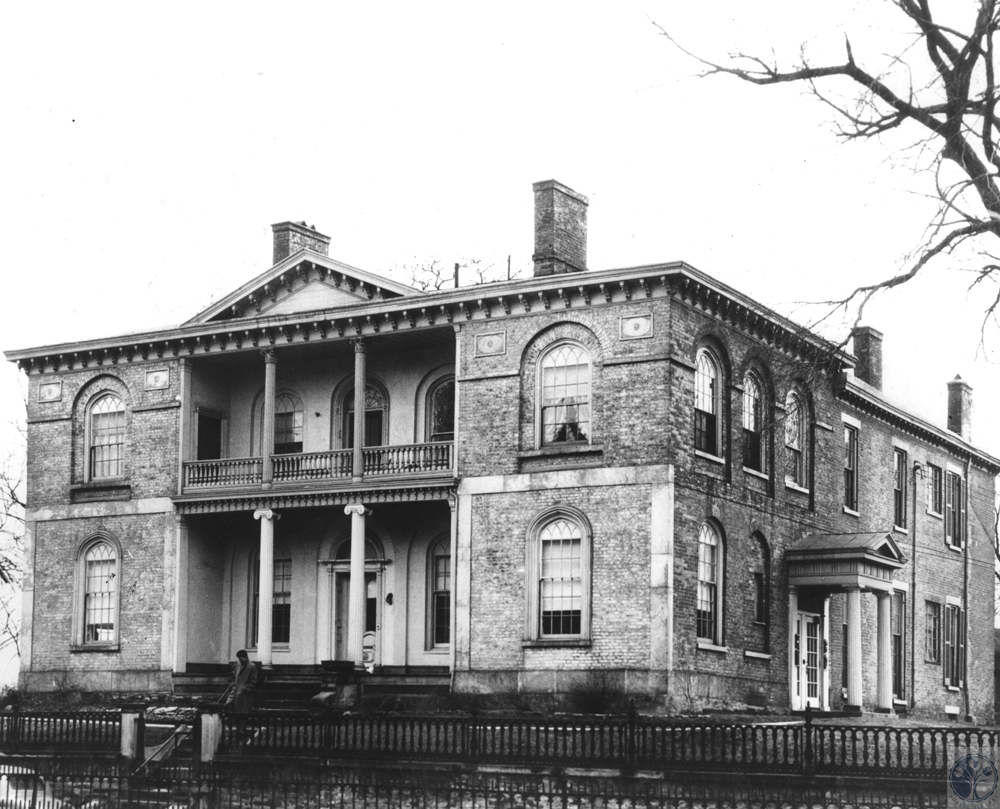 Carneal House, Second Street, Covington
Built: 1815
Original Use: Private home
Current Use: Same
Architectural Style: Federal with touches of Greek Revival
Significance: The oldest surviving brick building in Northern Kentucky was built by Thomas Carneal, one of Covington's founders, though he never lived in it. The Greek-style columns here and on neighboring homes in the Licking Riverside Historic District offered a touch a class in the frontier era.
---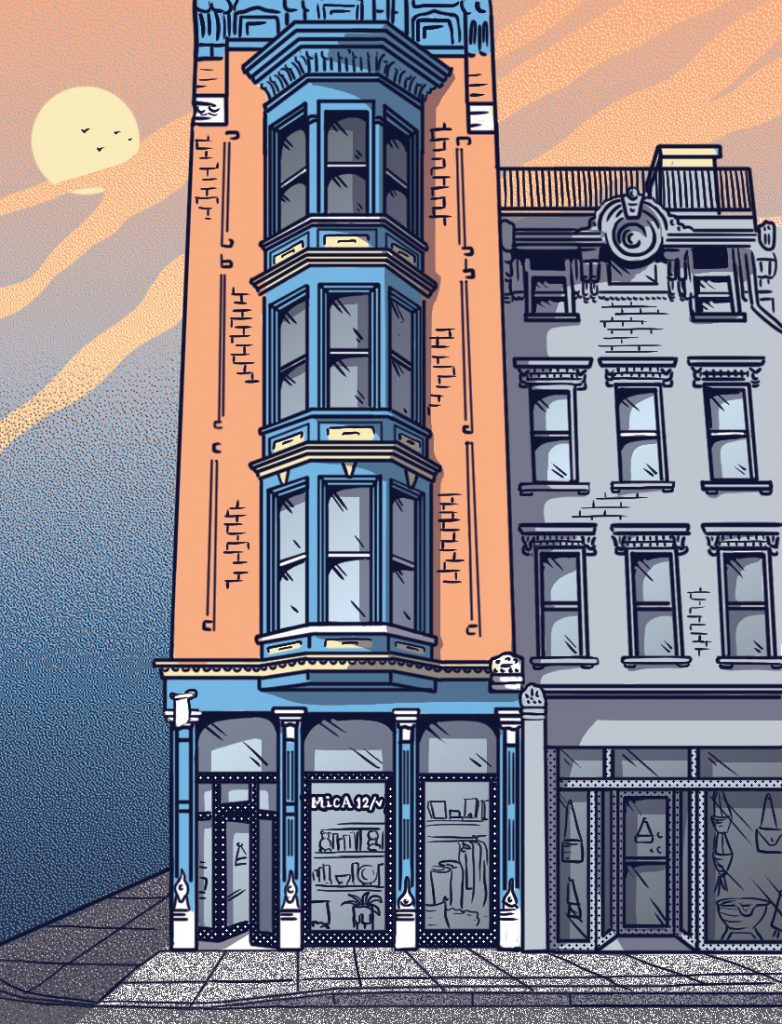 Classic Italianate, 12th and Vine Sts., Over-the-Rhine
Built: 1850–1900
Original Use: Homes, retail stores, bars, restaurants
Current Use: Same
Architectural Style: Italianate brick
Significance: If there's one architectural style Cincinnati is known for, it's Italianate. Over-the-Rhine has the finest concentration of intact Italianate buildings in the U.S., but you'll find them everywhere from Newport to Camp Washington. The corner structure housing Taste of Belgium is one of the oldest surviving buildings in OTR; it and the row of buildings north of 12th Street were among the 3CDC's first renovation projects.
---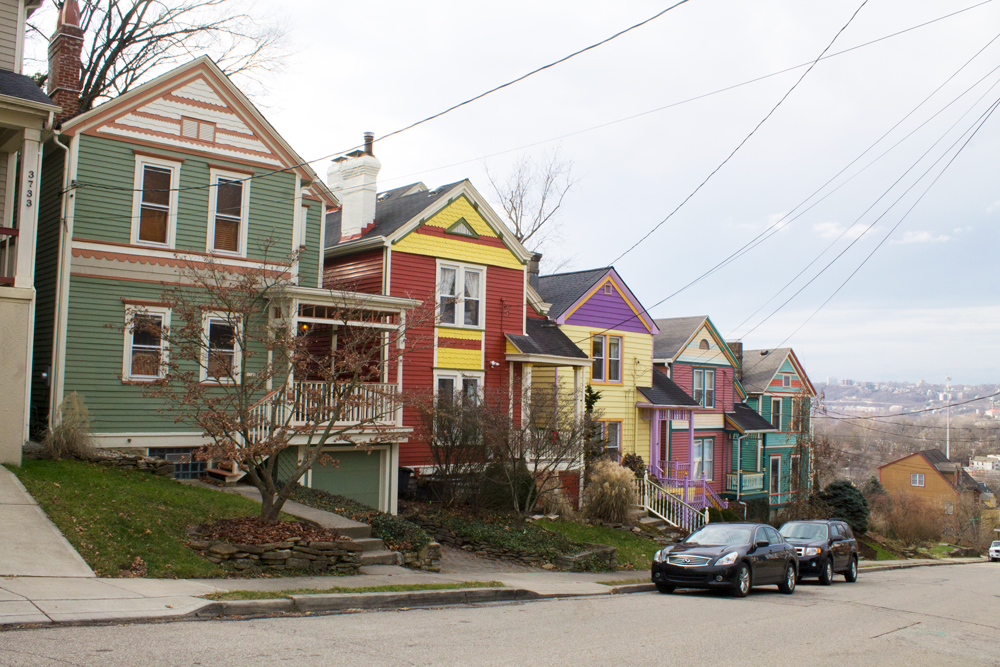 Painted Ladies, Tusculum Avenue, Columbia-Tusculum
Built: 1880s–1910s
Original Use: Private homes
Current Use: Same
Architectural Style: Victorian and Queen Anne
Significance: Cincinnati's very first residential settlement is one of many neighborhoods that embraced this design style at the turn of the 20th century. Colorful paint details bring extra attention to intricate woodwork trim along a hilly street just uphill from Columbia Parkway.
---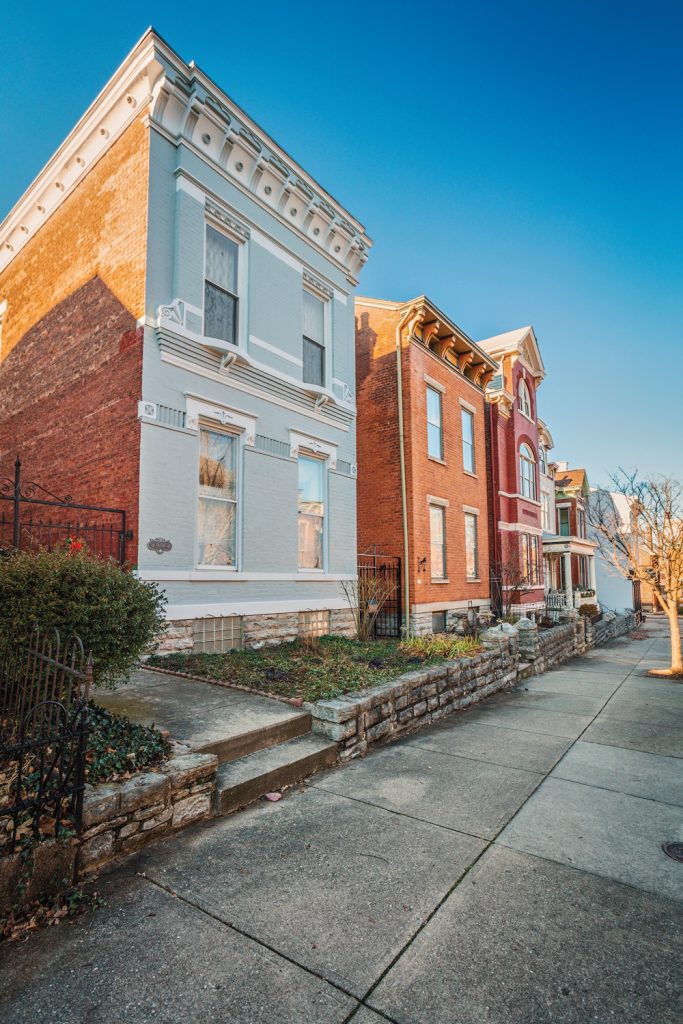 Covington-Newport Townhouse, Greer Street, Covington
Built: 1850s–1890s
Original Use: Single-family home
Current Use: Single-family or multifamily dwelling
Architectural Style: Italianate, featuring oversized ornate cornices on the front facade and detailed molding over windows and doors, often made of limestone.
Significance: Northern Kentucky's river cities were booming in the mid- to late 1800s, and the area's large number of skilled German-American masons constructed these brick townhouses across the urban core to house a skyrocketing population. Due to small lot sizes in dense neighborhoods, these houses feature side entryways leading to a front room (living room), back room (typically the kitchen), and a staircase to a second floor. The side entry created a semiprivate alley away from the street, allowed inhabitants to maximize space in the front entertainment room, and enabled them to bypass that room after a long (and dirty) work shift.
Next: Many were split into multifamily units throughout the 1900s but are now being renovated and converted back into single-family dwellings.
---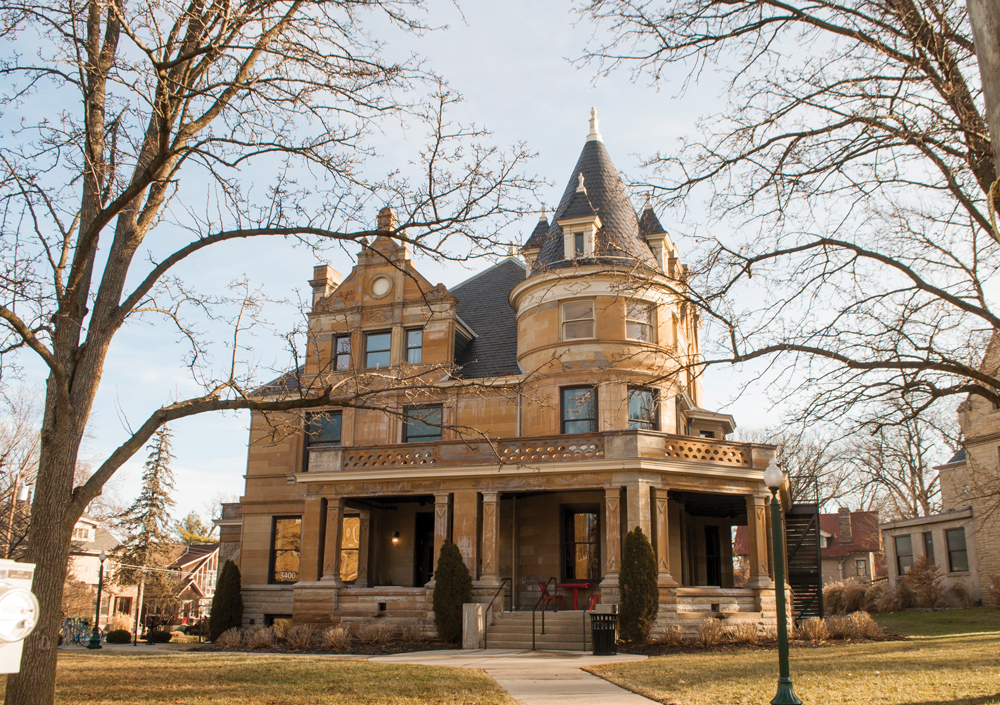 Hannaford Mansion, Brookline Avenue, Clifton
Built: 1894
Original Use: Private home
Current Use: Clifton branch, Public Library of Cincinnati and Hamilton County
Architectural Style: Châteauesque sandstone
Significance: One of 20 local homes designed by Samuel Hannaford between 1862 and 1896, these mansions dotted emerging suburban villages like Clifton, Price Hill, and Northside. Built for George "Boss" Cox, Cincinnati's corrupt political fixer of the time, this home later served as a UC fraternity house until a 2015 restoration turned it into the neighborhood's public library.
---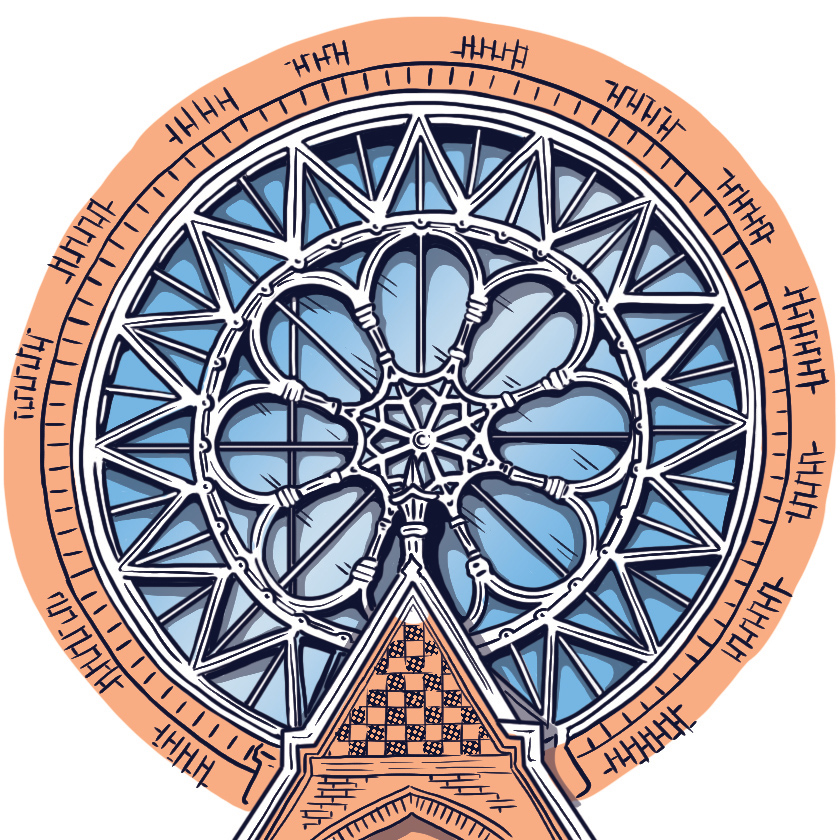 Music Hall, Elm Street, Over-the-Rhine
Built: 1878
Original Use: Public entertainment
Current Use: Same
Architectural Style: Victorian Gothic
Significance: Samuel Hannaford's masterpiece is likely Cincinnati's most important and best-known building. It's a cathedral to the arts and culture; home for symphony, opera, ballet, and May Festival performances; and the cornerstone of Over-the-Rhine's renaissance.
Next: The recent $143 million renovation assures that Music Hall will continue to inspire and delight Cincinnatians long after we're all gone.
---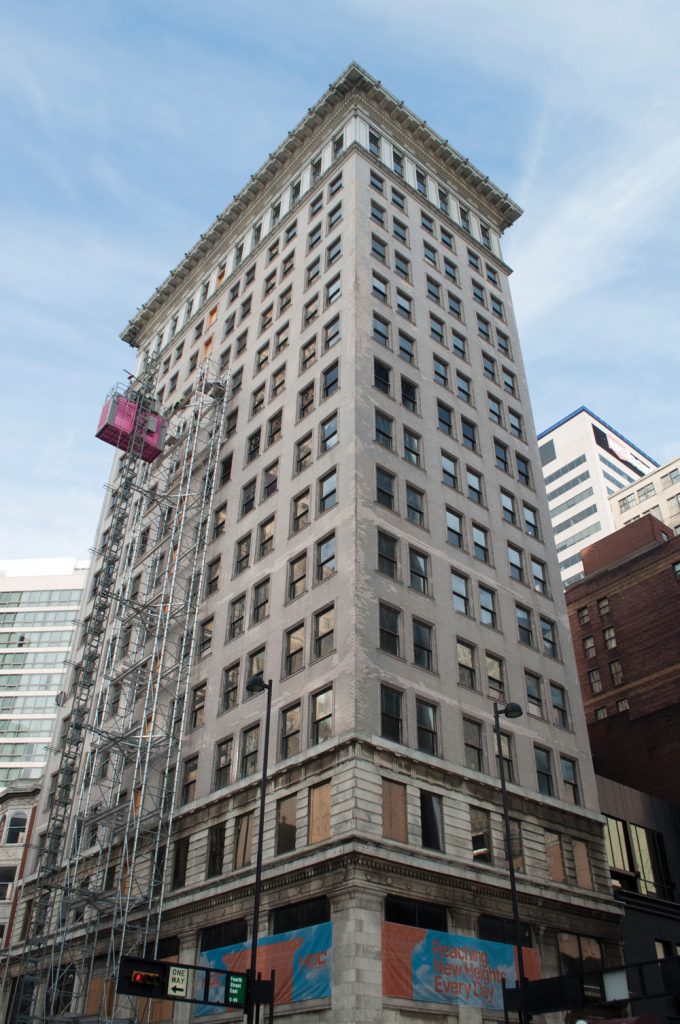 Ingalls Building, Fourth and Vine Sts., downtown
Built: 1903
Original Use: Office tower
Current Use: Converting to hotel
Architectural Style: Beaux Arts
Significance: This unassuming building is the world's very first reinforced concrete skyscraper. Skeptics thought the 15-story tower would collapse under its own weight or get blown over by wind, but architects were intrigued by concrete's fire-resistance and noise-dampening strengths as well as lower construction costs. And it still stands 100-plus years later.
Next: Courtyard by Marriott (with a bar, food market, and meeting rooms) is expected to open by the end of the year.
---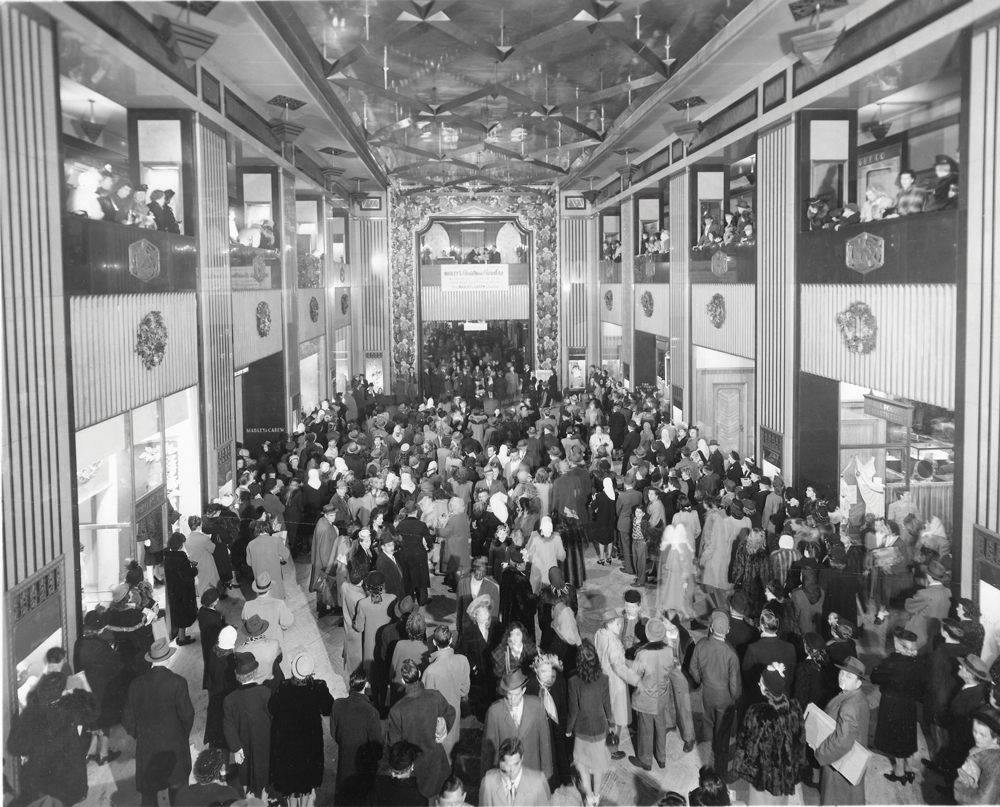 Carew Tower, Fifth and Vine Sts., downtown
Built: 1930
Original Use: Mixed-use urban complex with retail, restaurant, and office space, plus a hotel
Current Use: Although landmark tenants like Mabley & Carew and H&S Pogue Company no longer call Carew Tower home, around 40 businesses do, including Hellman Clothiers, Paragon Salon, Cincinnati Magazine, Frisch's Big Boy, Hammond Law Group, and, of course, the Hilton Cincinnati Netherland Plaza. Four retail spaces and 17 floors are currently vacant.
Architectural Style: Dramatic Art Deco skyscraper with ornate interior details, including lavish metal-work, murals, inlaid Rookwood Pottery tiles, and polished wood and marble finishes
Significance: At 49 stories and 574 feet tall, Carew Tower reigned as Cincinnati's tallest building until 2011, when Great American Tower was completed. Registered as a National Historic Landmark, it was the first large-scale mixed-use commercial development of its kind in the U.S., known as a "city within a city."
Next: According to USA Today, owners submitted plans in 2017 to convert part of the building into condo units. Carew management declined to comment on the status of future development.
---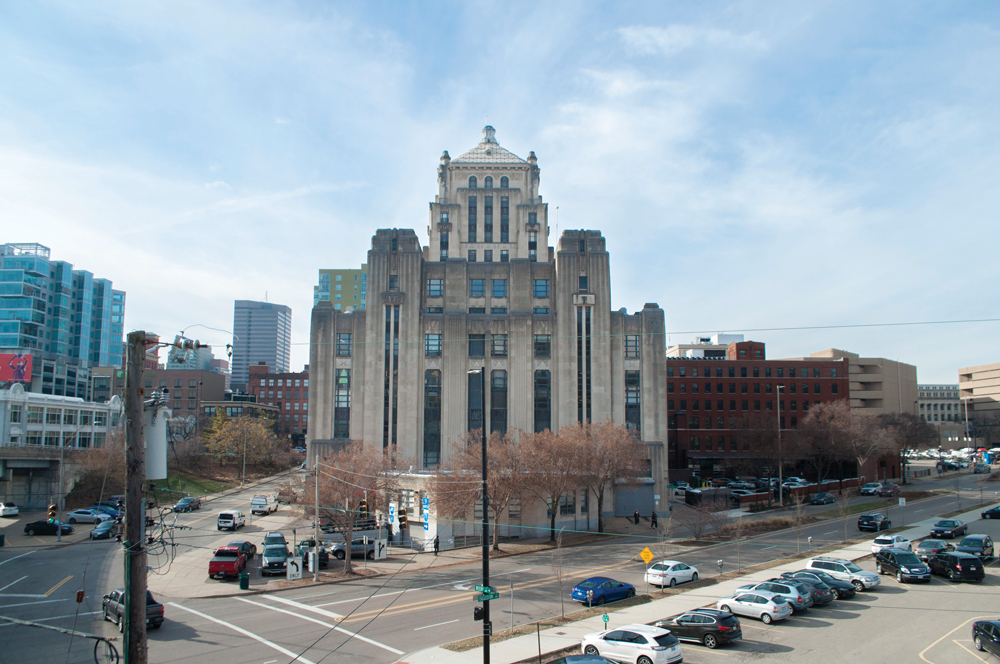 Times-Star Building, Eighth and Broadway Sts., downtown
Built: 1933
Original Use: Newspaper presses and offices
Current Use: Hamilton County courts and offices
Architectural Style: Art Deco
Significance: This building was commissioned by the Taft family to house Cincinnati's third daily newspaper, The Times-Star. Its decorative details, from ornate front doors and lobby to stylized carvings of animals and historic figures, reward close observation. The pyramid roof would later inspire Procter & Gamble's twin tower design.
Next: Hamilton County has considered selling the building. Could a developer swoop in and convert it to residential? Stay tuned.
---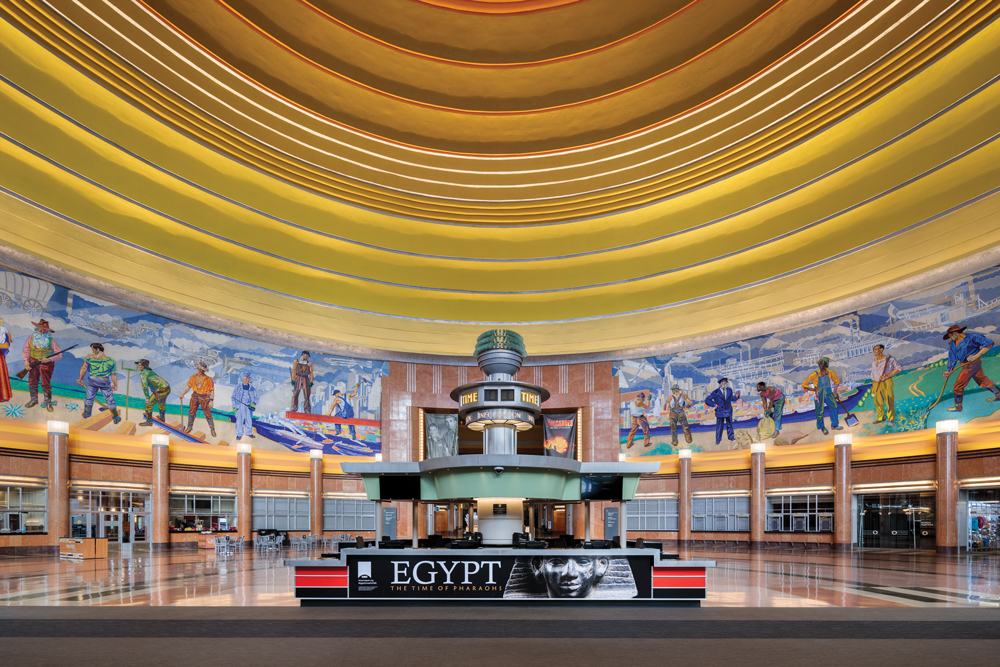 Union Terminal, West End
Built: 1933
Original Use: Train station
Current Use: Cincinnati Museum Center
Architectural Style: Art Deco
Significance: Despite spectacular exterior and interior design work, Union Terminal was a little late to the heyday of passenger train travel and a little too far from downtown to spur development. Its current life as home to five museums and an OMNIMAX movie theater, though, is Cincinnati's best example of "adaptive reuse"—boosted by a 2014 sales tax levy that funded most of the $228 million upgrade.
Next: Rehabbed exhibit space will continue to come back online throughout this year.
---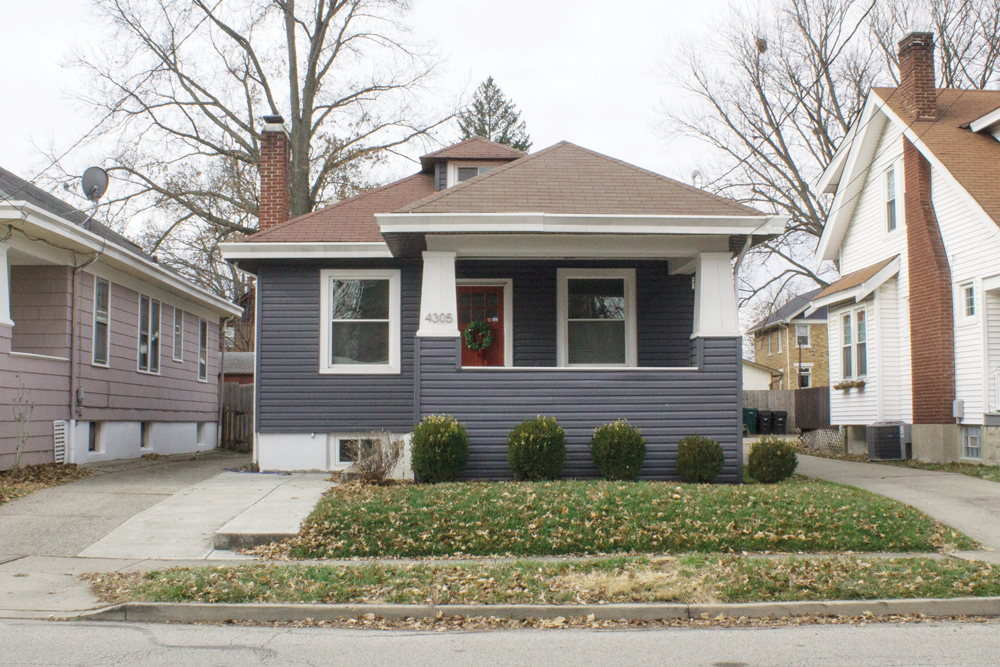 Bungalow, Verne Avenue, Oakley
Built: 1924
Original Use: Private home
Current Use: Same
Architectural Style: Craftsman Bungalow
Significance: These simple one-and-a-half story houses sprang up as starter homes in Norwood, Oakley, Pleasant Ridge, Bellevue, and other neighborhoods seeing explosive growth in the early 20th century. Most have a first floor exterior of brick or stone, topped by wood shingles, clapboard, or siding.
---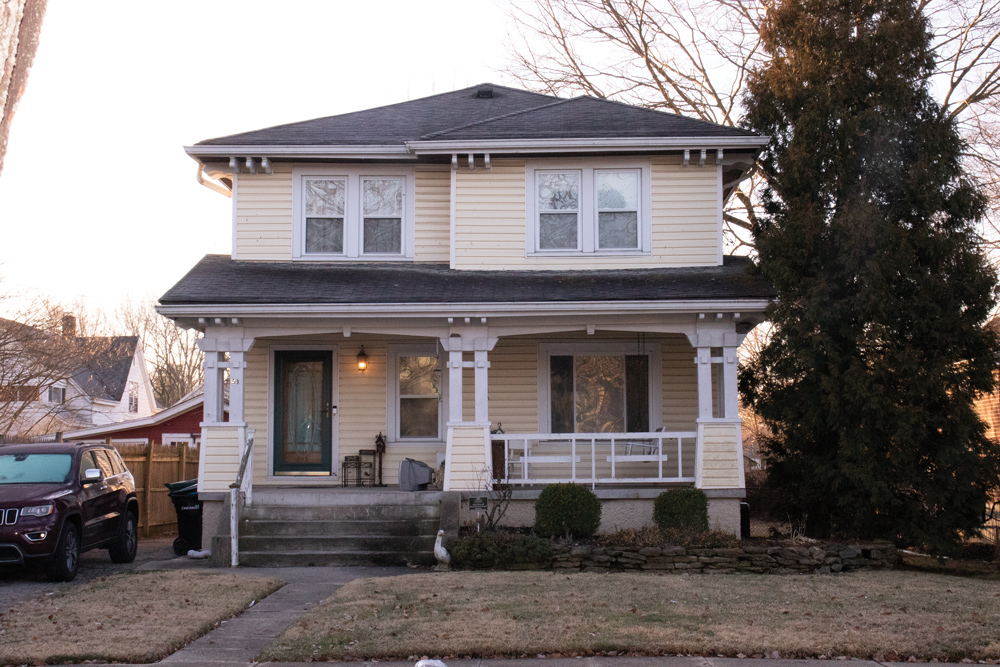 Kit Home, Hereford Street, Hartwell
Built: 1924
Original Use: Private home
Current Use: Same
Architectural Style: Sears Kit Home (Americus model)
Significance: More than 1,000 of these pre-WWII homes were built across the area, chosen from the Sears catalog. Before 1930, most were built by the owners themselves, then Sears started connecting them with local contractors. Cincinnati became a kit home hotbed because a Sears subsidiary in Norwood did much of the manufacturing.
---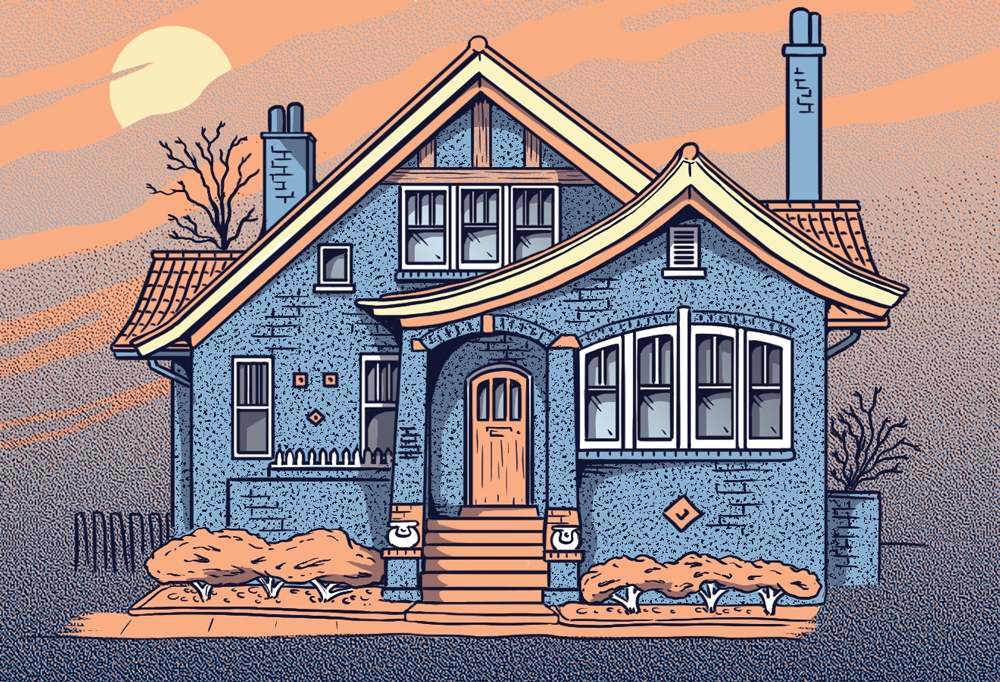 Tudor, Urwiler Avenue, Westwood
Built: 1928
Original Use: Private home
Current Use: Same
Architectural Style: Tudor Revival
Significance: This home style swept Cincinnati and Northern Kentucky neighborhoods in the early 20th century, featuring exposed timbers; brick, stone, or stucco exterior walls; and steeply pitched roofs. They came in various sizes, from starter homes to mansions, and were said to resemble English country cottages.
---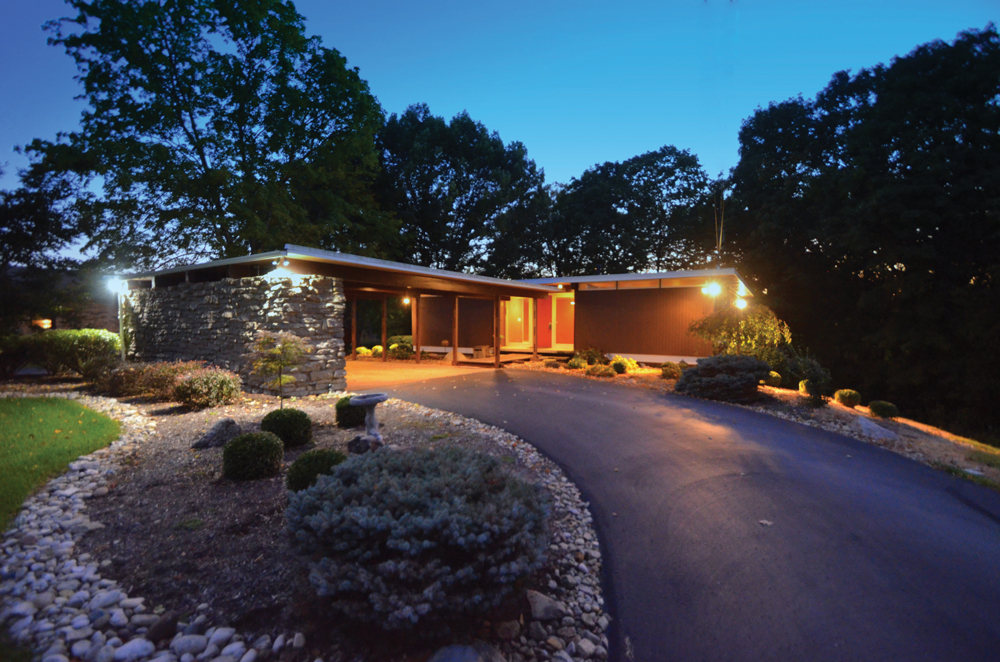 MCM, Lincoln Road, White Oak
Built: 1962
Original Use: Private home
Current Use: Same
Architectural Style: Mid-Century Modern
Significance: For a few decades, architectural disciples and contemporaries of Frank Lloyd Wright designed a number of modest single-story, open-floor-plan homes in Wyoming, Finneytown, Green Township, and other inner-ring suburbs. Today's home buyers have developed a serious crush on the MCM look.
---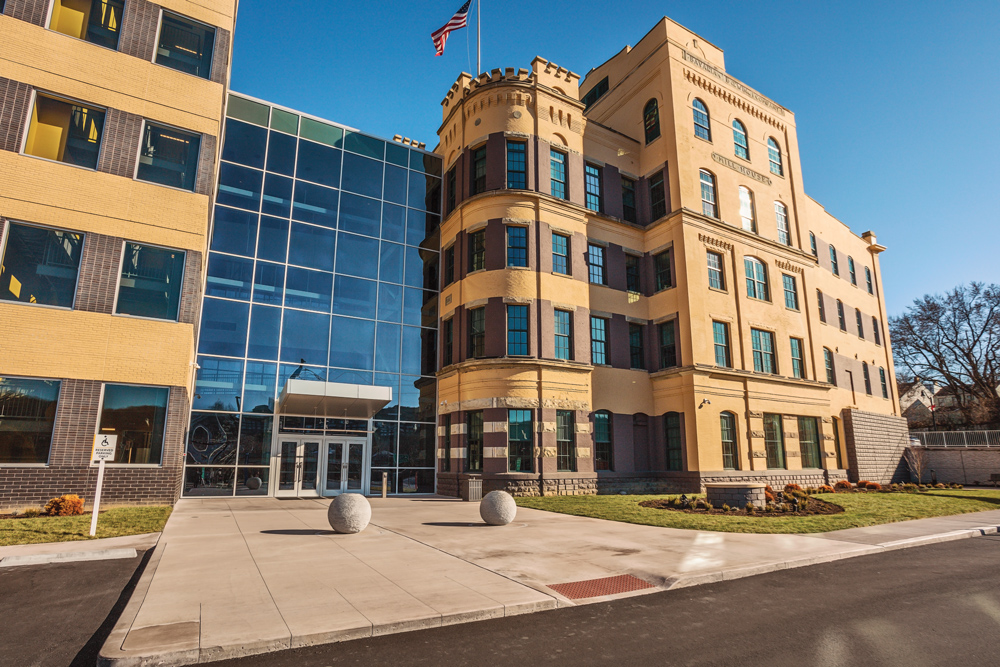 Bavarian Brewing Company / Kenton County Government Center, Covington
Built: 1903–1909, 2019
Original Use: Brewery
Current Use: Kenton County offices
Architectural Style: Romanesque; the contemporary addition takes inspiration from the original's curved walls and window placement
Significance: Covington's Bavarian Brewing Company was a big player in the beer business for 100 years. Its remaining castle-like structure features brick corbeling, a crenelated parapet wall, and a tower. Kenton County stepped in when the owner wanted to demolish the building, which housed a nightclub in the late 1990s and early 2000s. Now it's attached to the new Kenton County Government Center by a glass-walled connector and ramps. While preserving a historic building wasn't the point of the project, Kenton County Judge/Executive Kris Knochelmann says, "It was a nice benefit."
Next: Creating a community gathering place. "The Riedlin-Schott Room will hold 150 people, and it will be a community space," says Knochelmann, praising Ried Schott, whose family once owned the brewery, for his $250,000 contribution to help showcase Bavarian's history.
---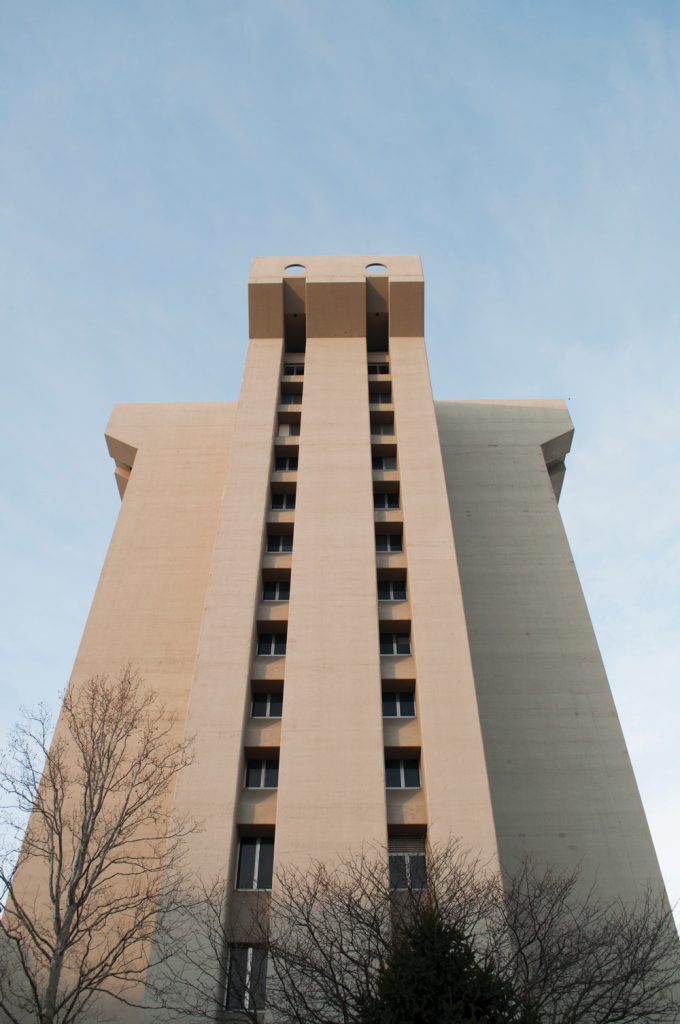 Crosley Tower, University of Cincinnati
Built: 1969
Original Use: Chemistry and biology laboratories
Current Use: Same, plus offices
Architectural Style: Brutalist
Significance: Architecture styles go in and out of favor (and sometimes back into favor), but this 16-story concrete monolith has worn out its welcome. In 2017, Architectural Digest named it one of the ugliest university buildings in the U.S.
Next: UC is planning to build new labs and offices in order to relocate Crosley's inhabitants, and then the tower is coming down—possibly by implosion.
---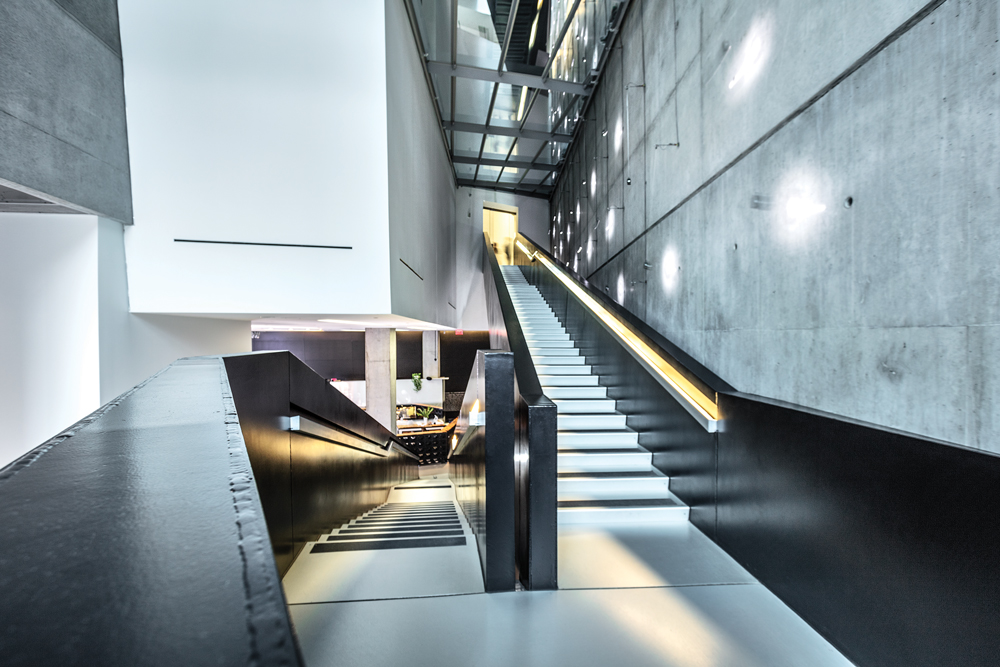 Contemporary Arts Center, Sixth and Walnut Sts., downtown
Built: 2003
Original Use: Art galleries
Current Use: Same
Architectural Style: One of a kind
Significance: Zaha Hadid became the first female architect to design a U.S. museum when she created what The New York Times called "the most important American building since the end of the Cold War." Its stacked-concrete-boxes look, crazy staircases, and huge glass-walled entryway still surprise and intrigue.
Next: The popular Fausto café brings new energy to the lobby space, and a top floor renovation will reimagine the CAC's UnMuseum education center.
---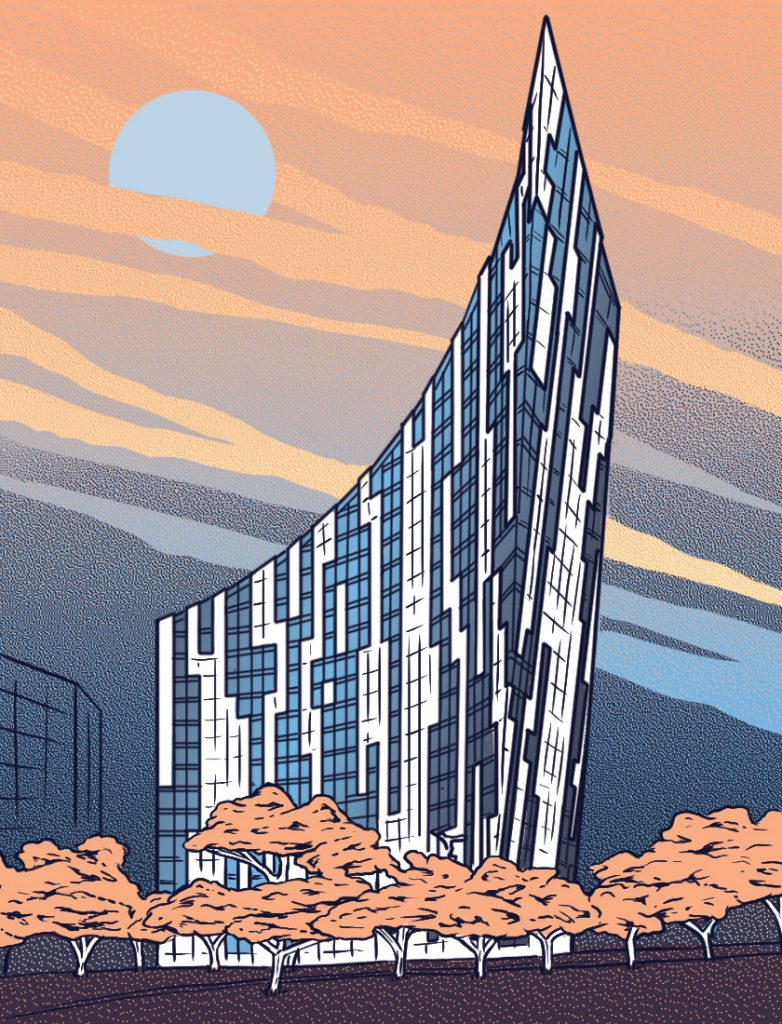 The Ascent, Roebling Way, Covington
Built: 2008
Original Use: Condos
Current Use: Same
Architectural Style: Star-chitecture
Significance: Corporex hired Daniel Libeskind, then designing the 9/11 memorial and office complex in Lower Manhattan, to create a signature residential building at the foot of the Roebling Suspension Bridge. Clad in the same blue as the bridge, its upwardly twisting profile is instantly recognizable from every angle—though some naysayers think it sticks out like a sore thumb.
---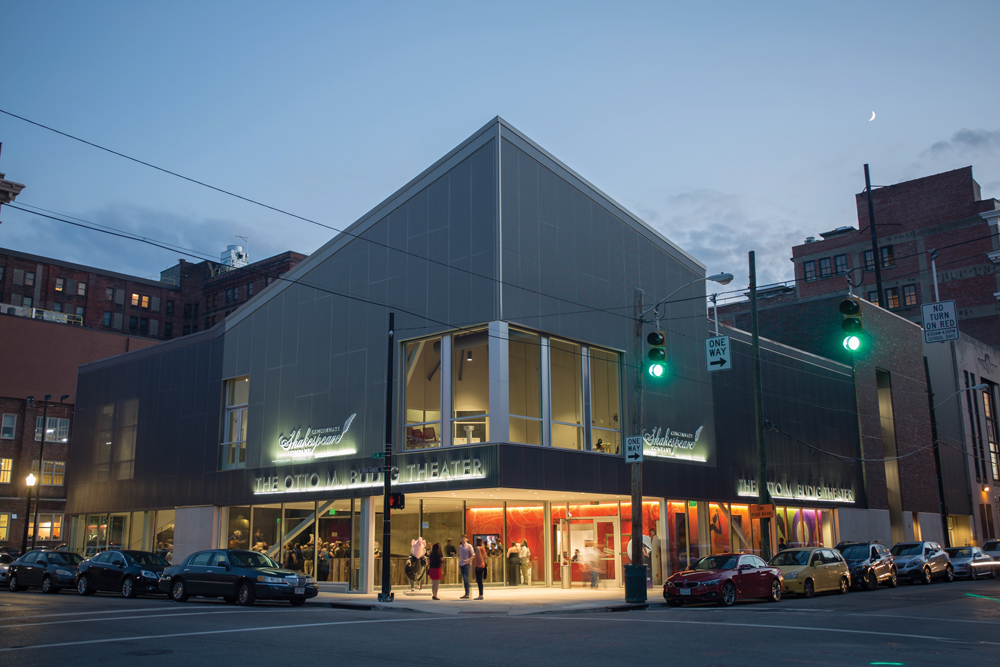 Cincinnati Shakespeare Company, 12th and Elm Sts., Over-the-Rhine
Built: 2017
Original Use: Theater
Current Use: Same
Architectural Style: Contemporary
Significance: Beth Johnson, the city of Cincinnati's urban conservator (see interview on page 53), cites this building as a prime example of how new construction in a historic district can be both modern and compatible. The large windows look out at Washington Park and invite the community into a warm space finished with reclaimed wood and other natural materials.
Next: Pride and Prejudice opens later this month, followed by Hamlet in April.
Facebook Comments