At Film Cincinnati, Kristen Schlotman works to bring Hollywood dollars to our doorstep and build a supportive infrastructure and community for creatives.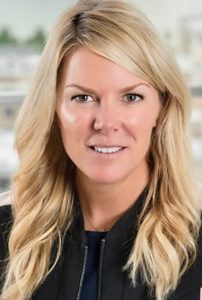 What does a typical "day in the life" look like for you?
Depends what day. If there's a production in Cincinnati doing principal photography, I'm putting out fires and solving problems. Who knows? We wake up in the morning and we've got four inches of snow and the streets haven't been plowed. How can we pivot to a different location and make it make sense? What kind of cooperation can they get from the city? Those are the things you can't predict that happen while you're shooting, be it weather, traffic, accidents—whatever. That's a day in the life when we're in town and on the ground filming.
The other day in the life is spending time creating relationships, both in the industry and in the community. Whether it's phone calls and introductions or proactively marketing and cold-calling like, Have you thought about Cincinnati? Those kinds of things. And then creating the relationships in the community, like, This movie is looking for a church that looks just like this. It's really relationship-building and tirelessly meeting new people and finding the power of collaboration.
What were the most impactful moments or events of your career?
The reason I'm at Film Cincinnati is because I was a radio disc jockey right out of college, and I came home for a holiday and my parents were suddenly getting divorced. So I said, "OK, I'm going to stay in town and help them navigate this really challenging time." But I couldn't be in town for weeks and not do anything. So, I looked up "film" in the yellow pages and found this office, and I never left. First, just finding out that something like this existed in Cincinnati that someone else started was so pivotal. And then understanding—quickly after I decided to work for the organization—that at that point movies weren't going on location in practical locations in the U.S. They started chasing tax credits and incentives in Canada, Czech Republic, New Zealand. Understanding, Oh, my gosh, we're never going to get movies here if we don't put the tools in the kit to attract the business. So understanding tax credits and then being able to educate Ohioans on [their] power. You know, I always say that 98 percent of our industry never walks a red carpet. These are great jobs—carpenters, technicians, electricians, painters. And just educating Ohio on the kind of jobs they are.
The first movie that took advantage of our tax credit that was supposed to be done entirely in Detroit was The Ides of March. Having George Clooney here was bittersweet, because I think people thought he was just coming home or he was going to just be here anyway. But it was the first film that we were able to recruit with that tax credit, and it was a high-profile film with obviously a great filmmaker. It really changed our trajectory.
And then, just as important, when I met Emilio Estevez 20 years ago and he was scouting for a movie and then staying friends with him for the last 20 years, and now he's a Cincinnati resident and a world-renowned filmmaker from an iconic family who has just as much passion for Cincinnati as I do. I would say that relationship also really changed my whole perspective on how Cincinnati can be a world-class destination for film.
Who has helped or inspired you in your career?
I would say Emilio, immediately. He's helped and inspired and empowered me over the years and has just been a dear friend, a friend of my husband's and friend to my children. In Cincinnati, I have such tremendous respect for these women who are just breaking boundaries. I've always believed in surrounding myself with people who know more than me, and there's such talent in Cincinnati. It's constantly been an inspiration to me. You know, in your career, you go from I don't know anything, and when you realize I do know and it is effective, that's just so rewarding.
What makes you the right person for your job?
One, it's my passion. I think when you're able to have a career you're passionate about, that's so rare. I wake up every day excited to do what I do. And two, I love filmmaking and I love Cincinnati. I think you have to love both to do what I do. But because I know I love it, that's why I'm like, I am the right person for my job.
How are you changing the Cincinnati film landscape?
I was born and raised in Cincinnati, growing up knowing that the Cincinnati Ballet and the Cincinnati Symphony Orchestra and the Opera were these pillars in our community. And one of the things I wanted to change was that I wanted film to be another pillar in that arts and culture piece of Cincinnati. So when people think of Cincinnati, they think of the films that have come out of that market. That's what I wanted to change. Am I there? I feel like it's part of the conversation now. But I'm not going to stop until it is a pillar of a world-class destination for film.
What would you say that change looks like?
One, people are working full-time in the industry here. That is their livelihood, that's how I know it's working. Two, I look at all of the film groups, nonprofits, and degree programs at the universities that have resulted in this becoming a filmmaking community. Women in Film has a chapter now. Black Cinema has a chapter now. UC has a film degree program and a film center. Seeing all of those things, that's telling me we have blazed a trail for enhancing this whole film ecosystem.
Facebook Comments