Spreading artist Cal Cullen's Wave Pool model far and wide could help improve communities through art.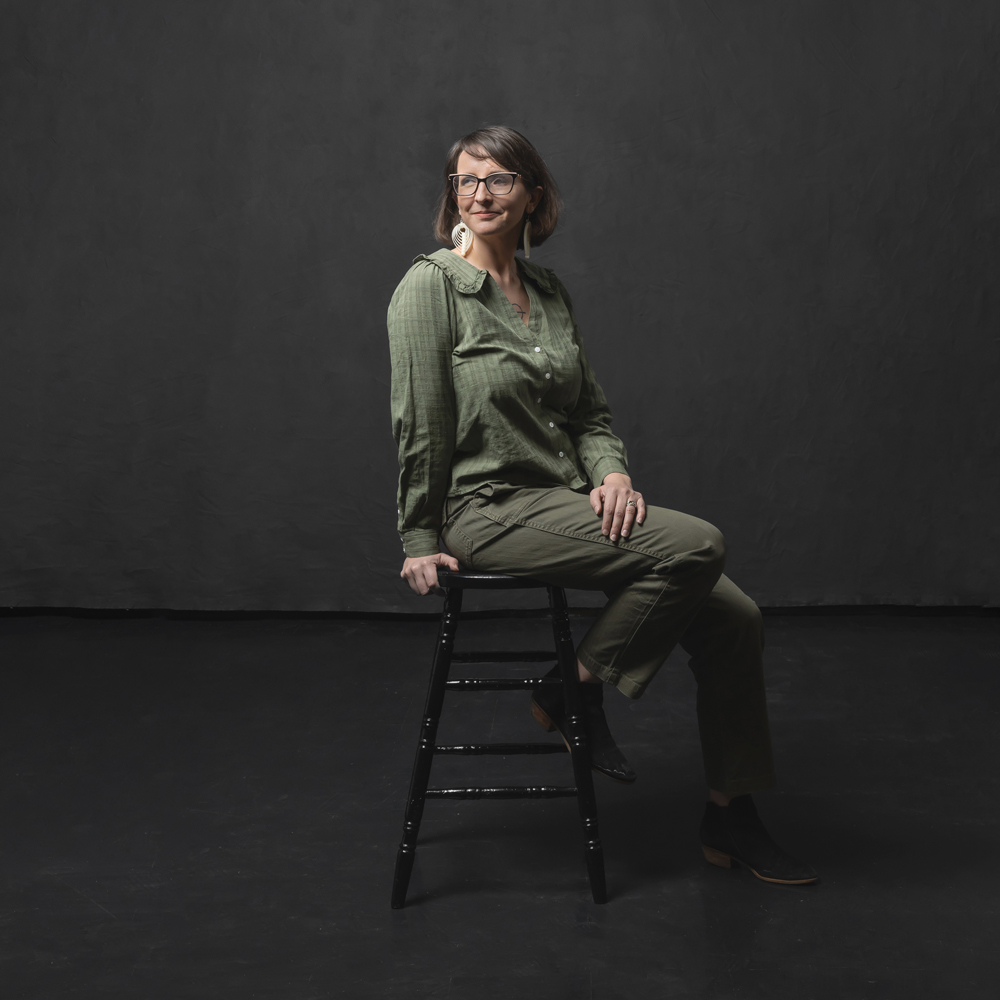 What's been the path that led you to this point in your career?
I've always been an artist. I've always been really good at drafting things and illustration and painting. So, that's why I ended up getting my BFA, then went to grad school at UC, then got my MFA and really traditionally trained as a painter. But some time during my thesis, I started being more interested in other people's stories. Art really got me through my own personal trauma, and once I was done with that, I started being more interested in other people's stories. That led me to working in museum education, doing work with kids and adults and really looking at ways that people express themselves as a tool for healing. I worked at Cincinnati Art Museum in their education department for several years. But at some point—I think it was about 2008, 2009—I realized that Cincinnati just did not have the stepping stones that I needed as an artist to get where I wanted to be. It was either DIY, living room spaces or museums, and we needed more things in between and we needed more opportunities to engage with the broader arts world.
And so, my husband and I left. We went to San Francisco for five years, and I worked in education in San Francisco. I was working at San Francisco Museum of Modern Art [SFMOMA] in their education department when they closed. They closed for three years to do a huge remodel and expansion, and what was really amazing was that during that time, the curatorial department kind of let us loose. We were able to not just focus on programming within the confines of the museum and thinking about how we can make the art on the walls relevant to the populace, but we were able to come up with whole new ways, out in the city with community organizations and partners, for how art could interact and be pertinent to the population. That, I feel, was really a huge touchpoint for me, as far as figuring out how we can turn a museum on its head and make art not only relevant but useful to communities. So we were working with schools and libraries and all sorts of other organizations.
Besides my full-time job at SFMOMA, I was also director at a very small backroom—it's called the Adobe Books Backroom Gallery—and Adobe Books is really important in terms of the history of the Mission School artists and the history of art in San Francisco. It's a space (they call it the living room of the Mission) for grassroots communities to come together and create change. I was really fortunate to spend a short time being director of the gallery there. It directed me to a much broader scene, but it also solidified, to me, the importance of this living room space within an arts scene, within a city, within a community.
We decided to move back to Cincinnati, and when we started Wave Pool we wanted to, number one, fill the gaps for artists, which is the reason why we left. We didn't want that to be a reason anymore. How can we provide artists with space for networking and sharing their work and gaining new ideas and collaborating? Also with professional development and grant opportunities? The list goes on and on. But number two, how can we make art so integral to the Cincinnati community that it would never be a question of, "Do artists deserve fair wages? Should artists be part of our community? Do artists need to be at the table when we're making big decisions around community development?" So those are the two driving forces to this day for Wave Pool. How can artists make a real, lasting impact on a community in a collaborative way, in a noninvasive way? And also, how can we improve the lives of artists through fairly paid opportunities?
How has Wave Pool influenced the narrative of art in this community?
I'd say it's made this community art-centric. There were art faces before Wave Pool in Camp Washington, but none have been as public-facing or as community-involved. The neighborhood has been so welcoming and so participatory for what we have to offer. It's been continually shocking and amazing to me how much the neighbors have appreciated what we've brought to the table in this community. It's made Camp Washington a place where people want to live. I think it's made it an interesting place that has things happening on a regular basis for residents and nonresidents to come and partake in.
What would you say your personal superpower is to do this job?
I think it's making creative connections. It's pairing deficits with assets to make something, or sometimes deficits with deficits to make an asset. I often use the example [that] you might have somebody living in an urban apartment with no green space who really loves gardening but has no opportunity. Then you may have a vacant lot that is maybe owned by the city and was the site of a torn-down house but now it's just a place for trash. Maybe you've got a group of teenagers that have nothing to do and are just causing trouble because they're bored. How can we pair those things together, maybe with an artist who's got a vision, to make a really amazing asset? You've got all these talents in one place. I feel that way about Camp Washington. We have all of these resources, all of these talents; how can we think creatively to combine them to make something magical and really positive?
How do you envision Wave Pool's role in community change?
We keep expanding because we do a lot of listening. Listening, I would say, is one of our values. Listening consideration is one of our biggest things. We started Wave Pool on the premise that we would listen first before doing any community activation and figure out what the needs of the community were. We continue to do that, and it's just never-ending. It leads us to new places and new ways to go.
So it's hard to say where that's gonna lead us next, but there have been requests for more places like Wave Pool throughout the country. So I'm currently writing a guidebook on what the magic is, [on] "How to make a Wave Pool." We're opening one next year in Hamilton and looking at how we can replicate this. Every time, it's going to look different because every community has different needs. But how can we keep impacting change depending on what the needs are? We have to stay flexible, we have to keep listening, and as things are thrown at us, we just have to respond as swiftly and as thoughtfully as possible.
Facebook Comments