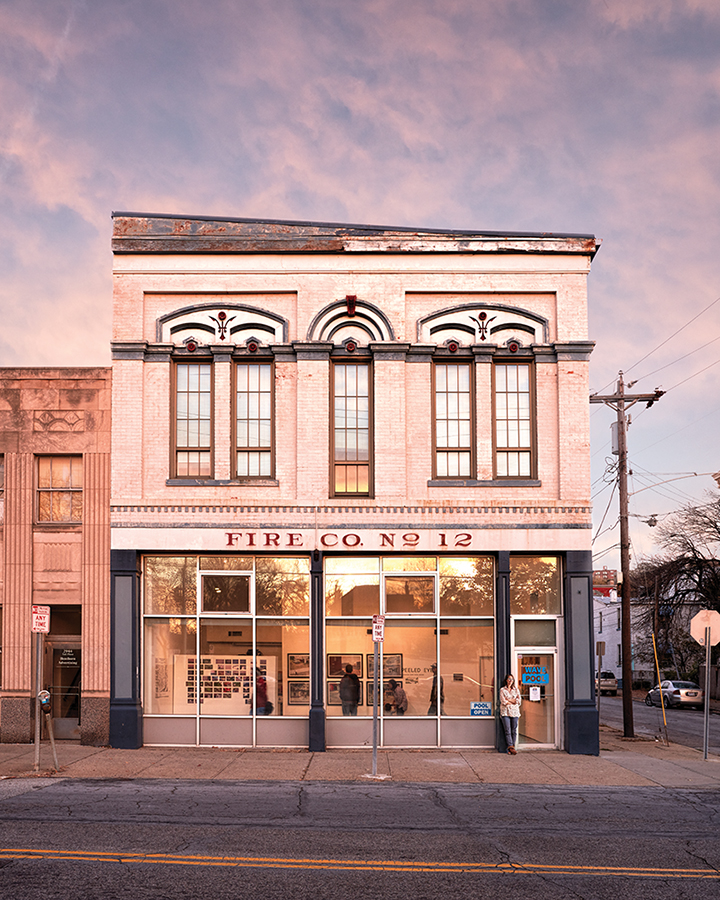 ---
Calcagno Cullen stays busy as executive director of Wave Pool, the Camp Washington art center she and her husband Skip opened in February 2015. There was the FotoFocus installation by Dutch artist Pierre Derks that they staged outside of the Freedom Center in early October—an igloo-like inflatable white dome filled with TVs running footage pulled from unsecured webcams. Then there was that live stream of Washington, D.C.'s Creative Time Summit, a discussion of the intersection of art and social justice, that they showed at The Sanctuary in Lower Price Hill. And in between: a lot of programming in their gallery space.
In 2009, after Cal (far right in the above photo) and Skip (who works at Visionaries and Voices) earned MFAs from DAAP, they packed up their creative juices and took off cross-country. "We'd had enough with Cincinnati and needed to get out," says Cullen. But it was no average road trip: They tugged along a trailer loaded with mobile walls and artwork, dubbed it Greener Grass, and organized art exhibitions in cities along the way. "[The artists included] were all people from the Midwest who had the same feeling as we did, and it was a way to get them out, right?" she says with a laugh. "Metaphorically, at least."
The pair parked in San Francisco, where they stayed for five years while, among other gigs, Cullen ran the gallery at Adobe Books in the city's Mission District. "The idea that this bookstore could become a hub for community [stuck with me]," she says. "And it was because the owner was so open. People would come in and say, Hey I want to play my guitar here, and he'd be like, Sure, how's tomorrow? That made the space so special."
As the city's bohemian culture dissipated and the cost of living skyrocketed, the couple was drawn back to Cincinnati, this time with a clear mission: Fill the void for a community-based, contemporary, cutting-edge art space that supports artists. And do it in a way that elevates the Cincinnati art scene, showing local artists alongside those respected nationally and internationally. And have artists in residence. And contribute to the community in a serious way. And, and, and….
Wave Pool has attracted artists in residence from across the country with projects as varied as hosting personal change "groundbreaking ceremonies" for residents of River City Correctional Center and organizing glass-making workshops using dirt, lime, and sand found around town. They rent out studios. They've showcased the works of photographer Mishka Henner and conceptual artist Paolo Cirio alongside local artists like Andy Marko. "It brings those people to Cincinnati for us to enjoy, but [also] brings our local artists out into the world and puts them on the same plane. That's really important to us," says Cullen. Wave Pool also maintains its upstairs gallery as a community-driven space, à la Adobe Books.
Does it seem farfetched that an old Camp Washington firehouse could be transformed into a legitimate agency for creative expression and social discourse? It's not. Cullen's vision is steps ahead, her ground game can get there, and others in the art scene have taken note. Matt Distel, The Carnegie's exhibitions director, sees them in the long ebb-and-flow context of artist-run spaces: "They're really vital and produce some pretty incredible exhibitions," he says. "Wave Pool is at the forefront right now." Contemporary Arts Center curator Steven Matijcio, who has been a juror for Wave Pool's artist residency, calls them "one of the most important, ambitious, and essential organizations in the city."
"Their exhibitions are thoughtful, sophisticated, and make effective use of modest spaces," says Matijcio, "and their expanded field of initiatives far exceeds their physical space."
Cullen has a ready list of ways to further those initiatives, too: increase funding for residencies; expand into live/work housing; open a storefront for refugee-made goods; and be a contender for significant grant funding. They've already started a corporate loan program by curating work for bare-walled businesses, making the gallery and the artists some money in the process.
"When we left, we [thought], We have to go to a coast, everything happens on the coast. That's still a pretty true mindset," says Cullen. "When we came back and were thinking of a name, we were like, What's the Midwest version of a beach? What's our coast?" She laughs: "So, Wave Pool."
Facebook Comments