When did your family move to the U.S.? All of my family is from Mexico, from the state of Puebla, in a little town called Axutla. My dad was 13 when he came up here—you know, the American Dream—they came up here to work. He was staying with a couple of relatives and then from there he started working at a really young age and never went to school or anything. The business runs in my family. When they first got [to the U.S.], they didn't come to Kentucky, they went to New Jersey. In New Jersey, some of our family members have some businesses, so my dad would go and help out, and he grew up around that. His goal was always to have something [of his own]. This was before I was even here. [When he started the deli,] I was still in Mexico living with my mother. He's been living in Kentucky for about 18 years. I was born in Jersey, but my mom took me back to Mexico because she wanted me to be raised there. She lives in Mexico still. I've only been in the states for about 13 years; I was 10.
What was the town you grew up in like? It's very small. When I lived there, there were maybe 400 people. It's in the middle of nowhere. It just got an internet tower two years ago, so now everyone has Wi-Fi. They're trying to get cell phone service to work there, but they haven't gotten to it. A lot of the people from there are here. There's a group, they call it the Axutla group…[everyone] throws in money, and then we send it back to help people in our town, like the older people who maybe their kids can't take care of them. We take it upon ourselves to [help]. That's why people come here, because they want to help their families.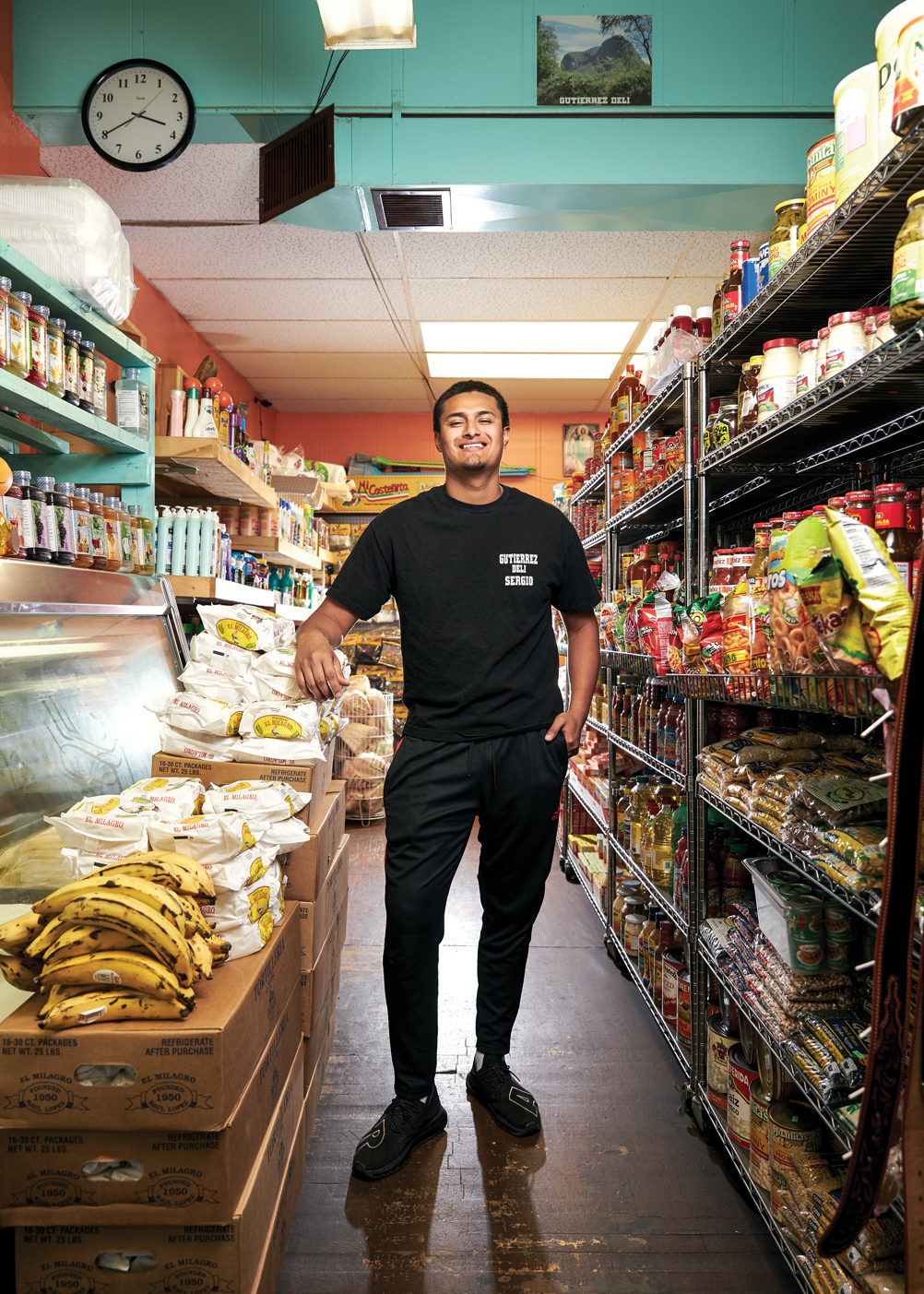 You have a community here from your hometown? We're starting to get a lot of people from our hometown, and most of them own businesses. We're here. Taqueria Cruz, they're from our town. The other store, San Miguelle, they're from our town. The bakery down there called La Rosa De Guadalupe, they're from our town. We're starting to build up our little community here. Most of our group lives in New Jersey. They're the ones, this month, they threw a fund-raiser party—they sold tickets for the party for $65—and all the money was sent back home. We went [to visit] in December. And what they'll do in December is we'll have a big party, and the people from here will pay people down there and everybody gets all the older people out of their houses and brings them to this get-together, bring them food, and hand them money. We try to do that as often as possible. It's all about helping the other person out.
How was this deli started? My father, when I got here, he was with his wife at the time and my sisters. And his wife's parents were from our town, as well. They had a little store like this, so my dad started helping them a lot there so he started becoming a lot more comfortable with the business. They split up and my dad was trying to figure things out for a while, job to job. Eventually, one of his friends from our town who lives in Lexington—he has a bakery and a supermarket. He said, the supermarket is doing too good and I can't focus on the bakery, so I'll sell you the bakery. He said he already had customers, so we'd be making money. So that got us thinking we were going to move to Lexington. Then another one of his friends from here called him…and said there's a place in Covington that closed and asked if he wanted to check it out. The week we were supposed to move to Lexington we signed the contract and got the spot.
How did you land on this part grocery, part deli format for the store? When we first got here we tried having the Mexican products and the deli. We've been here for seven years, almost eight. When we got here in 2012, things were pretty bad around this area. A lot of the people who were customers here at the time wanted to buy deli stuff with their food stamp card, but we didn't have the food stamp processer. That put us in a tight spot and we didn't know what to do. The only thing we knew to do was what we were doing at the other store, which was selling tacos, quesadillas, burritos. And then our customer base, we realized that here in this area, most of our customers are from Central America, so from Guatemala, El Salvador, Honduras, and not Mexican. When we first started, we had a lot of Mexican products, but they weren't really selling. They wanted to buy their brands, so our customers kind of made us make the store this way, so it suits everybody.
How do your recipes cater to both Central American and Mexican tastes? Here you don't have a lot of the same access to the spices you would have back home. Everybody uses alternatives here. Goya's a big brand. Goya has influenced us a lot because you can go to a Mexican person's house, a Dominican, a Puerto Rican, Colombian, anything, and you're going to find Goya. When we cook, it's the same stuff they're using at home, so we can cater to everybody. That's the cool thing about it.
How do you define authentic Mexican food? It has to do a lot with how you cook and present the food. It depends on the region. Traditionally, when you go to an authentic Mexican place, you get tacos on corn tortilla with onion and cilantro and lime and salsas. In Mexico, where we're from in Puebla, they put cabbage on the taco instead of the onion. The onion, they cook it with meat. Here we cook the onion with the meat and then we put cilantro and cabbage on top and it adds a little crunchiness—it's something different. What doesn't make it authentic, maybe for us, is that we put cheese on it. That's not something that's traditional [in Mexico]. We had to do that so we could satisfy American customers. And even now, since I've been here, I've gotten Americanized and now I want cheese on my tacos! It's like everybody's evolving with food.
In Mexico, everybody in our town has their own trait. Like, this family has farms, so they've got the cows, the milk, the cheese. My family is known for cooking.
For American customers looking to broaden their palate and try something new, what do you recommend? On the weekend we have different things that we make [besides tacos, quesadillas, and burritos] that are specific to our region. Where we're from, it's mole poblano. That's what I would suggest they come on the weekend and try. It's my grandma's recipe.
Did your grandmother teach you to cook? My grandma was a big influence for us to be in the food business. In Mexico, everybody in our town—it's still like back in the day—everybody has their own trait. Like, this family has farms, so they've got the cows, the milk, the cheese. My family is known for cooking. Over there we cook the meat underground, and anytime there's a big party, my grandpa is the guy that they call. We have three big ol' holes in our house because we cook the meat. My grandma makes the mole, and she sells it by the kilo down there. It's her specialty. We grew up around that so we were influenced by it.
Do you have any ambitions for opening a restaurant of your own? Actually, I'm in the process of opening one. In June or July it should be open. It's called Olla. The building is under renovation. I'm branching out, since this is my father's [business]. Right now he's helping me set that up, but eventually I don't want him to have to work. For us, family is everything. My dad came here and did all he did and struggled to get me where I am right now. I'm about to graduate with my associate's [degree] in business from Gateway Community College. I really didn't want to go to school. I thought, I'm just gonna work. And my dad was like, Dude, if I would have had the chance to go to school, I would have gone to school. Now I feel like the last two years I've grown up in a different way, just talking to my father and actually taking him seriously. He knows what he's talking about, and it's time for me to help him out.
At your new restaurant, do you plan to carry over the menu items? Yeah, for sure, we'll have the same tacos we have here, and more. I want to have—tops—15 items. I'd rather have quality over quantity. What we're thinking, it's going to be a sit-in place, so we'll have beer and wine…. I plan to have the tacos, quesadillas, and burritos, which will be fast options, and then I'm also going to offer fajitas and [plated] dishes for people who have a little more time. And then I also want to have lunch specials every day, especially for the construction workers [who frequent the shop].
Has going to school given you the skills to plan this new business? I would come here and help all the time in high school, and I was like, Dad, this is not me, I don't like dealing with people. My dad would always be like, Dude, why do you want to go work for somebody when you could work for yourself? It got me thinking and I started doing little things like buying things online and reselling them, so then I got into more and more. We ran into a few little problems in the store, business stuff in general, but we didn't know [what to do]. I decided, You know what, Dad, I'm going to go into business, and I really, really like it. In one of my semesters I joined [a business networking group], and that really helped me get out of my shell where I felt comfortable talking to people and presenting myself as a businessperson.
Will you keep this store open while you run the restaurant? Yeah, we want to keep it open, but we're not sure yet [long term].
How important is food in Hispanic culture? Food is very important. It brings people together. Especially during this time, I feel like—just like how a lot of the immigrants who come here to try something new—American people should be open enough to go to something new and see for themselves and not be biased about certain things. It makes a big difference. Especially [in Covington], it's starting to become very diverse. Before, you didn't see a lot of Hispanics. Now you see Hispanics and a lot of the neighborhood communicating with us. When we first got here, there would be people who would come into the store and start going off. Why do you have this? This is America! It makes it a weird environment where I have to act like what you want me to act like. I'd be like, I'm sorry, but this is a Hispanic store. You're welcome here, but if these are not the products you want, there are other stores.
That's changed? Over time. The variety of customers we get here has changed. Some people would come in and ask if we spoke English. My uncle, my dad, they speak English, but obviously it's broken. But then they'd be surprised when I'm here and I'm talking, and they're like, ah, you do speak English. People don't realize it, but growing up in an immigrant family—I consider myself an immigrant, because I was new when I came here. I didn't start speaking English until I was like in 7th or 8th grade. Thanks to my father, I was able to get to where I am, so it's like paying it forward. Even our customers, including American people, we help them. There have been people who said, I need to talk to my workers, and I'll go and translate for them. The more diverse, the better the community is.
Gutierrez Deli, 1131 Lee St., Covington, (859) 431-3354
Facebook Comments