In the 1930s and '40s, Saturday matinee screens across the country flickered with the exotic image of the white hat–wearing singing cowboy, crooning around the campfire and fighting for all that was good. These movies made cowpuncher seem like a sound career option, and kids everywhere were entranced. That fantasy of the west was within reach of just about any young man who could have an "authentic" Gene Autry "Round-up" guitar delivered straight to his door from the pages of the Sears, Roebuck & Co. catalog. Maybe the secret had even leaked out that Ken Maynard—the silver screen's first singing cowboy—was really a farm kid from Vevay, Indiana. If a country boy just west of Cincinnati could become a singing cowboy, why couldn't one just east of Cincinnati do the same?
Hundreds of thousands of country music fans who bought the debut record from Cowboy Copas—a.k.a. "The Oklahoma Cowboy"—knew that he could. They sent his jolly honky-tonk song "Filipino Baby" on King Records to Number 4 on the Billboard Country charts in 1946, and gave Syd Nathan's fledgling Cincinnati label its first national hit. Lloyd Estel Copas was born 100 years ago on July 15, 1913, in the town of Blue Creek, Ohio. This month, on the  16th and 17th, the centennial of his birth will be celebrated in Adams County during the fifth annual Cowboy Copas Memorial Concert at the Red Barn Convention Center. Cowboy Copas was the buckeye buckaroo; 10-gallon hats will no doubt fill the sky at the concert. Yet it's worth noting that history has rolled over on him twice: first when his name was buried deep in reports of one of country music's worst tragedies, and again in the history books, where tales of the iconic Cincinnati indie label give the old cowboy little love. Yet it was smooth-singing galoots like this that won the West on the pop charts.
In the Copas household, as in many rural homes, entertainment meant games, storytelling, music, and dance. Father Marion Eldon was handy on the fiddle but it was mother Lola who taught Lloyd to play guitar, and he developed considerable skills at a young age. That, along with good humor and an easygoing personality, made entertaining come naturally. Lloyd was playing in and around Ohio by his early teens with Fred Evans and the Ramblin' Hen Cacklers string band, and made his first radio appearance at the age of 14. Perhaps it was while dreaming of bigger things, or while watching a talkie, that a free-spirited young man first indulged in a little creative genealogy, concocting a tale of growing up on his daddy's ranch in Muskogee, Oklahoma. It seemed to work: "The Oklahoma Cowboy" was born.
By the early 1930s, Copas was back in Adams County, courting and marrying his childhood sweetheart, Edna Lucille Markins. In 1935, they welcomed their first child, Katha (Kathy) Loma into the world. Two weeks later, they were on the road in the family Plymouth, making their way to Los Angeles so Lloyd could try out for what would become the Sons of the Pioneers, a cowboyed-up harmony group. They would become synonymous with their founder, a native Cincinnatian named Leonard Franklin Slye, soon to rebrand as Roy Rogers. Although too young to remember, Kathy often heard her parents tell the story of that trip with the two-week old girl on her mother's lap, her diapers hanging out the car windows to dry. "I probably didn't smell too good," she says. Such was life in "Hotel Plymouth."
The L.A. opportunity didn't pan out, so back in Ohio, Copas reconnected with a childhood friend and self-proclaimed fiddle-playing "Indian" by the name of Natchee (a.k.a. Lester Vernon Storer). As Kathy Copas explains, "Back then, the musical team of cowboy and Indian was an easy sell. Some of my favorite memories as a child were watching my dad and Natchee take the stage. Looking back, it was every idea of what the West was in a child's mind." The team barnstormed the country for the next few years, making a living through a grueling schedule of one-nighters, radio appearances, county fairs, harvest festivals, and any other engagement where they were able to scratch up a bit of cash. If they got lucky, they might land a radio show sponsorship selling baby chicks or some type of Hadacol cure-all.
---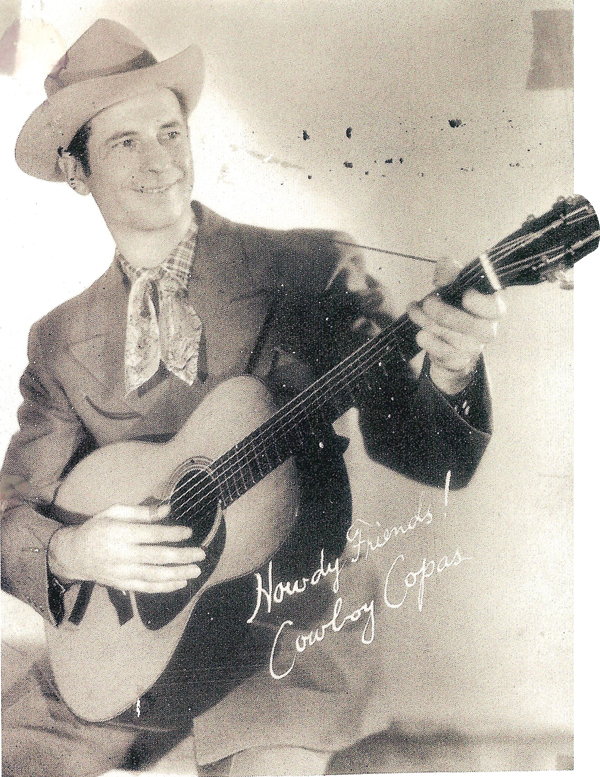 In 1937, Natchee and Copas, with family in tow, relocated to Covington, Kentucky, and joined WLW's Boone County Jamboree, a Saturday night barn dance show with a large national following. At the time, the Jamboree and King Records were becoming deeply intertwined. The show featured country stars Grandpa Jones, Merle Travis, the Delmore Brothers, and Hank Penny. Syd Nathan's record shop was a few blocks from WLW, and these same artists would drift in and out while waiting to play. A crafty entrepreneur could see the possibilities. Why just sell records when you can make them, too?
In mid-1944, Copas recorded an early version of "Filipino Baby" for King, but the sound quality was so bad Syd shelved it. A year later, with Syd beginning to master all aspects of making records, he sent Copas back into the studio. This time the results were more successful, and Copas set King on the track that would change American pop music. The re-recorded "Filipino Baby" struck a chord with returning servicemen and gave them the opportunity to innocently relive their youthful transgressions. It became King's first national hit in 1946, yet Copas's name is often not affiliated with the label's legacy. Most times, King's Who's Who starts with James Brown then descends through the ranks of Hank Ballard, the Stanley Brothers, Freddie King, Bill Doggett, and so on, with Copas's name absent. But it was Cowboy Copas's hit that gave Nathan much needed cash flow,
helped put King's records onto more shelves, and fed the label's skyrocketing success; within five years, it was the sixth largest record company in the United States.
Copas landed on the cover of the August 21, 1948 issue of Billboard, in a story announcing that he'd signed two 10-year contract renewals: one with King, the other with the Grand Ole Opry, where he had been working solo and with Pee Wee King's Golden West Cowboys. Soon he became known as The Waltz King of The Grand Ole Opry; 1948 and 1949 were his best chart years, with "Signed, Sealed and Delivered," "Hangman's Boogie," "I'm Waltzing with Tears in My Eyes," "Tennessee Moon," "Candy Kisses," and "Tennessee Waltz." Between being King's first Opry artist and that string of hits, Cowboy Copas became King's first true superstar. His voice was a countrified version of Bing Crosby's, with a smooth delivery in the lower octave—refined but with some fire in it. Along with such singers as George Morgan, Eddy Arnold, and later, Jim Reeves, Copas would come to define a style known as "country crooners"—a more rounded sound quite at odds with the stripped-down, hard-edged honky-tonk delivery of Lefty Frizzell, Ernest Tubb, and Hank Williams.
On a song-buying sojourn to Nashville, Copas came across "Tennessee Waltz" (a knock-off of Bill Monroe's "Kentucky Waltz") and liked it, but didn't like the price of $25. But Syd Nathan had a hunch, so he fronted Copas a bit more cash and sent him back to buy ownership rights to the song. Again, Copas returned empty-handed. "The bastards put the price up to $50," he reported. "You done right," Syd told him. "Ain't no song in the world worth that."
Both men lived to regret that decision once "Tennessee Waltz" became a multimillion seller for Patti Page and went on to be recorded by performers as diverse as Otis Redding, Leonard Cohen, and Tom Jones, not to mention Copas's own definitive country version; in 1965, it was named the official song of Tennessee. That missed opportunity may have been what convinced Syd to adopt the business mantra "own the song." Had he scored the rights when he had the chance, Copas later lamented, "The soup would have been a lot thicker."
As a new decade dawned, the hits slowed. Copas's last one for King, "Tis Sweet To Be Remembered," charted in 1952. Over the next few years, the recording sessions at King's studios in Evanston were filled with the likes of Charlie Feathers, Lattie Moore, and Hardrock Gunter—a new breed of young, hopped-up country artists who came and went as Syd searched for his own Elvis. In late 1955, Copas was let out of his contract a full three years early. The same fate was in store for a number of King's other country artists, such as Moon Mullican, the York Brothers, and Wayne Raney. Receding hairlines  simply couldn't compete with ducktails. It seems Raney took it the hardest, venting on his 1960 recording "We Need A Whole Lot More of Jesus (and a Lot Less Rock and Roll)."
---
The second half of the 1950s were leaner times for the Copas family. Lloyd remained part of the Opry and relied more on live appearances than record sales for income; his likable personality and rapport with fans kept him a viable attraction even without a hit."He knew the fans made him, so he always made time for them," his daughter says. Her father lived by a simple credo: "If you were a decent person who dealt fairly with others, helped when you could and gave a bit of your time, it would all work out."
Those lean periods had a strong impression on his young daughter. "Being out there and working harder for less money is tough on anyone but I think especially a performer, because you still have to get up there and sing like you have a number one hit no matter what," she says. "That's what the people came for and that's what Dad did." For Copas, every stage was the Grand Ole Opry.
Like many country artists who had been shown the door by rock and roll, Copas felt pressure to give in. In 1958, he signed with Dot Records and released "Circle Rock," billed as Lloyd Copas so as not to alienate his country fans. It out-rocked anything on the Top 100 for 1958. The adrenalin-fueled piano break by the legendary blind Nashville piano session man Hargus "Pig" Robbins is the aural equivalent of a barroom brawl. Regardless, the record sunk. ("Circle Rock" was resurrected as a cult track during the early 1980s rockabilly revival.)
A year later, a sympathetic businessman named Don Pierce signed him to his Starday label in Nashville. Part of Pierce's philosophy was to sign established artists, let them do what they did well, be content with modest sales, and pray for an occasional hit. In 1960, that strategy paid off when Copas's first hit for Starday, "Alabam," also became his first No. 1 hit, followed quickly by "Flat Top," "Sunny Tennessee," and a remake of "Signed, Sealed and Delivered." At long last, the soup was getting thicker.
It was support from others and their belief in his talent that helped put Copas back on top. It's also what took him to Kansas City, Kansas, on Sunday, March 3, 1963. That January, a Kansas City DJ named "Cactus" Jack Call died in an automobile accident. Call had supported Copas's career and now it was time for Copas to support the loved ones Call had left behind. A benefit was held featuring Copas, King recording artist Hawkshaw Hawkins, the million-selling countrypolitan star Patsy Cline, and a few others. It was supposed to be a quick turnaround: they'd play and fly back to Nashville the day after the benefit in a Piper Comanche piloted by Copas's son-in-law. But that Monday was filled with storms, and the flight was delayed until Tuesday, March 5, when more bad  weather forced it to land in Dyersberg, Tennessee. After waiting out the storm front, the small plane took off at about 6 p.m.—only to crash outside of Camden, Tennessee, about 90 miles west of Nashville. Everyone on the plane perished. Soon after, Cowboy Copas's final hit, "Goodbye Kisses," climbed the Country chart to No. 12.
It's true that a number of fellow Ohioans—Bobby Bare, David Allan Coe, Johnny Paycheck, and Dwight Yoakam to name just four—have contributed to country music history, but Lloyd "Cowboy" Copas's achievements are only surpassed by Roy Rogers. Maybe with a few more movies and a chain of roast beef sandwich restaurants under his holster, he could have been tops. Instead, we have the music, and it speaks for itself—from Adams County all the way to "Alabam."
Facebook Comments
---