If Cincinnatians had to ordain a neighborhood its rock and roll epicenter, it'd be Northside, home to a score of musicians who not only live there but regularly perform in venues like Northside Tavern, Northside Yacht Club, Urban Artifact, and The Comet and are constantly sifting through the racks of vinyl at Shake it Records. Co-ed trio Leggy are some of those very denizens. Initially lured by the record stores, fellow musicians, and annual Northside Rock N'Roll Carnival, guitarist and lead singer Veronique Allaer and bassist Kirsten Bladh now co-habitate next door to The Comet, where the band played its first official show as Leggy in February 2014. Drummer Chris Campbell lives down the street and works at the Yacht Club. They've made the neighborhood their own modern day Greenwich Village, just with better chicken wings, more craft beer, and a KFC/Taco Bell combo drive-thru.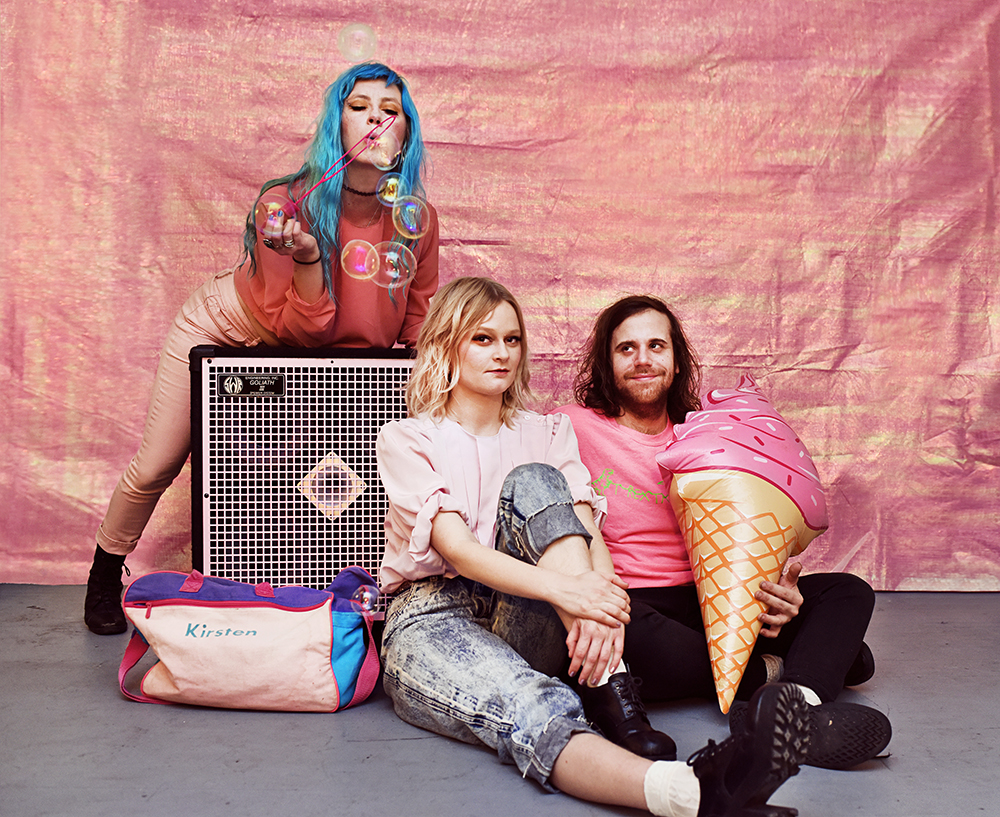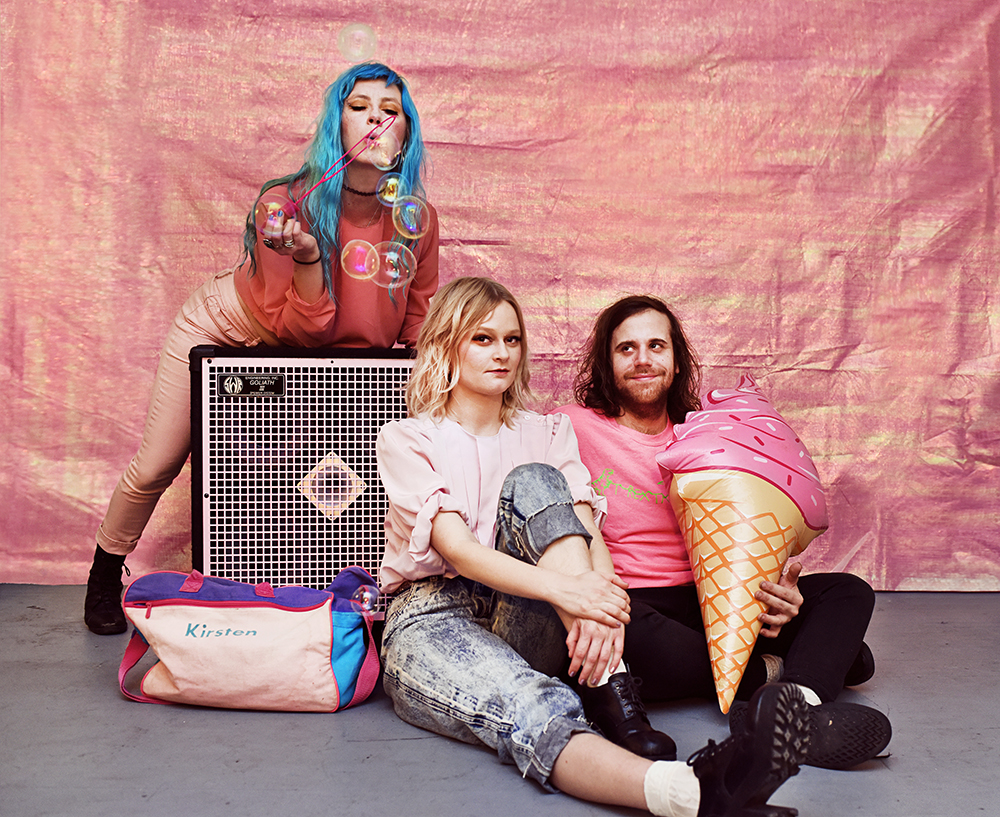 ---
The trio, each 28, formed in 2013 when Allaer returned home to Cincinnati after attending college in Washington, D.C. They briefly went by the name Sweet Teeth but quickly switched to Leggy, and have already released three EPs—2014's Cavity Castle, 2015's Nice Try (both self-released), and 2016's DANG (distributed by Illinois label Manic Static)—as well as a 15-track self-titled compilation that U.K. label Damnably (Wussy's international label) released on CD in 2016. It sold well enough for the label to reissue and remaster it on vinyl last year. The band personally reached out to Manic Static about releasing the 2016 EP, but Damnably first heard the band on local station WAIF 88.3's Trash Flow Radio program when Leggy performed a live set in studio.
"We didn't know it at the time, but the head of the label [George Gargan] was listening," says Allaer. "It ended up being this audition in his mind. He reached out to us and wanted to put out the record." Touring the U.K. with fellow Damnably artists such as Shonen Knife has helped Leggy gain followers across the pond, but it's also benefited them back home. "It seemed to legitimize us in the minds of people who had already heard of us," says Allaer.
That validation spread to the music as well. This past winter, Leggy recorded their first official full-length album at Ultrasuede Studio, just up the road from Northside, with producers/engineers Jerri Queen and John Hoffman (both of whom play in the local band Vacation). "We've thought of it more as a cohesive album than any of our other recordings," Allaer says over beers at The Comet. "We've put more thought into it. I think it's more detailed." (It's yet to be given a release date.)
Working with Queen and Hoffman on the new album has a bit of a full-circle vibe to it—they also produced the band's first two self-released EPs—though Leggy believes they've seen some self-improvement since then. "Our songs are less definable to one genre," says Campbell. "The first couple rounds of songs were more garage-punk and poppy, and now it's not that. I don't know how to describe it."
Allaer's lyrics tend to oscillate between summer romances and the inevitable acrimonious breakups, performed against Leggy's power-chord laced, heavily distorted, self-described "lush punk" music. On "Peach," from 2015's Nice Try, Allaer compares kissing a boyfriend to "like kissing a peach," then later sings, "I hope you're happy with your new girlfriend / me with my new man." On the female power anthem "Grrrls Like Us," also off Nice Try, she trills: "There are plenty of fish in the sea / but girls like us don't grow on trees."
Allaer admits that on the new album her characteristically dark lyrics have a happier sheen due to the fact that she's currently in a good relationship. Most of the songs are infectious and terse, clocking in under three minutes, with trotting percussion and driving, punchy guitar. Girl groups, surf rock inclinations, Lana Del Rey, and modern feminism all figure into tracks "Waisted" and "Even Lana," named after the aforementioned singer. "There are definitely dark songs, but not every single one of them is," says Allaer. "It's relationship heavy and based on a feminine perspective, just because that's all I've experienced. There is a song about consent on the album, as well. Our songs aren't written with the intent to be political, but a feminist perspective comes out."
Bladh—who marks her debut as a singer on the new record—contributes to the songwriting as well, though her bandmate's suddenly contented lyrics blindsided her a bit. "It's funny, the first song I did sounded like it was a darker romantic song, and it was easy for me to write those lyrics," she says. "Then Veronique came to me with this happy one, and I was like, I'm going to have to think about this for a week."
---
Leggy's ties stretch back well beyond five years. Allaer and Bladh attended Ursuline Academy, where they served as student body co-presidents and played in a band called White Linen. Bladh and Campbell grew up in Loveland, met through mutual friends, and matriculated at the University of Cincinnati.
In 2012, Allaer graduated from D.C.'s American University, where she studied politics. She rolls her eyes at herself because she's told the story ad nauseam, but one night she drunkenly fell from a three-story building and almost died. Music wasn't on the radar, to the point she didn't even bring her guitar to school. "I didn't think it was realistic at all, and then I had an epiphany," she says. "What do I want to be doing if I died? I want to be in a band. It ended up being nice, because my parents were like, 'Whatever you want to do, do it.'" The incident sparked her move back to Cincinnati in January 2013.
In 2018, female-fronted punk bands may seem a bit displaced, considering the halcyon days of alt-rock were in the 1990s when Garbage, The Cranberries, Hole, No Doubt, and The Breeders had big hits. Today, female rock bands are relegated more to the underground or fringes of mainstream pop—but they're out there. Leggy, a purposefully feminine name, cites Slow Glows, Swim Team, and Electric Citizen as local examples, plus Cherry Glazerr, L.A. Witch, and Chastity Belt on a national scale. "We're in a scene [in Cincinnati] where it's more normal to have women in the band," says Allaer. "We're lucky in that way."
They also don't mind playing female-centric music fests or being singled out because the group features two frontwomen. "In the current times it's become an empowering thing," Allaer says. Which is not to say they've bypassed sexism. "There are some random sound people who will mess with our knobs," she says, "or a drunk guy in the audience will touch my pedal. It's like Dude, don't do it."
"It's unconscious sexism that they're like, I'm going to adjust their amp," Bladh adds. "They wouldn't do that for a guy."
Campbell witnesses it as well, even in ribbing or subtler ways. "When people come up to me, they say, 'It must be really great to be with these hot girls all the time,'" he says. "You guys are hot and my friends," he adds, talking to Bladh and Allaer, "but I'm just on tour with my band. So it's not anything too different."
"No one asks us what's it's like to tour with Chris," Bladh jokes, though Allaer says he sticks out when the girls are thrift shopping. "Chris is walking around so bored, looking at the VHS tapes over and over again."
---
Being and remaining a Cincinnati band has afforded Leggy a comfortable connection with each other and the city. "We've all known each other since high school," notes Bladh. But with success come questions about jumping to a bigger metropolis—they played more than 100 gigs in 2016 and the Nelsonville Music Festival last year, and will play U.K. shows in Leeds, Glasgow, and London this month with fellow Damnably artists Otoboke Beaver and Say Sue Me.
The three bandmates do feel Cincinnati's music scene has improved in recent years, but Bladh and Campbell also wish the city had more diverse venues. "It seemed like for a while there were a lot of all-ages spots or D.I.Y. venues and not quite as many bands," says Campbell. "And now it's the opposite—there are a lot of bands and not as many spots to host them all." Last year, Leggy spent some time in Chicago recording demos and liked it so much they weighed moving there. "It's still an option," says Allaer. "None of us feel so overly attached to Cincy that we are opposed to living elsewhere if the conditions were right."
Hanging around is still an option, too. One of Cincinnati's biggest musical exports of the past few years is Walk the Moon, an organically developed group that hasn't officially made the leap to Brooklyn or L.A. or wherever. The members even tweeted their affection for Leggy when the trio played Bunbury Music Festival in 2016. "We had every teenage girl wanting a picture with us there," says Bladh.
But despite the world tours and some good pub from mainstream music websites like Stereogum and Vice's Noisey, the group hasn't hit Walk the Moon levels of fame just yet. All three band members maintain service-industry day jobs, and while they'd obviously love it if the new album sends them into the stratosphere, Campbell would settle for not having to work Sunday brunch at the Yacht Club.
"I don't think any of us are looking for limousines and helicopters," says Campbell, though Bladh can't help herself, adding, "I would take that."
If they do reach diva status one day, they all agree the Leggy tour rider wouldn't be anything too lavish: sour gummy worms, smoothies, "a regional light beer," and a Skyline Chili buffet bar at every tour stop.
Can't take Northside out of the band, I guess.
Facebook Comments