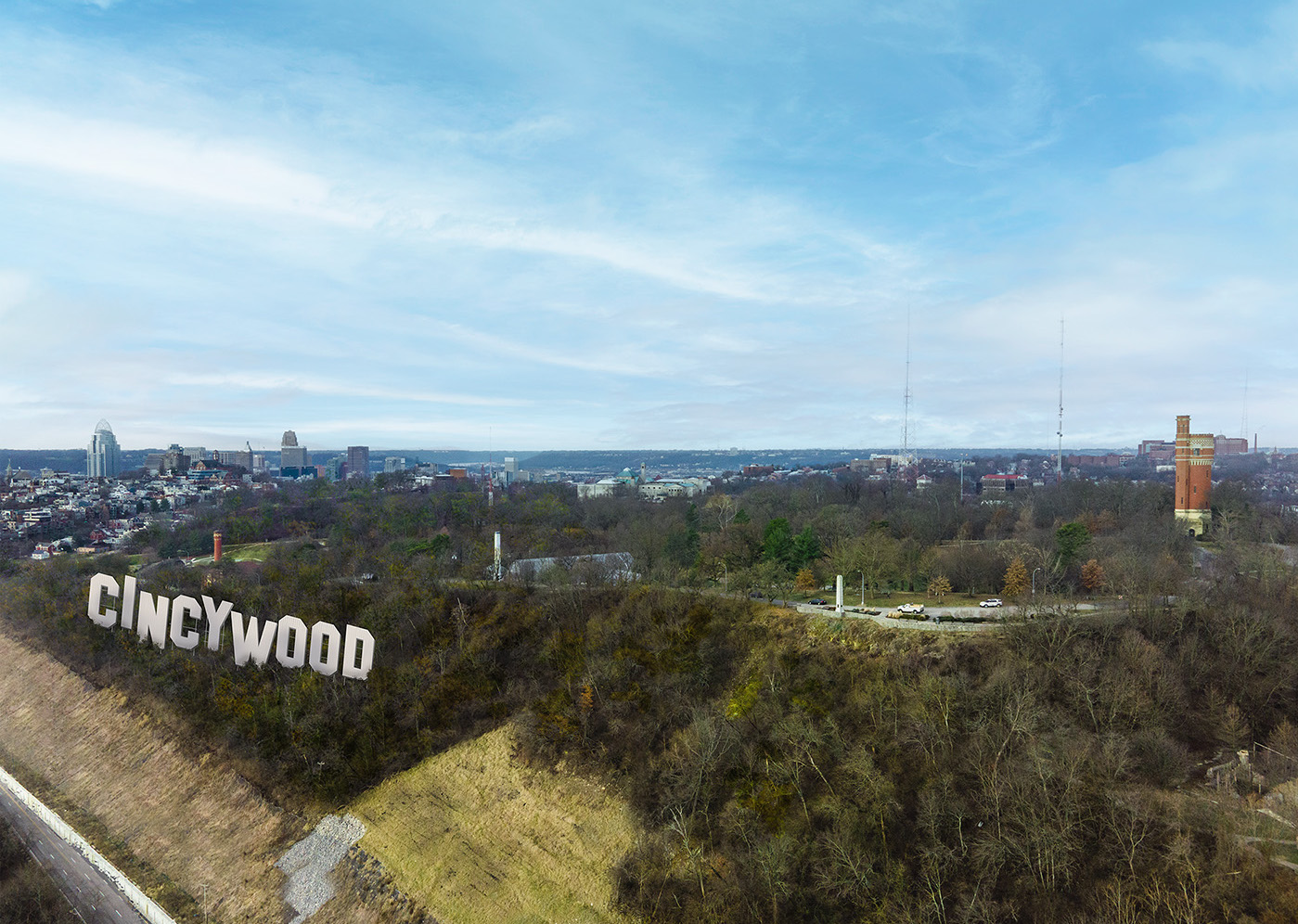 Far from the L.A. backlots and cordoned-off blocks of Brooklyn, Cincinnati has become home for silver screen scenes that take place all over. The Queen City has become the Big Apple on several occasions in Carol, Miles Ahead, and the upcoming Robert De Niro gangster feature Wise Guys. She's taken the place of Big Sky, Montana, and parts of the Midwest for Robert Redford's final film, The Old Man & the Gun. You may have been told that parts of Over-the-Rhine stood in for parts of Mexico in Traffic, but your source was misinformed—though OTR does represent what Topher Grace's character describes as a seedier part of town. Even Northern Kentucky shone as Utah and Colorado in that Zac-Efron-as-Ted-Bundy Netflix film with a super-long title.
But why does Hollywood forgo soundstages and CGI to shoot in our backyard? Jacob Berry, an assistant location manager who lives and works on films in L.A., flies back to Cincinnati often to manage location shoots for movies, including The Old Man & the Gun, The Killing of a Sacred Deer, the soon-to-be-released Shirley Chisholm biopic Shirley starring Regina King, and the upcoming '60s biker gang flick The Bikeriders. When discussing Cincinnati as a shooting location, Berry quotes Mark Twain: When the end of the world comes, I want to be in Cincinnati because it's always 20 years behind the times. "We get a ton of period pieces here because Cincinnati still has and holds onto older architectural styles, these older street signs even, that just happen to look perfect for old New York or old Boston or Chicago…. But it's also the larger and broader aspects that allow us to not have to fake it so much."
Beth Johnson, executive director of the Cincinnati Preservation Association and the city's former urban conservator, says Over-the-Rhine is one of the largest intact historic districts in the U.S., so the classic aura is no accident. Through its nearly 60-year history, CPA assisted the city in establishing a Historic Conservation Ordinance and Historic Conservation Board, which paved the way for the OTR Historic District to preserve older architecture. Early on, CPA helped establish protection areas over Lytle Park and Dayton Street, and more recently has led efforts to revitalize OTR while still preserving those historic buildings.
And for that vintage on-screen look, Johnson credits the variety of older architecture in the city, from early Greek revival to Victorian to Mid-Century Modern. The Italianate style is most prevalent—you'll see buildings with overhanging eaves with substantial brackets; tall, skinny windows; and cast-iron decorations that were once popular in Brooklyn Heights. When Johnson tours the neighborhood with visitors, they can't help but draw comparisons to Brooklyn and even Europe. "Our architectural history is often overshadowed by larger cities and even the assumption that because we are in Ohio, we are flat farmland," Johnson says. "I may be biased, but I've traveled to hundreds of historic cities across America, and the richness of our architecture combined with the topography creates an amazing backdrop to life in general, so of course it would be a beautiful backdrop for film."
But we all know the Queen City truly shines when she's being herself—Rain Man, Traffic, The Public, The Killing of a Sacred Deer, and Dark Waters were all set and shot in Cincinnati, and there's nothing like seeing your little corner of the world projected in all its everyday majesty on a gigantic silver screen.
Facebook Comments