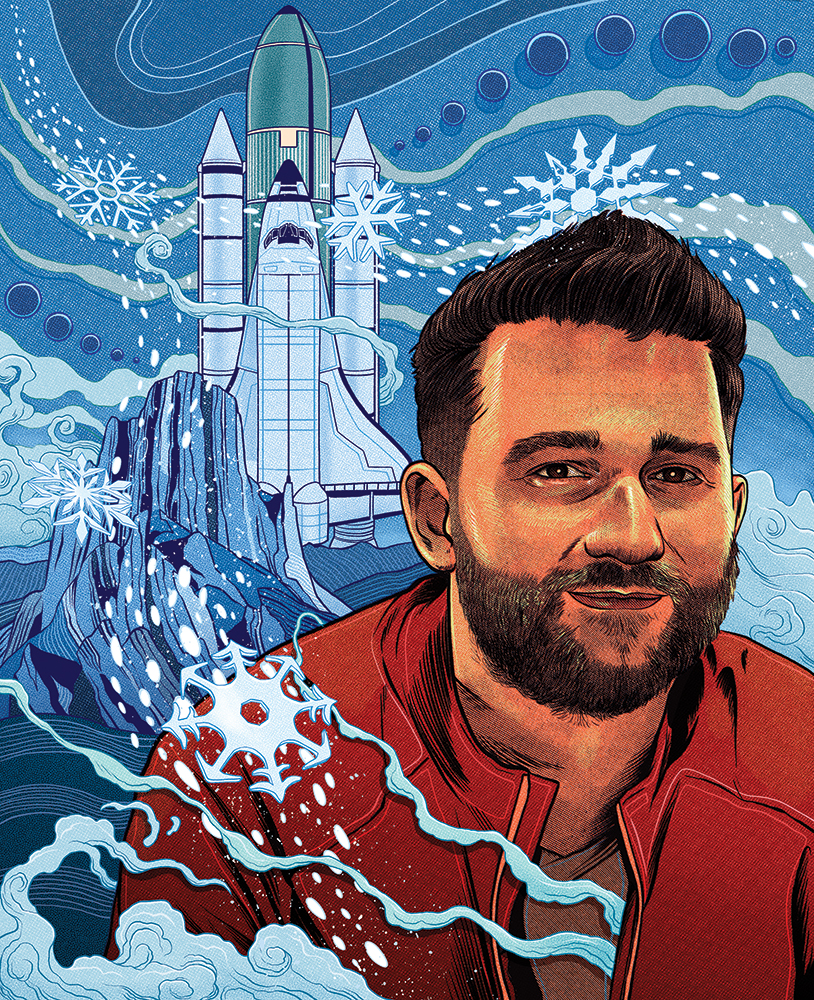 Until the fourth grade, Michael Markesbery lived down the street from his grandparents in Mt. Airy. Every day after school, he and his sisters went to a latchkey after-school program and then to their grandparents' house for dinner.
"My grandfather would ask me the same set of questions at every dinner, and after the questions was the same story," says Markesbery, now 30 and cofounder and chief executive officer of Oros, a high-tech cold-weather apparel company headquartered in Portland, Oregon.
Khamis Alexander Saba would tell his grandchildren about growing up in Palestine and emigrating from Beirut, Lebanon, with little more than a medical degree, then becoming a successful general surgeon at Good Samaritan Hospital in Cincinnati.
"Being an entrepreneur is learning how to become comfortable with being uncomfortable," says Tim Holcomb, director of Miami University's John W. Altman Institute for Entrepreneur-ship.
After dinner, the kids went home. Their father, Glenn Markesbery, was building a law firm and sometimes wasn't home until 10 p.m. Despite the late hour, father and son had an unspoken pact that if Michael had done a household chore he could tiptoe from his room and share some of Dad's dinner.
"One of the things that was ingrained in me, hearing my grandfather's immigrant story and watching my dad build what he built, was grit," says Markesbery on a video call from an Airbnb in Washington, D.C., where he's spending a couple of days meeting with Oros stakeholders. Now in business for seven years, the company's partners come from the commercial and government sectors—even more so since Oros landed a $10 million appropriation from Congress last year to produce next-generation tactical shelters and extreme cold weather apparel for the U.S. military.
Grit is clearly something the self-proclaimed science nerd picked up early in life. He planned to be a doctor, like this grandfather, but veered off course while studying zoology at Miami University and became an entrepreneur instead. By the time Markesbery graduated, he and another student, Rithvik Venna, had launched their startup company (later renamed Oros) with a successful $319,000 crowdsourced Kickstarter campaign. Two years later, Forbes named the cofounders to its "30 under 30" list.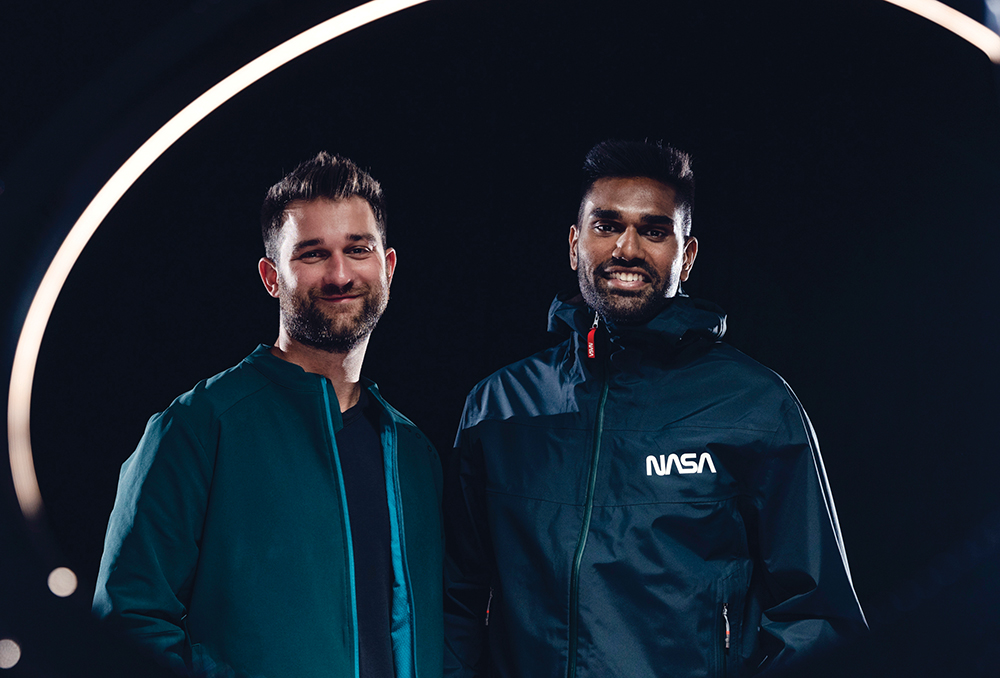 Today, the duo's patented Solarcore technology is inside its own cold-weather Oros apparel line and is purchased by third parties to build into cold-weather products such as winter shoes made by Cabella's, John Deere, L.L. Bean, and, starting in 2024, Merrill. "The vision I have always had is to transform thermal materials," says Markesbery.
Oros has successfully demonstrated its technology in outdoor apparel, says Tim Holcomb, director of Miami University's John W. Altman Institute for Entrepreneurship, who has been a mentor and advisor to Markesbery and Venna. He can't wait to see what they do next.
"Being an entrepreneur is learning how to become comfortable with being uncomfortable," Holcomb says. "Michael and Rith have done well knowing it's going to take five to seven years to develop the technology and still having the patience to chop wood and not get distracted when bad things happen."
---
You might say this business concept started when Markesbery summitted Säntis, an 8,200-foot mountain in the Swiss Alps, the summer before his junior year at Miami. Or you might say it began some months later, the day two zoology students, both intent on becoming doctors, started talking about aerogel.
It was fall semester of 2013, and Markesbery and Venna were cramming for an organic chemistry exam. "We were walking across campus to take the test, and he starts pitching me this idea and my mind starts spinning," says Venna. "I was supposed to be remembering all of these carbon chains. That's probably why he beat me on that exam."
Markesbery had been reading about a class of synthetic ultralight porous materials called aerogels in his spare time. The material was created in the 1930s and developed over the years by scientists at NASA and elsewhere to insulate skyscrapers, pipelines, and even space shuttles. As the name suggests, aerogels are more than 90 percent air, one of the lightest known solids on Earth, he explained to Venna. Their low thermal conductivity gives them incredible abilities to block cold and heat.
On the mountain, Markesbery had cursed his bulky jacket, thinking that there must be a better way. Was it aerogel? "We became obsessed," says Venna.
They ordered aerogel from suppliers in Europe, Asia, and the U.S. with some scholarship money that Markesbery won the year before, began experimenting with it in a Miami science lab, and signed up for a 48-hour startup weekend held by the university's Institute for Entrepreneurship. Markesbery ultimately chose to build the company, first called Lukla, as his senior capstone project instead of a medical topic, and he and Venna began seeking out advisors.
"That's just how Michael approached everything in life, with the scientific method," says Maria Markesbery, his mother, who is also a lawyer. "Give him a problem, and he is going to find that solution. The decision to put it on Kickstarter—to validate consumer interest—was enough for me not to worry. It was something like 48 hours later, and they already got to their $100,000 goal. I'm like, OK, well, that decision's been validated."
In all, 904 backers invested $319,320 in the Kickstarter campaign. Markesbery and Venna continue to be successful in fund-raising, pulling in $14.5 million in the latest round of Series A funding. "People are interested because we're solving a huge problem," says Markesbery, talking about applications beyond apparel. "There's $35 billion worth of temperature-sensitive medication wasted annually due to poor temperature control—that problem shouldn't exist. And 50 percent of the world's energy consumption goes to heating buildings and structures."
For the first couple of years, Jeff Nash wasn't really sure that Markesbery and Venna were onto something. He'd spent two decades as a materials engineer in the outdoor apparel industry, first for The North Face and then for Black Diamond. Outdoor recreation, sports, and apparel companies were tinkering with aerogel technology for thermal performance, he recalls, but it wasn't popular.
"At The North Face, we had started using aerogels in blankets," says Nash. "It performed very well, but I couldn't get factories to want to work with it because it was non-durable, it was dusting, and it would shed. Factories didn't want to cut it or sew with it. Even though the performance was good, the material wasn't suitable for consumer products or the apparel industry."
Markesbery and Venna were already thinking through the problem when Nash got introduced to the duo via a colleague, another Miami alum. He was working as a consultant and agreed to advise the energetic budding entrepreneurs.
Markesbery had noticed that a lot of products—including wet suits, soft-sided coolers, and shoes—used closed cell foam to insulate from the cold. With Nash's help, he and Venna developed and patented Solarcore, a closed cell foam that contains aerogel, and started constructing it into jacket prototypes, innovating and tweaking the technology year after year.
When contracts with commercial and government partners started ramping up about three and a half years ago, Nash decided it was time to accept Markesbery's and Venna's offer to become Oros's third full-time employee. "It took vetting the material, vetting the opportunity, and vetting Michael and Rithvik as founders," says Nash from his home in Park City, Utah, where he leads the company's technology team. "We're not making a better version of something. We're introducing something new to the market."
Everyone did a little bit of everything in the beginning, Nash says, but today the three have distinct roles. Nash stays focused on improving the Oros technology and sustainability. Venna oversees operations, finances, and marketing, while Markesbery runs investment relations and company culture. "It's a very collaborative process, and we leave our egos at the door," says Nash. "Michael is really good at knowing what he knows and what he doesn't know, and he has an amazing ability to connect with people to seek guidance, listen to all of the influence out there, and act."
Markesbery says it's as simple as having a hypothesis and testing it. "If it's right, you keep going," he says. "If it's wrong, OK, now you have a new piece of data that allows you to reformulate your hypothesis and try again." His mantra? "Science the shit out of everything you do."
---
Whether it's on a stage in front of a crowd at a conference in Australia or in the early days back in the Miami campus labs, one of Markesbery's favorite ways to validate Oros technology is to put someone in one of his jackets and blast them with liquid nitrogen. It was one of his earliest experiments. The jacket's surface temperature will be around minus-300 degrees Fahrenheit, but the temperature inside the jacket won't be affected. "There were at least two trade shows last year where Michael and I blasted each other like 50 times," says Nash, laughing. "It's a crowd pleaser."
Markesbery has always had a way with people, says his mother, a warm personality she thinks could possibly have been developed at dinner parties the family hosted or attended during his childhood. The Markesberys moved to Indian Hill to live on the same street as two of Maria's siblings. She wanted her children to grow up with an extended family, as she had.
At those parties, the Markesberys would encourage their children to sing a song from school or do something to entertain the guests. "I do think that helps build confidence, both in later presentations and just in talking with adults," says Maria. As he got a little older, Michael began entertaining with magic tricks around the table.
In October 2022, at the grand opening of an Oros pop-up shop in Chicago, Maria Markesbery caught her son performing a magic trick for a group of little girls and had to smile. Always the showman, she remembers thinking.
Oros invested in the store to raise brand visibility and to study the Chicago market, says Michael Markesbery. He invited Kathy Thornton, an astronaut who went to space four times in the 1980s, to do a Q&A with him at the store for inspiration and to connect with the community.
Markesbery has an ability to build connections and trust with lots of different sorts of people, says Holcomb, his Miami adviser. The Oros advisory board includes a current outerwear company executive, a retired U.S. Army colonel, consumer marketing experts, financiers, and more. "Michael is really good at disarming you with his smarts, drawing you in, but never making you feel stupid," says Holcomb. "He does it with kindness, he does it with humility, and he's coachable."
All of these qualities have helped Markesbery form lasting relationships with his colleagues and the Oros board, Holcomb says. Markesbery passes on the credit. "The best thing we did is surround ourselves with a team and advisors who knew more about the various areas of our business than we did," he says.
It hasn't always been smooth sailing, says Holcomb, and he's seen Markesbery weather multiple storms. Like the time Oros was days away from running out of cash or when a car plowed through the front of the company's first office in Cincinnati. It wasn't an easy decision to move to Portland, but the industry was out there, as were places to test their prototypes. "A lot of people would say, Eh, I don't really need the best," Holcomb says, "but Michael said he needed to go to Portland for the best talent because Nike, Adidas, Lululemon, and Under Armor all have major operations there."
As Oros began to hit its stride, the COVID-19 pandemic closed the manufacturing facility where its products are made in China, so the company moved manufacturing to Vietnam. Vietnam shut down, and they moved to Guatemala.
But Markesbery and Venna kept pushing. They're thrilled to have opened their own pilot aerogel manufacturing facility in Boston in 2022, giving them more control over day-to-day operations and the sustainability of Oros materials and production. Today, they're closer than ever to achieving their original goal of creating a long-sleeved shirt that can be worn in below-freezing temperatures.
The new facility is rolling out full-scale prototypes of next-generation aerogels, their most flexible and durable yet, says Markesbery. Meanwhile, they're looking to expand into cold chain packaging to keep things cold during transportation, like food and medicine. Solarcore technology recently went up in a Blue Origin flight to see if it could extend the life of batteries in space.
So many different scientific problems to solve, Markesbery says. Onward. "I have a fundamental belief that people are afraid of failure," he says. "But if you view life as a science experiment, failure is not a negative thing."
From the beginning, Venna says he and Markesbery bonded because they have similar values and believe great things don't come easily but result from hard work. They changed the name of their company to Oros because it means "mountain" in ancient Greek.
"In order to do something big, like summit a mountain, you have to sacrifice everything—blood, sweat, time, money—and give it your all to actually achieve that outcome," says Venna. "Michael and I believe that wholeheartedly."
Markesbery likes Portland. He loves the food scene and access to his outdoor hobbies, which include skiing, kite boarding, and mountaineering. He's learning to fly a plane.
As "terrible" as he thinks it sounds, he wants to fly a fighter jet someday— another goal since childhood. A Google search says it costs about $300,000, but step one is a private pilot's license. He recently flew over the mouth of the Columbia River and says he enjoys the sky-high perspective.
What he misses most about Cincinnati is family, Markesbery says. He was recently struck by a video he "probably shamelessly saw on TikTok" about time being fleeting. The guy in the video asks, "Hold old are your parents?" to which someone replies, "Sixty." They do the math on average lifespan and the average number of times you see your parents each year. "If my answer is four [times a year] and my parents are 60, that's something like 80 more times we'll see one another before they die," says Markesbery. "I need to visit more often."
So he'll try to find time to come here between meetings with investors, business partners, and elected officials holding the military purse strings; amid trade shows and conferences; and while trying to nail down the remaining $10 million of his latest round of Series B fund-raising. Because grit applies to family roots, too.
That brings us back to Saba's questions for his grandson. The second was more of a request, really, to recite something in Arabic. The first was always, "What is your name?"
Asked about that question's significance, Markesbery consults with his mother about what his grandfather had meant. "She thinks he was really asking, Who do you want to be today?" he says. His answer was always "Michael."
He knows he's a work in progress, but  he's never wanted to be anyone else
Facebook Comments