It's about 10 minutes until first pitch, but John Ross III is in no hurry.Doesn't matter that the Bengals' highly touted rookie wide receiver is the one throwing out a ceremonial first pitch at Great American Ball Park—he's patiently perusing the wall of baseball caps in the Cincinnati Reds Team Shop just outside the ballpark. Here would be an opportune moment to insert a joke about the NFL's fastest player taking his sweet time. Instead, Ross's two roommates and high school buddies, Kamren Booker and D'Angelo Blake, offer more cutting takes.
---
"This one makes you look bald," quips Booker, as Ross tugs on the bill of one option. Trying on another, Blake wrinkles his nose and offers a placid "Nah." When Ross finally makes a selection and heads for the checkout register, a security guard recognizes him and says hello, before glancing at her watch and mentioning that he better get moving.
Hat on, Ross and his posse are quickly whisked into the bowels of the stadium by a Reds employee. Ross slips on his custom No. 15 Reds uniform and casually flicks the ceremonial baseball back and forth to himself. "Did he play baseball in high school?" I ask Booker, who chuckles and shakes his head no. A football star at the University of Washington, and just a few months removed from breaking the 40-yard dash record at the NFL Combine (4.22 seconds) and being taken with the Bengals' ninth overall pick in the NFL Draft, Ross is no stranger to big moments. Still, he seems impressively calm for a 21-year-old just seconds away from throwing out the first pitch of a major league game—even if it is a lackluster, early-September crowd—in a new city, a few days before the Bengals season kicks off. The only hint of nervousness is when he takes the handler up on an offer to pop into the restroom before hitting the field.
The National Anthem plays as he climbs out of the dugout and into foul territory (this is still a few weeks before President Trump will insert himself into that discussion), after which Ross is smiling and waving for the jumbotron, fresh new hat securely in place, then trotting out to the mound. No time for stretching or warm-up pitches, though it doesn't seem to faze him. Reds speedster Billy Hamilton emerges to catch the throw—fastest player in football tossing to the fastest player in baseball, gold stars for corporate synergy—as Ross rears back and fires. The pitch skips in the dirt in front of home plate and slips past Hamilton. The fans offer polite applause as Ross smiles and takes it all in stride, dapping up his ceremonial catcher, You're fast, I'm fast, we're all fast.
Minutes later, settling into seats behind home plate, he balances star-struck autograph requests with a slew of social media mentions that aren't quite as kind. Nagging injuries have kept him shelved for much of the Bengals preseason, and the wild pitch is apparently reason enough for the trolls to remind him of their disappointment. He's used to it by now. "I've been called a bust since the moment I was drafted," he says. (Now in two different sports!) "Social media is so funny to me. It can't get to me."
As if on cue, a young fan approaches, wide smile but sheepish, pen and paper in hand. "Sorry, but it's hard to hide when you have a jersey with your name on the back, Mr. Ross," the kid stutters. It sounds a bit rehearsed, as if recited to him by his parents. Ross laughs as he scrawls his name.
"It's cool. I'm not trying to hide."
---
It's not exactly hiding, but if one were looking for a fresh-out-of-school, suddenly wealthy professional athlete new to the city of Cincinnati, you wouldn't expect to find him living in an Amberley Village McMansion with two buddies from high school. It's a bit like Entourage, The Bizzaro World: three kids from Southern California, one of whom makes it big, hanging in the Cincy suburbs and ordering dinner from Marco's Pizza. The four-bedroom, five-bathroom, 4,500-square-foot house was Ross's first—and, thus far, only—major purpose since he signed a four-year, $17.1-million contract, including a $10.6-million signing bonus. "I'm super cheap," he says, lounging on the massive but practical sectional couch in the main living room. "I even tried to give the house back when I bought it. That's just how I am." Much of this attitude is a product of growing up in Compton and Long Beach in a big family that made do with little. "I'm not a materialistic guy," says Ross, who turned 22 in November. "I have a Mercedes GLE, and I hate it. Nothing against Mercedes or anything. It's just a gas guzzler."
The house itself is the embodiment of Ross's current circumstance, merging from the humble-and-carefree-college-standout ramp onto the ballyhooed-NFL-prospect superhighway. There's the finished basement, with a massive projection screen and billiards table adjacent to a bone-dry bar and Pop-A-Shot basketball hoop. The four-car garage that more often houses Bolt, a French bulldog, and Blaze, an Australian shepherd. The backyard replete with an in-ground pool, hot tub, and koi pond, just off the sprawling kitchen with bare countertops and an empty pantry. The living room, with a gorgeous cathedral ceiling above a floor littered with video game controllers, edged by the wall with a dent courtesy of Booker's head. ("He was talking trash and it turned into some rough-housing," Ross says with a shrug.) When the guys aren't ordering from Marco's—"They know us by name when we call," according to Blake—they're picking up food from Cheesecake Factory or Wingstop.
"When he got here, John's questions were, 'Where are the bowling alleys?' and 'Where's the closest amusement park?'" says James Urban, the Bengals wide receivers coach.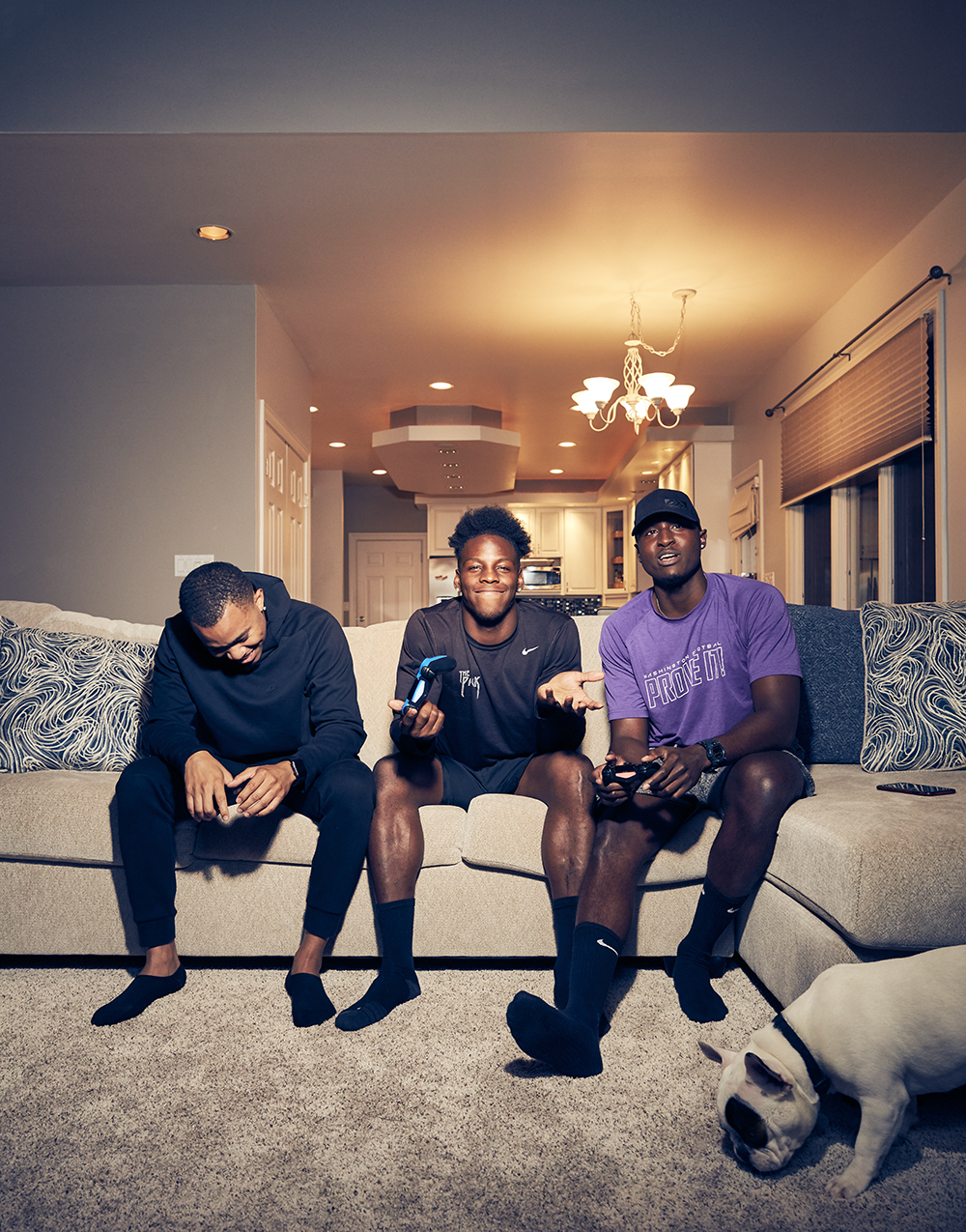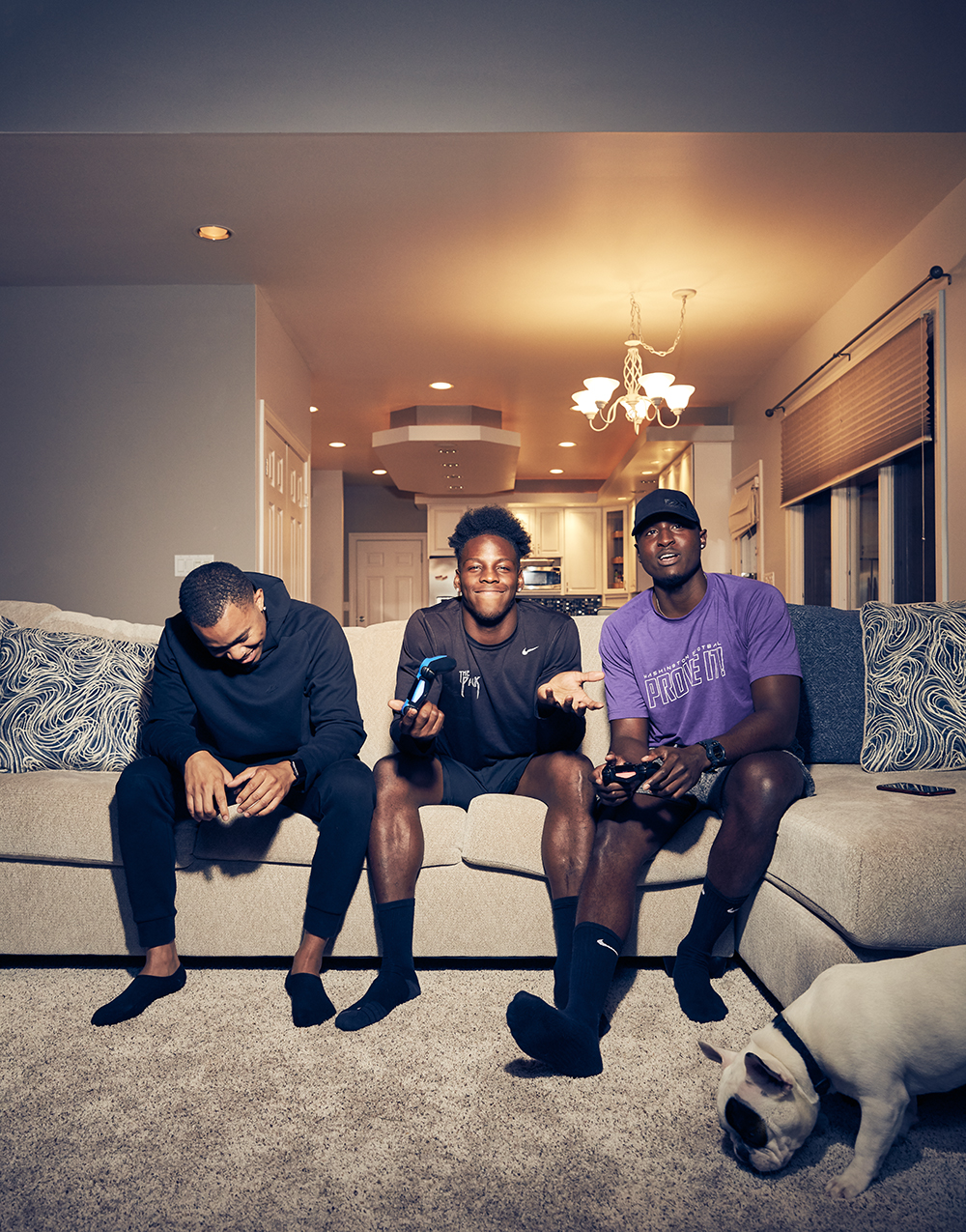 ---
Ross has always been a homebody. It's why he chose to live in the 'burbs and brought his two best friends out to live with him. He doesn't drink, doesn't like to go out to bars or clubs. He's most comfortable at home with the guys, playing Super Smash Bros. on the Wii or Uno. "Once we get on Uno, oh my God," says Ross. "That's more competitive than the video games."
The oldest of seven siblings, Ross loved playing outside while growing up in California, but was never far from home and rarely got in trouble, even as he got older. In high school, friends would come over to his house to hang out and get ready before parties, then leave while Ross stayed behind. "I never wanted to be around the stuff that Compton is known for," says Ross. "It never appealed to me. My mom would always tell me that nothing good comes out of kids who do bad things. I never wanted to hurt my parents or my grandparents."
"I remember he got in one fight," says Ross's younger brother, Gregory, who plays football at Compton College. "We were playing football in the field after school, and John juked a kid and the kid got mad and tried to fight him. John just defended himself. Other than that, he's always been calm, cool, collected, and humble."
Juking guys was pretty standard too. "I was always the fast kid," says Ross. The neighborhood kids would play kickball, football, and a playground game dubbed "throw-up tackle"; Ross was often smaller than the others, but they couldn't catch him. As a 9-year-old, his athleticism caught the eye of Long Beach Pop Warner coach Calvin Broadus—better known as Snoop Dogg—who "recruited" Ross to play on his team for a few years.
Receiver was never his natural position, though. Ross spent childhood playing running back, and wasn't known for his hands when he got to high school. Booker tells a story from their sophomore season, when the coaches were working to develop Ross as a pass-catcher, and required that he haul in one long throw before each practice was officially over. "Sometimes it would take him eight or nine tries," remembers Booker.
Ross figured it out. By the next season, he was getting looks from major college programs, eventually committing to Washington. Gregory recalls how quickly and starkly things had changed during his own sophomore season, John's senior year, when the two were playing on the same team and Gregory drilled his older brother with a crunching crackback block in practice, tweaking John's ankle. "Our head coach told me if I wasn't his little brother, he woulda cut me from the team," says Gregory. Ross had come a long way from the small, skinny kid who couldn't catch.
"Every situation he's been in, he adapts," Gregory adds. "Once he learns to adapt, he's gonna take off [for the Bengals]. I expect the same thing he's done all his life: scoring touchdowns and doing what he do."
---
Cincinnati's persona is actually a pretty good fit for Ross, though the lifelong West Coast kid knew none of that when the Bengals drafted him. "I didn't even know where Ohio was," he says. "The only thing I knew about the Bengals was Chad Johnson. He's actually how my footwork got to where it is today. My cousin and I would go outside my grandma's house and we'd take a ladder and cones and do everything Chad Johnson did on YouTube. It's just crazy now that I'm here."
In 2016, Ross racked up 18 touchdowns and Pac-12 Player of the Year honors at Washington, but what really put the shine on was the 40-yard dash record at the NFL Combine in March. The Bengals snatched him up with the ninth pick a few weeks later, desperate for some speed and explosiveness at the wideout position to pair with perennial Pro Bowler A.J. Green. The team was also charmed by Ross's attitude and character, a narrative that was completely overshadowed by the second-round pick of running back Joe Mixon, who was suspended for an entire season in college for punching a female student in the face. Drafting Mixon garnered much of the attention and (deserved) objections from fans and media, but Ross's reputation personified the polar opposite.
"All the scouting reports said 'good guy,'" says Urban. "The thing that I have found with John is that with everybody—young, old, every race under the sun, ownership down to little kids—he's a pleasant human being."
None of that, however, guaranteed a smooth transition to the football field. When Ross joined the team this offseason after receiving his degree in American Ethnic Studies, he was still recovering from a lingering shoulder injury; once he worked his way back from that, he promptly picked up a knee injury in preseason that kept him sidelined for five of the team's first six games. A Week 2 Thursday night matchup against the Houston Texans was the one he did play—national television audience, all eyes on him, social media trolls on notice. And on his first official touch as an NFL player, he took an end-around handoff and sped upfield, the turf a green blur beneath his feet—until a defender put his helmet square on the ball and forced a fumble that was scooped up by the Texans. Ross was benched the rest of the game.
"I'm looking at the ball pop out like it's in slow motion," he says, made to relive the moment. "It was embarrassing. But you know, keep your head up, shake it off."
Even off the field, it's been an interesting season to navigate, particularly as a rookie. In September, President Trump attacked players for kneeling during the National Anthem—a practice started by quarterback Colin Kaepernick in 2016 as a means to protest police violence against black people—and hijacked the issue into a divisive political discussion about patriotism. It led to coordinated team protests (the Bengals stood together with linked arms) and fraught statements from owners and government officials.
"I just feel like being a rookie, I got so much to worry about to really focus on all that," says Ross. "People ask me about it all the time, and it's hard to answer because I'm still a kid. But I also feel where everyone is coming from. I think [Kaepernick's] targeting the racial injustice that we're going through, and it's hard to see, especially being African-American. I think that's what we're doing—we weren't going against the flag or anyone."
For now, Ross prefers to focus on staying healthy and contributing to a Bengals squad that struggled mightily in the first half of the season. The high expectations and rocky start to his career have him motivated to get back up to speed and find a way to adapt. Again. He's humbled but confident, taking comfort in things like the simplicity and stability of a quiet suburban house with a koi pond and Marco's pizza and his two closest friends, where neighborhood kids come by to drop off cookies. It's a baked-in support system—between the Super Smash Bros. throwdowns and rowdy games of Uno, Blake and Booker help Ross stretch and watch game film with him, make sure he gets to bed at a reasonable hour.
"Coach [Marvin] Lewis always says, and I believe it wholeheartedly, that as a professional athlete, you need to surround yourself with people who believe your career is as important to them as it is to you," says Urban. "And it's clear that these are good guys. John calls them his brothers."
Though even the suburban living has required some adjustments for the crew. Bolt and Blaze developed a recent habit of escaping through the backyard fence and exploring the subdivision—the guys all deem Bolt the real culprit, with Blaze just following along—relying on a few of those friendly neighbors to bring them back. One even offered the fellas an old-fashioned parental scolding.
"He was kinda mad," admits Blake.
"They can't be out there by themselves anymore," says Ross, shaking his head as he glances toward the scenic yard of his picturesque home. "They're gonna get me in trouble."
Facebook Comments