The stage is dark at first. Slowly, artificial smoke seeps in from all sides—an expectant haze tinted by pulsating colored lights. The emcee shouts once more before leaving the stage: "Ladies and gentlemen…the Rusty Griswolds!"
Cheers and whistles erupt from the crowd as a synthesizer booms out the first notes of Europe's "The Final Countdown." Then the drums kick in, the stage is flooded with light, and the song morphs into Journey's "Separate Ways." The audience howls, bouncing in unison to the beat, and starts to sing along.
On this mid-October night, 2,300 people are at the Duke Energy Convention Center for the eighth annual Rusty Ball—the Griswolds' biggest charity event of the year. Run by the band's own nonprofit, The Spirit of Cincinnatus, the event has raised $2.7 million for hundreds of local charities since 2008. Not bad for a self-described "crappy little '80s band."
The crowd—an eclectic mix of CEOs, Ben-Gals cheerleaders, middle-aged couples, baby boomers, and vamped up ladies of all ages—isn't necessarily thinking about all the good they're doing tonight, though. They're trying to figure out which song on the iconic playlist the Griswolds will sing next and how to get as close as possible to the stage. By night's end some of them might even end up dancing on a tabletop. It's been known to happen.
The Griswolds have performed close to a thousand times since forming in 1999. When they're not here, they're playing everywhere from local bars to Reds games, Party in the Park (er, 5:13), Live at the Levee in Newport, and a rigorous church festival circuit in summers. And just about everywhere they go, they're greeted by equally enthusiastic throngs of mostly 30-to-50-somethings (heavy on the women), singing and dancing along like star-struck teens.
How did an '80s cover band comprised of middle-aged men in parachute pants achieve rock star status in Cincinnati? The story starts with a handful of band geeks from Oak Hills High School who played Green Township's Harvest Home Fair on a whim in 1980. A group of friends, really—some of whom have known each other for upwards of 40 years—who just like playing music together.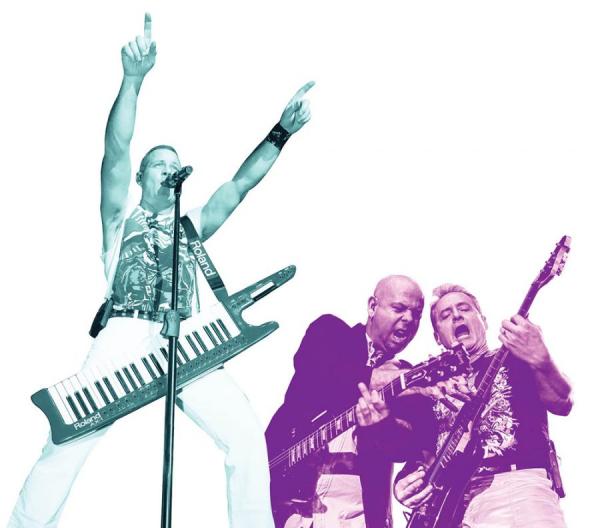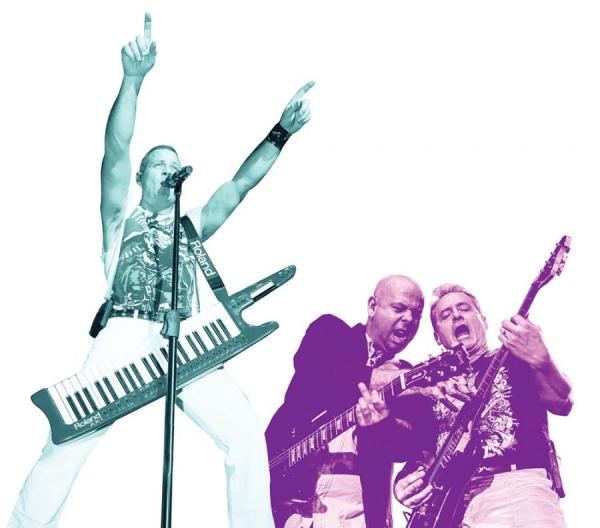 The Griswolds admit their winning formula is a mystery even to them. They are, after all, a cover band. They mine the hits of an era awash in hair gel, neon, synthesizers, spandex, smoke machines, and shoulder pads. A betting person might point to the combination of long-standing friendships, self-deprecating humor, showmanship, and, of course, musical talent. But we think it might have something to do with those parachute pants.
Herewith: An oral history of the cover band's, er, journey from high school band geeks to almost famous rock stars:
Get in Formation
Steve Frisch, John Schutte, and Eric Schueler (all Oak Hills High School grads, classes of '83, '83, and '81, respectively) are the only current Griswolds who were in the original band. After that first performance, they decided to make an official go of it by playing covers of then-popular music and renaming themselves Free Reins. Their initial break came in 1982 when they entered—and won—a Q102 battle of the bands at Kings Island.
By the time Ken Fullam (a CCM-trained pianist and trumpet player, OHHS '81) joined as bassist around 1985, the band was writing original music, had been included on two WEBN Album Projects, and was performing at high school dances and bars throughout the city nearly every weekend. Frisch stopped performing to care for his family in 1986, but the rest of the group continued on, and even took a stab at making it big. After a near miss as a sitcom house band and a trip to California that included surviving an earthquake, the group realized Los Angeles was not an easy place to compete musically and returned to Cincinnati. By the early 1990s, the band unraveled as members left to start families, pursue alternate careers, and join other bands. It wasn't until Frisch's second wedding in 1997 that the core group of friends came back together.
Steve Frisch serves as band manager as well as founder and president of their Spirit of Cincinnatus foundation. Onstage, he sings and plays keyboard, sax, and "ewi," an electronic wind instrument. He's a consultant for Standard Textile Company: At one of my weddings we actually played a song together—it was pretty bad, but it was fun.
Eric Schueler sings and plays rhythm guitar and trumpet. He's the president of Oerlikon Friction Systems US Inc., an auto parts manufacturing company: They had us come up on stage and man, when they did, it was like: "We want to do this again!" It had been years.
Frisch: And then I was on a business trip down in Texas—it was the late '90s—and I walked into a bar and this guy's playing acoustic guitar, singing '80s songs. Everybody was singing along. I'm like, "Oh my gosh! The '80s are back!" So I called the guys up, and we got together at Logo's on Blue Ash Road.
John Schutte sings and plays keyboard and keytar. He's a St. Bernard firefighter and plays organ for the Cincinnati Reds: We got talking about songs we could learn.
Frisch: We're like, "We'll play once a month for fun, just to hang out and see each other." We really thought we would put amps up on a chair, plug in, and play—it was just a matter of getting out and doing it. We were looking for an '80s-themed [name]. We had That '80s Band; someone else took that. The Griswolds were part of the list and John said, "How about the Rusty Griswolds?" We thought: That's perfect! We're old guys, we're rusty.
Schueler: I remember leaving the group that night thinking: This is not a good name. I don't really like it. But it was democratic, so it is what it is, you know? Now I absolutely love it. It is the right name. Rusty Griswold [Clark and Ellen Griswold's son in National Lampoon's Vacation, played by Anthony Michael Hall] was such a nerd and we've never been the cool band. A lot of us were in high school and college marching band and concert band. We just weren't the coolest kids in the world.
Frisch: The first place we played as the Rusty Griswolds was the Silverton Café.
Schueler: The guy there let us play for a very small amount of money—it wasn't the money that had anything to do with it, but he gave us a chance. We worked and worked on our music before we played.
Frisch: We did a listening survey. We had a bunch of young people listen, and our-age people, [and we asked]: "Do you know it? Do you not know it? Do you like it?" That kind of stuff. So we ended up with our business plan, which was: Play what the girls want to hear. Guys will follow.
Greg Tulley plays drums. He's the development services director for the City of Newport: I grew up in Evendale so I'm not a west-sider like the other guys. They had been together [as the Griswolds] about a year. I had just stopped playing with a different band; I didn't think I was going to play in any more bands. The same day I stopped, I got a phone call from Barry Taylor [the band's sound technician, OHHS '83]. I was interested because I knew what a great sound man he was—if he was working with the group, the band was probably pretty good. I went to meet the guys—they were playing at Jefferson Hall when it was back on Main Street—and then auditioned.
Barry Taylor runs sound for the Griswolds, and owns Bear Productions, a sound, video, and lighting company: It worked out beautifully. They seemed to like him right off the bat.
Richie Terbush plays guitar and sings. He's a full-time musician: I've been with the Griswolds 13 years now. I moved here from California 14 years ago. I heard of the Griswolds through a friend at a music store whose sister was friends with Steve. I called, told them I'd been doing the same songs from my old '80s cover band in California. I don't even think we had a rehearsal before our first gig. I just learned what they told me to learn and went out and killed it. I'm still here so I'm doing something semi-OK.
---
Sex, Drugs, and Rock and Roll?
Being in a band carries with it a certain reputation—ironically one the Griswolds pretty much never embraced. They have stories, of course, though few they care to share publicly. As bands go, they're pretty clean-cut. There's little room for ego within the Griswolds—a fact clearly reflected in their relaxed dynamic on stage. All that dancing and jumping and general silliness that accompanies their music? Sure, some of it's choreographed, but for the most part, "what you see is what you get," says Tulley. "They're not up there faking anything."
Frisch: Used to be everybody drank, everybody would get us shots. Our rider used to call for alcohol. We were never heavy drinkers—it was just a fun thing. Now we call for, like, Ensure and Vitaminwater.
Schutte: Chocolate milk.
Frisch: The funny part is, we've always been nice guys. We never drank through high school.
Schutte: As far as anybody knows.
Frisch: We never felt the "beer pressure," I don't think. And when you play in a band people expect you to be a certain way.
Schutte: Yeah—we're really not. We're kinda just normal guys.
Frisch: We're really not much fun.
Schutte: I think we're fun! We're not, like, sex, drugs, and rock-and-roll fun.
Frisch: No, we're kinda like—
Schutte: Library books and…
Frisch: …What's the Reds score? fun. "How's the garden looking? What's your latest home project?"
Ken Fullam plays bass and sings. He's a service manager at Elite Automotive: We've known each other for a very long time. Half the fun is what takes place when we're setting up and loading out at the end of the night. We laugh a lot.
Tulley: I don't think we necessarily look like a band and that's really worked to our advantage, 'cause people are like, Get a load of these guys! But by the time we're a couple measures into it, it's pretty obvious we can bring the goods. Eric, John, Steve, and Richie all have that ability to catch people off guard and draw people in. It's part gift and part their personalities. Ken and I aren't that concerned about that. We're trying to make sure we hold it all together while they're doing whatever they're
doing.
Taylor: John and Eric's sense of humor is a little off the wall—just listening to those guys talk to teach other, their banter back and forth—it cracks me up every time.
Tulley: We've always been serious about making sure we play well, sound good, and try to give the best performance that we can. But at the same time you can't take yourself too seriously. You sorta have fun with it and that spills over. There's really never a dull moment.
---
Sharing the Stage
One of the more unusual things about the Griswolds is their official policy to allow fans on stage with them during performances. In fact, a Griswolds show without women climbing up from the audience to sing, dance, or play tambourines is unusual. Note the use of the word women; stage visits are not open to everyone. "Usually we call out the rules when we get a guy on stage," says Frisch.
Terri Sundberg, avid fan: They quit playing and say, "No men allowed—only girls!"
Renea Eckstein, fan and former classmate (OHHS '83): They get the crowd involved, which everybody loves. They'll put the mic out, let you sing, bring you up to dance—making sure the crowd has a great time and not just thinking about themselves.
Fullam: We don't like a large divide between us and the audience. Any musician will tell you that you feed off of the energy you get from an audience.
Tulley: We encourage crowd participation. If they feel comfortable enough that they can come up, then more power to 'em. From the band's perspective, we're like: If they're enjoying it, good for them. As long as they don't break anything.
Sundberg: I see them two or three times a month. For my birthday I go up on stage and sing with Steve and my sister takes tons of pictures.
Schueler: It's a good thing when it's done right. But when it goes overboard—usually from alcohol consumption—sometimes people do inappropriate things. Nothing too terrible. We're kind of a lame band in that sense.
Sundberg: Sometimes people get up there and make fools of themselves—somebody up there with no underwear on and flashing, [or] another person crawling up on stage, dirty dancing. Ken doesn't like it that much. The other ones? I don't think they mind it.
Taylor: It's all part of just wanting to be part of the party. Could be a little bit of
exhibitionism. Alcohol has a lot to do with it.
Tulley: It's funny—we have in-ear [monitors] in, and they want to talk to you. You can't hear a word they're saying. Who knows what they're asking? You just kinda go along with it.
Frisch: Sometimes, in bars especially, you can get a person up there and they just won't leave. So eventually we call for baggage claim. You know: "If this baggage belongs to you, please come claim it."
Schutte: We had a girl who knocked over Eric's guitar and snapped the neck.
Frisch: I've had a beer dropped on my keyboard before—that didn't work well.
Fullam: We've learned the hard way that certain things are better not left out [where people can touch them].
Schueler: But on the other side we've had just amazing times. Like, my three kids all learned to sing on stage with us.
Terbush: I met my fiancée at a Griswolds' show three years ago at the SMOYfest [St. Margaret of York Festival]. I thought I'd propose to her at the same festival. I had her get up on stage [last summer] and sing with the Griswolds. I got on one knee, she cried—we've got it all on video.
---
Heavy Rotation
The 1980s was a diverse era musically—something the Griswolds try to represent in their playlist, which is approximately 150 songs deep and covers everything from the Charlie Daniels Band's "Devil Went Down to Georgia" to Depeche Mode's "Just Can't Get Enough." Although several Griswolds are hardcore Rush fans, the group says they have the most success playing music people can dance to. Their only other limitation? "Our vocal range," says Frisch. "We can't sing really high." So that's why there's no Madonna…
Frisch: So, FYI—and you can quote me on this—they've not written any new '80s songs in a long time. We learned the most popular songs a long time ago. Every year we try to add new songs. Every so often one will stick, but without fail people will say, "Why didn't you play 'Come On Eileen'?"
Schueler: I do our set list. We stick with a core group of songs that are money songs and then we'll throw in different ones every week so they'll hear something that we haven't done in a while. It's hard to keep it fresh. We try to boost the entertainment value by the silly things we do.
Fullam: My top three favorite songs would probably be "Don't You Forget About Me," "Every Little Thing She Does Is Magic," and "Footloose," because people just seem to love that song—it's fun to watch them dance.
Schueler: We don't do it as much anymore but "Come Sail Away" I really like. It used to be kind of our signature song.
Terbush: "Jessie's Girl"—people really flip out when I start the first chord, you know?
Schutte: I like "Separate Ways."
Frisch: That's big. It's very epic. I like when we do "Tricky"—I think that's fun.
Terbush: You know what my least favorite song is? "Tricky." Cause I always have to do my wanna-be white boy dance and I feel like: Dude! You can't even dance! What are you trying to do?
Schutte: I like "Video Killed the Radio Star." It's different. One-hit wonder.
Fullam: "Video Killed the Radio Star" was never my favorite to begin with. After you've played it 700 or 800 times…let's just say I'd be all right if I never heard it or played it again.
Tulley: I can live without "867-5309/Jenny"—except when John's over there going: "Jenny! Jenny!" You know, like Forrest Gump? But whether I particularly care for a song or not doesn't really matter—I'm just going to try to make it sound good, because somebody out there probably loves the song.
Frisch: There's been many talks over the years of: "Should we try '90s stuff? Should we get more current?" And in the end we always go back and say: "People know what they're getting with us. It's fun music. It's still relevant."
---
"My Grandma Loves You Guys"
Since most of the band members have full-time careers outside of the Griswolds, balancing gigs with day jobs can be challenging for Frisch, who serves as the band's manager. And then there's the fact that they've all aged a bit over the past 16 years.
Frisch: Some guys play softball three nights a week. Some guys collect HO trains in their basement. We just happen to play in an '80s cover band. That's how we blow off steam. Part of the unbalance/balance is, some guys really depend on the band money as primary income and other guys treat it as quality of life money. So we meet in the middle. Sometimes we'll play every night of the week if we have an opportunity. Other guys are like: "Four times a month is plenty."
Schueler: I'm probably the guy in the band who would prefer to do a little bit less. Because I travel internationally, I work up in Dayton, and my kids are into so many things. Not that other people's aren't. It's just hard to fit it all in.
Tulley: Work's been really wonderful about occasionally knowing: "He's got to leave early—he has to go play a gig." My two worlds don't collide a whole lot, but every once in a while it does happen. If we're at a function, I've had people say: "What are you doing here?" Especially when I'm wearing, you know, parachute pants and some crazy shirt and they're thinking I'm lost. And I'm like: "Well, I'm your entertainment!"
Fullam: Getting up the next day is hard. I just don't want to talk to anybody. Saturday evenings are easier than Fridays; you've been at it all week and you're worn out.
Tulley: The rebound time is not what it used to be. When I was younger, the next day you could go right back at it and my body seemed to respond a lot better. Nowadays it takes a lot longer to recover. Ibuprofen is my friend.
Fullam: John's already had carpal tunnel fixed in his hand. Tulley's had problems with a torn meniscus in his knee. Eric's got some sort of knee issues. You just go up there and play and know: If we do two or three days in a row, my hands are gonna be kinda numb for the next however long.
Frisch: It used to be that people would say, "I love your band, I love your band!" And then we started to hear, "My mom loves your band!" And now—
Terbush: —some younger lady came up to me and said, "Do you play with the Griswolds? My grandma loves you guys." Wow! That's a smackdown right there. My grandma!
---
The Journey Journey
The Griswolds joke that as their fan base ages, they'll soon be playing the nursing home circuit, but in truth their popularity shows no signs of waning. (Nostalgia is a powerful thing.) Through the Spirit of Cincinnatus, Frisch now has the band performing multiple charity events throughout the year, and their regular schedule, which fans can access via the Rusty Griswolds app (natch), is booked months in advance. They added another new member in May 2012—lighting technician John Bunger. And they've even added video content to their major shows, too. But in the end, fans come back time and again to hear the songs they love sung with an energy most other bands would find hard to match.
Schutte: One of the main reasons we do it is so people have fun. And when you see them having fun, then it's more fun for us.
Frisch: If we're old dudes and people still show up having a good time, that's pretty special—it's not lost on us.
Schutte: I couldn't imagine not doing it. You know what feels good, too? To know that we've helped these places raise a lot of money.
Tulley: As long as we're having fun and [the audience] is having fun, why not do it? Keeps you young, you know?
Fullam: I just feel fortunate and blessed that people still want to come listen. If people don't come out and listen, we'll wind up staying at home.
Frisch: [Back when] we were a cool original band there was this cover band that opened up for us. I said: "If I'm ever playing in a cover band doing Journey, take me out back and shoot me." And now we've made a career out of it! Your perspective changes over time. People have gotten past the middle-aged dad bods and parachute pants and are like: "OK. I guess that's what we're gonna get tonight—let's just go with it."
---
Scroll through our gallery to see The Rusty Griswolds:
Headshot photographs by John Klare
---
Facebook Comments