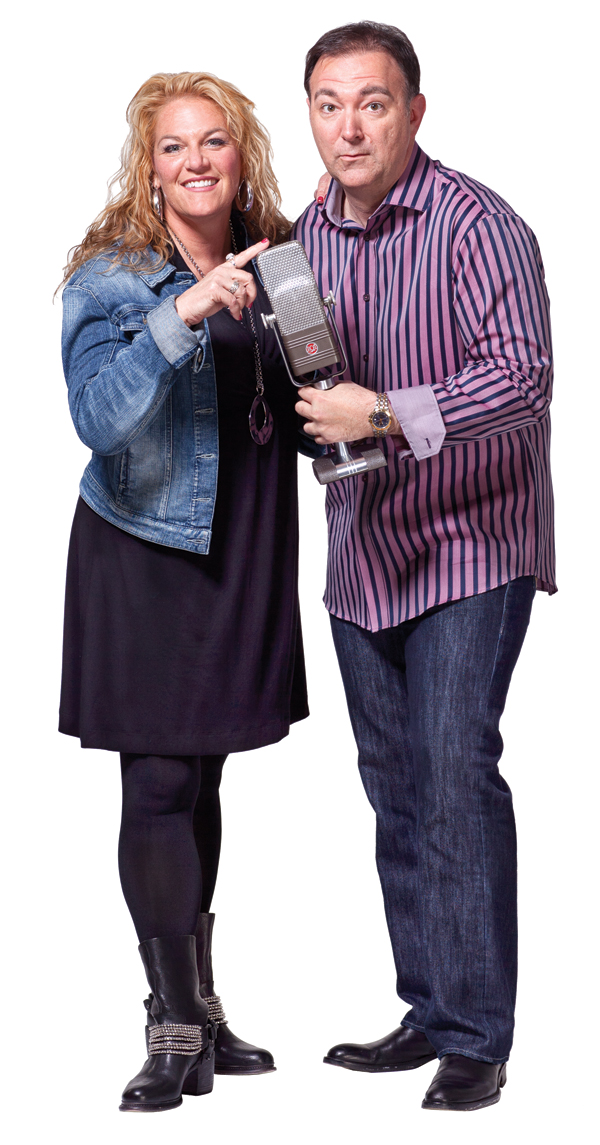 Jeff: I have a lot of friends who are women, and there's nothing they love more than gathering together and cracking open a bottle of wine and just chatting and gossiping and catching up.
Jenn: That's kind of what we do.
Jenn: Jeff and I first met in 1994 and started working together then. I would've thought by now he would have been incarcerated or in a mental institution. The fact we're both sober—for the most part—and have clean records is pretty shocking.
Jeff: We would do a lot of the same bar gigs and we hung out all the time. I guess from that friendship stemmed a natural chemistry that just comes with knowing someone. She is my Gayle.
Jenn: I'm the longest term relationship he has in his life.
Jeff: It's true.
Jenn: Without the sex.
Jeff: One of the things I had to talk about was the split from my wife. It was a painful, awkward thing to go through, and to put it out there on the radio is not fun for anyone—including her—so you have to trust that the audience you've built over the years is going to be understanding.
Jenn: I had the same thing with my son's diagnosis of autism. There's some heavy stuff we put out there.
Jeff: Tracy Morgan: One of my favorite guests of all time.
Jenn: He totally sexually harassed us. We weren't offended, we were flattered because it was funny.
Jeff: He was so filthy. We couldn't even use it. We had to scrap it.
---
Favorite Guests
The two have interviewed a who's who of American culture: then-Senator Barack Obama, Adam West, Gene Simmons, Julie Andrews, Jason Bateman, Christina Aguilera, and every winner of American Idol.
Early Start
"I was talking with pencils as if it was a microphone when I was old enough to talk," says Jeff. "My teachers ordered psychiatric evaluations on me because they thought I was talking to myself."
Talk, Talk, Talk
In 10 years, the two estimate they've talked to each other for approximately 10,000 hours (there are roughly 8,765 hours in a year).
Facebook Comments