As the University of Cincinnati's archivist, Kevin Grace has a keen interest in the accomplishments of former UC students. So when he found a Beverly Hills rare books dealer offering the manuscript of a never-finished memoir by silent film actress and vamp Theda Bara, he bought it for the school.
Bara, born Theodosia Burr Goodman in Cincinnati on July 29, 1885, graduated from Walnut Hills High School in 1903 and spent two years at UC before leaving for eventual fame as one of Hollywood's first female stars and sex symbols. She was beloved and outrageous, known for a beguiling and provocatively underdressed screen look.
One of three children raised in Avondale by a middle-class Jewish family, Goodman loved theater and film from an early age. She first appeared on stage in New York in 1908 as Theodosia de Cappet, inspired by her Swiss-born mother Pauline's family name, de Coppet. She and Theodosia's Polish-born father Bernard met in Cincinnati; Bernard was a tailor, Pauline a wigmaker.
Bara's cinema breakthrough (and final stage name) came when she was almost 30, cast as The Vampire in her first starring role in the 1915 film A Fool There Was. But she was no bloodsucking, coffin-sleeping Dracula of the kind later popularized by Bela Lugosi. She instead played a defiantly sexual woman who preyed on vulnerable, weak men, destroying their lives by draining them of their masculine essence. Eventually the term vamp replaced vampire to connote the kind of dangerous, fatally seductive woman she played in movies through 1919, when her career faded.
A Fool There Was is now considered a key movie in the evolution of American film and cinematic portrayals of women, its significance so great that the Library of Congress placed it on its National Film Registry in 2015. It was also the Fox Film Corporation's first big success. The New Jersey–based company would move to Southern California with the rest of the industry and transform into today's 20th Century Fox.
"For years, we have researched Theda Bara here because of the Cincinnati and UC connections," Grace says about the acquired manuscript. "We saw it was original source material and decided we could do something with it." Since the purchase was made in 2008, though, he's been juggling his schedule to try to share it with the public. Its fragile condition hasn't made his work easy.
Grace offered me a peek at the manuscript, which he kept at a respectful distance during my visit to UC's Archives and Rare Books Library on the eighth floor of the Blegen Library on campus. The approximately 500 loose pages live inside individual plastic protectors. There are typed and handwritten passages, notes, cross-outs, and revisions. Occasional mold and mildew are a sign, he guesses, that the pages were stored in a damp place or possibly spent time in the garbage before being retrieved.
The good news is Grace now hopes to publish an edited and annotated version of the manuscript in early 2021. In his investigations so far, he's determined that Bara worked on the project in 1920 and 1921 with writer T. Everett Harré and that the memoir would have been called Woman or Vampire? Harré was known for his novel Behold the Woman! A Tale of Redemption, and Grace says they met originally to discuss her starring in a film version of his book, which never came about.
The manuscript covers Bara's life through 1917 and the making of what's now considered her great lost film, Cleopatra. Grace believes the project was started in order to freshen up her carefully crafted vamp persona once the luster faded, rather than to be insightful about her life. Publishers apparently had issues when approached about the book. "One of the problems with the manuscript is that it was so obviously an expansion of her PR-generated image," he says. "The title really indicates her approach, that she was going to play up the vamp image rather than tell an honest and forthright account of her life."
---
Evidence of Bara's film work is mostly nonexistent now, as prints of almost all of her 40 silent films were destroyed in a 1937 fire at the Fox storage facility. But her impact can't be overstated and would, or should, make today's movie stars jealous. In February 1916, by which time Bara had released 11 movies in just more than a year, The New York Times investigated her impact on the national psyche in a story with the wonderfully vivid (and long) headline: "Some 500,000 Spectators Follow Her Every Day; This Is the Amazing Public Assembled In One Year by Theda Bara, the Flaming Comet of the Cinema Firmament." The story reported that there were 40 prints of each of her movies in circulation and that not one was idle for even a day. Figuring in the number of theaters and average total of daily screenings per theater, the newspaper calculated there had been 182 million admissions to Bara movies in just one year.
Filmgoers couldn't resist Bara the vamp, much as they might try. "It was a more sexually repressive society, so anything that pulled at the edges of that was exciting," says Hugh Munro Neely, producer of a 2006 documentary film about Bara, The Woman With the Hungry Eyes. "Maybe exciting because it's dangerous, maybe exciting because it could be fun." Sometimes she tried to escape typecasting, but more often Bara furthered and sharpened her vamp identity in titles like The Vixen, The Serpent, and The Devil's Daughter, and also starred as the title characters in Salomé and Cleopatra.
By all accounts, her movie persona was different from her own quiet off-screen life, although early Fox publicists tried to create a fake identity for her. They said Bara was born in Egypt near the Sphinx, the daughter of a French actress and Italian artist. It was noted that "Theda Bara" was an anagram of "Arab Death."
That fake backstory was key to the star-making machinery behind her success, even if it wasn't thoroughly believed by fans. "Had she had a more colorful private life, probably she would not have succeeded," says author Eve Golden, whose Vamp: Rise and Fall of Theda Bara was—along with Ronald Genini's Theda Bara: A Biography of the Silent Screen Vamp, With a Filmography—among the first Bara biographies. Both books were published in 1996. "It was the fact she was so unimpeachable and untarnished in her private life that she was able to get away with what she did on the screen. Nobody ever believed that stuff about 'She was born in Egypt under the shadow of pyramids.' Everyone knew it was a joke. And pretty much from the beginning of her career, people knew she was a nice Jewish girl from Cincinnati. That's what allowed her to get away with what she did on the screen."
Fortunately, A Fool There Was escaped destruction by fire and can be readily seen today, including on YouTube. Vampire Bara—with her mature figure, dark hair, and transfixing eyes highlighted by dark makeup—instantly became part of American culture. In one scene, she lets a strap of her soft nightgown dangle down; at other times she's in refined clothing, including a long brown silk shawl with tassels. She has her predatory way with an American businessman appointed to a diplomatic position in England. Following him onto a cruise ship, she connives to meet him, and her upfront sexuality does the rest. He falls under her spell and is ruined.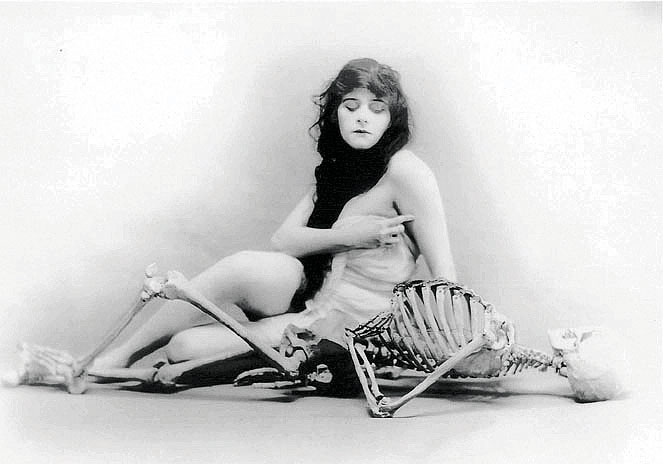 The story's roots were in British high art and culture. In 1897, Philip Burne-Jones painted The Vampire, which showed an assertive, nightgown-wearing woman hovering over a young man passed out on a bed. For its London gallery exhibition, the painting was accompanied by a new poem, also called "The Vampire," by Rudyard Kipling. Describing that ruined man, it began, "A fool there was and he made his prayer / (Even as you or I!) / To a rag and a bone and a hank of hair / (We called her the woman who did not care)." The poem made its way to the U.S. in 1909, when American playwright Porter Emerson Browne's A Fool There Was debuted on the Broadway stage. He also appears to have published a novelized version.
With their exaggerated acting style, early silent movies can seem dated now. At a recent screening of A Fool There Was at the Esquire Theater—in connection with a Public Library of Cincinnati and Hamilton County exhibit called Cinema Cincinnati and with Grace as a guest speaker—audience members initially laughed at several dramatic scenes. Then, when one of The Vampire's ruined lovers points a gun at her, only for her to calmly smile and say (via a title card), "Kiss me, my fool," the laughter stopped. And when that lover turns the gun on himself, with little reaction from her, the distance between this modern audience and that century-old film ceased. Bara had grabbed and shocked once again.
Her stardom ended when she lost her contract with Fox and the vamp craze cooled off. Bara had moved from the East Coast to Los Angeles in 1917, and four years later she married Charles Brabin, the British-born director of one of her last films, and basically left the world of movie acting. She made one final non-Fox silent feature in 1925 and a comedy short for Hal Roach Studios, Madame Mystery, codirected by Stan Laurel and costarring Oliver Hardy. Bara also acted on stage, coming to Cincinnati at least twice to perform: in 1920 at the Lyric Theatre with The Blue Flame and in 1929 at the Albee Theater with a vaudevillian "playlet" called The Red Devil.
Primarily, though, Bara and Brabin lived a quiet, financially comfortable, and socially active life in Beverly Hills. She occasionally made the news, giving an interview or doing a radio show guest appearance. Bara died from cancer in 1955 and is buried in Los Angeles; Brabin died two years later.
---
Even with most of her films gone, there's always been one window to Bara in her prime: Fox's trove of still photographs. They've found a new audience with the growth of social media, websites, and blogs—Facebook alone has such pages and groups as Theda Bara, All Things Theda Bara, and Lost Film Cleopatra, with members constantly sharing photos.
"The people at Fox took such weird, remarkable photographs of her, and that's kept her alive," says Golden. The still photos are indeed amazing—glamorous, scandalous, bizarre, and even surreal. To convey the deadliness of Bara's character in A Fool There Was, the studio posed her with her dress hem above bare bent knees, sitting next to a skeleton. There's a famous still photo of her from Cleopatra, wearing two hammered brass coiled-serpent ornaments on top of but not quite fully over her breasts; below is a bejeweled belt around her waist that sparkles in a black-and-white photo. The cover of Golden's Vamp book features a barefoot Bara wrapped in black fabric and holding her long hair upward in an erotic V shape.
And always those daring eyes! "Certainly the eyes are a drawing point, even in pictures of her where she's in skimpy clothes," says Neely. "You often see her with her chin turned down slightly so the pupils are in the upper part of her eye and there's a little bit of white rim underneath, but not above. It's a look she used in quite a few photographs."
Bara's eyes, like the bob haircut of another silent-era actress, Louise Brooks, still influence contemporary fashion. In the 2014 podcast Theda Bara: Hollywood's First Sex Symbol, writer/narrator Karina Longworth notes that one can see reflections of Bara in the images of contemporary female rockers like Siouxsie Sioux, Courtney Love, Lydia Lunch, and Lorde. "She was one of the first movie stars to really overuse makeup," says Golden. "She had this Goth look. I know I hear from these Goth teenage girls who adore her. And the funny thing is Theda in real life was the least Goth girl you can imagine."
Bara was included in a 1994 U.S. Postal Service commemorative stamp series, drawn by Al Hirschfeld, devoted to silent screen stars. Her pop culture revival includes such recent books as Vanda Krefft's story of Bara's first boss, The Man Who Made the Movies: The Meteoric Rise and Tragic Fall of William Fox, and Beverly F. Stout and Joan Craig's tale of how a young Craig befriended the childless Bara and Brabin in Beverly Hills, Theda Bara, My Mentor: Under the Wing of Hollywood's First Femme Fatale. Besides Neely's feature-length 2006 documentary, there's also a 26-minute French short made in 2001, Theda Bara and William Fox. And Lost Cleopatra is a film project by Phillip Dye to reimagine Bara's vanished epic using one short surviving film clip and hundreds of still production shots.
There's a much-quoted declaration she gave in 1915 that connects her role with feminism: "The vampire that I play is the vengeance of my sex upon its exploiters. You see, I have the face of a vampire, perhaps, but the heart of a feministe."
Locally, there has been talk of a public mural, increasingly inevitable for our major cultural figures. "I think a mural of Theda Bara would be an incredible way to highlight a very fascinating woman with Cincinnati roots and ties to Walnut Hills High School, the University of Cincinnati, Avondale, and the Jewish community," says Tamara Harkavy, ArtWorks founder and artistic director. "I hope someday we can do that mural."
Another recent attempt to honor Bara locally is quite unconventional. Jeannette Novakovich, who bought a house on Harvey Avenue in Avondale in 2017, discovered that Bara and her family lived in it for several years in the late 1890s, when the street was called Rosedale Place. A writer/editor for NIOSH by profession, Novakovich is doing extensive research on her home and its occupants. She found an 1888 Cincinnati Enquirer story about how the "devoted wife" of Bernard Goodman, then living in Walnut Hills and a supervisor for a wholesale clothing house, converted from her Lutheran faith to Judaism to "avoid any discord on account of religion" in the household.
Novakovich's curiosity has spurred her to work on restoring some of the home's original interior features, as well as to save old perfume and talcum bottles dug up while leveling ground for a backyard chicken coop. Inside, she's put up numerous Bara photographs on the walls and installed a specially made shower curtain featuring an oversized photo still from Cleopatra.
---
Along with the upswing in remembrance, there's been discussion on what the sexuality of Bara's vamp meant as far as shaping Hollywood's attitude—and, thus, our own—toward the roles of women in society. It's become an especially lively issue now as we celebrate the centennial of the 19th Amendment, which provided women the right to vote.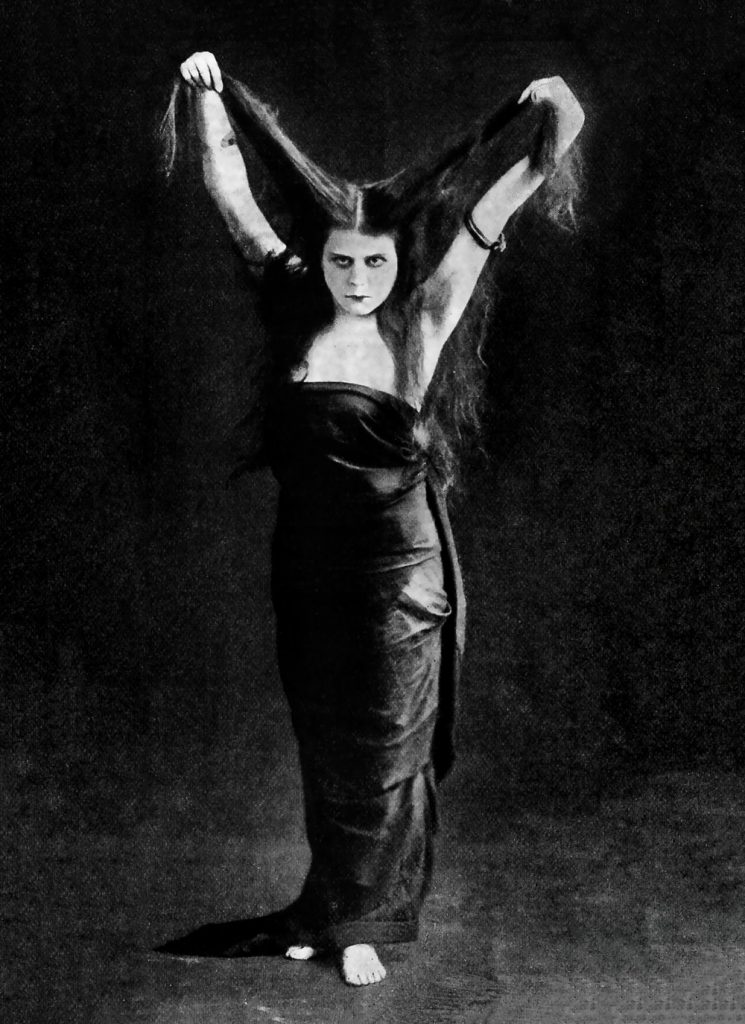 Bara was one of Hollywood's biggest stars and one of the nation's most famous women right when the suffragist movement was strongest. Did her vamp character serve as a role model? There's a much-quoted declaration she gave in 1915 that connects her role with feminism: "The vampire that I play is the vengeance of my sex upon its exploiters. You see, I have the face of a vampire, perhaps, but the heart of a feministe."
Biographer Golden suspects Fox publicists wrote that quote and perhaps had a hidden agenda, hoping to scare Americans into thinking there was little separation between feminism and, as Golden puts it, "vengeful, castrating harpies" like Bara's vamp character. But biographer Genini thinks the quote helps explain the popularity of Bara's films with women at the time—she was giving dishonest, deceitful men what they deserved.
UC's Grace has found at least one passage in the memoir manuscript that, given when it was written, can be interpreted as Bara's support of feminism and the suffragist movement. "In the olden days as wife and mistress, she was slave and toy of man," the passage reads. "It has only been in more recent days that woman has herself come forward to assist in this baffling and most unyielding study. Woman has come into the day of self-expression, and yet her emancipation, so called, has only just begun. Like the Chinese women whose feet have been bound for centuries and suddenly unswathed, woman has begun to walk but still unsteadily. The muscles of her spiritual feet are still atrophied. And while she may not yet walk upright and firmly, though she may stumble and fall, she has begun her progress to her goal. What line is there in which she may not equal or perhaps surpass her eternal rival, exploiter, master, MAN."
In her 2014 podcast, Longworth ends with a bit of soul-searching about Bara's rise and fall. "Theda Bara wasn't the kind of sex symbol who promoted sex as something fun and empowering and, well, sexy," says Longworth. "As the embodiment of the late Victorian era's fears of what could happen if women were allowed to pursue their real desires, Theda Bara was more like a symbol of sexual panic. Maybe the fact she was phased out because times had changed, while bad news for her, is actually kind of a happy ending for the rest of us."
When Bara died in 1955, it was big news across the country. Genini's biography quotes a touching unsigned Enquirer editorial from April 11, evidently by a writer who remembered the young Goodman intently watching movies at the Avon Theater on Rockdale Avenue: "When the lights went on after the show we could not help but notice a striking-looking young woman sitting quietly by herself in one of the rear rows. She always seemed to be there and stayed through all the performances. We were told she wanted to be a movie actress."
Theda Bara succeeded beyond her wildest imagination, and remains a still-vital, still-controversial Hollywood legend today.
Facebook Comments