The Jersey cattle grazing in the background watch curiously as Chris Anderson launches into his one-man video shoot. A gust of wind ruffles his curly hair and whooshes across his microphone. "Hey everybody, I'm Chris Anderson," he says while gesturing energetically. "Today we're going to talk about herd immunity." He flashes a huge grin and shoots a quick glance at his bovine audience to make sure YouTube viewers will get the joke.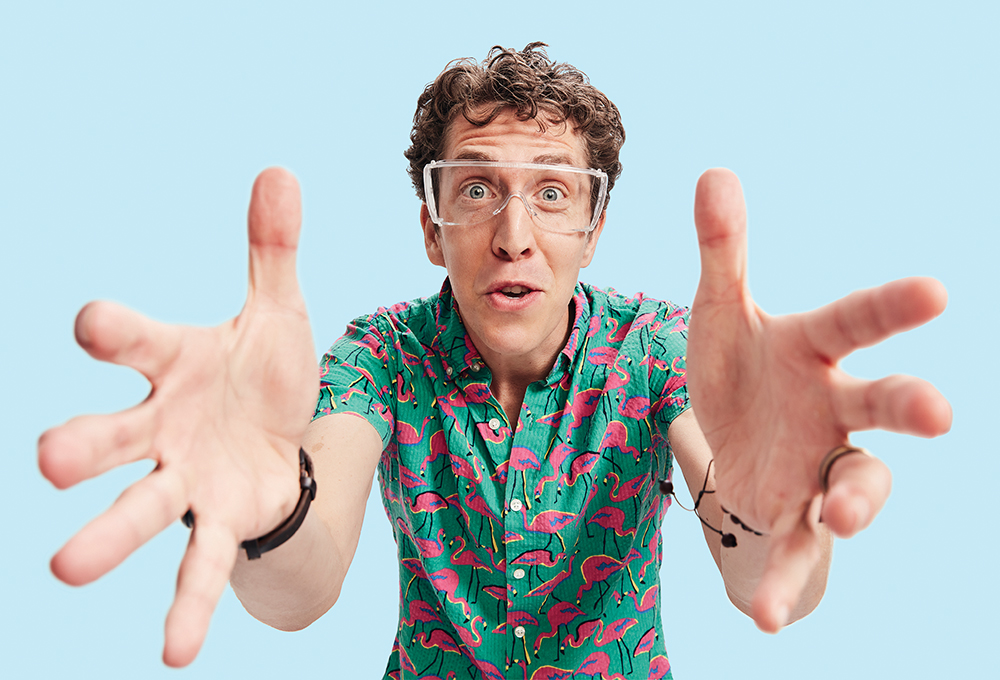 During this video shoot in early May, public debate rages over the potential of herd immunity to stop the spread of COVID-19, while conspiracy theories emerge from dark corners of the internet to sow confusion and exacerbate cynicism toward science. But on this windy day in a field at Young's Jersey Dairy in Yellow Springs, Anderson avoids stepping on those political landmines—and cow patties.
Kids will still need to understand herd immunity long after the coronavirus crisis has passed, he reasons. So he limits his explanation to simple but scientific concepts. "Herd immunity is when a large enough portion of a population becomes immune to a disease so it keeps that disease from spreading," he says as the cattle lean in close to the fence as if to hear him better. He emphasizes the importance of getting a flu shot. "You not only keep yourself from getting sick, but you also keep the disease from spreading to others," he says.
Finally, Anderson begins to wrap up the 80-second clip with some cheesy cow puns intended to grab the attention of the fifth- through eighth-grade students who make up the target audience for his educational video series, Science Around Cincy. "I hope you found this video udderly a-mooozing," he says. He draws out the sound and flashes another huge grin.
His humor is lost on the crowd at Young's Dairy. The cow closest to the fence turns and meanders away. Anderson doesn't notice at first. "Yeah, I'm gonna milk these puns for all they're worth," he continues as the volume of peppy music increases in the video. Then he notes the disappearing audience and shrugs. "OK, I'll stop," he says to the camera.
Stopping is an unnatural state for Anderson, 34. He relentlessly tries to wipe out stereotypes and misconceptions about science by inoculating a new generation of kids with wide-eyed enthusiasm for things like isotopes and trilobites and new ways to see the world. Sort of like herd immunity in practice, I suggest. Anderson is intrigued by the analogy. "If you get to a point where you have a critical mass and almost everyone has a thorough understanding of the challenges that can be met with the process of science," he muses, "society is going to be in a much better place."
Out in a cow pasture in the early months of a pandemic, though, Anderson isn't con­templating lofty goals about science literacy. He just hopes he's found a fun way to show kids that their actions as individuals can impact the health of others. "Let's just get this out there to as many kids as we can," he tells himself.
---
The Science Around Cincy series debuted on YouTube and its own website last fall, showing Anderson tagging along with some of the region's most interesting scientists on adventures in the laboratory and beyond. A production crew of Northern Kentucky University students provides the technological expertise. Anderson brings his never-ending supply of questions and unique sense of humor and style.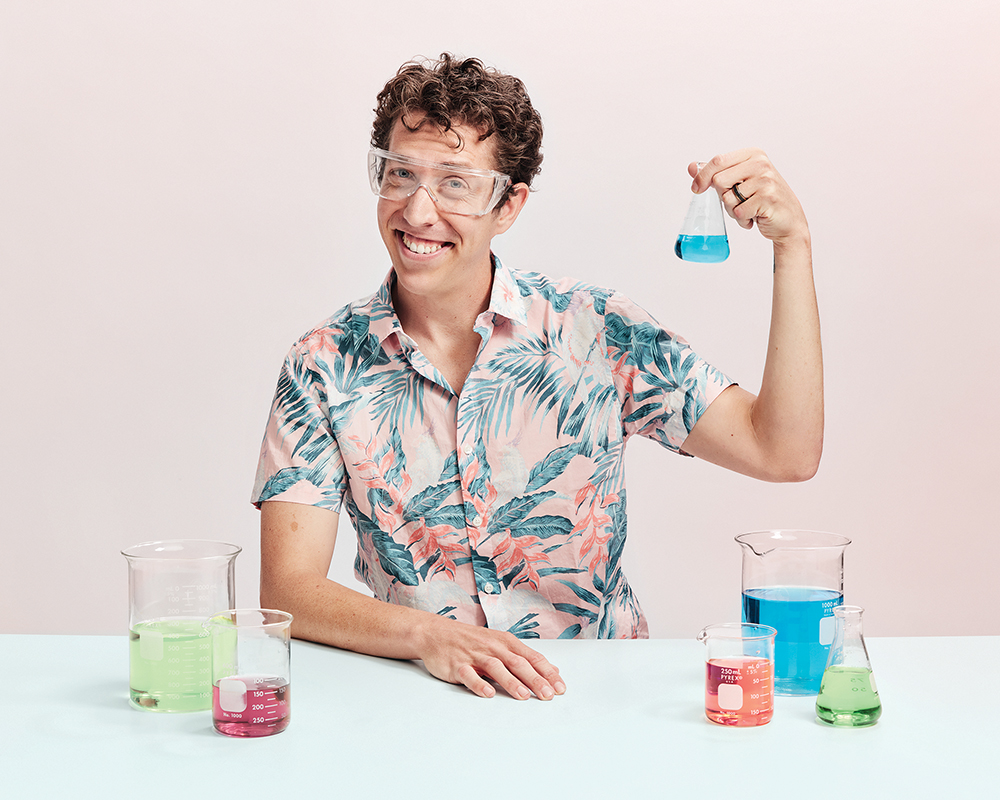 The eight-episode first season began with Anderson marveling at frogs that have the ability to freeze during the winter but come back to life when temperatures rise in the spring. Other episodes captured him gaping at snow leopard poop used by Cincinnati Zoo conservationists to test the animals' hormone levels, hunting for fossils with a Cincinnati Museum Center paleontologist, and learning about therapy horses from a psychologist who works with trauma patients.
The cow puns illustrate his brand of humor. But viewers will also notice his unique sense of fashion, which he establishes in the show's debut episode. He's visiting the lab of cryobiologist Clara do Amaral of Mount St. Joseph University to talk about her research on freeze-tolerant frogs, while wearing an aqua blue shirt splashed with orange and red hibiscus blooms and coconut trees. Anderson has worn brightly colored shirts since high school, and even fought with his mom to wear one in his senior class photo. His wardrobe now includes more than a dozen such shirts, including several a friend in Honolulu found for him at a thrift shop there. "We're always reducing or recycling, even our Hawaiian shirts," he notes.
Anderson says he chooses the tropical gear for Science Around Cincy shoots with intention. The vibrant patterns and colors appeal to the easily bored kids in his audience, and the open-collared, untucked style sends an important message about the often-mis­understood nature of science. "A scientist is not just some old guy in a lab coat poring over his notes," he says. "They're people. They have an outsized sense of curiosity. They have a sense of observation and ask good questions. A lot of these people go into the field in their hiking boots and jeans. They're not sequestered in a lab. They're not in this ivory tower."
Anderson's admiration for the work of scientists began early. By age 4, he'd declared not one, but four, scientific career aspirations: He'd be a chemist, astronomer, environmentalist, and paleontologist all at the same time. Anderson recalls he chose the environmental role because he liked being outside, and he assumes the paleontology ambition involved wanting to do something with dinosaurs because, you know, all kids like dinosaurs. But while he clearly possessed a scientist's obligatory outsized sense of curiosity, he lacked their propensity for exactness. He labels himself a "poor scientist," using an analogy from the kitchen as explanation. "I don't like to bake things," he says. "You have to be precise in your measurements. You can't just throw in a little of this and see where it goes."
Anderson prefers a more freeform journey, which led him first to high school theater and eventually to pursue a science education degree at Miami University. That's where he met Ann Haley MacKenzie, an associate professor of science education who taught him both skills and philosophy. MacKenzie, who's been teaching students how to teach for more than 25 years, describes Anderson as extremely memorable. "He would ask question after question after question," she recalls. "He was so curious about the best way to prepare students and get the science message across to young people."
"Science isn't about a teacher standing in front of the classroom disseminating information," Ann Haley MacKenzie says. "It's about doing hands-on activities, investigations."
MacKenzie had the answers Anderson craved. "Science isn't about a teacher standing in front of the classroom disseminating information," she says. "It's about doing hands-on activities, investigations. I tell my methods students, When you teach science, it shouldn't smell, look, or taste like school work. If it does, you're going to lose your students."
After graduation in 2008, Anderson applied the MacKenzie Method during five years as a science teacher at Princeton High School. "You really are teaching kids how to think," he says. "It's not about lecturing. It's getting kids to really unpack and get their hands on a concept."
He continues to remember that perspective as he crafts the lessons behind Science Around Cincy. There's more to Anderson than silly puns and a crazy ward­robe. He spends hours reviewing science research and preparing questions that will highlight the lessons most relevant to students. "I got the sense when I met him that he's exactly the kind of science teacher I really would have liked in high school," says Peter Lindeman, who edits a teaching column Anderson writes for the National Science Teaching Association. "He's kind of a goofball, but he knows his stuff."
While Anderson enjoyed the classroom, he didn't see it as a long-term career. He left Princeton for an administrative role in the work-study program at DePaul Cristo Rey, the small Catholic high school in Clifton, and briefly considered a future as a school principal. But he soon realized that he wanted to stay involved with science education.
He launched Science Over Everything, a blog for educators, in late 2015. It developed a small following among science teachers and improved his skills as a writer, though it wasn't a natural fit. "I could write just fine, but it would take me way too long to get something out," says Anderson.
By 2016, when he moved to his current day job as an instructional coach for Hamilton County Urban Educational Services, he'd begun contemplating ways he could carry on his science education mission in front of the camera, where his flair for the theatrical and curios­ity about science might blend together. I met Anderson in 2018 when I started teaching a new class, Science in the Media, at Northern Kentucky University. He came as a guest speaker and wowed my students by showing up with two sharpened pencils and a water balloon, which he held over the head of one brave volunteer to demonstrate a science concept. Amazingly, nobody got wet. Not surprisingly, everyone paid attention.
During the class, Anderson mentioned his passion for Star Wars, so afterward I walked him down the hall to meet NKU's No. 1 Stars Wars fan, John Gibson. An electronic media and broadcasting teacher, he showed Anderson his collection of stormtrooper action figures and spacecraft models. That led to the two sharing beers at a bar in Bellevue, where the idea of Science Around Cincy percolated. Less than six months later, Anderson and a production crew of NKU students headed to Mount St. Joseph to document his interview about frozen frogs.
---
In the early days of their partnership, Gibson says he—like most people who hear about Anderson's science TV ambitions—thought of Bill Nye, the Science Guy. The comparisons between Anderson and Nye, who inspired a generation of young scientists through his 1990s TV shows on PBS and in syndication, are obvious. They're both tall and thin, with over-the-top enthusiasm for science. But Gibson rarely uses that description today, saying instead, "He's the next Chris Anderson. He's doing his own thing."
Anderson calls Nye an inspiration, but says he doesn't aspire to be his generation's version. "I think it's too easy for me to say I wanted to be the next Bill Nye," he says. "There's already been a Bill Nye. There won't be another one. He's an inspiration. But how Bill Nye did things in the '90s I can't really do. It would be rehashing. I've got to find my own path."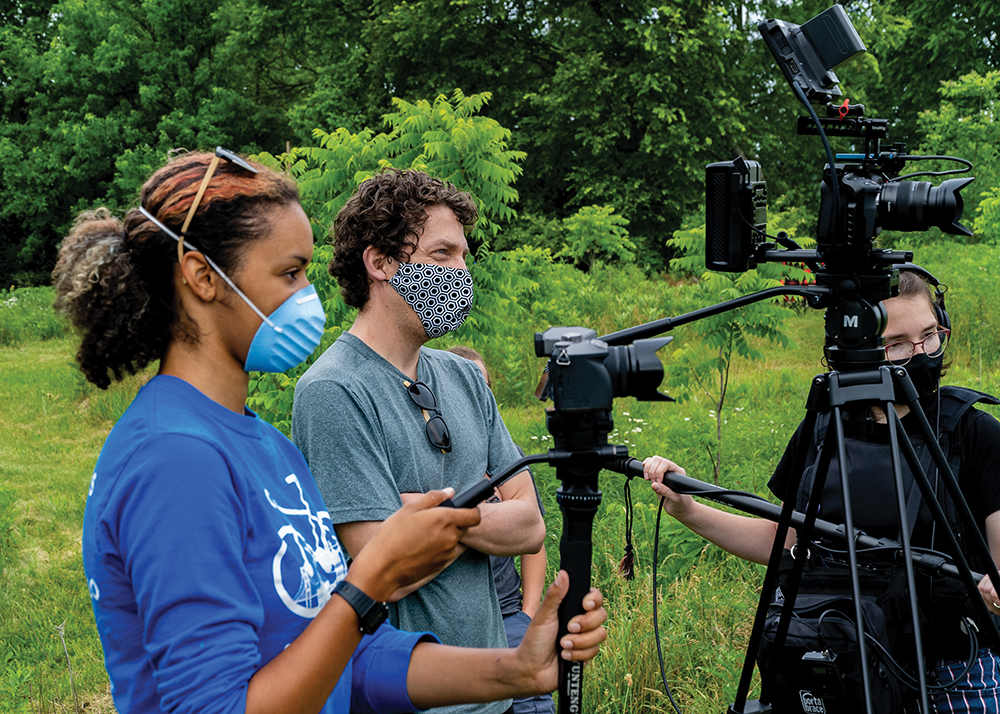 The 2020 path to science education television runs through YouTube. Typically about 300 people discover an episode of Science Around Cincy the first week after it goes live, a number that must grow dramatically for Anderson to build a sustainable career. But the first season drew praise for his high-energy approach and for highlighting the often-unheralded work of Cincinnati scientists. The potential for expansion looked strong in February, when Anderson secured funding for another season through a second grant from Fuel Cincinnati and new funds from NKU's College of Informatics to hire student crews. He was lining up video shoots with scientists from well-known institutions like the Newport Aquarium and was talking with Kentucky Educational Television about airing episodes on the statewide public broadcasting channel.
The pandemic brought those plans to a halt, and Anderson was able to continue his day job remotely. A nice surprise came when Cincinnati Public Schools began broadcasting Science Around Cincy episodes on its public access channel to provide online lessons for students.
Anderson tried to figure out ways to restart his on-location shoots, with little luck, so he and his wife, Mary Ellen Finnegan, a biochemistry graduate turned product researcher at Procter & Gamble, began shooting a series of public health announcements from home. They sent the footage to his NKU student colleagues, who edited it. In April, they released How to Wash Your Hands, a step-by-step demonstration of, well, hand-washing, shot in their bathroom.
Anderson plays it straight on his first run through the sudsy process, and then adds a level of humor for younger viewers. "Sometimes I like to sing a song while I'm washing my hands," he says with one of his monster grins. A 20-second timer appears on the screen as he accompanies his hand-lathering with a slightly off-key romp: "Wash your hands to get rid of the germs. Wash your hands, don't scrub so hard it burns." I couldn't help giggling out loud as I watched the video multiple times, but it attracted just 85 views by mid-August.
The couple's other improvised public health segments have commanded slightly more attention in the virtual world. Why Soap Works had 183 views in the same period, and Social Distancing, in which Anderson wears a T-shirt featuring pink flamingos, had 356 clicks.
"I think everybody is chomping at the bit to see our friends and see our families and hug them," he says. "But at the end of the day, what's important is I have to do my part, as little as that is, to make sure the disease doesn't spread or spread too quickly or I don't give it to someone who's vulnerable…. Do I want to get out of the house and film? Do I feel behind on the second season? Absolutely. But that's a small price to pay to make sure people aren't getting sick and dying."
---
As summer began and Ohio and Kentucky governors started loosening restrictions on business operations and local travel, Anderson began regrouping the production schedule. He emphasized safety, requiring the crew to wear masks and social distance, and pursued video shoots at outdoor locations as much as possible.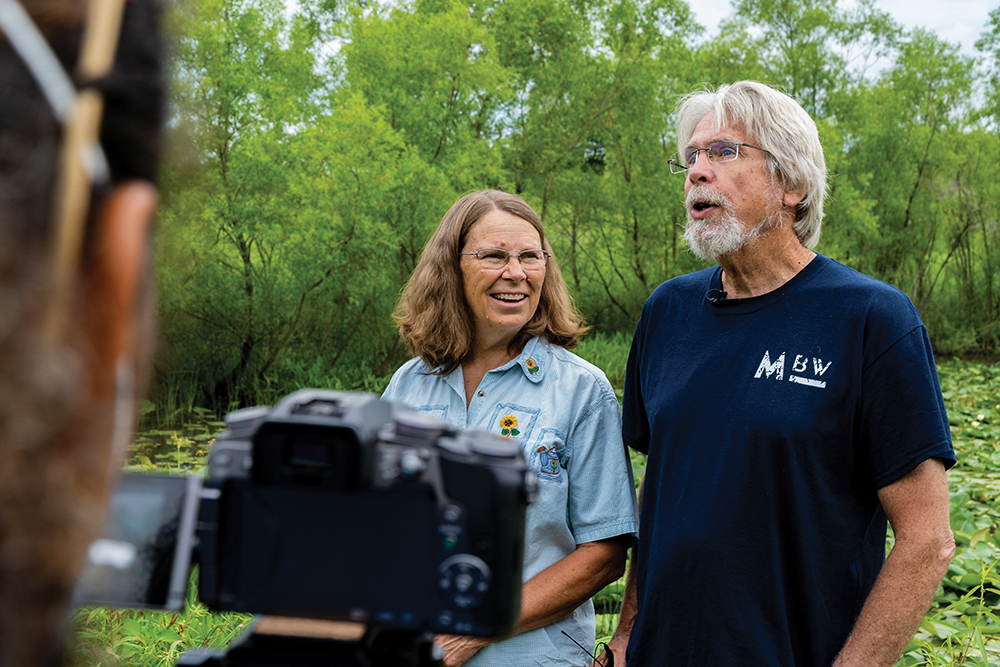 I tag along in mid-June as the team heads to Edge of the Farm, an Oxford conservation area owned by Hays Cummins and Donna McCollum, Anderson's former professors at Miami. Anderson describes the site as the perfect scene for a lesson in ecological diversity.
Three NKU crew members set up their opening shot with Anderson meeting the scientists around a cold campfire near the Pickerelweed Pond, named after an aquatic plant found in the area. "This place is amazing," Anderson says to the camera as he takes a seat in the open camp chair more than six feet away from the scientists. "You've got forests, you've got prairies, you've got wetlands." Just then one of the couple's dogs playing in the fields and the pond races up to Anderson's chair and shoves his face in his lap. He doesn't miss a beat. "You've got puppies," he quips. It's a perfect Science Around Cincy moment. "The kids will love it," Anderson says later.
Cummins and McCollum had not seen Anderson's show on YouTube before the shoot, but they like the way their former student is approaching his passion project. "I've spent my whole career trying to get people to live in the gray zone of uncertainty," Cummins says. He describes Anderson as an entrepreneur. "He bought into the experience and the potential for living a life of discovery and risk-taking that makes life a little richer." McCollum hopes Science Around Cincy can help the world understand the important functions of science, particularly during a pandemic. "We are in a real science-denying era right now," she says. "We need science educators at every stage of the game."
By early August, neither the pandemic nor public mistrust of science is showing signs of waning. But the Science Around Cincy crew, operating at warp speed for weeks, has completed more than 80 percent of the shoots for the 16-episode second season, while the editing team finalized two segments shot pre-pandemic.
The season will open with Anderson crawling through the caverns of Mammoth Cave in south central Kentucky with a University of Cincinnati researcher who studies the process of erosion and its impact on landscapes and caves. Another episode will share lessons on geology while a GoPro camera follows Anderson walking along the quarter-mile geological timeline embedded in a Sawyer Point walkway downtown. Viewers will also see him admiring the robots that harvest plants on an indoor farm in Hamilton and cooking cheese in a kitchen at Findlay Market. The NKU crew also edited 10-minute YouTube segments from the first season into a 30-minute format for broadcast on Kentucky Educational Television this fall.
Anderson seems more content as we talk by phone for our final interview. He makes a distinction between the success of the show and individual satisfaction. "For me personally, I have a science TV show and it doesn't matter right now if I have 10 followers or 10 million followers," he says. "If I don't enjoy what I'm doing now, having 10 million followers isn't going to be that much better. From a personal standpoint, I'm achieving the dream of having a science TV show. I'm doing what I set out to do."
His mind races with strategies for sharing the new episodes in ways that will impact more kids. And he has a new, but familiar, theory on breaking through on social media. "Once you get a critical mass of followers, at that point it's easier for things to go viral because more people see it," he says. "It's getting that first 1,000 or so followers on whatever platform. That's the big thing."
Anderson might not be outside in a cow pasture as we talk on the phone. But, yes, he's talking about a herd of followers.
Facebook Comments