To its owner, Black Coffee Lounge's opening means much more than just a new coffee shop on Elm Street. "It's the representation of Cincy moving forward and becoming a city that has more to offer than just white culture," says Means Cameron, owner of Black Coffee and its neighboring clothing company, Black Owned.
Two years ago, Cameron launched his Black Coffee concept, six years after cofounding his first business venture, Black Owned. He was inspired by the coffee shop culture in New Orleans and Atlanta and wanted to bring the same vibe to his home city of Cincinnati.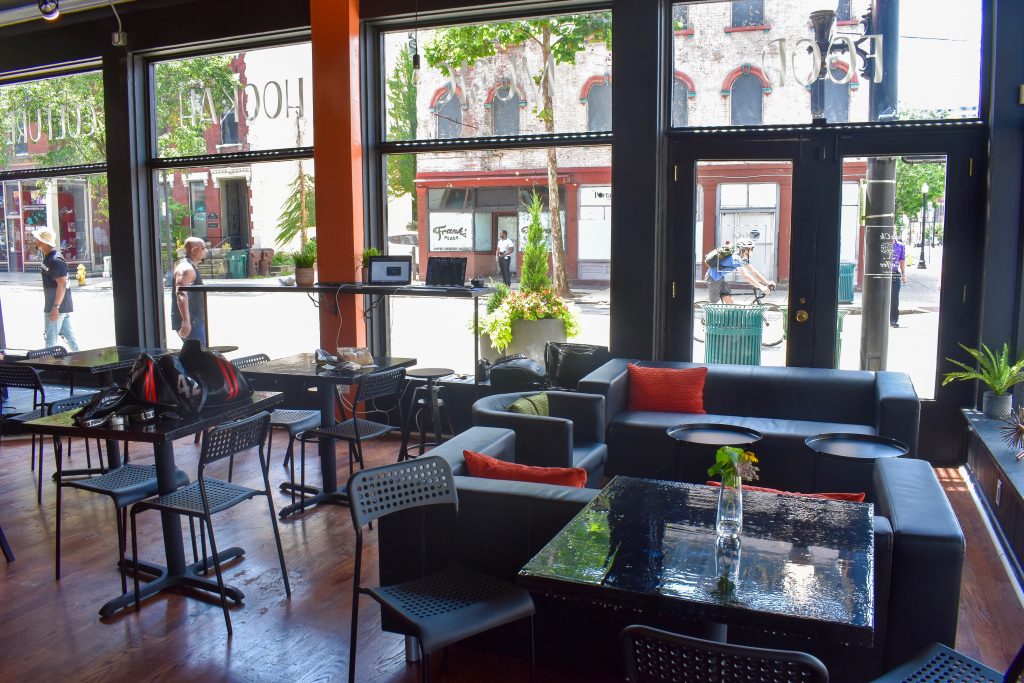 "Coffee shops there are really community-oriented, with a mixture of everyone," he says. "Coming back here, going to coffee shops, I didn't see representation for the culture that I grew up in—street culture and hip-hop culture. So, between my love for coffee and spending a lot of time in coffee shops, I realized that there was a need for a space for people that grew up like me and look like me to convene, to create bright ideas, to feel comfortable, and that's where the idea started to grow."
The cozy spot features bright decor, ample seating, and walls lined with illustrations of hip-hop mainstays, like Biggie Smalls, 2Pac, and Cardi B. The space also includes a mic setup and small stage for comedians, live music, poetry, and community discussion.
"This is where we can come and talk about what's going on in the community," Cameron says. "The things in our community that we want to see change. We didn't have a space to discuss them. Now we do."
At the lounge's soft opening last week, Black Coffee customers, including community members, creatives, business owners, and even Cincinnati Mayor John Cranley, gathered to mingle and sip coffee—exactly what Cameron envisioned.
"Black Coffee is that space you may see someone who grew up like I did, in the hood, having a cup of coffee and working on whatever, and the mayor might be over there in the corner, or somebody from City Hall," he says. "A mix of all different people."
For now, the menu boasts a wide variety of espresso, home-brewed coffees, like the "Wakanda" blend, cold-pressed juices, and light bites, including vegan options. However, to its supporters, Black Coffee is much more than caffeinated beverages and pastries.
"When people drive by this street and they see Black Owned and Black Coffee, they're reminded there's options; they don't have to be in the streets," says Cameron. "This is like a symbol of hope. We can do things, we can start with nothing, you can have a vision for something, and you can bring it to life."
Hours: 9 a.m.–8 p.m. daily
Black Coffee Lounge, 824 Elm St., downtown, facebook.com/blaCkCoffeeCincy
Facebook Comments