Photo courtesy of Crawford Family U.S. Olympic Archives, United States Olympic Committee
Cincinnati has a rich history of producing Olympians. Throughout the next two weeks, as athletes compete at the 2016 Olympic Games in Rio de Janeiro, we will be sharing the stories of 10 Olympians from the Queen City.
To most people, a coupon book is a helpful way to save a few bucks or, more likely, an item tossed in a cabinet and forgotten about until all offers have expired. To Darrell Pace, a coupon book was life-changing.
When the Reading native was 13, he randomly stumbled upon a buy-one-get-one-free coupon for an hour at a local archery range and decided to give it a try. "By the third or fourth time I shot, they said they'd never seen anyone progress as fast as I did," Pace says. He started competing within six months of his first lesson, became a national champion in two years, and soon found himself representing the United States at the Olympics.
Pace earned his first gold medal in men's individual archery at the 1976 Olympic Games in Montreal at age 19, finishing with an Olympic record total of 2,571 points.
He was ready to defend his title four years later in Moscow until President Jimmy Carter announced on March 21, 1980, that the U.S. would boycott the Moscow Olympics in protest of the Soviet invasion of Afghanistan. "It hurt," says Pace, who had been in the Air Force since '76. "But at the time I couldn't say anything because it was a decision of my commander-in-chief." Especially painful was the fact that Pace's competition was weaker than it had been four years earlier, and it seemed certain that Pace would defend his gold medal. (In fact, his 1976 archery score was more than 100 points higher than the winning score in 1980.) Instead, he was denied the opportunity.
Pace coped with the disappointment the best way he knew—shooting arrows. He remained in the Air Force until the next year and practiced when he was off-duty. "People thought, Oh, he's in the military, all he does is shoot bows, but that wasn't true," he says. "I worked in electronics in avionics, and when my day was done at 5 pm, I shot till dark."
His relentless practice and determination paid off when he made the Olympic team for a third time for the 1984 Olympics in Los Angeles. He won the gold in men's individual archery once again, breaking his own Olympic record. Jim Coombe, CEO of Cincinnati's Junior Olympic Archery Development club and a longtime friend of Pace's, says his biggest strength was his faith in himself. "Others would practice shooting, but he would practice winning," Coombe says. "He was never arrogant. He just had a great mental game."
While the competition kept Pace motivated—he loved shooting under pressure—his discipline also came from within. Like so many Olympians, free time was an unusual concept for him; outside of work, he estimates that 98 or 99 percent of his time was training. His standard practice was several hours a day, five to six times a week, plus tournaments on weekends, but he says there was never a hard limit to the time he would put in.  "If I needed more practice, I shot more," he says.
Coombe remembers a time in the early 1970s that solidified Pace's work ethic in his eyes. "I was going out hunting with my dad around 7:30 in the morning, and we saw Darrell outside practicing his archery. When we came back in the evening, maybe 5 p.m., he was still there and hadn't stopped practicing," Coombe says. "My dad laughed and said that that kid was going to be a world champion, and a few years later, I got to tell him, 'Remember that kid you always saw practicing? He just won the Olympic gold.'"
Pace praises his former coach, Charlie Pierson, for giving him the foundation of training, but he says that an archer has to learn a lot on his own because there are so many different methods and styles of shooting. "You could ask seven different archers the same question and get seven different answers," Pace explains. To figure out his own style, he meticulously watched all the top archers and tried every technique until he found out what worked for him.
Pace went on to compete in his third and final Olympic Games in Seoul in 1988 at the age of 31. He finished ninth individually, but won a team silver medal, bringing his total Olympic medals to three, not counting the missed opportunity in 1980. It is no wonder, then, that Pace was declared the male archer of the 20th century by World Archery, the sport's governing body, five years ago.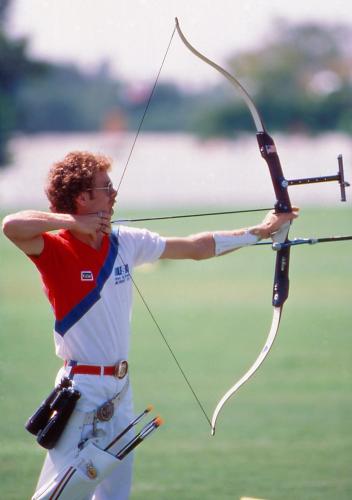 Turning 60 years old this year, Pace still enjoys the sport but says he "somewhat retired" about 10 years ago.
"I shot well over a million arrows in my lifetime, so now I'm giving my shoulders a break," he says. But don't take his so-called break too literally: Pace seems to be the type who never rests. He is currently coaching archers of all skill levels ("just passing on what I've learned," he says); he is a competitive bowler with four 300s (like archery, bowling requires form, repetition, and follow-through, "what I call the three major points"); he plays softball with his family, which includes two kids, ages 23 and 25 ("It's good exercise!"); and although he is getting ready to retire from his job at the Department of Natural Resources after 29 years, he says, "I'll still be busy or I'll probably start another job."
Pace may be constantly on the go, but his roots are planted firmly in our city. He is happy to stay in Hamilton, where he has lived since 1981. "I like the four seasons, there's nothing you can't find here, and the cost of living is great," Pace says, revealing his penchant for practicality. This is, after all, a man who got his start from a coupon.
Facebook Comments