With Elizabeth Blackburn at the helm, a new generation directs the Bengals' strategy and fan engagement.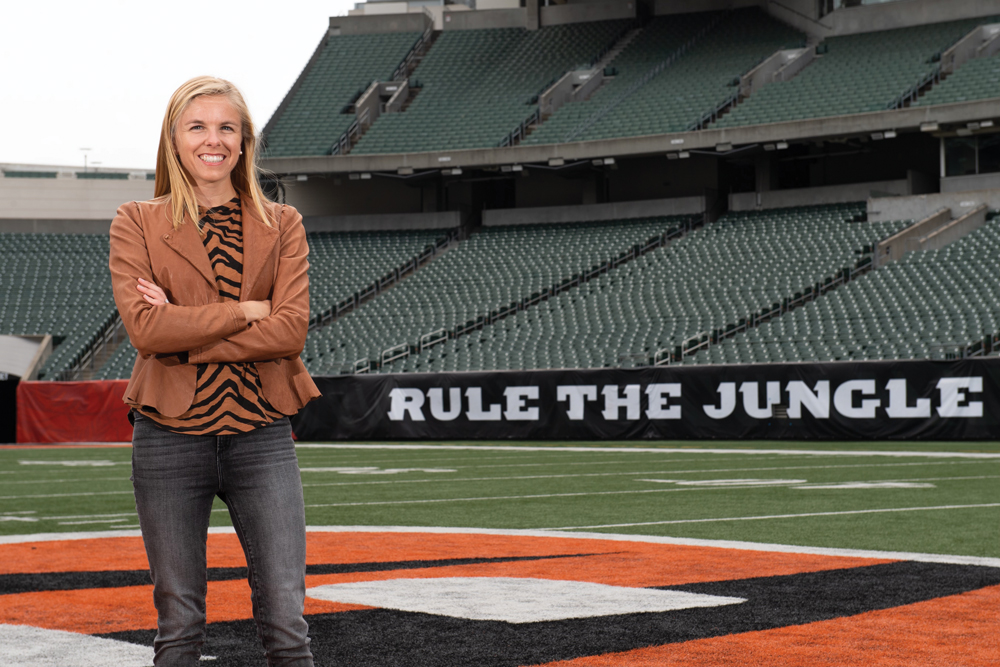 How are you changing the space you're working in?
I bring a customer-focused approach to everything I do, with the goal of driving energy and engagement. The way we saw that come to life this year was self-awareness and humility on our social media channels, such as making the best out of a uniform leak last spring by making it a running joke for the rest of the year … seeing situations and turning them into positives, and things that fans want to engage with and bring positive energy to their lives.
What does a day in the life of your role look like?
The days are so different, but the underlying factor that has underpinned a lot of different things that I and my team around me have accomplished is every single day I wake up thinking about how to make the Bengals better, how to make the Bengals fun, and how to engage with various stakeholders in a fun, creative way.
What are you most proud of, or what was most memorable this season?
The game day experience, and how it came to life and got better and better every home game, ultimately culminating in the home playoff win over the Raiders where we set an attendance record and we set an audio record, making it the loudest home-field advantage we've had at Paul Brown Stadium. I'm proud of my team. I'm proud of the Ring of Honor and how not only the halftime ceremony came to life but all of the engagement with our alumni that was part of the entire process as well as our season ticket members. I'm really proud of the new uniform.
How would you explain the vibe of our city this season to someone from another town?
I'd explain Cincinnatians as kind, warm, supportive, and positive in a way that makes you want to be a part of that community and emulate those traits.
Does working in your hometown make your job more meaningful?
It absolutely makes my job more meaningful, and it's a driver that makes me want to work harder, because I know I'm impacting the community that raised me and I want to give back to and improve that community. I'm so thankful for what it has given me.
What's it like to be a woman in the NFL, a traditionally male-dominated space?
I'm in the fortunate position of working on a leadership team with my mom and sister, [where] the CFO is a woman, and the head of communications is a woman. I think it's a strength of the Bengals ownership and leadership group being led by strong individual females. [It] is a differentiator that can set us apart and a thing that I think we can and should take advantage of, in our leadership style, our brand, and our values.
Facebook Comments