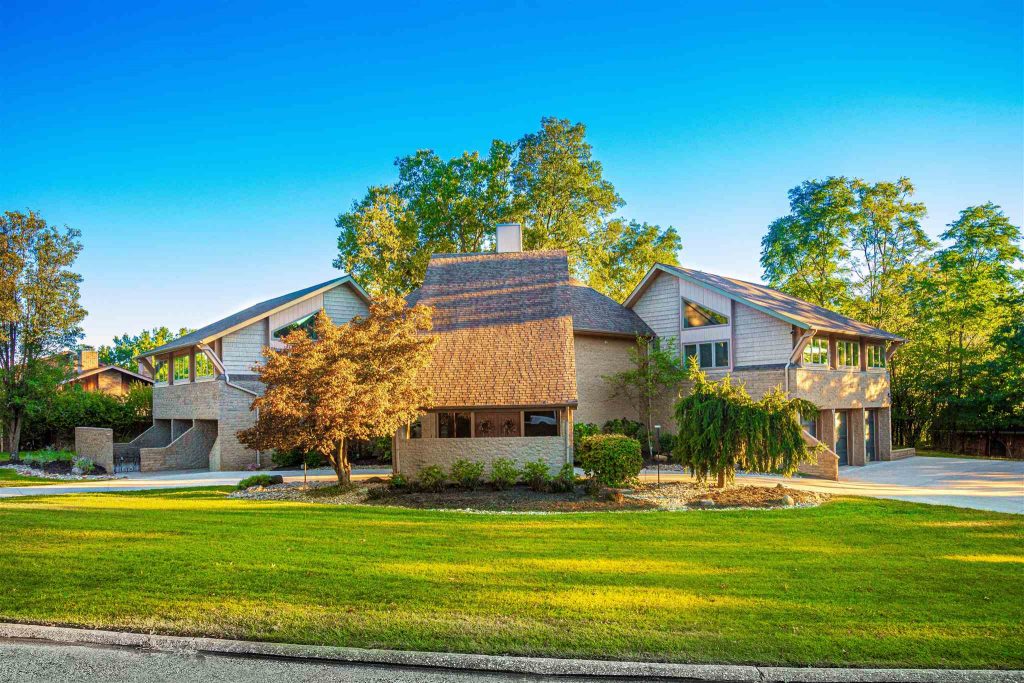 For nearly 30 years, Tiffany and Frank Braun have called 60 Winston Hill Road home. "Growing up in Ft. Thomas, this house was well known throughout the city for its unique architecture," Tiffany Braun says. "When touring the city with out-of-town guests, I would always drive by and show them this house, not knowing that one day I would actually be able to live there."
Braun adds that the original owners worked with Cincinnati architect Rudolf (Rudy) Hermes to design the home for entertaining, and since the Brauns moved in, they've added further space for entertaining. "About 15 years ago, the house needed to be updated and so we considered moving," she says. "We looked at many other houses, but we would always come home and say there was no other house as unique as ours, so we decided to renovate." Additions and renovations to the exterior and interior of the house include two second story living areas with vaulted ceilings, a sun room, a new laundry facility-slash-mudroom, and two covered patios.
From the front, the home boasts several wings with varied roof levels and architectural elements. The entry is hidden by a slanted roof and foliage. Double doors and large picture windows create a spacious, open entryway. Immediately inside there's a dramatic staircase and a variety of materials: brick, wood panels, and terrazzo. Plus, there's a fountain. "The falling water from the fountain can be heard throughout the home," Braun says. "[It creates] a very relaxing Zen-like feeling."
The four-bedroom, two-and-a-half-bath home includes a living room with vaulted ceilings and loads of natural light. The updated kitchen is multi-dimensional with different ceiling heights, windows, and connected rooms. The space includes stainless appliances, granite countertops, and a butler's pantry between the kitchen and sunroom. In the sunroom, there's a second fridge and wet bar area with additional storage and full fridge. "The patio and sunroom is designed to have a bright place to enjoy during December and January when it is too cold to be outside," Braun says. "[It's a] great place for Sunday morning coffee."
It's unusual to have a laundry room as a feature of a home, but the mudroom-slash-laundry space is one to notice. The Brauns added a drain in the middle of the floor to have a place to wash the dogs—or kids—when coming in from playing in the backyard. The spacious room offers storage and nice views outdoors. Other notable elements of the home include: the fireplace room, also called "the pit," which features a large split-stone faced fireplace; a finished lower level with a full kitchen; and multiple rooms with outdoor access—an oasis right here in Ft. Thomas!
Click through our gallery to view more photos of this home:
Facebook Comments