Leica is sprawled on the floor, sound asleep.
There's an impressive drool bubble gurgling from the side of her mouth. Nurses and doctors step over or skirt around her as they mosey about, offering quick, adoring glances. None seem put off by her napping on the job. All seem to repress the urge to collapse on the floor and snuggle up next to her.
Leica came to Cincinnati Children's Hospital Medical Center last February as part of the Animal Assisted Therapy program. She's a 2-year-old, 54-pound golden labradoodle, and though she doesn't draw a paycheck, she's a full-time staff member. She works at least 40 hours a week (naps included) and has her own ID badge. She also has fur the color of fresh-baked bread, ears like the softest suede, and an extensive collection of colorful collar flowers.
Her paws flutter back and forth along the laminate floor of the Physical Medicine and Rehabilitation Clinic at the hospital's main campus—"rehab" for short, according to the biped employees—subconsciously awaiting her next patient. Leica works mainly in outpatient appointments and non-sterile procedures for children suffering from a range of ailments: everything from removing casts and pins to treating spinal cord injuries, brain tumors, cerebral palsy, and neuromuscular diseases. With the child's (or family's) permission, Leica can be in the room before, during, and after each appointment, providing her particular breed of medical assistance.
"She wants to be a comfort," says Kerri Birkett. "A lot of kids have pets at home, so it's another way to make the hospital normal."
Kerri is Leica's at-work handler and at-home roommate. With a freckled face and easy smile, Kerri is the more talkative of the two. She serves as Leica's Sherpa, lugging around a backpack full of hand sanitizer, lint rollers, treats, and toys. (She used to have one she could pull on wheels, but Leica didn't care for it.) Her role as a child life specialist is to ensure that children and their families are as comfortable as possible during their hospital visits. But making the kids comfortable requires making Leica comfortable, which is why she also manages Leica's meals and nap schedule.
"Leica-bug, you ready to go to work?" she asks. Leica hops to her feet and unleashes a post-slumber shake. The two move into the hallway, Leica carrying her purple leash in her mouth so she won't trip over it. They settle in front of a closed door as Kerri peeks through the reverse peephole.
Screams erupt on the other side, interspersed with sobs. Kerri's smile shifts to a subtle grimace. Leica's nose twitches, but her expression remains unchanged. After a few seconds, Kerri swings open the door and Leica trots into the tiny, windowless room, her curling, bushy tail upright and peacocking. As the doctor and nurses dispose of syringes and gauze, Leica moves toward Rory Borchers, a 5-year-old in a purple dress and colorful tights who immediately stops crying. She takes a half step back and pauses for a moment, then giggles and lunges forward, throwing miniature arms around Leica's neck.
"That was quick," says Rory's mother, Elizabeth.
Elizabeth and Rory make the trip down to Children's from Columbus a few times each year, usually for Botox shots, which Rory received today—eight of them, all in her legs. Rory suffers from spastic quadriplegic cerebral palsy, which hinders cognition and speech and renders her muscles spastic and weak. The Botox helps loosen them up—sometimes very quickly. Rory is now walking Leica up and down the hall outside her room, guiding her by the leash, in no hurry to leave. The tears on her cheeks haven't even had time to dry.
A big part of Leica's job is to run this type of interference. "With the way Rory's brain works, it's all about distractions," her mother tells me a few days later. "Sometimes when she starts crying, it takes her a long time to calm down—15, 20 minutes. [But] this was perfect. She loves dogs."
After a couple minutes of Rory putting stickers on Leica's green Children's Hospital vest, Elizabeth gathers her and heads for the car, and Rory waves goodbye from her stroller. Leica returns to the clinic's office to await her next patient. It's not long before she's back in her spot on the floor, snoozing in preparation.
---
Leica and Kerri carpool to work every morning. Kerri drives, Leica usually naps. "I always put her vest on before we leave the house," says Kerri, "so she knows what we're doing."
They work together three days a week, and then Leica works with an alternate handler the other two, rotating through various clinics each day. She can't go into intensive care, sterile environments, or see patients in isolation, but much of the rest of the hospital falls under "everything the light touches" territory. On a normal day, Kerri or an alternate handler will assess the schedule and determine which appointments to prioritize for Leica, factoring in time for rest, play, and a few potty breaks. If there are any returning patients who have worked with Leica before, they generally try to give them priority. It's all about time management.
"She is in no hurry to get anywhere, so it takes a little longer to move throughout the hospital," says Kerri. "Plus, I get stopped a couple times."
Aside from a backpack full of lint rollers and extra attention, Kerri's job description was largely the same prior to Leica's hiring. The hospital employs roughly 80 child life specialists across all campuses, in just about every area—outpatient clinics, inpatient cancer and intensive care units, the new Proton Therapy Center at the Liberty Campus—helping patients cope with and understand their situation by engaging with them on their personal developmental level. This involves everything from explaining procedures to entertaining them with bubbles or musical toys. Or in Kerri's case, a dog.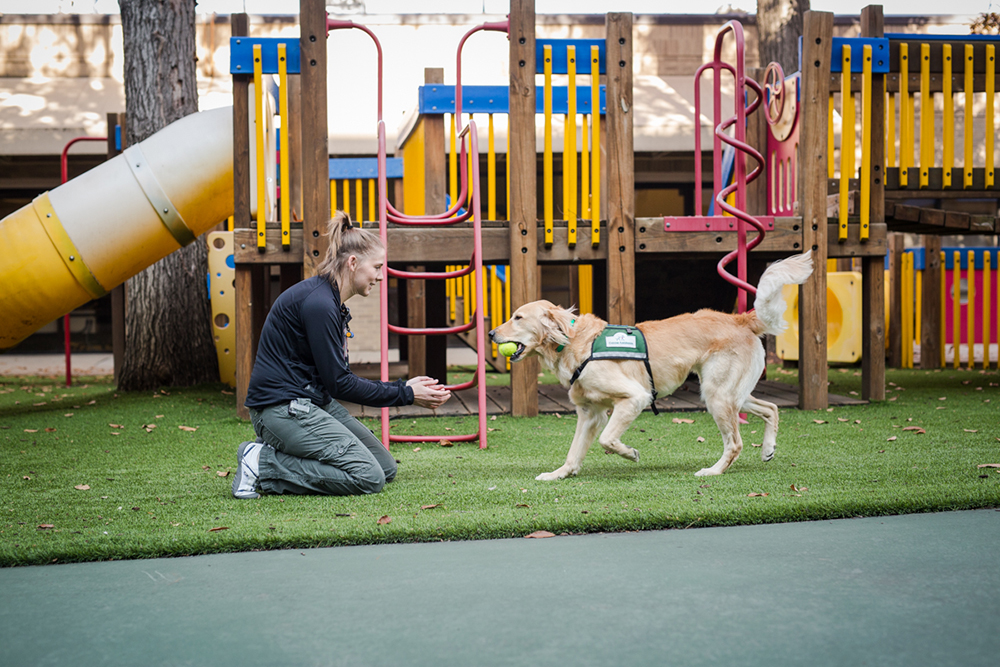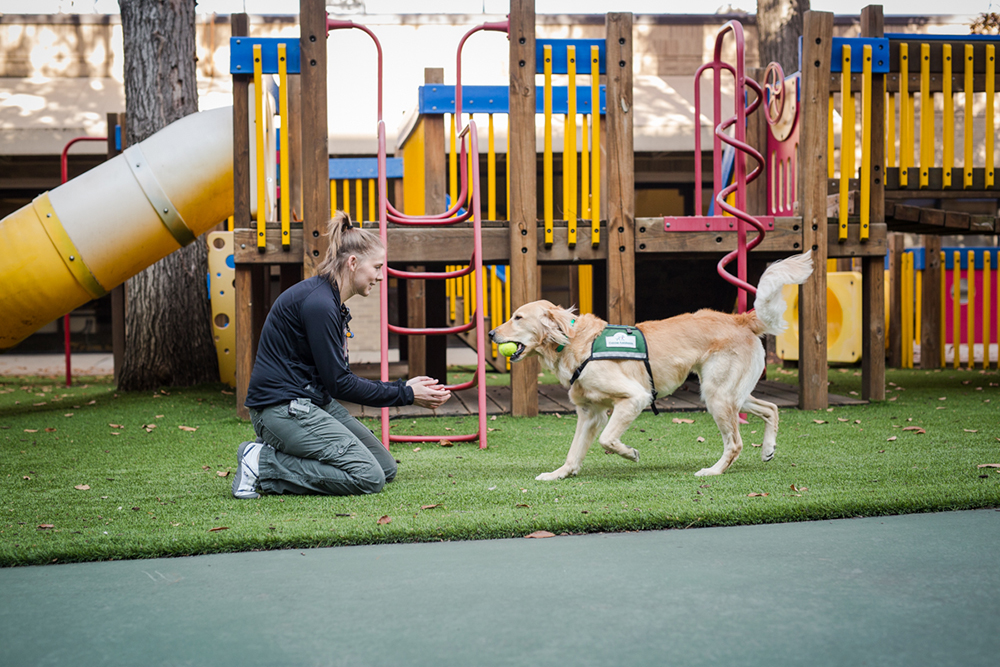 ---
Leica and her quadruped colleague Drummer, a golden retriever, came to Children's last winter via Canine Assistants, a nonprofit organization in Milton, Georgia, that breeds service and facility animals. These are different than the pups you'll find in Children's Dog Visitation Program, where the hospital will allow your house pet, upon completing a behavioral exam, to provide bedside visits and interact with patients. Leica and Drummer (who works mostly with inpatient clinics) are certified service dogs. Only a handful of hospitals in the country have a program comparable to the one at Children's, which is funded entirely through philanthropic donations.
In late 2015, the hospital developed a plan to bring in facility dogs after observing how they were utilized in the Children's Healthcare of Atlanta hospitals. Kerri and her husband had been considering getting another dog (they already had a chocolate lab at home), so when the hospital sent out a call for handlers among the child life crew, she immediately applied for a primary position.
"I'm totally a dog person—clearly," she says, motioning toward her cubicle wallpapered with dog-centric snapshots. "I'm just really passionate about the bond that animals have with people and how I totally seek out love from my own dogs, and I wanted to be able to share that with other people—especially kids going through procedures."
Kerri and fellow child life specialist Ashley Rivet were both selected as primary handlers; after being interviewed by the staff at Canine Assistants, the two spent a week in Georgia in early 2016, where Kerri was paired with Leica and Ashley with Drummer. "It was all set up like a blind date," says Kerri. Both of the new couples spent the rest of the week going everywhere together—restaurants, hotels, stores—as part of the organization's bond-based approach. "On the second day, the dogs came back and stayed at the hotel with us, and throughout the week Leica would get closer and closer to me on the bed at night. It was great to see the transition happen."
There was a significant transition back in Cincinnati as well. Leica was learning a new job, and Kerri was learning to do her old job with a new partner—at work and at home. "In the beginning, it felt like a whole new world," says Kerri. "I have to get to work earlier and I'm sometimes here later, just because of moving around. Before I could just come to work and leave. I didn't have to worry about people coming up to me and wanting to see the dog."
"It is such a stressful environment," says Kerri. "Leica reminds you to stay calm."
Leica is a celebrity at Children's, strolling the halls like Michael Jordan on the streets of Barcelona during the 1992 Olympics. People swarm to her: children, parents, doctors, everyone. Most will ask to pet her—or shoot Kerri a quick look with a half-extended arm, hoping for approval—but others just go for it. Kerri practically has to keep the bottle of hand sanitizer in a holster, attempting to offer a dollop before and after they pet her. Leica enjoys the attention.
That magnetism is a glimpse into the benefits of the Animal Assisted Therapy Program. It's the bond Kerri talks about, the way people receive love from pets: They get excited when you come home. They don't hold grudges. They curl up next to you on the couch while you spend the whole evening watching Food Network.
Hospitals are often scary, stressful places, even for employees. Seeing and petting Leica—just for a moment, while passing her in the hallway—can be a booster shot of comfort. "There are times where I just want to be an introvert, put some blinders on and go," says Kerri. "But no matter how busy I am, I think about what other people might be going through that I don't know. We try to at least stop for a second or interact with them somehow."
The effect is exponential when Leica is in the room with patients. Part of it is distraction, sure, but it's also solace. Regardless of how much a patient comprehends a specific situation or procedure, the basic emotional responses are still there: fear, anxiety, pain. Leica can sense them too, yet she's always relaxed, quiet. No expectations. Entirely present, tail wagging, happy to see you.
"Even if the patient isn't petting her, I'll notice the parents are giving her attention so that their stress is going right to her," says Kerri. "There are times when it is such a stressful environment. Leica sucks all of that in and just reminds you to stay calm."
---
It's easy to forget that Leica is more than a "normal" dog. Once you get over the initial shock of seeing her walk the halls or wait for an elevator, it's a lot of standard canine material: napping in the middle of the floor, running around the hospital's playground, or today's discovery of a rehab clinic nurse in the midst of a snack, prompting Leica to park herself beside the desk and beg for potato chips with actual puppy dog eyes.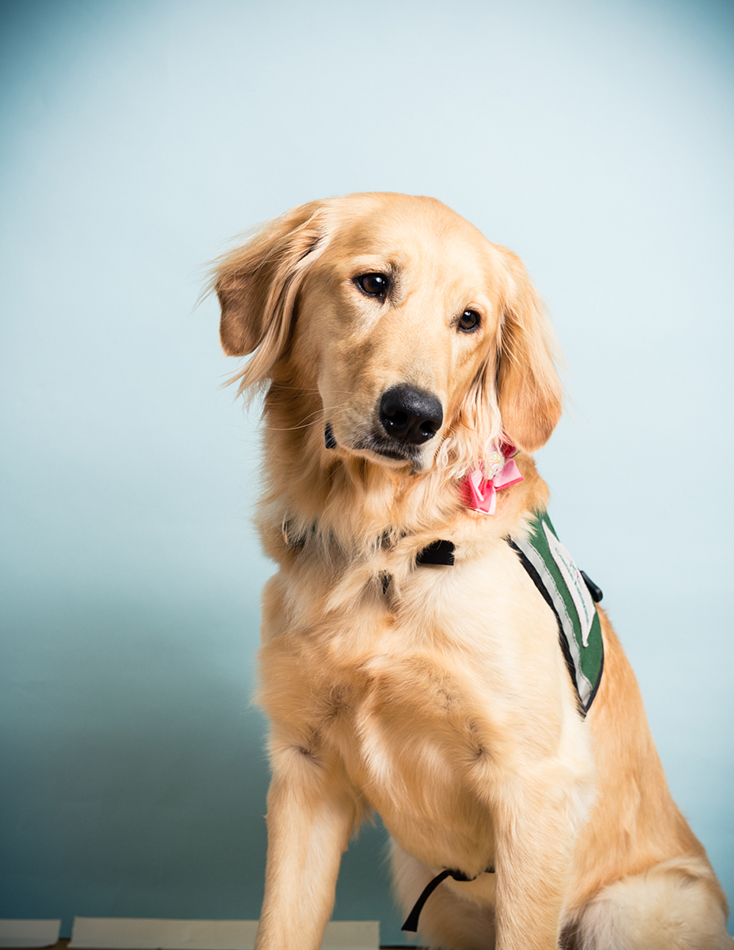 Kerri manages to drag her away once the first patient of the afternoon arrives, but even the shift to "work mode" is subtle. It's not as if Leica transforms into Lassie saving neighborhood kids from a well, or Air Bud draining jump shots with his schnoz. She's still very much a dog in those moments interacting with patients and parents. Albeit a rather exemplary, well-behaved one.
Levi Carte cracks a smile, sans front teeth, as Leica and Kerri enter the room. He's 5-and-a-half and suffers from Level 1 cerebral palsy, a rather mild strain that only affects his leg muscles. ("My foots don't go the right way," as he puts it.) He's here for Botox shots as well—18 of them, in fact—and is noticeably apprehensive about it.
"I'll probably cry," he says when Kerri asks how he's doing, followed by nervous laughter. Leica seems to be helping though, nestled next to him on the hospital bed, unruffled. She barely lifts her head when the doctor and a pair of nurses enter and start prepping the syringes.
Levi was right. He does cry. A lot. Screams, too. Loudly. And for good reason. Eighteen massive needles, plunged into his legs, one after another. One is barely out before the next goes in. It will all be worth it in a few minutes and the weeks to come, but right now, it's hell, and it shows.
Levi is on his stomach as the shots go into the back and sides of his legs. Leica is just above him, lying on her side next to Levi's head so he can pet her during the procedure. With each prick of the needle, he clutches her harder and harder, his own four-legged stress ball, and pleads for it to stop. His shrieks rattle against the room's taupe-colored walls.
Strained looks mar the faces of Kerri, Levi's mom, and the nurses; Leica, though, remains sublimely calm. She pays no mind to Levi's balled fists of fur, her head still flush against the bed, eyes staring blankly forward as if watching another rerun of Chopped. She doesn't even flinch at the screams. By the end, Levi is still plenty distraught, but seems stronger than when it started, resting his head on Leica's stomach.
"It's comforting knowing that not everyone in the room is freaking out," Rebecca Kofron, Levi's mom, says by phone a few days later. Her family has a chocolate lab that Levi spends a lot of time with. It's very protective of Levi—he feels safe around it—and Rebecca sees the same reaction in him when he's with Leica. "Levi is working through it because he can see the dog being calm and not upset or hyper."
"I think it's really helping me too," she adds. "I feel like animals have an innate instinct when something is going terribly wrong or it's not safe. The fact that Leica is so calm reassures me."
Kerri says that Leica acts different at work: holding in all of her energy, absorbing all of the stress. Once she's home in the evening, she's ready to play, insisting on fetching a tennis ball or doing laps in the backyard. "It's like she chugged a Red Bull," says Kerri. "That's her time to be a normal dog."
While the nurses clean up, Levi collects himself, admiring the box-worth of Band-Aids now covering his legs. As they prepare to leave, he asks his mom if he can have a prize when they get home, then hugs Leica goodbye, her tongue wagging. She and Kerri stride outside as well, a quick breather from the tiny rooms full of doctors and crying patients. They have to cross to the other side of campus to finish out the day, but Leica has managed to distract herself from work for a moment, sniffing and biting at a discarded sucker stick she's found along the walkway.
"Leave it," says Kerri, tugging gently on the purple leash.
Leica looks up briefly, then dives back toward the stick, a bit more determined. Kerri rolls her eyes and firms her grip.
"Leave it!"
Facebook Comments