Kevin Yakuboff remembers the moment he decided to become a pediatric plastic surgeon. He was completing a training rotation at Shriners Hospital for Children, caring for a young girl with a congenital hand problem. "And unfortunately," Yakuboff remembers, "the only good hand she had was horribly burned. Basically, nobody knew how to deal with the congenital hand problem, and I looked at this burn and said My God, this is going to stay with her the rest of her life."
Yakuboff's career changed course that day, and he decided to focus on the nascent field of pediatric plastic surgery. "If you operate on a child like this," he explains, "you change everything." Yakuboff eventually cycled back to Shriners, where he has spent 28 years in the hospital's plastic surgery department, which specializes in reconstructive surgery craniofacial procedures, and cleft lip and palate procedures.
In most other parts of the world, Shriners Hospital for Children is associated with orthopedics. The hospital network was started by the Shriners, a fraternity for Masons that began in New York City in 1870. And yes, the red fez was there from the beginning. Members adopted it as the "official headgear" in 1872 to accessorize their group's vaguely Arabian theme. Once they had been established for a few decades, the Shriners sought out a worthy philanthropic issue to support. In 1922, the year they opened their first hospital, that issue was pediatric orthopedic conditions like clubfoot and scoliosis. In the 1950s, it was polio, which caused more than 15,000 cases of paralysis each year in the United States. And in the mid-1960s, Shriners expanded its purview to burn care.
There's a saying that you hear when you hang around a pediatric burn unit: Children grow; scars don't. After a child is severely burned, the uninjured parts of their bodies continue to develop and change—bones get longer, skin expands—but their scar remains static. Eventually, without proper treatment, burned children can develop serious and permanent limitations as the scar contracts the skin and inhibits the movement of nearby joints. Despite this sobering fact, most burn units and hospitals only provide acute care, discharging patients once the danger of infection has passed. The children and their families must then navigate their own way through proper scar management, along with the other physical and emotional realities of burn survival.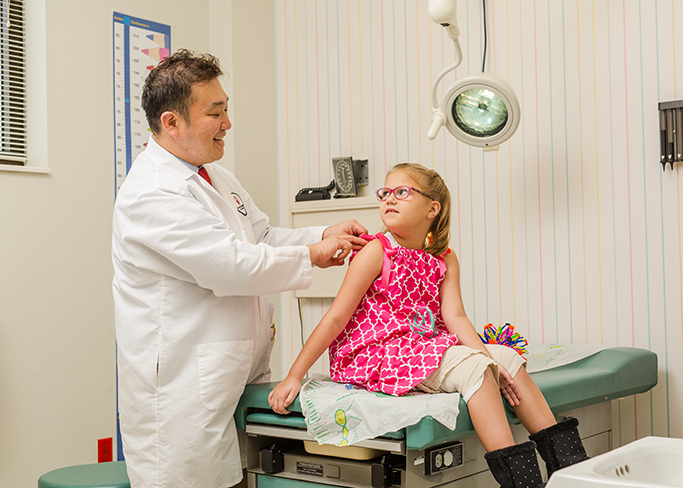 To close that care gap, Shriners' burn units are a one-stop-shop for treatment, including response to critical burns but also encompassing aggressive scar management, skin grafting, nutrition, respiratory therapy, and emotional therapy. The Cincinnati hospital is one of four such units in the country (the three others are in Boston, Galveston, and Sacramento), all of which are members of an elite league: some of the few institutions in the world where children can receive comprehensive burn treatment. "If you have a child who's burned, you don't want them going anywhere else," Yakuboff says. "You want them coming to Shriners. Because this is what they do."
Indeed, their knowledge—and compassion—runs deep. Important research conducted in their own labs has determined that burned children need a massive bump in caloric and nutritional intake in order to heal properly; as a result, the hospital incorporates nutrition programming into each patient's care plan. Another observation: Children with large scars struggle to return to school; so a Shriners staff member will travel to a child's home school, hold an assembly, and prepare the students for their return. Families come from all over the U.S. (and the world) to seek treatment at Shriners, some via Shriners-chartered medical flights. Once they arrive, they live at the hospital full time, and their children are attended around the clock by a team of nurses and physicians. And while Shriners does take third-party insurance, it will never turn a child away because of their family's inability to pay.
Because the incidence of devastating burns has gone way down—thanks to 30 years of regulation and public awareness campaigns, Yakuboff notes—Shriners has been able to leverage its considerable talents for underserved communities in places like Appalachia, where it can help kids with congenital and traumatic issues that otherwise might go untreated.
"You're doing things because you want to do them and because they need to be done," Yakuboff says. "I don't have to worry about a patient not getting something because they can't pay for it. The Shrine is one of these last bastions of medicine in its truest form."
Facebook Comments