Big island flavors from wholesome ingredients that let you chow down without being weighed down are what Poke Hut is all about. Wife-and-husband team and career engineers Sally Lin and Baret Kilbacak dreamed up the idea after a trip to Hawaii, spotting a need in the neighborhood for healthy food fast.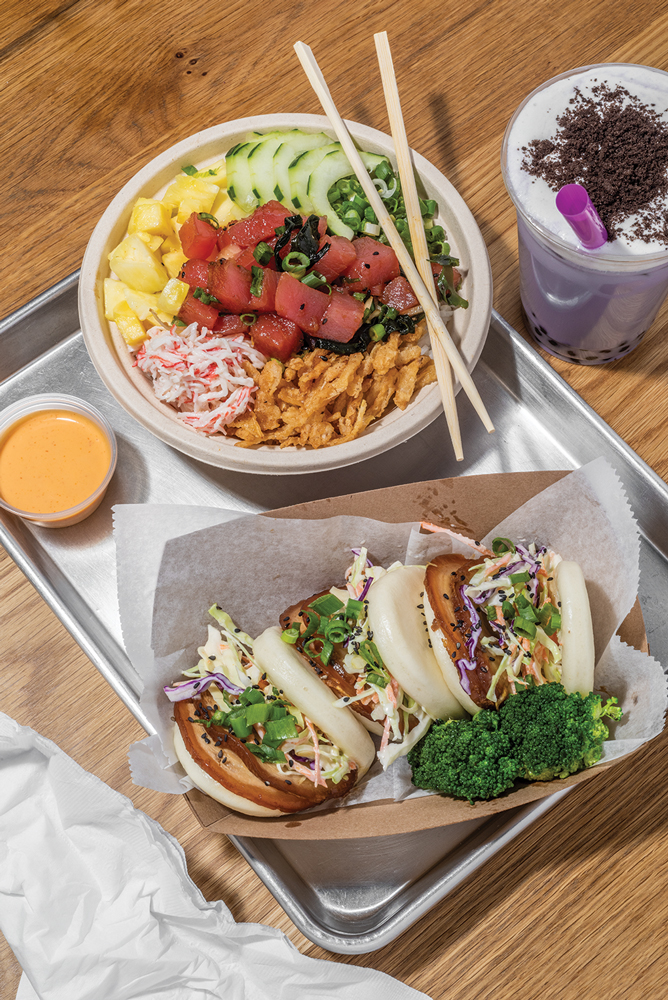 Possibly invented by the islands' fishermen (its historic origins are debated), the traditional Hawaiian raw fish dish has—with the popularity of sushi—taken on some Japanese flavor profiles, and both varieties are on hand at Poke Hut. Step up to the assembly line–style ordering counter to create your poke bowl (or nori-wrapped "pokiritto") from a dizzying spread of fixings, including a base (rice, greens, or zucchini noodles), proteins (raw tuna, salmon, and scallops and/or cooked chicken, pork, beef, shrimp, and tofu veggies), a range of tropical (mango, pineapple, and avocado) and Asian (masago, soy-marinated egg, and kimchi) toppings, and seven sauce options. Or let them guide your journey with their signature bowls. Because it's the best of both worlds, we recommend the Maui bowl, with sushi rice, marinated ahi tuna, miso crab, pineapple, cucumber, green onion, fried onion crisps, and citrus ponzu sauce.
From the small bites menu, the tacos are worth a try: They're topped with marinated yellowtail and avocado on crunchy taro root shells, which actually held up better than the typical corn variety. Or if you're looking to splurge, the Taiwanese popcorn chicken is downright addictive. With so much reasonably priced, (mostly) guilt-free grub with virtually no wait, we'll likely be saying "aloha" to this place on a regular basis.
Poke Hut, 1509 Race St., Unit #104, Over-the-Rhine, (513) 975-0905, pokehutusa.com
Facebook Comments