The calendar may say spring, but there are a few local spots where it's still cold as ice…and that ice is filled with hockey players. Men and women from all walks of life put on pads, lace up their skates, grab a stick, and hit the rink for games that are equal parts battle and ballet. OK, maybe the equation skews a bit more toward the battle side, but it's all in good fun.
Cincinnati hasn't always been a hockey town, but it certainly wasn't for lack of trying. From the Mohawks in 1949 to the Stingers from 1975 to 1980 and the Tigers in 1981–1982, teams hit the area like one of our typical snowstorms: They came on suddenly but didn't stick around long before melting away. In 1990, though, a seismic shift took place when the Cyclones blew into town and whipped up fan frenzy, packing the Cincinnati Gardens nightly. When they moved to U.S. Bank Arena, the Cincinnati Mighty Ducks swooped into the Gardens—and together they birthed a new generation of puck-heads. When the Columbus Blue Jackets joined the NHL as an expansion team in 2000, they solidified Ohio's status as a hockey state.
A handful of indoor ice rinks in our area host hockey games on a regular basis, from pee wee leagues and high school teams to adult leagues. Northland Ice Center in Evendale is the grand dame of the local scene, offering lessons and leagues along with the requisite open skating hours and birthday parties since 1973. Hockey leagues run the gamut from learn-to-play/no checking to ultra-competitive (typically comprised of former college and pro players), and Northland's regulation NHL-size rink hosts them nearly every day, all year round.
---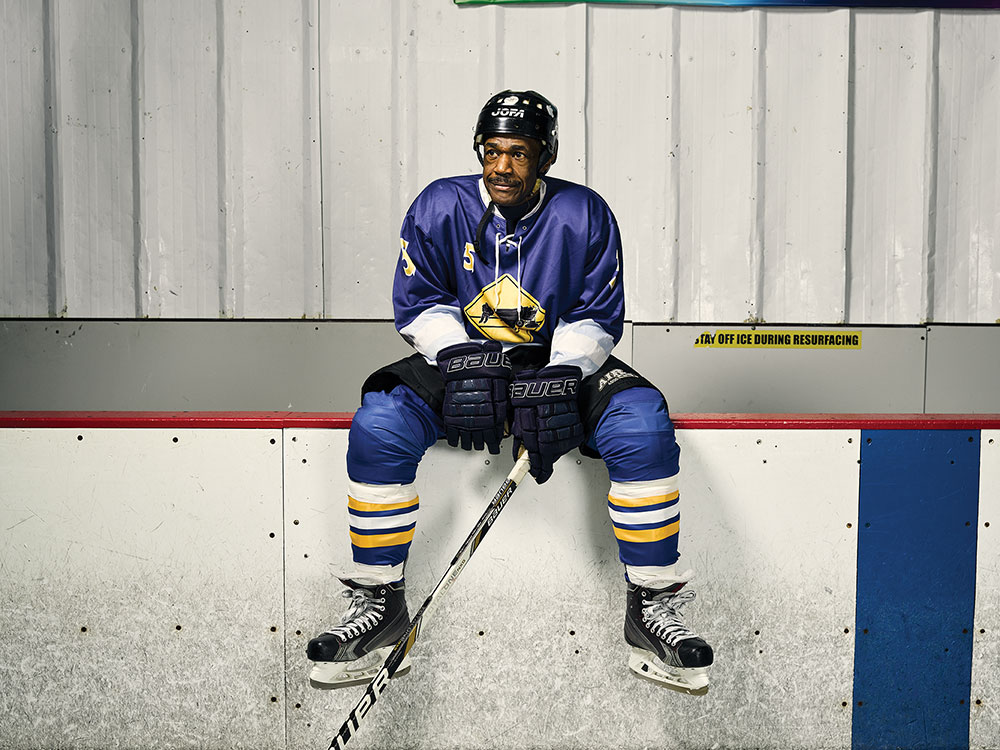 Wendell Jones
Day Job: Fifth Third Bank analyst
Jones and his boyhood friends would ice skate at an indoor rink near his home in New York City, but they found going around in circles a bit too sedate in their teen years and often got kicked out for being rambunctious. When he stumbled upon the NHL All-Star Game on TV one evening, he was hooked for life. "I was the beneficiary of some very nice coaches who showed me the ropes and let me join their practices," he says. "My high school didn't have a team, but I played in leagues during that time and was able to walk on to the hockey team at Queens College." Jones's career path in the banking industry took him to Chicago in 2008 and Cincinnati in 2012. The welcoming atmosphere here was refreshing for lifers like him, but he thinks it's vital for newbies. "Cincinnati is a great place for folks to try the game and see what happens."
---
Chimin Wu
Day Job: Retired architect
Wu started playing as a child in his home city of Beijing, China. He and his friends played hockey on a nearby pond when it froze over in the winter. Some kids would nail boards together to make a stick. China's Cultural Revolution put his hockey hobby on hold; Chimin was forced to relocate to a remote rural region after graduating from college. In 1987, at age 42, he moved to the U.S. to get a master's degree in architecture at UC, and afterward picked up skating again. Some hockey-playing friends noticed his skills and encouraged him to join their team. "We've played together for many years, and they know me, so they go easy on me," he says. "My doctor has told me several times that I should quit, but I said, 'Sorry, I'll take my chances.' "
---
Emilee Keith
Day Job: Dog groomer
Keith's cousin worked for the Cleveland Lumberjacks, a now-defunct AHL team, so she and her family would make the occasional trek to their games from her Butler County home. But a mere five years ago she was a complete beginner on the ice. She started from scratch by enrolling in a basic adult development ice skating class at Miami University and soon after joined "learn to play hockey" classes at Northland. While she's relatively new to the sport, she has a lot of experience with high adrenaline adventures. "My day job is dog groomer, and I specialize in the incorrigible ones, the dogs no one else will work with," she says. "I also ride horses and like to choose the ones that other people think are too wild to ride."
---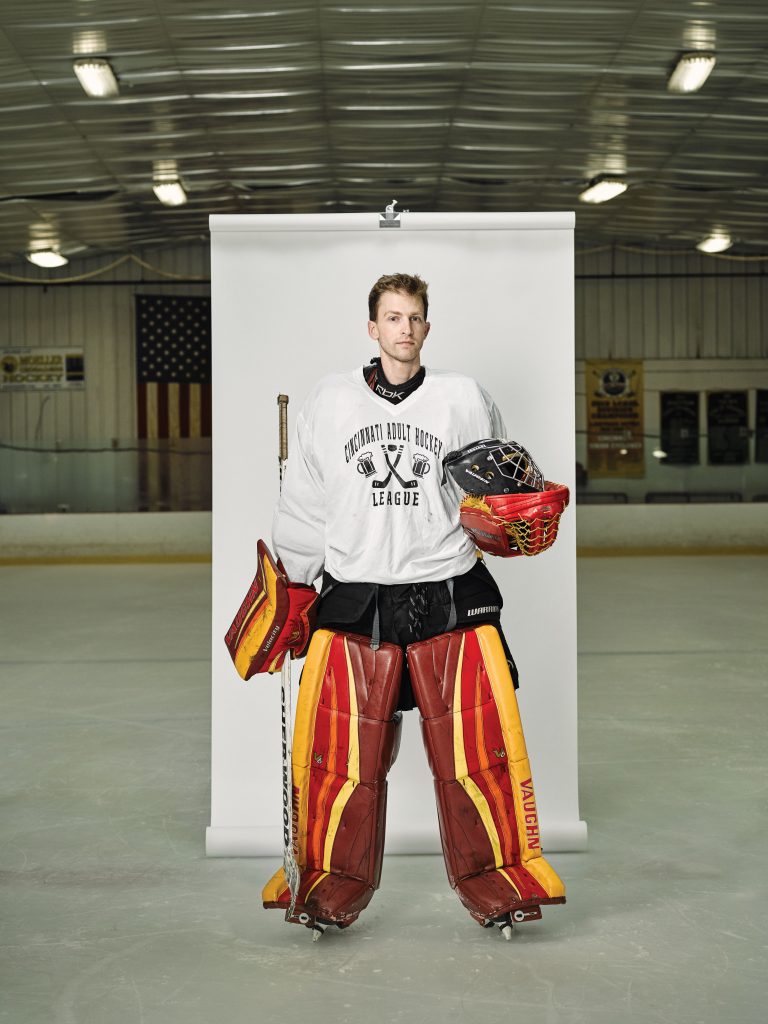 Benji Nieman
Day Job: Costco deli worker
Nieman played roller hockey in his teens, and his best friend in high school schooled him in the intricacies of ice hockey when they watched NHL games on TV. At 18, he finally mustered the courage to buy a pair of ice skates, and hit the rink for three hours a day for weeks on end teaching himself to skate. Two years later, he was playing goalie on the UC club team. "Being a goalie is tough at first," he says. "I wound up losing a lot of games and felt like I was letting my team down. But I had a lot of mentors who kept encouraging me, including Danny Lorenz, a former pro goalie. They took me under their wing and showed me the ropes."
---
Kirk and Spencer Taylor
Day Jobs: Kirk works at a fabrication shop, and Spencer is a machinist

"At age 62, I didn't think I'd still be on the ice and welcomed by the team, let alone play alongside my son," Kirk Taylor says. "I feel very fortunate and blessed to have the experience."
This father-son duo has been around the sport for decades, and both are still going strong. Kirk was the head coach or assistant coach for youth teams for 16 seasons, and says, "When you're in that role, you try to make sure the kids love it so their passion for the sport lasts forever." Instead of going to his older sister's basketball games, Spencer went with Kirk to his hockey games and sat in the penalty box. "I started skating at age 3 and was on a team when I was 4," Spencer says. "When my dad coached me, he expected more out of me than he did out of my teammates, which I understand. But now, playing alongside him, that's nothing but fun."
---
David Neilson
Day Job: Retired from the construction business
Neilson, 69, tried every recreational activity under the sun before winding up on the ice. "I was a swimmer in high school, then played racquetball for a few years," he says. "I started running after I got married. I've tried yoga, Pilates, and weightlifting, but I found the gym too boring for me. None of them ever stuck." He was 48 when he started, and overweight. "I couldn't see my shoes. I probably lost about 25 pounds over the first 10 years of playing. Losing weight is secondary, though. It's the joy of playing that keeps me doing it."
---
Evan Smith
Day Job: Real estate agent
Smith grew up in Pittsburgh when Mario Lemieux and Jaromir Jagr were playing for the Penguins—two of the all-time greats. There was a hockey rink nearby, so it was always "Game on!" as a kid. At age 36, he just started playing again about a year ago. "My coworkers were pushing me to get back into it because they were playing and having so much fun," he says. "I got picked up by a beer league team, and now I'm playing for one team and subbing for two others. It's a really good time and I keep meeting great people."
---
Rich Szturm
Day Job: Co-owner of Northland Ice Center
What started as a side job turned into a career for Szturm, a hockey lifer (his dad played for the Troy Bruins, a minor league affiliate of the Detroit Red Wings) who began working at Northland in 1980 while attending UC. He graduated with degrees in management and marketing and planned to pursue a master's degree in economics. The original owner of Northland had other plans. "The guy who built the place was from Columbus, and he wanted to retire and move back there. He made me an offer I couldn't refuse." Szturm also was a professional referee for the IHL and ECHL in the 1990s.
---
Ian Carter
Day Job: Stay-at-home dad
Carter was a teenager when the Cyclones and the Mighty Ducks ignited his passion for the sport. He and his buddies would play street hockey on the tennis courts in Montgomery. Then a figure skater caught his eye and turned his attention to the ice. "A friend of mine had a birthday party at Northland, and most kids were flopping around on the ice or hugging the wall," he says. "But I noticed one girl who was really good. Turns out she was a figure skater, and she taught me how to ice skate that afternoon. After that, I was hooked." Carter now helps coach his 11-year-old son's team.
---
Wesley Young
Day Job: Physician Assistant at The Christ Hospital
How does a kid from Belgium wind up playing hockey in Cincinnati? Blame it on Walt Disney. Young grew up in Brussels, where ice hockey and roller hockey lag far down on the list of popular sports, but watched the Mighty Ducks movies as a kid and dreamed of playing hockey. He came to the U.S. to attend college and later worked at The Christ Hospital for two years, building up the experience required to attend graduate school in New York. Jones and his wife moved back to Cincinnati for a better overall quality of life, and he found easier access to ice rinks here. He plays open ("drop-in") hockey whenever his busy schedule allows and hopes to join a league this summer.
---
Kevin Ryne Laile
Day Job: Works at Northland in a variety of roles
Laile works in Northland's pro shop two days a week and has helped many other players get started in the adult leagues. He's also one of the few folks who can lay claim to being a hockey fan since before birth. "My dad's an avid hockey fan," he says. "He loved watching guys like Mark Messier, who started with the Cincinnati Stingers. He and mom went to a ton of Cyclones games at the Gardens in the '90s. They said that when my mom was pregnant with me, whenever the Clones would score a goal, I'd start kicking in the womb."
---
David Godar
Day Job: Adrian Durban Florist delivery
Godar took up the sport 40 years ago, at the age of 30. He learned to skate when his two young sons were participating in a beginner's hockey program at Northland. There was another father following a similar path who said, "Hey, let's get in the men's league." Godar has been playing together with one group of friends since 1979. A hip replacement and prostate cancer treatment have slowed him down, causing him to drop a skill level or two in the leagues, but he's still in the game.
"I've learned enough about hockey that I can do some good things," David Godar says. "I know where I'm supposed to be on the ice…whether I get there on time or not is another matter."
---
Tommy Horan
Day Job: Co-owner of Northland Ice Center
Have you ever seen someone juggle more than 800 hockey players? Horan has been doing it for years. As the de facto commissioner of the Cincinnati Adult Hockey League, he's charged with scheduling 72 teams at Northland and nearby Sports Plus rink. One of his pet projects is a draft league, where he creates teams that are evenly matched based on each player's abilities. In his precious spare time, he also runs Northland's pro shop.
Facebook Comments