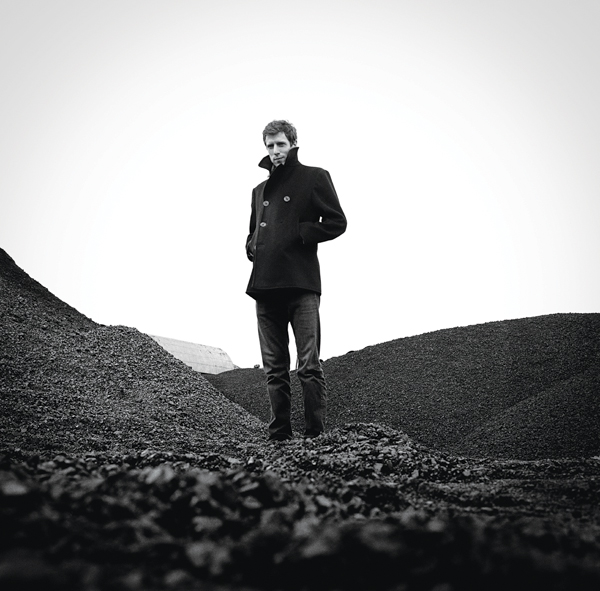 Despite singing for his living, Daniel Martin Moore is hopelessly soft spoken. I learned this the hard way while craning to hear him during a riotous lunch hour at Coffee Emporium on Central Parkway. You'd think he was bashful if he wasn't so poised. Onstage and in person, Moore is every inch the folk showman—ease and charm in a rumpled button-down. And he owns a singing voice that is clear as day and nearly pitch-perfect. He's a tall man, but he doesn't take up much space, and his slight but rangy build reinforces his unaffected disposition. With Moore, it seems, what you see is what you get.
The native Kentuckian—Cold Spring, by way of Elizabethtown—may be the quiet guy in the room, but he has plenty to say, and more recently, the means to actually be heard. Moore is one of the few regional acts represented by Sub Pop Records and has enjoyed the international touring, distribution, and recognition that comes with claiming kin to the honorable O.G. of independent record labels. Now Moore has parlayed that experience into the creation of Ol Kentuck, his own micro record label, under which he can pursue near-and-dear projects of yet-undiscovered artists like Joan Shelley, with whom he's releasing a duo album, Farthest Field, on May 8. It's not just the chance to make a professional studio recording that attracts the other artists; it's the chance to work with him. "He's a sensitive listener and he just wants to do the best job," Shelley says, taking a break from recording in Louisville. "It's kind of unreal how patient he is. And careful."
Small fry musicians everywhere got a little thrill the day Sub Pop picked up Moore. It was the singer himself who initiated contact in 2007, spontaneously sending a four-song demo—the contents of which he now can't quite recall—to the beloved Seattle-based indie label. "It wasn't really thought out," he admits. "Those were the songs that I had decent-sounding recordings of—that I wasn't embarrassed by."
Moore is the first to acknowledge his good fortune, but the opportunity wasn't exactly a matter of luck. Sub Pop, founded in 1986 by Bruce Pavitt and Jonathan Poneman, is known as much for its origin story as for its current list of stars, and the label's trajectory has always been about taking risks. It was, after all, the first to sign Nirvana, thereby unleashing grunge rock on an unsuspecting world. Despite some fallow periods, it has maintained a pretty stellar roster of up-and-coming indie artists. "They took a chance signing somebody who had no tour history, no recording history, and I'm eternally grateful for that," Moore says of his own story. "I definitely feel like a black sheep on that label. But at the same time, I feel like their whole label is made up of black sheep." Scanning their artist lineup, in which everyone from aw-shucks good guys like Moore to a noise rock band called Pissed Jeans is represented, it's easy to agree.
"Global domination isn't our goal."
Philosophically, at least, the label seems a perfect fit for Moore. Even their many blithe slogans—one of which claims "We're not the best, but we're pretty good"—seem to reflect the singer's own modest attitude. So it makes sense that when Moore pulled the trigger on launching his own label, he modeled it after his personal experience with Sub Pop. As of 2011, he's released two albums under the Ol Kentuck standard—with a solo album from Joan Shelley and another from local songwriter and former Over The Rhine band member Ric Hordinski on the way—all the while taking business cues from his Sub Pop brethren. "They just abandoned the normal model," he says. "They stopped spending $150,000 to make a record, which all the majors are still doing…" Moore guessed that Sub Pop's recording budgets run anywhere from $5,000 to $20,000. "So you could sell 2,000 records and break even. And anything you sell over that, everybody's making a profit."
Moore is all about that kind of fair play, and wants to keep Ol Kentuck as manageable and artist-centered as possible. That means the label doesn't own the masters or control any part of the relationship between the musicians and their intellectual property. And artists aren't tied up in any contracts—if they can get a better deal somewhere else, the label will gladly let them have it. "The way we look at it, Ol Kentuck is just partnering with them to do this really cool thing," Moore says. "And then anything after that is up to them. Global domination isn't our goal."
---
Moore's debut album was 2008's Stray Age, a humble assortment of songs that are broadly sweet, laying bare his frank affection for the album's anonymous "darling" subject. Stray Age was coproduced, recorded, and mixed by big-gun Joe Chiccarelli, known for his work with U2, The White Stripes, and The Shins. If you're looking for music to sulk to, go elsewhere. The sound is light and nimble, shaped by mandolin, violin, horns, and a vibraphone, so even the gloomy songs are shaded with joy. "That'll Be The Plan" is a snappy ode to optimistic love, the bright and dreamy "It's You" practically demands a slow dance under a disco ball, and Moore's lean but faithful cover of the late, much-lamented Sandy Denny's bittersweet "Who Knows Where the Time Goes" is right at home at the album's center.
I've heard Moore's music described as small—one crabby Pitchfork review pronounced that Stray Age showed "a general disregard for innovation." But that misses the point. Folk music isn't about making new sounds; it's about interpreting a tradition. The stars that emerge often do so because of personality, and those who don't bluster and swagger are often misunderstood, or simply dismissed as quaint or underdeveloped. The best folk songwriters start with familiar themes and then show you something you haven't seen before. And the very best have an unforgettable voice. With Moore, there is no pretense, no display; he's very present. His voice is uncomplicated and smooth. It's charming, but not syrupy—never coaxing a reaction from his listeners. His compositions are indeed spare, but they don't lack depth. And though every song on Stray Age is essentially a different shade of the same color, they're each full and vital in their own friendly little way.
Farthest Field has the same DNA; it brings the broad experience of folk down to a distinct, private moment. The recording setup was simple: one mic, two singers, and an album full of intimate harmonies about coming home.
---
Though Moore's music is steeped in nostalgia, it doesn't ignore 21st century problems; indeed, much of it is firmly rooted in one of contemporary Appalachia's most urgent issues: mountaintop removal, or MTR. Moore moved on from Stray Age to record 2010's Dear Companion, another duo project with classically trained cellist and songwriter Ben Sollee that doubles as an entree into activist songwriting and as a modest fund-raiser (via donated artist royalties) for Appalachian Voices, a North Carolina–based environmental nonprofit working to end mountaintop removal coal mining.
Moore first became aware of MTR at a much younger age, when he saw the bizarrely flattened ridges from the back seat car window while driving down a county road with his family. As an adult, Moore picked up Erik Reece's book Lost Mountain: A Year in the Vanishing Wilderness, which through its first-hand reports and photos of apocalyptic MTR sites brought home the desperate situation. "That was when it came together in my mind," he says. "I couldn't believe that it was true. It was so shocking that I thought, Surely this can't be real. But it is real. And it is catastrophic."
Since then, Moore has been dedicated to raising both awareness and money to help fight MTR. Both he and Sollee came to the grim subject on their own, and then met in the middle to blend their solitary songwriting into a cohesive album. Dear Companion is their love letter to central Appalachia—almost literally. The title track was inspired by an appallingly sad 1902 letter from Fraterville coal miner Jacob Vowell to his wife Ellen, written as he lay dying in that now-infamous blown out mine. In one memorable live performance for Seattle radio station KEXP in 2010, cellist Sollee and violinist Cheyenne Marie Mize work together to set up the song's mournful tone; bandmate Daniel Joseph Dorff launches a stomp-and-clap version of percussion; and then Moore's firm voice comes in alongside Sollee's and Mize's bristling strings. The arrangement is dark and lonesome, but you can't help but smile at Dorff's seismic stomping while Moore sits with his hands in his lap, as if beside a sick bed. "I think [Dan] refers to it as body percussion or dance percussion," Moore grins. "I always call it the hootenanny." Moore often plays the straight man to Dorff's flailing percussion. During stage shows, Dorff—a walking, talking one-man drum set—stoops and stomps and claps and pounds his chest, while Moore barely bends  at the waist.
An anchor song of Dear Companion is "Flyrock Blues," Moore's own characteristically quiet anthem about the brutal day-to-day realities of living under mountaintop removal. "Flyrock" is coal-mining jargon, and it's exactly what it sounds like: Flying debris from mining operations that can destroy property and sometimes kill unsuspecting locals. In one notable 2004 incident, a half-ton boulder dislodged by a bulldozer hurtled through an Inman, Virginia, home nearly 700 feet down the mountain, killing 3-year-old Jeremy Davidson while he slept in his bed. Flyrock is just one of the many deliberate risks taken by the coal mining industry to meet its collective bottom line.
"The National Resource Defense Council uses the term 'Industrial Sacrifice Zone,'" Moore says. "And [the coal companies] have basically said, 'Yeah this sucks. That's just how it is.' That's what the policies are saying, even though they're not saying it outright. That's why it's so dark: It's not a mystery. It's calculated."
Before Sollee and Moore recorded Dear Companion, they spent some time in Wilson Creek, a high-country town in Floyd County, Kentucky, that's currently fighting to prevent MTR mining by the James River Coal Company. The state government's response to the problems in Wilson Creek seems to toggle between tacit acceptance and outright denial. After much negotiating with the community, Governor Steve Beshear ventured out in April 2011 to see eastern Kentucky coal country for himself. "He put his boots in Raccoon Creek, which is about five miles from Wilson Creek," says Beverly May, a local activist, "and that water was running bright orange with iron and manganese. It was undeniable." Later, at a community meeting in Harlan County, Beshear declared, "I believe we have a balance between mining coal and protecting the environment." May then took a jar of her own dingy tap water and showed it to the governor during a press conference. "I told him 'This comes from my tap. This is city water,'" she recalls. "And it was just a surreal moment where he turned from me and my water as if he hadn't seen it, faced the television camera, and said, 'I believe our regulators are doing a good job.'"
As an activist, Moore is shrewder than his kind face would suggest. He understands that to fight an industry with a huge amount of money and political influence, you have to pull back on your environmental arguments and focus on people. "You can't make a hippie-dippie argument against them," he admits, "or you'll immediately be written off as some tree-hugger. You have to hit them with the most brutal facts that you have." So taking on Big Coal starts with prioritizing the less evident human costs of MTR operations over the painfully obvious environmental costs. Arsenic and other harmful cancer-causing chemicals, long buried deep inside the mountains, are rooted out along with the coal and become what's called "acid mine drainage," which contaminates streams that empty into city water supplies. Toxic coal dust fills the air. The landscape is scorched beyond recognition.
"What you do to the land, you do to the people," Moore says. "It pains me to see the earth treated that way, but I'm much more concerned about the little kids who live under it and who have to drink that water.
"We have to tell as many people as possible," he adds. "Because when people see it, especially if they can actually be there, it's a no-brainer. You see that it's a violation of some basic trust between man and the earth, and man and man. You just can't treat people that way."
---
Despite his attachment to old-timey tradition, you can count on Moore to operate above musical clichés. Take his last solo studio project, 2011's In the Cool of the Day, a cover album of spirituals from the very old to the relatively new. The title track was originally recorded as an a cappella chant by "Mother of Folk" singer-songwriter Jean Ritchie; it would have been easy to over-embellish. Moore's version is softer, both romantic and haunting, with his even-handed vocals behind Dorff's unhurried piano accompaniment. The rest of the album casts a wide net of styles: "In the Garden" is a joyful, jazzy treatment of C. Austin Miles's early 20th century hymn; "O My Soul" shows off Moore's unforced tenor voice; and "Lay Down Your Lonesome Burden" is a brief, aching moment of wordless piano (performed by Moore's brother Earl), viola, and violin.
In the Cool of the Day is all loveliness, which is fitting since it serves as the singer's official tribute to his spiritual upbringing in central Kentucky. "The songs that we covered predate the concept of a recording artist, for the most part," he says. "I learned them in church with 150 people singing."
You don't have to share his perspective to recognize why he's seen success. Moore consistently hits his stride when he arrives at that moment of simple, mournful melancholy—the one that props up an entire tradition of music, and that swells your heart even if those traditions aren't yours to recollect. He owns and transforms the songs he covers, but still works within a single recognizable folk idiom. His original work manages the same balance, and his projects on the Ol Kentuck label remain devoted to the craft of good songwriting.
Maybe I'm partial to Moore's music because when I listen, the force of my own hill country heritage fills that space between my heart and my belly. The sounds and songs themselves may not live in your own memory, but they're peaceful and easy to get acquainted with. Quite like Moore himself.

Originally published in the April 2012 issue.

Facebook Comments