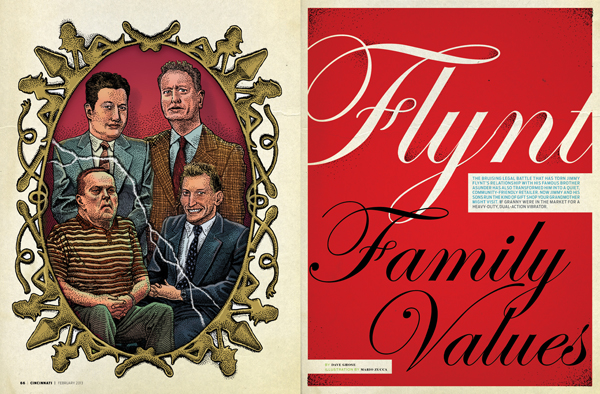 The bruising legal battle that has torn Jimmy Flynt's relationship with his famous brother asunder has also transformed him into a quiet, community-friendly retailer. Now Jimmy and his sons run the kind of gift shop your grandmother might visit. If Granny were in the market for a heavy-duty, dual-action vibrator.  
The namesake of Jimmy Flynt's Sexy Gifts stands in a corner of the small boutique in Florence, Kentucky. Larry Flynt's little brother looks fit and relaxed in shorts and a polo shirt, his voice sculpted by a soft Southern drawl. He wears a splint on an arthritic finger on his right hand, so he greets me with a fist bump instead of a handshake. He's gracious and friendly, and he talks proudly of his store, which opened in early 2012.
His business isn't your typical dirty bookstore. In fact, it's not a bookstore at all. Jimmy sells no magazines, no DVDs. He concentrates on lingerie, T-shirts, lotions, and above all, sex toys—a growth market in the adult entertainment industry. This mix of merchandise makes his business more respectable, since—unlike print and video erotica—lubricants, negligees, and even vibrators are less likely to get a shopkeeper hauled to court. Which is not to say that Flynt Sexy Gifts is exactly wholesome. As we talk, I glance over his shoulder and spot a product—the Pistol Pump with Senso Sleeve. The photo on the box shows the item in question strapped on a naked man's Smith & Wesson.
This isn't the first time I've talked with Jimmy. I interviewed him in 2011 when I was working on a story about the early days of Hustler magazine. The 64-year-old Northern Kentucky resident was a calm, avuncular presence back then, and despite some legal tsuris with his estranged brother, he hasn't changed. He sports a yellow rubber wristband to promote childhood cancer awareness and flashes a toothy smile as he takes me through his 2,000-square-foot shop.
The small space is packed with products to heighten sexual pleasure, merchandise geared to the full range of human preference. Anal beads, dildos, bondage gear—Jimmy is nonchalant and informative, and he explains his stock like a grocer hocking Honeycrisps or an insurance man selling annuities. He takes me to the front of the store, where several vibrators made by the Swedish company LELO are encased in a glass box. The sleek, shiny, and expensive devices (they can cost up to $169) look like miniature Anish Kapoor sculptures, and Jimmy talks about them as if they were works of art. Can a sex toy be aspirational? Maybe not. But if it's possible, these are the kind of high-end eye candy that could pull it off, and Jimmy hopes they lure the affluent, iPad crowd to his business.
Afterward, we relocate to a Chinese restaurant nearby, where Jimmy orders a Coors Light as soon as we're seated. It's a little before 4 on this September afternoon, and the place is empty, but Jimmy is warming up for a festive Friday evening. "I've got to meet some friends in a couple of hours down at the river," he says. A workaholic, he doesn't really have any hobbies, other than daily exercise. This, Jimmy's son, Dustin, tells me later, is what his dad does in his limited free time: "He likes to have a cold beer at the bar."
For nearly 40 years, Jimmy was his famous brother's sidekick. They worked hand-in-hand as their business grew from a string of Ohio go-go bars into a worldwide empire that includes magazines, skin flicks, websites, boutiques, strip clubs, and a casino. Larry drew all the attention with his bizarre antics and outlandish personality, while Jimmy worked quietly behind the scenes to keep the company moving forward. As one old Hustler hand told me: "Larry is the show, and Jimmy makes it go."
Jimmy has no illusions about how the world perceives him. "If I die tomorrow, the headline will be 'Larry Flynt's brother' " he says. "There's nothing I can change about that."
Still, he's trying. That's because Larry fired him in 2009, and since then Jimmy has been on his own. If his new business succeeds—he hopes to expand the "Sexy Gifts" concept throughout the country—he finally may prove he's more than just a second banana to America's most notorious publisher.
In the meantime, he is going head-to-head with Larry here in Cincinnati. In many ways, this city is the Flynts' home turf; it's where they first went into business together in 1969, and where in 1976 they were first prosecuted on obscenity charges. But these days the brothers' legal grappling is with each other. Jimmy has been involved in a nearly four-year battle with his brother—legal action that he has taken to the U.S. Court of Appeals for the Sixth Circuit after a string of lower-court losses. Evidence of the wrangling can be seen downtown, where in 2011, Larry opened a Hustler Hollywood boutique just four blocks away from a store that Jimmy owns. This internecine war of the First Family of Smut has created a retail curiosity: A proliferation of Flynt-owned shops—two downtown and two more on the outskirts—in a city where for decades you couldn't even buy an issue of Hustler.
Jimmy doesn't sugarcoat his time with Larry. His brother is narcissistic, a micromanager, and a publicity hound, he says. Does he feel liberated to no longer have to deal with such a difficult personality? He pauses for a few seconds and then says, "I miss him. I enjoyed that brotherly connection."
Theirs is a complex relationship, forged under extreme duress during years that encompass Larry's struggles with drugs, prison, paralysis, and mental illness. Sure, Larry was a piece of work, Jimmy says. But his brother also was his hero. "When he cut me off," Jimmy says, "he cut off his best friend. He cut off his number-one fan."
For the past 12 years, Jimmy Flynt has operated the store at 411 Elm Street, downtown. He moved to the squat, one-story building—the site of a former brothel, he claims—after the city used eminent domain to boot him out of another location about three blocks away. After losing a trademark dispute with his brother in October 2011, Jimmy dropped the Hustler Cincinnati name; like the Florence store, it's known simply as Flynt Sexy Gifts. But Jimmy still sells plenty of Hustler-branded products—from vibrators to baby bibs—and there's a Larry-Flynt-autographed poster from 1999 celebrating the 25th anniversary of the flagship magazine on the wall.
So far in their ongoing legal battle, Larry has won control of the building and is now trying to evict Jimmy. The dispute is scheduled to go to trial before Hamilton County Court of Common Pleas Judge Steven Martin later this year. Jimmy says he continues to do "good business" on Elm Street, but he acknowledges that competition from Larry's new Hustler Hollywood boutique on East Seventh Street has hurt.
Standing in the Elm Street store, Jimmy straps on a pair of round sunglasses and suggests a tour of downtown Cincinnati. "We'll take a walk," he announces. "I'll give you a little history." The streets outside are packed with Reds fans who have descended on the city for a playoff game against the San Francisco
Giants. Jimmy ambles through the crowds, a slight breeze blowing through his wavy ginger hair. After the last 15 years in Cincinnati, Jimmy isn't exactly anonymous. But he's no unmistakable celebrity like his brother, either, and no one recognizes him until he bumps into his lawyer, Bob Hojnoski, on East Fifth Street.
We head to the Fountain Square area, ground zero for Hustler history in Cincinnati. The brothers' first Hustler Club was once on Walnut Street—a storefront that sat where the Aronoff Center for the Arts is now. They opened it in 1969 and spread the concept to Dayton, Columbus, Toledo, Akron, and Cleveland. After moving to Columbus, they transformed a newsletter they used to promote the clubs into a glossy magazine they also called Hustler. The raunchy publication was a huge success, and the Flynts sold their bars and moved their headquarters to Los Angeles.
Larry Flynt might never have become a household name without his brother. Jimmy wrote the $5,000 check that paid for the first Cincinnati club and he was listed as vice-president on the masthead when volume 1, number 1 of the magazine rolled off the presses in July 1974. And Jimmy was a key player in the publishing coup that saved the magazine. In 1975, Hustler published nude photos (shot by a paparazzo) of Jackie Kennedy Onassis sunbathing on the Greek island of Skorpios. Jimmy, a Vietnam War vet, says that he was the only one in the organization with a passport, so he flew to Rome to buy the photos that became a national sensation and allowed the Flynts to pay off mounting tax debts.
Roger "Ollie" Brooke, a former nightclub manager and Larry's personal aide/bodyguard during the 1970s, told me two years ago that the brothers acted like equal partners during this period. "Jimmy was very important," said Brooke, who died last May. In fact, many corporate assets were in Jimmy's name in the '70s, according to court records, and a 1975 article in Columbus Monthly magazine identified Jimmy as a co-owner of the business. While Larry was the "hillbilly P.T. Barnum" attracting all the media attention, Brooke told me, "Jimmy was the one that ran the stuff."
In 1997, the brothers returned to the Queen City to open Hustler News and Gifts on East Sixth Street where the Contemporary Arts Center stands today. The move was a publicity stunt, essentially. Jimmy says they were baiting Cincinnati authorities to come after them. The newsstand—formerly King's News, which was owned by a distant relative of Jimmy's ex-wife—sold copies of Hustler, which hadn't been available in the city since Larry was convicted on obscenity charges in 1977. Prosecutors didn't bite until Jimmy added adult videos to the inventory. In April 1998, the brothers were charged with 15 counts of pandering obscenity. Jimmy looks back fondly on those days. The brothers' battle with Cincinnati in the late '90s wasn't so different, he notes, from the one they fought in the late '70s: "We were kind of doing the same thing: raising hell, going to jail." In 1997, Jimmy saw the irony in the fact that the new store was on the same block as the old Hustler club. Standing at Sixth and Walnut, Jimmy recalls a conversation he had with his brother at the time. "I told Larry, 'Either I'm doing something right, or I'm doing something wrong,'" he says. "'It's 30 years later, and I'm standing on the same street corner. '"
That publicity stunt turned out to be a moneymaker, to Jimmy's surprise. Eager crowds packed the store, not only buying magazines, but also snapping up the Hustler T-shirts Jimmy tacked to the wall. Media outlets from all over the world covered the obscenity case, which was settled in 1999 (the corporate entity that owned the store pleaded guilty, while prosecutors dropped charges against the Flynts). What's more, the Flynts were basking in the afterglow of the Milos Forman film The People vs. Larry Flynt, which came out at the end of 1996. "That did a great thing for us," Jimmy says. "We were riding a wave like that for several years. The brand was growing. The credibility was there. People loved that movie."
Inspired by the success of the Cincinnati newsstand, the Flynts built a new Hustler retail division. Larger, more polished stores opened in Los Angeles in 1998 and just up I-75 in Monroe, Ohio, two years later. Jimmy traveled all over the country, scouting for possible locations to expand the "Hustler Hollywood" concept: tasteful, adult boutiques (often with cafés) that tried to appeal to women as well as the traditional male demographic. New locations popped up in San Diego, Lexington, Ft. Lauderdale, New Orleans, Nashville, Tacoma, and St. Louis.
In June 2002, Larry inducted Jimmy into the Porn Walk of Fame (another Flyntian innovation) outside the Los Angeles Hustler store. "He's contributed more to this industry than many of you will ever know, and I'm very proud of him," Larry said at the ceremony. New revenue streams—including the stores and the Los Angeles casino, which opened in 2000 and became the company's most profitable venture, Jimmy says—made it a great time for Larry Flynt Publications, or LFP, as the corporate parent is now called. Speaking at a holiday party later in the year, Larry declared 2002 the best in company history and called out Jimmy for special recognition, thanking him for his loyalty "from the beginning" when all they had was a "dream and no money."
Even in its fractured state, the spin-off of the Hustler empire is still a family affair. Jimmy's sons work with their father in the new Sexy Gifts business and live nearby: 40-year-old Jimmy II in Lexington, and Dustin, 37, in Hamilton County. But like their dad, they also got their start working with Larry.
Jimmy II joined his uncle in California in the mid-'90s after graduating from Morehead State University, rising through the LFP ranks to become the executive vice president of brand marketing for the entire company. Dustin, meanwhile, spent several years helping his father run the Cincinnati area stores before moving to California in January 2005. Both of them idolized their uncle Larry. "They thought the sun rose and set on the guy, that he could do no wrong," Jimmy Sr. says.
The younger Flynts, both raised in Kentucky, speak in the same down-home twang that their father and uncle do. And like their elders, they're plenty ambitious. In late 2004, they signed a contract with Bernie Brillstein and Brad Grey, the producers of The Sopranos, to film a reality show that followed them around 24–7 as they prepared to take over the reins of the smut empire their uncle and father built. A pilot was shot, but no network picked it up (the Flynts blame Janet Jackson's wardrobe malfunction in the 2004 Super Bowl for killing their risqué project). "I worked really hard," says Dustin, who became a vice president of operations at LFP. "I loved my job. I loved the cause, what we were selling, and just the brand. I loved everything about it."
Eventually, however, Jimmy's sons saw a different side of their uncle. He was a demanding boss. He'd chew them out and cut their pay and budgets if they failed to deliver the results he wanted. He also didn't like to share the spotlight with them, Jimmy says. Dustin hung out with a lot of celebrities in Los Angles ("too many to list," he says) and wore a diamond-encrusted platinum "F" around his neck, reminiscent of Larry's trademark gold "1" pendant from the 1970s. Jimmy says Larry once asked him why Dustin "embellished" the Flynt name so much. Jimmy told his boys to do as he does: keep a low profile, let Larry get all the credit. "There was a lot of envy there," Jimmy says.
In late 2007, Larry fired both of his nephews, seemingly out of the blue. Dustin and Jimmy say their uncle gave no reason for their terminations at the time. (In a July 2012 deposition, Larry explained that he put his nephews in "positions they were not ready for.") The brothers responded with a plan to start their own company, Flynt Media Corp. A little more than a year later, Larry slapped them with a trademark infringement lawsuit, saying they were attempting to capitalize on his famous last name. He also claimed they might damage his reputation by producing cheap, inferior porn movies—an interesting argument from someone who once appeared in court wearing an American flag as a diaper.
Larry contacted Jimmy and demanded that he "get control of his boys," according to court documents. If he failed, Larry promised repercussions. Jimmy urged his sons to drop the Flynt name from their business, but they refused. "They were determined to use it," Jimmy says.
In June 2009, Larry followed through on his pledge: Jimmy was fired from his $250,000-a-year job. He had no salary, no severance, no health benefits. He was told to return his company car right away. If he didn't, the car would be reported stolen.
Larry declined to discuss why his relationship with his brother so quickly fell apart. "Mr. Flynt says the court documents in their legal dispute speak for themselves," wrote his publicist Arthur Sando in an e-mail. In the 2012 deposition—conducted in LFP's Los Angeles headquarters by Jimmy's attorney, Hojnoski, via video conference, as part of a wrongful termination suit Jimmy filed against his brother—Larry portrayed Jimmy as an incompetent lackey who leeched on his success. "I put up with his crap for 45 years, and I just couldn't do it any longer," Larry said. He also said he kept Jimmy around as a favor to their late parents. "They said, 'You've got to take care of him because the Lord knows he can't take care of himself,'" Larry said. "And that's the best thing I can do to sum up Jimmy." In the deposition, Larry blamed Jimmy's kids for the collapse of their relationship. If Dustin and Jimmy II hadn't crossed the line—and their father had tried harder to crack down on them—then Jimmy Sr. would still be "drawing his paycheck today," Larry said.
So far, Larry has had the upper hand in the legal battle. In 2011, U.S. District Judge William Bertelsman sided with Larry in the trademark dispute and also ruled that Larry was the sole owner of the entire Hustler enterprise. (Jimmy had claimed he was a 50 percent partner in the business, citing the significant role he played during its early years.) In early 2013—just before this story went to press—Bertelsman also ruled in Larry's favor in the wrongful termination suit, finding no merit in Jimmy's claims that Larry fired him without justification and/or breached an agreement to employ him for life.
There's even a continuing dispute over a sign Jimmy uses at his Flynt Sexy Gifts store in Kentucky. The word Flynt dominates the signage, dwarfing the small adjacent black and gold logo (a crest that says "Jimmy Flynt" and "est. 1969 Cincinnati," a reference to the first Hustler Club). "Larry's feeling is he's going to scrutinize whatever Jimmy does in this area to determine whether there is a trademark violation," says Mark Vander Laan, a partner with Dinsmore & Shohl who is representing Larry locally.
Larry, once the most despised man in Cincinnati, and Dinsmore & Shohl, the rock-ribbed 115-year-old law firm, make an interesting pair. Dinsmore is about as establishment as it gets in this city. Its clients include Procter & Gamble, the Archdiocese of Cincinnati, and Reds owner Bob Castellini; Alex Triantafilou—the chairman of the Hamilton County Republican Party—works for the firm. Vander Laan says he had no misgivings about taking on Larry as a client. "This is business litigation much like any other dispute," he says. And the relationship has grown; in mid-October, Dinsmore & Shohl also acted as advisor when Larry made a $33 million offer to buy publicly traded pay-per-view movie distributor New Frontier Media.
In a court filing Vander Laan characterizes Jimmy's legal action as a "'Hail Mary' submitted purely to harass Larry." But if Jimmy is feeling desperate, he's not admitting it. He has appealed both the partnership and the trademark rulings, and he says he plans to take the wrongful termination case to the next level as well. He says he's excited about the possibility of having all his claims in the appellate court, where he believes he'll have a better chance.
Maybe this dogged persistence is genetic. After all, his brother took two cases all the way to the U.S. Supreme Court. So he has the example of a landmark case like Hustler Magazine v. Falwell—the 1988 ruling that said a public figure such as Moral Majority leader Jerry Falwell was fair game for parody—to give him hope. "You can't give up," Jimmy says. "You can't roll over. You have to push forward."
The Flynts have been at each other's throats before. They fought in the 1970s when Larry became a born-again Christian and tried to mix God and sex on the pages of Hustler. They fought again in the early 1980s when Larry, hooked on painkillers following the 1978 shooting that left him paralyzed from the waist down, launched a quixotic campaign for president and was sentenced to 15 months in prison after a string of bizarre courtroom outbursts.
While in federal detention in Butner, North Carolina, Larry phoned corporate headquarters in early 1984 and dropped a bombshell: He announced he had given the entire company to atheist activist Madalyn Murray O'Hair. "It's over, man," Larry told Jimmy, according to a recording of the phone call that was played during the January 2011 trial on the partnership suit.
Jimmy was devastated. He had rejoined the company about a month earlier to run it while Larry was behind bars. After Larry relocated to Los Angeles in 1978, Jimmy had backed away from the family business, returning to eastern Kentucky to escape the chaos that surrounded his brother and raise his young sons in the same rural outpost where he grew up. "The only thing I ever give you is my love, you asshole," Jimmy told his brother during the 1984 prison call.
"What do you want, man?" Larry asked.
"I want you to get better and get the fuck out of there, you ignorant cocksucker," Jimmy said.
"I don't want out. What do you think about that?"
"Anybody that loves you, you hate 'em," Jimmy said. "You hate the fucking world. You hate everybody."
"That's right," Larry said.
Jimmy chased off O'Hair's people when they arrived at the company headquarters later that day to stake their claim. Then within a day or two, Jimmy petitioned a California judge to name him conservator of the business, citing Larry's mental instability. Once given complete control, Jimmy was able to stop Larry from driving the company off a cliff. "I helped stabilize it," he says. Larry was furious (though he came to appreciate his brother's actions later). He continued to make frequent belligerent phone calls from prison and claimed to have put a contract out on Jimmy's life. Concerned for his safety, Jimmy hired a 24-hour-a-day bodyguard.
Their feud continued after Larry left prison and Jimmy handed the keys back to him in November 1984. Larry sued Jimmy, accusing him of stealing from the company during the conservatorship. Jimmy went into exile. From 1984 to 1988, he didn't work for LFP. As litigation dragged on, Jimmy returned to Kentucky, where he lived off his savings.
Time and tragedy helped heal the wounds. Larry's wife, Althea, drowned in a bathtub in June 1987 after years of drug addiction, and Jimmy was at his brother's side when Larry buried his wife in the family cemetery plot in Kentucky. Sixteen months later, they settled their legal differences, and Jimmy returned to LFP, taking a $50,000-a-year job in the circulation and marketing department.
Why did he come back after the bitter conflicts of the 1980s? Despite everything, Jimmy says, Larry was still his big brother, still the most charismatic guy he knew, still his hero.
"It was like a marriage," Jimmy says. "You have your separations. You get back together. You try and make it work." Could he and Larry pull off another reconciliation this time around? Jimmy doubts it. "There's too much whiskey under the bridge."
The three Flynt outcasts huddle around a small table in a Starbucks in Florence. Jimmy Flynt and his sons are preparing for a busy night. Tomorrow is Sweetest Day, which should drive some business into the stores in Northern Kentucky and downtown Cincinnati. I confess I never think about the holiday (if you can call it that). "Your wife does," Dustin says. He recommends I pick up some "sex chocolates" for her.
I hoped to be a fly on the wall at this meeting of the Sexy Gifts brain trust, but not much business gets done on this day. My presence is too distracting, it seems, and soon the trio can't resist psychoanalyzing Larry Flynt for my benefit. "He is a very, very complex person," Jimmy II says.
The exiles speculate about Larry's mental state—he's publicly talked about suffering from bipolar disorder, which he blames for his religious conversion in the late 1970s—and imitate his distinctive marble-mouthed drawl. "Larry is the only living cartoon character," Jimmy Sr. says. Why did Larry fire his only brother? "Larry was always jealous of him," Dustin adds. Larry had the wealth and fame, Dustin says, but his father had good health and good looks and "truth be known, probably got laid more."
They also claim Larry's inner circle—his wife, Liz; his daughter Theresa (who runs the Hustler Hollywood stores), and his top attorney Paul Cambria—helped push Jimmy out. Jimmy says he was always "the joker," the one person in the organization with a backbone. "They got me by getting my kids," he says. (In a federal lawsuit, Jimmy accuses Cambria—the attorney who represented Jimmy during the 1976 and 1998 obscenity cases in Hamilton County—of legal malpractice because of the role he played in Jimmy's ouster after Cambria's firm became the company's outside legal counsel in 2001. "I never represented [Jimmy] individually as my client other than the two times Larry hired me to represent the company and various defendants in the two criminal cases," says Cambria. "It's a totally baseless lawsuit. It has no basis in fact or law.")
Despite their past conflicts, Jimmy has made a longstanding habit of standing by his brother. Jimmy II, the family archivist, asks me to look at a photo he pulls up on his iPhone. The image shows his father next to Larry a few days after he was shot. Larry is on a hospital bed, hooked to a ventilator, a deep scar on his stomach where a bullet passed through his body. "That's through the hard times," Jimmy II says.
After the meeting, I drive by a sign about a mile away that could make an unsuspecting shopper do a double take. The name Flynt—spelled out in bold black capital letters—shares a marquee at the Florence Marketplace shopping center with a Walmart superstore. Jimmy and his sons want to bring their "sexual health and wellness" concept to conservative, well-heeled communities without adult bookstores. Mitt Romney won nearly 70 percent of the vote in Boone County back in November. And driving around Florence a few weeks earlier, I happened upon a Norman Rockwell scene—a high school homecoming parade, complete with proud parents, eager children, and fresh-scrubbed teens riding in the back of pickup trucks and convertibles. So Northern Kentucky would appear to fit the bill.
Jimmy feels good about his business. By cutting out porn and disassociating himself from Hustler (and all the baggage that comes with the brand), he expects fewer zoning fights. The city of Florence concluded his store wasn't a "sexually oriented business," which allowed the boutique to open in such a high-profile spot in the city's shopping district.
What's more, DVDs are a dying market anyway, undermined by the proliferation of online porn. So why not concentrate on what really sells today—sex toys? After all, you can't download a vibrator, as porn insiders like to say. The Fifty Shades of Grey phenomena also hasn't hurt. A clerk shows me the most popular item at the store: a pair of "silver balls" (used for Kegel exercises) that were featured in a memorable scene in the book. "The business model here works," Jimmy says.
These days, Jimmy is trying out a new role. "He is the face of the business," Dustin says. Dustin and his brother run Sexy Gifts, for the most part, while their father is the visionary, consigliore, and public mascot. Jimmy has avoided the spotlight for most of his life, but he has developed a good rapport with reporters since he opened the first Hustler store in Cincinnati 15 years ago.
Still, he will never be his brother. He's not confrontational. He's not bigger-than-life. Hollywood will never make a movie about him. During one of my earlier meetings with Jimmy at a downtown bar, I urged him to join me on an expedition to Larry's Hustler Hollywood store. I thought it might make good theater. I could certainly imagine Larry—who commemorated the retirement of his longtime foe, Hamilton County Sheriff Si Leis, with a November sale on butt plugs—jumping at the chance to stir the pot with this kind of in-your-face act.
But Jimmy shot me down. He didn't want to go, didn't want the headache. He stayed behind, content to sip his beer alone in a booth.
Originally published in the February 2013 issue.
Illustration by Mario Zucca
Facebook Comments