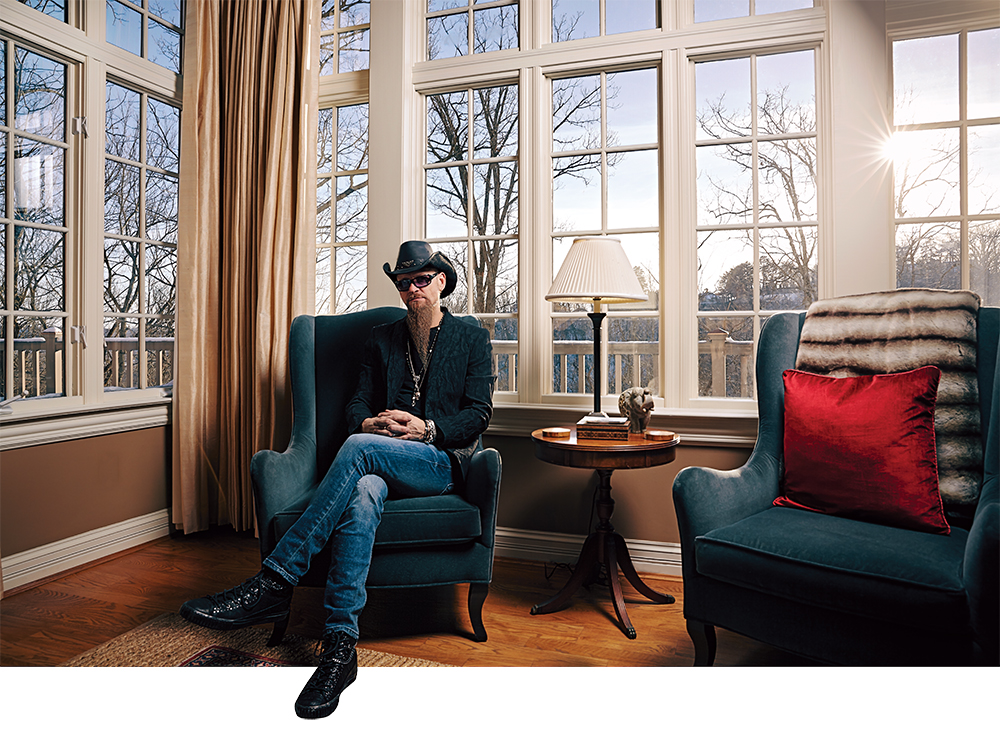 What if your teenage rock and roll fantasies came true? What if you flew around the world playing shows for adoring audiences, hung with music icons, lived in a bona fide mansion on the hill (more on that later), and looked like the kind of guy who walks into a room and makes people say, "Who is that?" And what if you did all that while consciously playing down the one line in your resumé that might get your foot in the door before even playing a hot lick—that you're descended from a U.S. President and a handful of other famous politicians?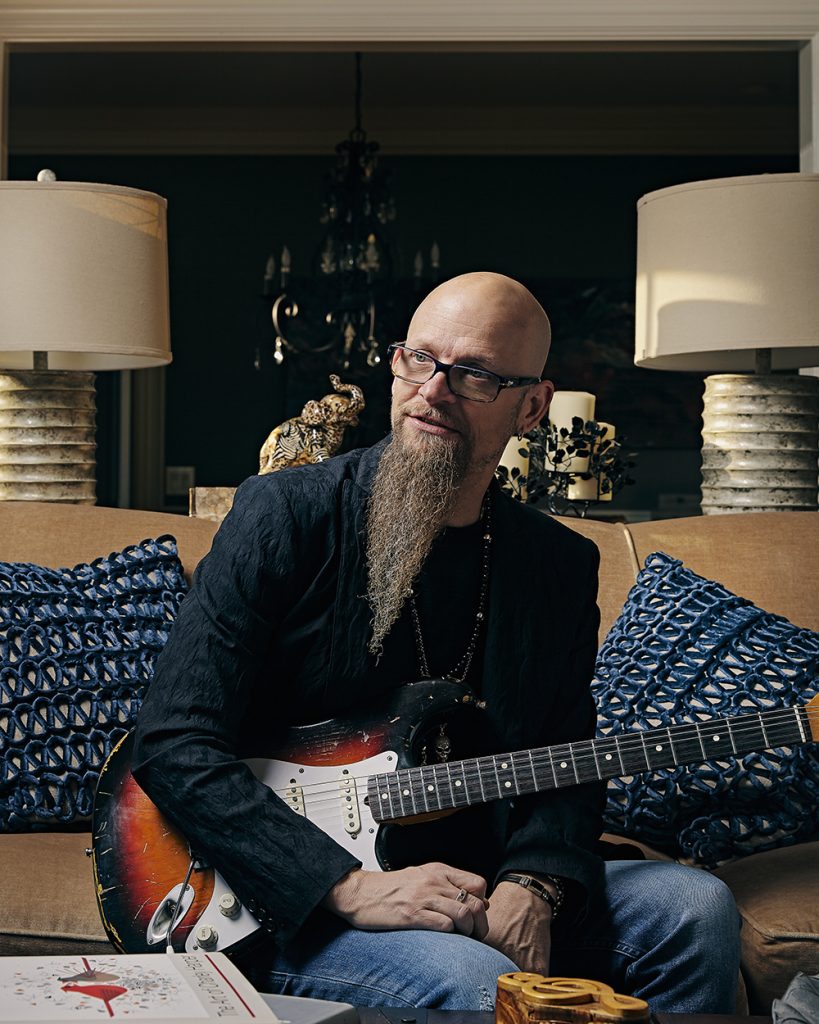 Then you might look like Dudley Taft Jr., the weird-bearded, six-string slinging great-great-grandnephew of William Howard Taft. And you might flee Cincinnati, the one place where the Taft name is revered, to chase the elusive brass ring of entertainment stardom for 35 years.
Taft's travels have taken him from Indian Hill to Chapel Hill to Seattle to the Netherlands before the 52-year-old prodigal son returned to his ancestral roots in 2013 for his latest chapter. " 'I really think you should get something to fall back on,' " Taft says with a twinkle in his eye as he imitates his father's deep, gentle voice when thinking about the career path the CEO of Taft Broadcasting would have preferred for his eldest son. "I would say the same thing to my kids. But when I got a record deal, he about did a spit take: What?"
The sideways grin on Taft's face says it all. He's still getting away with something most only dream of—chasing his heart's true desire without looking back or, more crucially, worrying about the next paycheck. Leaning back in a chair in his sprawling home recording studio, Taft is straight out of Los Angeles Sunset Strip central casting circa 1988. He sports skinny black jeans, a wrist full of jangling silver bracelets, two hoop earrings, a shaved head, and an impressively sculpted nine-and-a-half-inch-long beard tapering to a scraggly point near the middle of his chest. He moves through space with the same low-key swagger that's taken him from twentysomething major label recording artist (twice, Dad, don't forget!) to a super-chill, still scrappy middle-aged blues guitarist searching for his third act. And he's practically a stranger in the town plastered with his family's name.
---
For someone descended from one of Cincinnati's most prominent clans—whose name can be found on everything from the Taft Museum of Art to Taft's Ale House—his homecoming has offered plenty of familiar faces as well as a fresh start. After leaving town at 10 following his parents' divorce, Taft can't get over the fact that after all these years he lives just up the hill from his brother Woody. In fact, he originally looked into buying a place around the corner on, groan, Taft Place. But that one, he felt, was "a little too on the nose."
Taft points to a colorful Impressionistic painting hanging in the sunny living room of the Indian Hill house he bought from rock icon Peter Frampton about six years ago. The room's fall-like decor and warm color scheme were chosen to match the canvas painted by his beloved late aunt, Nellie Taft, who was named after the former First Lady. Her large-format pieces are scattered throughout the 5,000-square-foot home Taft shares with his second wife, Michelle. It's a tour he's clearly given before, but his "Can you believe it?" buzz about the largest house he's ever owned, his three-decade music career, and the many miles he's logged just to get back to Cincinnati sound like an eager first draft.
The sprawling home sits high on a hill and is accented by some of the guitarist's large collection of six-strings. Hanging on another wall is a brilliantly colored one covered in mosaic glass that catches the light and throws off a rainbow effect in the room. His stepmother Tina Taft found it at a Beaufort, South Carolina, curio shop years ago and instantly knew it was the perfect gift for Taft.
"People have this preconception of who you are because of your name, and I related to it a bit with the Nordstroms in Seattle," he says, carefully measuring his words with a look that lets you know this is another question he's answered plenty over the years. Recalling a job in a Seattle building owned by Charlie Nordstrom, an heir to the department store fortune, Taft pointedly notes that his boss had "lots" of money. "If you walked in somewhere in Seattle and you're Charlie, people will instantly think that you're loaded, privileged, and probably a spoiled brat."
It's not that Taft doesn't want to talk about his family. He's happy to run down the hydra-branched tree, as far as he can remember it, but he knows that look well—the one that says, "OK, but seriously, how have you pulled this off for so long?"
Following a peripatetic childhood that took him across the Midwest and South for nearly a decade, Taft says Cincinnati is the place where he can finally, truly relax. At a party a few weeks later for the three local blues guitarists he's teamed with for some "Four Aces" showcases, the affable host encourages his guests to dig into a huge Chipotle spread. Though there's a bartender on hand, Taft energetically pulls down glasses from his new, expansive basement tequila bar to offer shots from an expensive-looking, goose-necked bottle of añejo tequila.
"Watch this," he says with a mischievous chuckle, his eyes beaming in anticipation as he dims the overhead lights with the swipe of a finger on his phone. It's the latest toy the avowed gearhead is tinkering with in a house suddenly a lot quieter since his two youngest daughters flew the coop for college and new adventures.
What he really can't wait to show you, though, is just past a doorway behind him—the famed home studio Frampton installed in the basement. The recording room has a handful of Taft's guitars and a sliver of his arsenal of effects pedals. The adjoining kitchenette features a wall of fame with dozens of tour laminates, posters, and photos from his music career, including a snap with Frampton. The centerpiece of the main recording room is a massive, six-foot-long console you might find in a professional studio in Los Angeles or New York—a riot of knobs, sliders, and blinking lights. One that might cost you a year's tuition or more at one of the Ivy League schools Taft skipped so he could fill that wall with music memories.
---
"I picked up guitar first when I was 12 and living in Houston," Taft says of the family's 18-month stint in Texas after a previous stop in Philadelphia. He lived full-time with his late mother, Allison Woodall Eden, and stepfather Jim Eden, whose retirement home business kept the family moving around a lot when Taft was a child and teen, fueling what feels like a hard-wired wanderlust. The Texas acquaintances he made opened his ears to a new world of sound via David Bowie, ZZ Top, and Styx, inspiring Taft to pick up a guitar. Mom eventually bought him his own beginner Fender, right when the family pulled up stakes again and moved to Indianapolis.
His first band, Panic, was made up of older kids—he called them "Cigarettes and Beer," because that's what they always smelled like—who would come over to practice in the family garage. There weren't any other "real" gigs, though, until he enrolled in the Taft School, a private boarding academy in Watertown, Connecticut, founded in 1890 by Horace Dutton Taft, brother of the future president. "It was real tough to get into," he cracks of the school whose alumni include U.S. Senator Robert A. Taft, Ohio Gov. Bob Taft, and his own father.
The choice to attend the family's alma mater was Taft's, and the musical education he got there made it extra special. That's where he met Trey Anastasio, future guitarist for legendary jam band Phish, whose group Taft joined for gigs at school pep rallies. "You're 14 or 15 and you're trying to figure out your identity and you're trying on different roles and I wasn't especially gregarious, but not really an introvert either, so it became my social currency to be known as the lead guitar player," he says, rocking back in a high-end studio office chair whose subtle dark blue accents match the recording console's color scheme.
"It was real tough to get into," he cracks of the school whose alumni include U.S. Senator Robert A. Taft, Ohio Gov. Bob Taft, and his own father.
Those shows led to a European summer with Anastasio and future Phish drummer Jon Fishman busking on streets in Germany, before Taft picked up stakes again to attend college in San Bernardino, California, where he spent the mid-1980s playing rock and roll at frat parties. It's also where he developed what he calls a "Pavlovian" response to smoking pot that would incessantly drive him back to his room to practice, filling up the 4-track recording deck he got as a high school graduation gift with endless snippets of song ideas and guitar solos.
A move to Seattle in the late 1980s led to a music store gig, where Taft met the players who kicked his music dream into first gear. He took up with a band called Sweet Water (named in honor of NBA star Nate "Sweetwater" Clifton), whose third show was opening for Alice in Chains and another group of flannel-loving NBA fanatics, Mookie Blaylock, which would soon be known by a more familiar band name: Pearl Jam. "I am not kidding you when I say that, after that show, every single show we played in Seattle was sold out," says Taft, emphasizing that Sweet Water became such a "big fucking deal" that they soon signed with Atlantic Records, which released their 1993 self-titled debut album.That constant motion as a teen made it so Taft never quite fit in with any group, even as he realized he could make himself at home with just about anyone. "I just felt like I could go anywhere," he says, noting that during some summers he'd come back to stay with his dad in Cincinnati. He briefly dipped a toe in his father's world in 1984, when he interned at Taft Broadcasting's Channel 12, working a teleprompter for PM Magazine and legendary anchor Nick Clooney while playing a few songs on Bob Shreve's Saturday night variety show, The Past Prime Playhouse. "We've gone to absolutely no expense tonight to bring you Dudley Taft!" he laughs, recalling the host's wink-wink intro to his performance of Lou Reed's "Wild Child" in front of a green screen.
His face lights up when he thinks about how he was one of the first guys in Seattle to grow a long, weird beard back in 1990, even before late Alice in Chains singer Layne Staley, who used to tell him, "I love your beard!" Taft swears he hasn't trimmed it even once since.
Unfortunately, after hitting the road for a tour, Sweet Water's meteoric rise fell apart and Taft got fired during the recording of the group's second album, 1995's Superfriends. He ties his lack of musical motivation back then to a decision to quit smoking pot, in addition to unresolvable creative struggles with the album's producer. "It was a tough blow," he says, somehow still smiling through the memory of an early dead end.
As grunge carpetbaggers descended on Seattle, Taft dove into playing cover songs again, schlepping his gear six nights a week to local Native American casinos to grudgingly serve up popular radio hits by Oasis and Alice in Chains. Those slogs morphed into shows with what would become the band Second Coming. "They gave us a fortune," he says of the advance money Capitol Records ponied up for that band's debut album, rubbing his hands in excitement as he recalls the $50,000 band members spent on new gear, a road crew, and actual tour buses.
Taft was no Eddie Vedder at the time, but he says he'd often get recognized at the local grocery store. The band's lasting legacy, though, is the use of an instrumental portion of the Taft-penned song "Unknown Rider" in a pivotal scene in the 1999 smash film The Sixth Sense, which proved to be a hefty payday for him. Once again, though, label drama cut the ride short. "We did some demos and then there was a bunch of inner squabbling, so I quit, which was the best thing I ever did," says Taft, who bided his time afterwards writing advertising jingles and radio ID spots to pay the bills.
Hearing him coolly spin this twisty tale of rock triumph and tragedy, it's hard at first not to mistake Taft's mellow confidence for cockiness. But there's something in the way he breezily recites his unlikely musical CV—as if it fell together exactly as fate should have it—that makes it sound somehow fluid instead of like a series of right-turn dead-ends that would have worn down a less-determined man. "It sounds bad, I know," he says, "but I had a two-year head start on my next thing, then a five-year head start on the blues rock thing."
---
Flash forward to 2013, when Taft has returned to Cincinnati, trying to figure out how to reboot after self-releasing a solo album, Left for Dead, a mix of noisy blues and covers of songs by Willie Dixon and Led Zeppelin. "We spoke a bit and he told me he'd moved back and said we should get together and play," says local blues icon Sonny Moorman of the first time he met Taft. "I thought, 'This guy just might be a character, but he's a nice character. He seems like a regular guy.' "
Moorman, 64, recalls the scene backstage at the first Four Aces show in February 2018, describing the guitarists getting ready and Taft's expression just before curtain. "He just looks at me and says, 'I'm not nervous about this. I can play, I can sing, and I'm just gonna go out there and have some fun.' That's my theory on it as well," Moorman says. He's seen his fair share of players come and go over the decades, so it's fair to assume that instant karma from a shrewd player like him is hard to come by and a treasure to receive.
The proof, again, is backstage at the second Four Aces gig at the Madison Theater in October 2018. Taft is wearing black jeans with purple paisley accents and laces up the side, a black sport coat, and a road-weary, studded leather cowboy hat, and he calmly warms up his fingers on a powder blue Fender Stratocaster slung over one shoulder in a chilly green room cramped with other players and their friends. An easy raconteur, he casually shares a story about the racks and racks of effects pedals Frampton left behind in the house, while mindlessly cycling through blues riffs on the unplugged guitar, his eyes hidden behind a pair of slightly tinted shades.
It's a round-robin format, with all four Aces—Moorman, Jay Jesse Johnson, Johnny Fink, and Taft—jamming on Thin Lizzy's rousing "The Boys Are Back in Town" and then playing their own mini-sets featuring cameos from the others. The trio gently rib Taft from time to time, with Fink cracking, "How about the pants on this guy?" Taft's brother Woody hoists a beer from the venue floor, playfully razzing Dudley, pointing and whooping encouragement during his bro's swampy solos. Taft's four-song mini-set is a primer on his unique solo sound, a meld of ZZ Top-like Texas boogie blues with a dark, grungy guitar buzz and the kind of yearning swagger some bar bands spend a lifetime perfecting.
Somewhere in the crowd of several hundred mostly middle-aged blues aficionados sits Dudley Taft Sr., who wouldn't miss a chance to see his son rock the stage. "I saw him perform in Seattle, and in those days he was playing heavy metal really loud and was pretty good about leaving tickets and two sets of earplugs for me and my wife," says Taft Sr., who started working at Taft Broadcasting—the media company his own father founded—in 1967 after his dad died in an accident. He worked his way up from building the theme park division, including Kings Island, to running the company for 20 years before a hostile takeover stripped the family business of most of its storied assets and pushed out the Tafts.
Though they made their bones in politics and media, music isn't far from the family tree. Taft Sr. played tenor banjo in a Dixieland jazz combo called the Tin Rambo Jazz Band at Yale, and he's quick to note that he enjoys the more blues-oriented style his son—whom he affectionately refers to as "Dud"—plays now over the "teeny bopper" sounds of those earlier Seattle days. And though Junior plays out locally only a few times a year, Taft Sr. is always there to watch, earplugs in place, a beaming look on his face.
During the recent holidays, Taft Sr. says, they all played a bit of pickup blues and jazz, with him on banjo, Woody on bass, and some cousins joining in on piano. "We never tried to push any expectations on Dud about what he should do. It was the other side of the family that was in politics, and we were the business people," he says, tacking on that Woody was always the more natural business-oriented brother anyway.
Back at the house, Taft Jr. pauses to take a call from one of his four kids—ages 30, 28, 21 and 19 and all girls except for a stepson in Seattle—helping her through a problem. He gets momentarily misty about the baby his son just had with his girlfriend, which made Taft the rocking-est grandpa this side of Ozzy Osbourne. Upstairs, Michelle pads around the house followed by the family's two lovable rescue dogs. A giant hi-def TV screen in the open-format kitchen offers the only visible proof of the Taft family's other public face, as it's tuned to his favorite leisure network: financial news network CNBC.
So, you wonder, what's it like growing up with a step-dad who's kind of a rock star? If you're trying to break into showbiz, not too shabby. Ashley Charmae—Michelle's daughter from a previous marriage—moved in with Taft when she was 12, and the experience she's gained watching him perform and singing backup vocals on several of his albums has been critical to landing slots as a dinner club jazz singer in New York. "When we first moved in, one of the ways we bonded was he taught me how to play guitar," says Charmae, who flew in to work on some vocal tracks in Taft's home studio just before Thanksgiving. "Whenever we hang out, we jam out."
She recalls seeing Taft open for Lynyrd Skynyrd and ZZ Top in Seattle and, like Moorman, marvels at how comfortable he was on stage amid the legends. "Everyone gets nervous before they play, but you can tell he really loves it and there's not a nervous bone in his body," she says, admitting that she's "the worst" when it comes to butterflies before a gig. "I envy his ability to do that. He just genuinely loves it."
---
Taft has played just a half dozen low-key shows since moving back home, including a pair of modest club appearances at the 150-capacity Fretboard Brewery—way less than the gigs he performed across five countries on his spring 2018 European tour. Those now-annual overseas trips became a vital part of filling the coffers in 2012 when Taft needed to augment what he was making playing in a classic rock band in Seattle. "That hat and sunglasses in the photos go a long way, brother," he says by way of explaining how his iconic look helped an unknown blues rocker get European representation sight unseen.
Like generations of American blues and jazz players before him, Taft has found audiences in Europe thirsty for a taste of his signature sound, which pays clear homage to blues icons like Freddie King and T-Bone Walker while incorporating some of his Seattle-bred grunge. His connection became Anko Lammers, a club owner in the Netherlands. "I listened to his music and thought, 'Why not?,' " Lammers says of the man he describes as having both an "impressive beard" and a "kind, open" mind. The 2012 intro led to a 2013 string of dates at intimate pubs.
Though Lammers is a full-time firefighter now, he's still booking tours for Taft—whose Cincinnati home Lammers and his family have stayed in—including a 2018 swing through Germany, Belgium, France, and Austria, where the crowds ranged from 16 on slow nights to 6,000 at larger festivals. "I started playing music not as a 'fuck you' to my family at all, but because it just really consumed me when I was 13," says Taft, copping to never really wanting a "real job." "It literally took over my life, and I would play four hours a day and not want to do anything else. I didn't realize at the time I was developing a skill."
As guileless as he seems, Taft visibly braces a bit when the elephant-in-the-room question eventually comes, shifting forward in his seat and tackling it with the same calm confidence he displayed strumming on his woodgrain Flying V guitar at the Four Aces shows. He explains that the first label advance paid his rent for several years, leading to the epiphany of I'm a guitar player in a band! This is what I do! There was seemingly no turning back. The second advance was even sweeter, and the The Sixth Sense money was his first real windfall. "But I've been chasing that dragon ever since," he says with a conspiratorial grin. "That's lightning in a bottle."
Like generations of American blues and jazz players before him, Taft has found audiences in Europe thirsty for a taste of his signature sound.
All of which brings us back to what Taft finally dubs "the money question." Yes, Aunt Nellie left him "a little money" when she died, he says, by way of explaining the comforts of his well-appointed lifestyle. But Taft gives himself some credit for making wise investment choices over the years. He's also paid attention to the investments his father and brother have made, joining them in a venture capital firm he describes as a "way for my dad to teach me. We've had a few successes in terms of investments. You need money to make real money. But if people say, 'You're a Taft, you must be rich,' no. In fact, if you've got $20 I'm going to jump up and down and go to Skyline."
His current plan is to pick up the pace in 2019, play a few more shows, release the new album, and stay busy with his board seat at the Taft Museum as well as supporting Michelle at the Save the Animals Foundation.
What he isn't going to do, for now anyway, is turn his lifelong affinity for marijuana into a business. Back in 2015, he and Woody planned to fund a marijuana farm in Butler County before a pot legalization bid fizzled out. Taft Sr. "wasn't thrilled" about that effort, not because he has a principled objection to legalization but because he just doesn't think it makes sense as long as weed remains illegal under federal law. Given another shot, though, Taft Jr. says he would "absolutely" bet on pot again. "That could have been a 10x situation," he says, briefly trading his leather cowboy hat for his shrewd investor one.
When not recording, Taft also dabbles in real estate investment through some friends at Viking Partners, which makes him wish he'd gone to college and studied economics instead of being both a self-taught investor and musician. "I look back on it sometimes and feel a bit guilty about not trying to go to Yale," he says. "But [instead I said], 'Kiss my ass, I don't want to go.' Now I look at it, and it probably would have been smart. But at that time I didn't want to study economics. I wanted to go to L.A. and play guitar and finally get some real action with girls."
Compared to his bandmates in Seattle and Cincinnati, was Taft born with a silver pick in his hand? Without a doubt. Is he a child of privilege who figured out how to make his hobby a job? Also yes. But what if it's a simpler story than that? One of a man who found the thing that makes his heart sing, had the tools to turn that song up to 11, and never looked back?
Maybe it's that still-apparent hunger to break through that makes Taft look a good decade younger than he is. He's literally been down to the crossroads in Mississippi, but he swears he didn't make any deal with the devil. "I earned it," he says of his guitar skills and on-his-terms career. "I made it. It's not something I was born into that I have no control over."
Facebook Comments