Minneapolis has Prince. New Orleans has Fats Domino. Liverpool has the Beatles. Cincinnati? William Earl Collins. Doesn't ring a bell? Maybe the Rock and Roll Hall of Fame bassist's stage name–Bootsy Collins–will.
And whether you realize it or not, the legendarily outrageous, endlessly enthusiastic, sartorially sensational godfather of funk is unquestionably the Queen City's musical ambassador.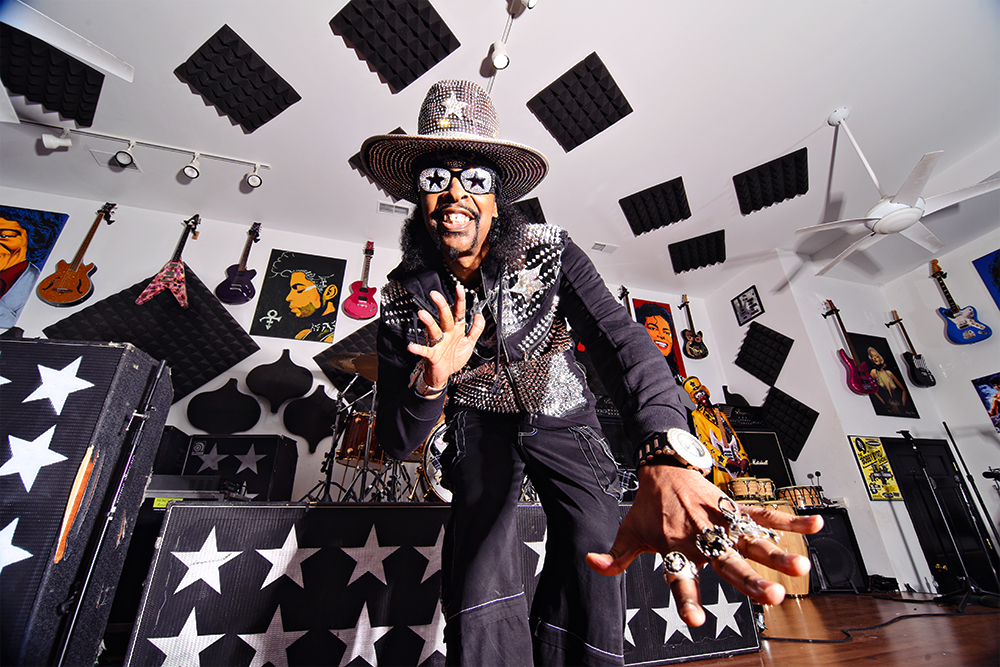 In fact, Collins even has a theme song he wrote for his hometown called "Cincinnati USA," something he remembers just now as it pops into his head after eight years in cold storage. "What's the name of this town? Cincinnati, U-S-A!! Cincinnati, U-S-A!! Cincinnati we come to play!!" he belts joyfully, refreshing his memory on his 20-plus-acre rural compound less than an hour outside of downtown. Sitting on an animal print chair inside the memorabilia-filled home studio where he laid down basic tracks for his most recent solo album, 2017's World Wide Funk, is a man who has forgotten more about our music history than most will ever know—theme song included.
"I want to be recognized as being from Cincinnati. That's the first thing on my [1976] Warner Bros. solo album Stretching Out," says Collins, breaking into song again. "Young man from Cincinnati, Ohio. I wanted to say that because Cincinnati wasn't New York City or Chicago or L.A. Cincinnati was one of those little side places, but to me it was as big as everything."
It's the place that made William Earl into Bootsy, a character he's played to the hilt for nearly half a century, evidenced by the gold and platinum plaques lining his studio walls for work on albums by Parliament, Kid Rock, Deee-Lite, and Beyoncé, not to mention a signed fiddle from pal Charlie Daniels, and, on the front of the studio, the original sign from Bootsy's, his short-lived downtown restaurant collaboration with hometown steak maven Jeff Ruby.
"Cincinnati wasn't New York City or Chicago or L.A. Cincinnati was one of those little side places, but to me it was as big as everything."
Always turned out in his signature brightly colored leather pants and matching jackets, star-shaped sunglasses, chunky platform heeled boots and towering top hats, Collins is impossible to miss when he bounces into a room or onto a stage, or struts down Vine Street as Grand Marshal of the inaugural BLINK opening night parade last fall. Even at age 66 and dressed down for an interview, Collins is unmistakably Bootsy in billowing red bell-bottoms, a black jean jacket emblazoned with silver skulls, a bright red cowboy hat, and, of course, silver sunglasses that hide his eyes behind glittery, star-spangled lenses. Overhead lights glint off a front tooth encased in gold, with an inlaid star that seems to sparkle when Collins speaks in his signature bubbly, rubbery voice.
"The fact that I grew up here and the love that I got, the tutoring, it all helped me establish my humbleness, discipline, and the joy of being able to come and go pretty much as you please," he says. "Cincinnati allowed me to do that."
We too often forget that beneath all those crazy hats and glasses and silver skulls is one of the most revered, singular bass players in the history of rock music, the signature bounce you hear chugging along beneath James Brown, George Clinton, and so many of your favorite funk and soul hits. Collins is also one of our last remaining links to the heyday of Cincinnati's legendary King Records, a living, first-hand encyclopedia on the local studio that helped birth rock and roll. Both are legacies he's intent to keep grooving, in the city they both call home.
Collins, his older brother Phelps (who everyone called "Catfish"), and his sister Brenda were raised by a single mother, Nettie Lee, in a string of modest apartments that, at first, were eerily quiet. "In the very beginning we didn't have music in the house because you had to own a radio," he says. They would hear music from the street or wafting from a neighbor's window, but it wasn't until he turned 9 that the family bought a "beautiful" wooden Crosley radio. The Collins kids soaked up everything they could—from instrumentals to doo-wop and early rock and roll.
Surrounded now by his comfortable suburban spread with a fully stocked fishing pond, basketball court, and guest home that his mother lived in until her death in 1997, Collins chuckles as he recalls the many places the family (briefly) laid their heads back then, including an unmemorable apartment on Oliver Street not far from Findlay Market. His pearly smile widens as he admits that the family moved around "a lot," pretty much "every two months" when the rent came due.
"We always kept the bags packed and never thought about it," he says. "When Mama says 'It's time to go,' it's time to go. It was like normal. We didn't have nothin,' but we was having fun." Even when the kids at school would laugh at the colorful, mismatched outfits Bootsy wore, cobbled together from whatever his mother could afford, he just brushed it off. Though it did inspire him to be as bold as possible once he could afford to stand out on purpose.
Contrary to the popular myth, Bootsy says he didn't just "decide" to play bass so he could jam with Catfish. His brother gave him four bass strings, which Bootsy used to hack together the instrument from a cheap guitar, and then threw himself into learning it. "I wanted to play with my brother that bad! It was like I didn't care what I had to play [even] if I had to start up with a whole new instrument," he says. Without his father around, Catfish was the man of the house Bootsy looked up to. "Plus, I'm 9 years old and he's a teenager and he's got all the girls, the clothes, and the look. I wanted to look like that."
Bootsy and Catfish formed a junior high band, The Pacemakers, with a sound he describes as a cross between jazzy Chicago rock, the urgency of Blood, Sweat & Tears, James Brown's early R&B, and the Rolling Stones' rough edges. They started playing clubs when Bootsy was only 14—"They wasn't even clubs, they were rat holes"—performing a mix of radio hits, instrumentals, and originals. They eventually drew enough attention that Collins didn't finish high school; by the time he was 16, The Pacemakers were playing out at least six nights a week.
"'Just do what makes you happy.'" That's what Collins says his mother told him when he informed her he was ditching Sawyer Junior High—where he played clarinet in the school band and halfback on the football team—to pursue music full time. "You know how things pull you?" he asks rhetorically. "Nothing else really pulled me like that."
This was around the time the brothers started getting work at King Records, the local label started by Syd Nathan in 1943 with its unique roster of blues, country, bluegrass, and early rock and roll artists. For a time, the Collins crew lived on Hackberry Street, not far from the King Records studio in Evanston, but Bootsy says he didn't fully realize how special it was back then for a label to blend so many genres. "I didn't understand at that point how amazing it was," he says. "All I thought was we were all making music and it's a good thing." He and Catfish played on any and every session they could book. "I was allowed the opportunity to play music, and that to me was amazing."
Collins takes a meaningful pause when asked about that rare opportunity to meet the unique parade of artists who passed through King's doors on any given day—from R&B crooner Hank Ballard to Texas blues guitarist Freddie King to "King of the Hillbilly Piano Players" Moon Mullican to pop pioneer Ike Turner. King was the city's musical melting pot. It was as if that old family radio had come to life, with Bootsy and Catfish playing backup. "And I'm getting the chance to be right with it in the mix?" Collins says excitedly, clapping his hands at the memory. "That was amazing to me!"
After cozying up to Ballard and his band, the Midnighters, the Collins brothers also befriended King producer Charles Spurling, who helped them gain regular entree to the studio. They started hanging with members of James Brown's band during extended smoke breaks. "To us it was like Disney World," says Collins. Looking around his own home studio, dubbed "The Ark"—with paintings of Michael Jackson, John Lennon, Prince, Alice Cooper, Bob Dylan, Jim Morrison, and many more of Bootsy's music heroes adorning the walls—Collins figures the King studio was roughly the same size, maybe even a bit smaller. Though the racial integration of staff and artists was a rarity at the time, Collins says he never thought about it that way back then, only realizing how golden his opportunity was once he left town and saw the world.
"We met each other and it was no big deal," he says of black and white artists collaborating at King, which he thinks of as "our Motown," referencing the legendary Detroit R&B label. "It was like everybody embraced—everybody was looking for that creative thing, and it could come from anybody."
"Bootsy is one of the few naturally funky people that I know," says Fred Wesley. "When he touched the bass it was automatic funk."
Shifting in his chair and rubbing his hands together, Collins enthusiastically relates how a Pacemakers charity gig at a wine bar on Gilbert Avenue in the late 1960s elicited a phone call from Brown bandmate and legendary songwriter Bobby Byrd. The unpredictable soul star wanted the siblings to drop what they were doing and fly down to Columbus, Georgia, on Brown's private jet to join his band. "Bobby knew us from going back and forth to King," says Collins. Byrd, a Rock and Roll Hall of Famer himself, appeared on the first single Brown recorded for Nathan's Federal Records subsidiary, 1956's "Please Please Please," before the Godfather of Soul jumped to the parent label. And as crazy a development as it was for Bootsy and Catfish back then, Collins now says it was only natural that Brown—who recorded more than two dozen of his best-known hits at King—would hear about the two young kids making noise up in Cincinnati.
"James was recording at King. He would know everything that was going on," says Collins, who claims Brown even kept an office upstairs at the King complex. "Who is this new energy? Who is this new band that's funkin' around over here? Everyone was all hyped about us." That hype led to the brothers playing on some of Brown's most iconic hits, including 1970's "Get Up (I Feel Like Being a) Sex Machine" and "Super Bad," 1971's "Soul Power," and 1972's "Talking Loud and Saying Nothing."
Fred Wesley, the legendary funk trombonist and JB's bandleader, vividly recalls the first time he met a young Bootsy during a session for a Coca-Cola commercial Brown recorded in 1968. "Bootsy is one of the few naturally funky people that I know," Wesley says with a fond laugh. Currently 74, he considers Collins one of his best friends four decades later. "When I say that I mean every bone in his body is funky, every move he makes is funky. When he touched the bass it was automatic funk. James let him play, and we were all amazed that this 16-year-old kid could have that knowledge."
Even back then, when Brown's proscribed uniforms for his band members were nothing flashy, Wesley says Collins was "undeniable" on stage, head and shoulders above the rest of the equally talented band, a stand-out in a sea of stand-outs. "A major part of the show was built around Bootsy. He was at the heart and soul of the band, as he is with any band he's in."
It was a fast apprenticeship with Brown, but one that left a lasting impression on Collins. When he and Catfish cycled out of Brown's band after 18 months or so, they had more than enough cachet to hook up with Detroit funk originator George Clinton, whose loose attitude was the polar opposite of Brown's tight precision. Their new gig in Parliament-Funkadelic, Clinton's superband, was all about the vibe and allowing everyone on stage—which could swell to a dozen or more—do their own thang. The brothers played on such lasting funk classics as "Flash Light," "Give Up the Funk (Tear the Roof Off the Sucker)" and "P. Funk (Wants to Get Funked Up)." This is when Bootsy—a.k.a. Casper the Funky Ghost, a.k.a. Bootzilla—was truly born, the fulcrum on which those bored, classroom sketches of star-shaped bass guitars and sunglasses coalesced into the uniform he proudly wears to this day.
"Everyone was trying to reach for their own different look, their sound," says Collins. "We didn't call it branding. We didn't call it anything. We were just doing it."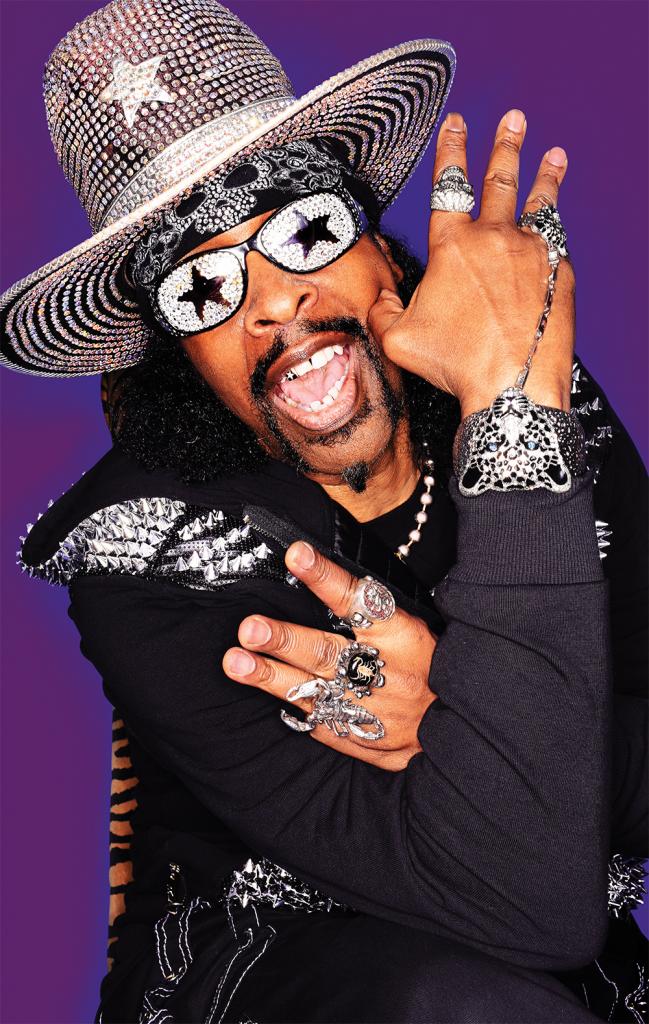 Musically, Collins is still uncovering the many ways King Records imprinted itself on his sonic DNA, regardless of what he was wearing or who he was playing with. He went from backing Brown and Clinton to an eclectic solo career leading Bootsy's Rubber Band, appearing on a 1988 Keith Richards track ("Big Enough"), playing and singing on the signature 1990 hit from dance act Deee-Lite ("Groove Is in the Heart"), and sitting in on songs by the likes of electronic DJ Fatboy Slim, jazz great Maceo Parker, and Snoop Dogg. That same force was still grooving on last year's World Wide Funk, with touches of funk, rock, R&B, soul, bluesy country, and hip-hop.
"The contrast that he offered to the stereotype of the bass player was a striking thing," says Alan Light, a Cincinnati-born music critic, author of Let's Go Crazy: Prince and the Making of Purple Rain, and co-host of SiriusXM's Debatable rock talk show. In rock, the bass player is often a stoic presence in the mold of the Stones' Bill Wyman or Led Zeppelin's John Paul Jones, standing quietly in the back, hardly noticed despite considerable skill. Light believes a certain virtuosity was immediately audible when the Collins brothers joined up with Brown, providing a stark "clean break" from the soul icon's early, regimented bands.
"You can hear how incredibly sophisticated his playing was at 17, 18," Light says of Bootsy. "There's little precedent for that kind of playing, and he had that when he was a teenager. The fact that he created this cartoon-character-children's-comic-book-fantasy-figure out of a bass player was such an unusual way to create a star. And it only works because of his playing. The reason that character stayed so resonant is that there's something pure to that identity. It has nothing to do with the glasses or boots or anything else."
Collins grins like the Cheshire Cat when he thinks about that section of Hackberry Street—where he used to live, just south of King Records—that now bears his name: Bootsy Collins Way. He admits his mind might never fully wrap around the honor, or what King meant to him. Still means to him. It's why his Bootsy Collins Foundation has helped lead the coalition tirelessly working to preserve the long-abandoned King building and its legacy by earning a Landmark Designation.
"Bootsy was the first to pull me in. He reaches me on a metaphysical level," says Elliott Ruther, president of the nonprofit Cincinnati USA Music Heritage Foundation, which he cofounded with Collins and the bassist's wife/manager Patti Collins in 2007 in an effort to prevent the studio from being torn down. The three have worked alongside former King artists Otis Williams and Philip Paul, as well as a number of prominent Cincinnatians, to push for preservation of the original studio building. Ruther, who considers Bootsy the foundation's "spiritual godfather," still remembers the first time he met Bootsy at City Hall in September 2002 when he was working for then-councilman John Cranley. "[He transformed] my whole outlook on everything I knew about rock and roll," Ruther says.
The ultimate fight to save King Records is still unsettled—the city continues to pursue possession of the building from a private owner who planned to develop the property—but Collins will happily deploy his iconic funk status at any moment in an effort help raise funds and ears for the good of the realm. Because once the building is gone, it's over, as far as he's concerned.
"It's so stupid not to recognize our history, because if we don't recognize it how are we going to expect anyone else to?" Collins asks. A tiny hint of uncharacteristic exasperation creeps into his voice when talking about the years-long battle to secure the King property. "For me, it's something we as a city had. It wasn't just mine, it was the people who recorded there. This is the city's history. And you knuckleheads are gonna mess around and just let 'em bulldoze it down?"
He and his wife want to get it fixed up and turn it into an interactive museum that will tell the King story, the city's story, and encourage people to make Cincinnati sing again. "For us to recognize that, I think, would be the greatest thing for our city to do," says Collins.
Right on time, Patti, soft-spoken but intensely focused, silently walks into the studio to check in on her No. 1 client. Collins instantly gives up his seat for her so she can bring it all back home. She holds forth on the importance of finding that "twinkle twinkle" in children's eyes when they get a chance to sing and collaborate, elegantly working the phrase "Together We Can" into the conversation to illustrate her point (and, not for nothing, works in the title of the theme song for the Collins's foundation). Wearing a black sweatshirt with her husband's face emblazoned on the back (so Bootsy!), her mixed look of love and resolve makes it clear she's considered this idea often.
"Bootsy has the DNA of being the peacemaker, of being the true light to our land, to our society," Patti says. She points out how her husband would leave to work for months at a time over the years but always come back, come home. And he's still here. Still bringing the funk, even tapping fresh local talent like spoken word/activist troop BlvckSeeds to appear on his new record. Still shining a light on his music heritage and his city's history. Still strutting the Grand Marshal strut through OTR, mere steps away from where he grew up, those stars yet twinkling in—and on—his eyes.
He jumps back into the conversation. The exasperation in his voice has disappeared. "To me we got hope, Cincinnati got hope," he says of keeping King Records alive. "As long as it's got hope"—and here he claps his hands, in the way only Bootsy Collins can—"we're there."
Facebook Comments