It can take a while to tune a banjo and get it just right, so as Mike Oberst adjusts his strings, Jean Dowell steps in to pick up the slack. Pulling the mic toward her, Dowell could be in her living room, a cheerful host with a guitar and calm stage patter; the 50 or 60 people sitting on fold-out chairs on the grass at the Sayler Park Sustains neighborhood environmental festival in early June could be guests in her home. If she looks like she's been doing this all her life—sharing political songs, pro-environment messages, and the comfort and grief of remembering the home in the mountains of North Carolina that she left when she was just 18—in a way she has. With her songs and patter, she reminds the audience that we're all here to make a difference. But she hits a lighter tone, too. Some friends arrive with small children and in the little ones' honor, she says from the stage, she's adding a song. It's about the gentle way her mother would roust her from bed when she was a kid, back in Union Grove, North Carolina, a song that, despite its affection and humor ends on an emotional minor chord: "No, time never waits for you."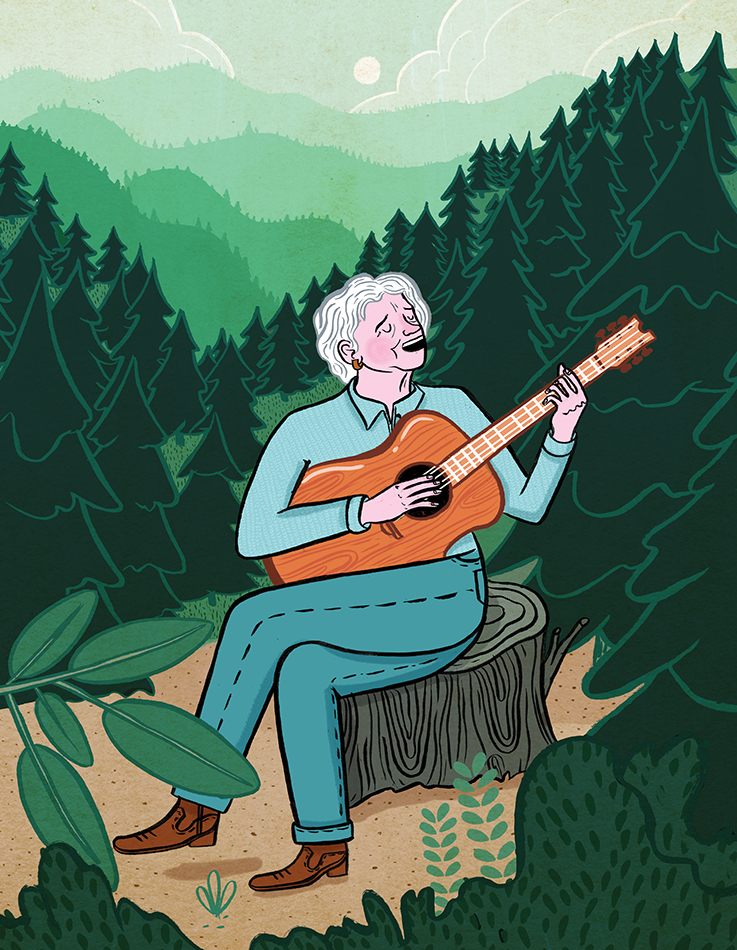 ---
Last November, Dowell released A Place Way Back in Time, an album produced by Oberst, of the string band the Tillers, who sings harmony and accompanies Dowell on acoustic bass, banjo, and the dulcimer. Since then, the two have opened for the Seldom Scene and become a draw at gigs across town, playing at Eli's BBQ, the Comet in Northside, and assorted rallies and festivals. Sunday mornings at 7:30 she leads a song for about a dozen people at the Church of Our Saviour in Mt. Auburn. After the album came out, Dowell played a series of shows at the Folk School Coffee Parlor in Ludlow, Kentucky, which sold out definitively. If you didn't already have a ticket, not even Dowell or Oberst could get you in. "Everybody was shocked that I was even doing it," she laughs. "Jean Dowell is putting out a CD. I can't believe it. We gotta go see this!"
"Jean's songwriting has this timeless feel to it," says Oberst. "You'll hear a Jean Dowell song and you'll think 'I've heard that before. Is that a Carter Family song? Is that a Hazel Dickens song?
Many people who know Dowell know her in a capacity that—at least on the surface—doesn't seem to share much space with folk music. In fact, the understated 72-year-old's visibility on the local Americana scene is a noteworthy second act. And quite a different one from her impressive first act, which drew not from the well of traditional American folk music but from the rim of a basketball hoop. The singer with the easy voice is also a legendary basketball coach—first at the University of Georgia, and then at Mount St. Joseph University, where she became director of athletics. Dowell is a groundbreaking figure in the history of women's sports, as well as someone who knows how to tune a guitar.
"Jean's songwriting has this timeless feel to it," says Oberst one day in Dowell's living room. "You'll hear a Jean Dowell song and you'll think 'I've heard that before. Is that a Carter Family song? Is that a Hazel Dickens song?' " "But it will be mine," Dowell says.
---
When she was in high school in Union Grove, Dowell was a basketball star, one of a pair of twins whom locals would come out to watch play; in her senior year she was an all-state forward. While Jean's sister Rene opted not to attend college, Jean arrived as a freshman at Western Carolina University, in Cullowhee, in 1962, only to learn there was no team for girls. If a girl wanted to play basketball, she was informed, she did it as part of physical education. Dowell set out to change that, lobbying the administration and faculty for a real team. This was years before passage of Title IX, before the National Collegiate Athletic Association would open championships to female athletes, before athletic departments all over the country (at schools which accepted federal funds) created athletic programs for women. At the time, Dowell was one of an unknown number of individual women seeking to create a level playing field for female athletes.
In her last year as an undergraduate, as a result of her efforts, Dowell finally got to play intercollegiate ball, averaging 30 points a game as a senior at Western Carolina. She then attended the University of Georgia, as a graduate student in physical education. Upon arrival in Athens, Georgia, she learned—drumroll—that there was no team for women. The way Dowell tells it, she mounted a quietly intense effort, showing up in the gym every day to shoot free throws, talking about the need for a team. She pointed out the hypocrisy of accepting state and federal funds while denying women equal access to athletic facilities. She did not go away. One day the brass surprised her by calling her in to the athletic director's office and offering her a deal: They'd create a women's team, but they wanted Dowell to coach it. They might as well have asked, "And while you're at it, can you make it a powerhouse winning team?" Which, it turned out, she also did. The Lady Bulldogs went on to become one of the great women's college teams of the last several decades. This was three years before Title IX passed, though, and the women had to buy their own shoes and uniforms, as well as their own food when they went on the road. Nonetheless, establishing a foothold at a major university like the University of Georgia represented a big step forward in women's college sports.
"To tell women they can't participate in athletics is like telling them they can't use the library or they can't use the computer center," says Dowell.
The message was simple. "To tell women they can't participate in athletics is like telling them they can't use the library or they can't use the computer center," says Dowell. "Women pay taxes just like men pay taxes. I always thought I had a really good argument, and I was always trying to get them to do it. I was making my point about how wrong it was."
Betsy Ross, president of Game Day Communications, former ESPN sports news anchor, and author of Playing Ball With the Boys, says Dowell broke down barriers and fought for women's ability to play. "She wouldn't take no for an answer and she kept at it and kept at it and got that program started," Ross says. "I think that her perseverance and her belief in making sure that female student athletes had the same opportunities, it paved the way not just for the women at the University of Georgia but women throughout the Southeastern Conference and throughout college athletics. Once you see a school like the University of Georgia say, 'Yes, we need a women's basketball team,' then Ole Miss says 'I guess we need one too,' and Kentucky says 'Well, I guess we need to do this too.' "
She only got to play college basketball for a year, but Dowell hadn't put aside her wish to be an athlete on any level available. She played in several women's amateur basketball leagues and was a star on the fast pitch softball circuit as well. She was offered a contract with a professional basketball team, but this was long before the Women's National Basketball Association became a viable league that paid a living wage.
"There were a couple of teams that went around and just did exhibition games and they didn't get paid very much and they played every day," recalls Dowell. "I was thrilled to have this contract sent to me to play professional women's basketball…but it didn't seem to me that there was any kind of career there."
Fast-pitch, she explains, was her first love, and fast-pitch is what brought her to Cincinnati. The local team was a good one, and she wanted to play for them. But life, like time, does not pay for itself, and when a basketball coaching job opened at Mount St. Joseph in 1971, which was then still a women's college, Dowell jumped at it. She instantly gave the team new life, and launched a career that would log more than 300 wins over the next 23 years.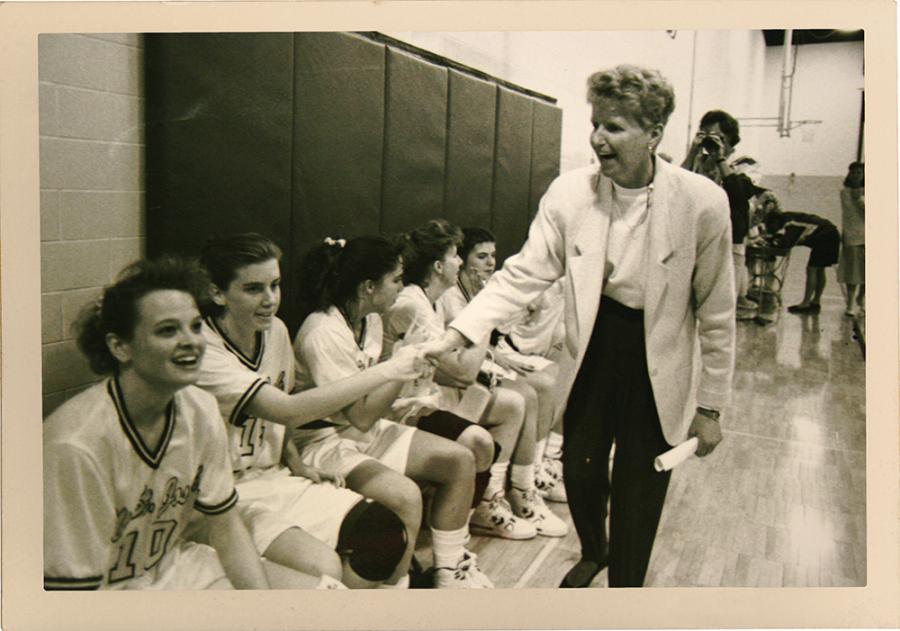 ---
"[Dowell] had such an amazing way of understanding what a team needed, whether it was a kick in the butt or a moment of praise. She didn't do a lot of yelling. She motivated in a classy way," says Carolyn Condit, who is now a volleyball coach at Miami and once played for Dowell. "She would coach from the sideline emphatically without being negative. And she would have hand signals for plays if she wanted to change something, but she just was so organized and so knowledgeable about the game that she was able to keep something that seemed very advanced to us very simple. That was something very special about her."
Occasionally, to kill time in a van while the team travelled to away games, Dowell would pull out a guitar and sing to the players. It gave them a peek at a side of their coach none of them knew existed. Condit remembers the guitar. "When I was a junior and senior in college," she says, "all of a sudden we would see her guitar. And sometimes she would bring it on trips or if we were going to be in a tournament she would pull it out, and she would make up a jingle and kind of lighten the group up. It was just a lot of fun. She didn't play very much, and she was very modest. We started begging her to bring it along."
---
Dowell retired in 1994. She'd been a five-time national coach of the year nominee and served as athletic director for 15 years as well. Since 1994, the Lions, including the late Lauren Hill, have all practiced basketball in the Jean Dowell Gym. Dowell broke any number of records and barriers in her days as a coach at the Mount but among her list of achievements, there is this little known one: Dowell holds an informal record for sinking 192 consecutive free-throws, a feat she accomplished one day during practice. "She was quite an amazing athlete," says Condit. "I remember watching her shoot free throws just like she was a machine."
Dowell wishes she had had more opportunity to compete. "It was a very frustrating experience to want to [play at a high level] and to work hard to be able to do it well and then not have the opportunities," she says, before pausing. She waits a beat, then goes on. "That's behind me. I've moved past it. I really never dwelled on it because it was just the way that it was. I was always trying to get more opportunities for the girls coming along."
---
The small town Dowell was raised in is nestled in a farming and cotton mill area of the Blue Ridge Mountains. She was an outspoken child who grew up in a musical family and a musical town; Union Grove was home to the famous annual Old Time Fiddler's Convention. It was a benefit for Dowell's school, and it brought musicians from all over the South to compete. Her uncle, Dewey Dowell, led the family's Dowell String Band to a win at the very first convention in 1924, playing "Bury Me Beneath the Willow" on his fiddle.
"He played fiddle as well as anybody could play fiddle," she remembers. "He was invited to the White House one time to play. I think it was for Nixon. I try not to hold that against him. [But] Nixon can look really good when you compare him with Trump."
As far back as Dowell can remember, her family played bluegrass and old-time mountain music. "All of my relatives were doing it," she says. "We were always having a bunch of people over to our house, moving all the furniture around, and having these gatherings playing these old songs."
---
These days, the shows she does with Mike Oberst take on some of the spirit of those informal get-togethers in the Blue Ridge Mountains. Their collaboration began four years ago after an introduction by Paula Gray, one of Oberst's banjo students and a longtime friend of Dowell's. (Gray plays on some of the tracks on A Place Way Back in Time.) "We were friends right off the bat, honestly," Oberst says. "I think that we've always had a really good understanding of each other's intentions, musically and as friends."
---
Dowell's songs are simple and direct, aiming to conform with what she calls mountain music traditions. On the 19 tracks of A Place Way Back in Time, she sings of coal miners, the need to protect our natural resources, longing for home and longing for the past. She recorded a song in support of the Sioux of Standing Rock, North Dakota, who have been protesting the construction of an oil pipeline across sacred tribal land. (Photographer Michael Wilson made a video of Dowell and Oberst performing the song.) The songs look back, if not to simpler times, at least to simpler, less mediated music made with acoustic instruments, hewing to storytelling conventions. The title song is unabashedly nostalgic, with the treacle removed—explicitly, the place back in time is a place that cannot be reached. In their yearning tones and search for reconciliation, the songs feel honest.
"[Dowell's] songs have a special quality to them," says Chuck Black, the host of the Old-Time Music Radio Show on WOBO. "It's like [real] old-time music. I mean there's a lot of people writing so-called folk music—Americana is what people would call it more today—but hers is really like the old-time stuff. One way to define old-time music is pre-bluegrass, Appalachian folk music. That music goes back into the 1920s and even before that. I think she does a really fine job of writing in that vein."
Dowell has been writing songs since she was in her 20s. "I don't consider myself a singer or musician," she says. "I just tell everybody I am a storyteller. I write songs. I love singing them. I play rhythm guitar to Mike's really good musicianship."
At first glance, they may seem an odd pair: Dowell now 72 and 6 feet tall, her white hair cut short, dressed for the stage in blue jeans and a button-down blouse; and Oberst, nearly four decades her junior, several inches shorter, his arms covered in tattoos, many dating to his days playing in such punk bands as Disarm and The Resurgence, a signature bandanna tied around his neck. At a February performance at the Church of Our Saviour in Mt. Auburn, the differences melt away as the two begin to play. They have become close friends since they first met four years ago, which is evident as they read each other's eyes and body language, Oberst singing harmony, then checking back, changing key.
When her on-stage rapport with Oberst is brought up, Dowell laughs. She says the reason they make eye contact so often on stage is that with his busy schedule—which includes playing and recording with the Tillers and other projects; teaching banjo; and caring for his 2-year-old son, Willie—they don't have time to rehearse. She describes the two of them heading to a gig in Indianapolis, harmonizing while Oberst drove. "And that was our rehearsal," she says.
Home for Dowell is a mixture of chords, stories, and memories: her community in Cincinnati, her house in the hills of Delhi, which is bright, woody, and immaculate, with Southwestern style art pottery and abstract landscape themes in rugs and artwork. She has never married or had children; she says she never had the interest. The songs make clear she has plenty of family, though her twin sister, Rene, was killed in a car crash when the two were in their early 20s. Union Grove is never far.
"I've lived here since 1970, 1971," she says. "So I've made about 400 trips down that road to home. I'm still one of those misplaced hillbillies, I guess. I always say when hillbillies die and go to heaven they're happy, but they still want to go home on the weekend." Guitar in hand, she strums a chord, and the listener goes along with her on that long ride home.
Facebook Comments