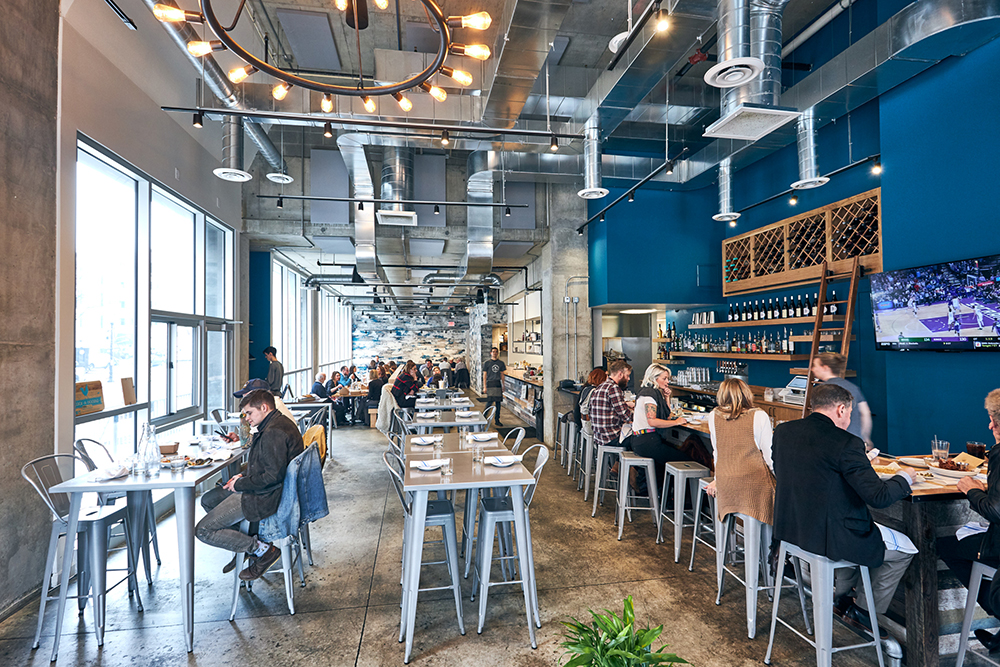 At first glance, not much indicates that Crown Republic is special. Following what seems to be a citywide trend, the menu focuses on small plates instead of entrées, and the cuisine is eclectic and international, linked to no particular region or cuisine. Many of the dishes, from the North African–inspired mussels to the roasted broccoli with garlic aioli, are reminiscent of offerings from other local restaurants. You would be forgiven for thinking Crown Republic is just another member of an already overcrowded downtown restaurant pack.
But what makes Crown Republic special isn't its handful of outstanding dishes. It's the place's sheer consistency. No single dish is absolutely mind-blowing or completely original, but when almost everything that comes out is genuinely tasty, the service is always friendly and attentive, and (stop the presses!) the bill is quite a bit less than you expected, you sit up and pay attention. If someone asked me to describe the food at Crown Republic, I would fumble at first: Um, they serve a lot of different things, and much of it is on toast. The clearest summary I can manage is that this place is good.
The crab and avocado toast is a prime example of what makes Crown Republic tick. Served on grilled bread with lime juice and slivers of pickled Fresno chiles, the dish is one of a few on the menu that feature Mexican flavors. Wheels of radish provide a bit of brightness, though they tend to roll off the bread when you take a bite. That's OK—this is the kind of place where it's fine to spill some stuff. The dish, like everything at Crown Republic, is unpretentious and fairly familiar in terms of flavor, while also very satisfying: perfectly seasoned, with a lovely balance of cream and crunch and sour and spice.
The cocktails are equally unfussy and good. Take, for example, the Tipsy Beet. Vodka cocktails are often boring, but this one has a sweet-and-sour quality from the housemade beet shrub, with cucumber to provide a satisfying roundness, along with a bit of mint and citrus peel. Like most of the menu items, the drink is simple enough, without a laundry list of unfamiliar ingredients, but the balance and obvious care taken in assembly makes it memorable.
Only a few dishes slip below a certain level to become commonplace. The duck fat hummus is a strange misstep, considering how easy it is to make a good version. Here it is under-salted, needlessly non-vegetarian (I didn't notice any benefit to the duck fat), and bland, except for a pithy quality reminiscent of preserved lemon. The cuttlefish ink pasta also lacks vividness.
Although it is impossible not to like the desserts at Crown Republic (for example, ice cream sandwiched between chocolate chip cookies, with a chunk of cookie dough next to it), I was itching for more originality, something to enliven the overly familiar flavors. Clearly the restaurant is aiming for casual, but when I order dessert at a nice restaurant, I want it to rise above the level of a Graeter's chip wheelie.
Barring these small complaints, though, everything we tried was good, and much of it was very good. The spinach cavatelli had a rich, voluptuous texture, from the tenderness of the milk-braised pork to the soft (but not overly so) pasta, enlivened with herbed bread crumbs; the burrata toast with figs, roasted apple, and spiced walnuts was nicely set off by a drizzle of basil oil; and—even if it's not quite as good as the version at Abigail Street—Crown Republic's roasted broccoli is pretty delicious.
I was particularly impressed with the entrées, which can be boring in restaurants that focus their creativity on small plates. The Amish chicken was served with a root vegetable hash and an absolutely delicious mojo picón, a red pepper sauce that tastes like a smooth, spicy romesco but with fewer nuts and a bit more cumin. The seared salmon is another dish that hints at how Crown Republic might grow in the future: served on a bed of buttered leeks, dotted with golden raisins, topped with fennel fronds, and with the fascinating addition of smoked walnuts, the dish layers surprises with each bite. Without losing the straightforward feel of its food, a small dose of the dimensionality found in this dish would be welcome in a few more offerings.
Apart from the food, Crown Republic has a mysterious quality that I can only describe as "good energy." Some of this is explained by the fact that it is a family establishment, owned and run by husband-and-wife team chef Anthony Sitek and general manager Haley Nutter-Sitek, but it extends to the entire staff. Everyone at Crown Republic seems unusually switched on, focused, and interested in the success of the restaurant, from the person bringing fresh bottles of water to the server coursing our meal and suggesting favorite dishes. This quality, brought by people who are excited and invested in their work rather than being barely engaged, makes a subtle but real contribution to a meal.
I like this place, and I think it's likely to keep getting better.
Crown Republic Gastropub, 720 Sycamore St., downtown, (513) 246-4272, crgcincy.com
Facebook Comments