Photograph Courtesy of ExploreAsheville.com
Good Eatin'
For a city its size (a population of 83,393 per the 2010 census), Asheville has a surprisingly happening downtown. And these Appalachians can cook. It was here that Tupelo Honey Café (tupelohoneycafe.com)—now with seven locations and two cookbooks—first started riffing on southern classics, such as shrimp and goat-cheese grits with roasted red pepper sauce, and hormone-free, nut-encrusted fried chicken. Eight-year-old Table (tableasheville.com) takes it up a notch, making high-end food with ingredients grown, raised, and foraged in North Carolina. Not all the restaurants have a southern twang: Cúrate (curatetapasbar.com) serves Spanish haute cuisine on small plates. To sample the city's foodie-favorite menus in one go, take a tour with Eating Asheville (eatingasheville.com) or Asheville Food Tours (ashevillefoodtours.com).
There is no shortage of hotels downtown, but for budget accommodations with some swagger, stay at Sweet Peas Hostel (sweetpeashostel.com). The hip loft property has floor-to-ceiling windows in the lounge, exposed brick aplenty, and the option of bunk beds or private rooms with sinks.
Fa La La Fancy
George Vanderbilt built his summer home, Biltmore Estate, on what is now 8,000 acres south of downtown. The Chateau-style stunner was completed in 1895 and opened to the public in 1930. Wander its 250 rooms and 75 acres of formal gardens, visit the village and winery (tickets $22–$74), or stay at the posh inn. The mansion is made even merrier November 7 through January 3 for Candlelight Christmas Evenings, when it's trimmed with thousands of ornaments and miles of lights and garland.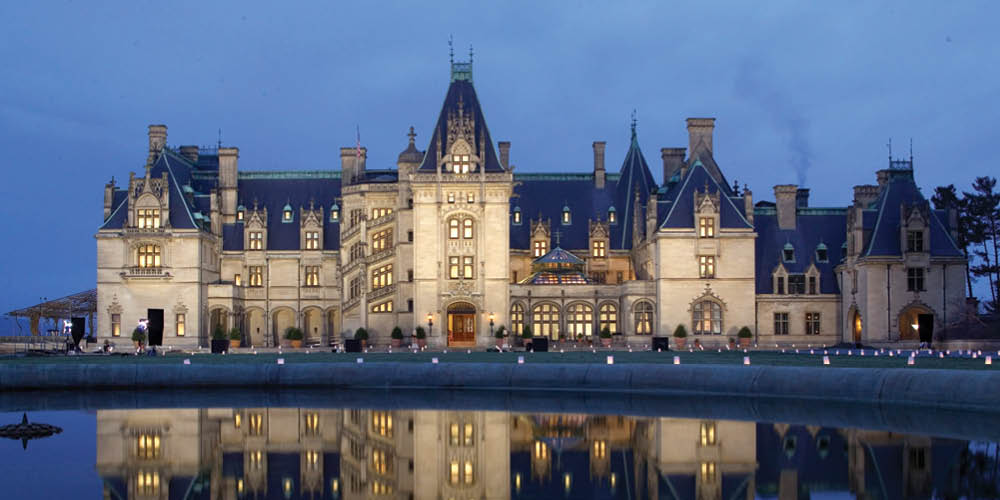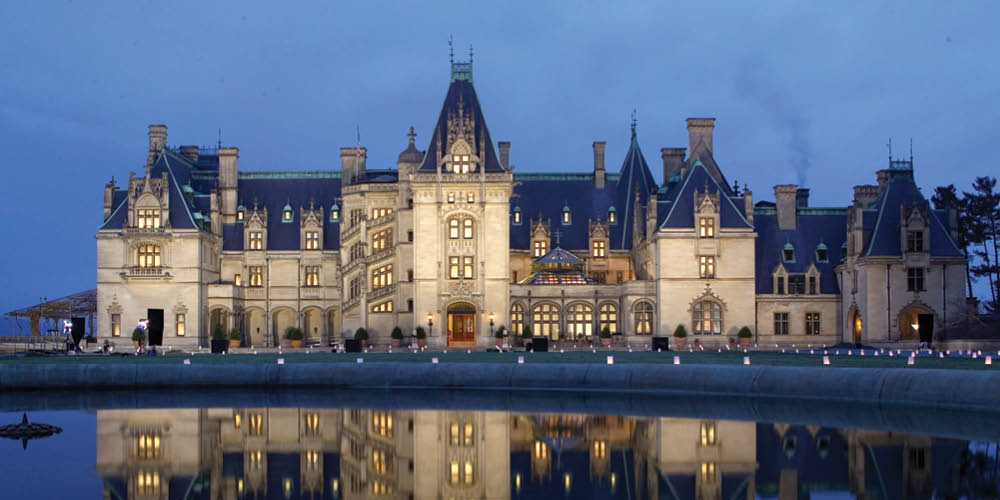 Holiday festivities of the sweeter variety can be found at another architectural beaut five miles away, on the western slope of Sunset Mountain. The Grove Park Inn (groveparkinn.com), an arts-and-crafts style resort built in 1913, plays host to the 22nd Annual National Gingerbread House Competition from November 19 through January 1. biltmore.com
Trails and Ales
Catch the last of the fall foliage at Chimney Rock State Park (chimneyrockpark.com), and pay your respects to Patrick Swayze at nearby Lake Lure, where Dirty Dancing was filmed. Or see the grand finale at the North Carolina Arboretum (ncarboretum.org) in the Pisgah National Forest. If you're more of a looker than a hiker, drive the scenic Blue Ridge Parkway to Craggy Gardens to walk an easy 1.5-mile trail and take in the 360-degree view.
Asheville's rugged looks and laid-back vibe have wooed many its way, among them a whole lotta brewers. There are 17 craft breweries in the city alone, plus more in surrounding towns. The oldest, Highland Brewing Company (highlandbrewing.com), opened in 1994 and has a taproom with live music on weekends. Navigate the rest with Asheville Ale Trail's free self-guided tours. ashevillealetrail.com
For the Kids
The woods aren't the only place youngsters can run wild. At the Asheville Pinball Museum (ashevillepinball.com) downtown, $10 gets you unlimited play on 35 new and vintage machines. Little geologists will love the nearby Colburn Earth Science Museum's collection of rocks and minerals, or they can mine their own at Elijah Mountain Gem Mine (elijahmountain.com), 30 minutes away in Hendersonville and open year-round. If it's candy they demand, happily oblige with a tour of the French Broad Chocolates factory (frenchbroadchocolates.com), a sustainable chocolatier in West Asheville.
Wild, Wild West
Historically the grittier, industrial side of town, West Asheville got its quirk in the mid '80s, when artists turned abandoned warehouses along the French Broad River into studios. Thus began the River Arts District, which now includes 22 buildings and more than 170 painters, potters, woodcrafters, glassblowers, and other working artists. Most studios open for demonstrations and shopping during Studio Stroll on November 8 and 9. For a midday feast of North Carolina 'cue, head to nearby 12 Bones Smokehouse (12bones.com) for saucy baby-back ribs (open lunch only). riverartsdistrict.com
Facebook Comments