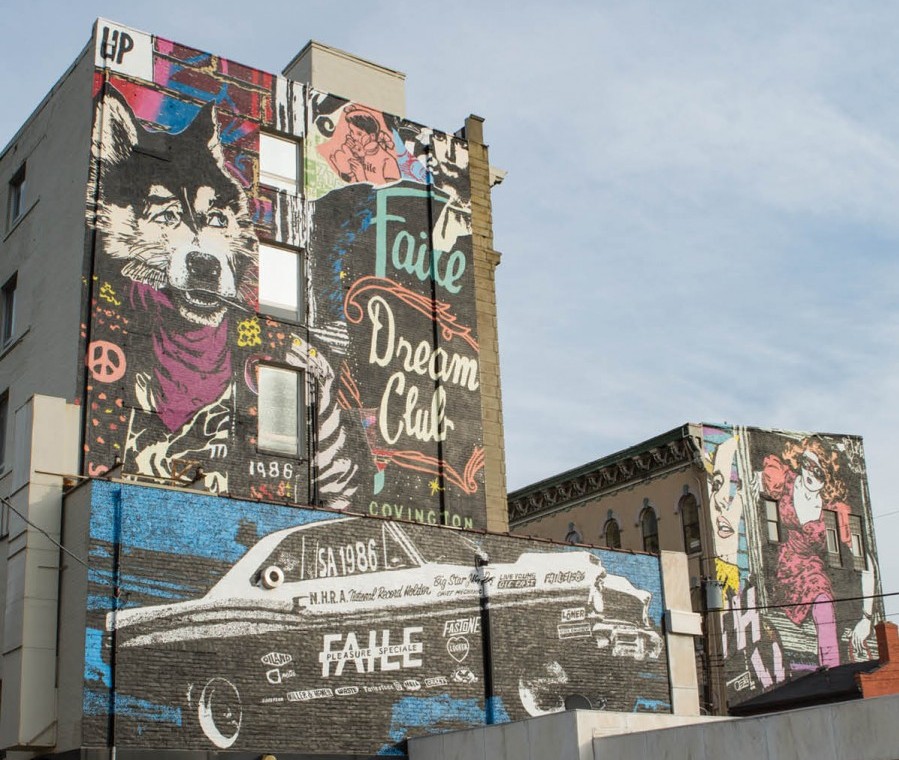 The prominent artistic duo FAILE—known for their collage-style pop culture appropriations—transformed the outer walls of several buildings in Covington with a new mural titled Around the Corner. Mike and Lesley Amann, owners of BLDG (a Covington art studio and gallery), approached FAILE's Patrick Miller and Patrick McNeil at the their Brooklyn studio in 2012 with a mission to engage the people of Covington through public art. After Mike Amann died of cancer in 2013, Lesley revisited the project and commissioned Miller and McNeil, who unveiled the completed mural last October. "We hope we're a small part of [the Amanns' original vision], and only the beginning," says McNeil.

Lookin' Good
"Nothing too sexy" went into the creation of this massive, 60-by-100-foot mural, according to Miller. The artists used standard exterior acrylic and spray paints to transform the west-facing sides of three buildings—including Republic Bank and Donna Salyers' Fabulous-Bridal—on the corner of Sixth Street and Madison Avenue.
Werewolves of Covington
Wolves are a recurring character in many of FAILE's creative works. In 2012, they constructed a 16-foot public wolf sculpture at the National Garden Park complex on the outskirts of Ulaanbaatar, the capital of Mongolia.
Members Only
The "FAILE Dream Club" section of the mural celebrates the artists' early days in their original windowless art studio. "It's really about that time when you are setting out and everything has this fresh newness to it," says Miller. "That seems to be what BLDG is really after in Covington."
Need for Speed
The getaway car on the wall of the bank is another nod to Kentucky's history. "The car goes back to stock car racing and NASCAR," says McNeil. "It really signifies Americana and that great racing history of the Midwest and the South."
The Thief
"The biggest inspiration for the mural by far was the use of the bank's wall," says Miller. That explains the cat burglar sneaking out of a painted bank window across the street from the real bank window. Don't worry, we doubt she'll get very far.
Originally published in the February 2015 issue.
Photograph by Aaron M. Conway
Facebook Comments