When John Kiesewetter joined The Cincinnati Enquirer in 1975, reporters had minimal contact with readers. By the time he left 40 years later, the longtime media watcher—like journalists everywhere—was in constant touch with his audience.
Now, after five years at WVXU-FM, Kiesewetter is among the most connected of local journalists, with more than 6,000 Twitter followers and 3,700 Facebook friends. He feeds that audience daily with posts to his Media Beat blog, regular guest spots on the station's Cincinnati Edition show, and a steady stream of links to news of interest. "When we started, community engagement was a letter to the editor," he says from his Fairfield home, where he works on contract for the station. "Now it's expected that reporters are engaged on their social media platforms and informing their audience on what they're doing for the station, paper, or website."
At this stage of his career, which included covering media news for 30 of his 40 years at The Enquirer, Kiesewetter says he's only as busy as he wants to be. But staffers at his old employer and in other newsrooms across Cincinnati don't have that luxury: They're tethered to the job nearly all of their waking hours, working on ever-smaller staffs and expected to produce ever-expanding output for an ever-more-demanding public. All of which means it's tough out there for local journalists.
The numbers are alarming. Since the advent of the internet—let's say the last 15 or so years—local news outlets have been steadily shrinking. As both audiences and advertisers migrated online, more than 2,000 U.S. newspapers stopped operating. In that time, the remaining papers cut more than 50 percent of their staffs.
All of those trends accelerated dramatically when COVID-19 shut down the economy and further gutted media living off of advertising dollars. As communities turned to local media for news about the pandemic, protests, and politics, local media were once again contracting—furloughing or laying off staff, cutting salaries, and in some cases closing altogether. The grim daily tally of COVID-caused cuts, compiled by media researchers at the Poynter Institute, reached more than 40,000 working journalists by late summer.
All of that matters, a lot, to local readers, Washington Post media columnist Margaret Sullivan argues in a new book, Ghosting the News: Local Journalism and the Crisis of American Democracy. "When local news fails, the foundations of democracy weaken," she writes. "The public, which depends on accurate, factual information in order to make good decisions, suffers. The consequences may not always be obvious, but they are insidious."
The dire situation has put efforts to bolster local news back in play. At the national level, pro-press groups across the country took hard pivots to coronavirus relief, in­cluding the Society of Professional Journalists (SPJ), where I recently ended seven years as a national board member, the final year as president. These groups quickly began offering resources—and occasionally financial relief—to journalists covering the pandemic or out of work because of it.
National lawmakers joined the effort. Ohio's Sherrod Brown was among 19 U.S. senators calling for the first COVID relief package to allocate funds to local journalism. Ultimately, some publishers were able to tap loans under the Paycheck Protection Program.
As the pandemic lingered into the summer, a group called Rebuild Local News as­sembled more than 5,000 news and press organizations of all stripes to push the Local Journalism Sustainability Act. The bill, introduced in July, would establish tax credits for small businesses to advertise with local media, for individuals who subscribe to local newspapers or donate to local news nonprofits, and for local media groups themselves to hire or retain staff. Government support for media, usually a turnoff for First Amendment purists, is essential because "saving local news can't wait," the Rebuild Local News coalition said in a July letter to Congress. "We especially like these approaches because they provide significant help to local newsrooms but rely mostly on consumers and businesses, not the government, to decide which newsrooms to support."
Steven Waldman, president and cofounder of Report for America and coordinator of the Rebuild initiative, says the bill "empowers consumers and businesses to help local media." "It's not the 'Secretary of Local News' in Washington making the decisions, it's Americans making the decisions for themselves," Waldman told me during a July SPJ event. "It could pump a huge amount of money into local news in a very constructive way."
Closer to home, The Enquirer has been the beneficiary of another push to save local news, this one underwritten by the Google News Initiative. As part of its $300 million effort "to benefit the entire [news] ecosystem," Google is buying full-page ads in The Enquirer and other papers across the country, asking readers to "Support Local News" with subscriptions, donations, and advertising. "Your support is critical to sustaining the dedicated journalists serving your communities," the ad reads. Enquirer Executive Editor Beryl Love echoed that sentiment in a May letter to readers, thanking them for their support and imploring them to "keep reading."
Meanwhile, at the street level, Cincinnati journalists are fighting for their industry by feeding a news-hungry audience. Cincinnati Magazine published more than 70 web-only stories related to the impact of COVID and to Black Lives Matter protests through late summer, in addition to covering the topics in print. Cincinnati Business Courier reporter and columnist Chris Wetterich is among the more prolific journalists on Twitter, with about 7,600 followers, and posts stories about local government and transportation to the paper's website nearly every day. The four broadcast TV stations start running live news coverage at 4:30 a.m. and don't sign off until 11:30 p.m.
No local journalist has been spared pain as the news industry morphed in the past decade and a half. Many took direct hits when the pandemic arrived, in the form of furloughs, and others survive and thrive by working furiously to stay a step ahead of the competition and a decibel above the noise. Here are six of them sustaining local journalism one story, one tweet, and one day at a time.
---
A few years back, Michael Monks was having trouble remembering his lines for a production at Newport's Falcon Theater. "I was 'on book' during tech week, and that's really bad," he recounts. He grew a bit worried he was losing the ability to retain information in his mid-30s, until an aha moment led him to realize he was exhausted. He was holding down on-air roles at sister stations WNKR-AM (Dry Ridge, Kentucky) and WNKN-FM (Middletown) and editing River City News, the digital news site he launched in 2011 to cover Northern Kentucky news.
With community theater now in a pandemic pause, he's currently off stage and down to just two gigs: River City News and, since early 2019, host of WVXU-FM's weekday Cincinnati Edition talk show. "I basically have two full-time jobs, and it's as tough as its sounds," he says. Monks landed the WVXU spot—to host what he calls "a conversation about the state of things"—after a lengthy national search. The six-year-old show lost original host Mark Heyne in March 2018, then kept interim host Dan Hurley in the seat for nearly a year.
Monks keeps running River City News out of loyalty to readers. "There really is no person who is doing what I'm doing as broadly as I'm doing it," he says, noting that most Cincinnati media tend to cover Northern Kentucky "if shots have been fired or something's on fire."
Monks, now 40, grew up in Louisville and Covington and then attended Northern Kentucky University. South of the river, "I don't need GPS to get anywhere," he says. "There's a lot of equity in that. If I were to walk away from that, I'd be disappointing a lot of people without a trusted source of information."
His dual roles are possible, he concedes, because he can sometimes double-dip, sharing reporting with both employers. Plus he doesn't mind working all the time. And he gets a little help: At RCN, a colleague handles ad sales and some web work and contributors submit stories, while the Cincinnati Edition team includes three full-time staffers besides him. WVXU audience members carry the load, too, joining the live show by phone or online. "Our listeners are so smart," says Monks. "They add to the conversation in a significant way."
---
Jason Williams worked hard to land his dream job as political columnist for The Cincinnati Enquirer, and he works hard to keep it. A University of Cincinnati graduate, he started his career in sports, including time at the now-shuttered Cincinnati Post. A five-year stint at City Gospel Mission, the local nonprofit that addresses hunger and homelessness, made him pine for the news business. So he worked his way back, landing the politically adjacent transportation beat at The Enquirer in May 2012 and moving to politics four years later.
Now 45, he's a full-time columnist, writing the Politics Xtra column focused mostly on city, county, and state politics; co-host of the weekly That's So Cincinnati podcast with City Hall reporter Sharon Coolidge; frequent guest on local radio shows; and a regular speaker at area civic clubs and journalism classes. Like colleagues, he's big on Twitter, with about 8,300 followers and more than 20,000 tweets. "Even when I'm off, I talk to sources and tweet," he says.
And that's just what the public sees. What they don't see is his devotion to reporting, which informs every political opinion he writes; the amount of time he gives to colleagues, sharing story tips and sources; and his inbox, which bulges with e-mail from readers he feels compelled to answer. The latter was a revelation when he took over the political opinion role after Howard Wilkinson retired in 2017. "I was not prepared for the feedback that comes with the role," he says. "I was not prepared for the onslaught of reader e-mail."
Williams developed a taste for politics growing up in Gallipolis, Ohio, with a mother who told him to research candidates rather than follow party dictates. He learned from the advice of former Enquirer sports columnist Tim Sullivan, who preached, "The best columnists are reporters." He relishes the watchdog stance of his column, pledging allegiance to neither Democrats nor Republicans but rather seeking to hold public officials' feet to the fire.
A corollary thrill is satisfying those e-mail writers. "Those are probably paying customers," he says, explaining his compunction to answer (mostly) thoughtful notes with thoughtful replies. "I feel a real responsibility to respond beyond just saying, Thank you for writing."
---
Kristen Swilley and her colleagues were telling each other "we're overreacting, we're overstaffed" as WCPO-TV prepared to cover the Black Lives Matter marches at the end of May. Then, on the first Friday after the death of George Floyd in Minneapolis, "everything blew up," she says, and Swilley found herself front and center on the sometime volatile protest story.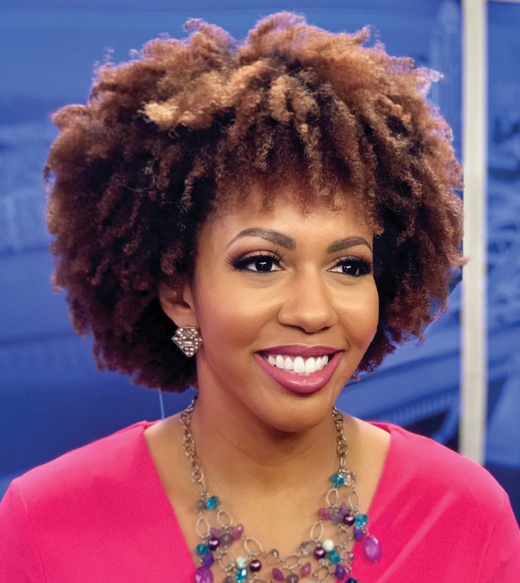 A WCPO reporter since 2015 and part of the night-side team for three years, the 29-year-old Atlanta native had already covered a fair share of violence. But she'd also told everyday stories from Black and brown communities since selecting and assuming the race beat a little more than a year ago. Those kinds of sources were invaluable as she covered protests, she says. "They said, OK, I can talk to Kristen. She's been there. She's not going to manipulate the narrative."
That dedication to telling stories from diverse communities did not provide full cover in the heat of the protest story, however. "There were times when there was no message you could pass along about the movement that was representative enough for some people, who expect a lot of you as a Black reporter," she says. Sometimes Swilley got pushback for including the police point of view, and sometimes it came from the other side, alleging a Black reporter would favor views from persons of color. Her goal: Be the vessel for the message, remembering, she says, "People are angry, and it's not their job to receive you well."
Swilley's favorite assignments don't involve angry people or protests. One piece profiled Willard Stargel, namesake of the Taft High School football stadium. She helped the piece come alive by interviewing his son, Jason, in the empty stadium just a month before it was razed to make way for FC Cincinnati's new home. Another profiled Mary Frances Page, who died at 100 in Au­gust a year after leaving her West End apartment for the stadium project. With those kinds of stories, Swilley says, "You really feel like you are pounding the pavement to put something meaningful together."
They also continue to pay dividends when the news is bad and she shows up with a videographer. "I'd rather be there as a familiar face, as someone trying to source-build in those areas," she says, "so I don't look like I'm parachuting in, like I just started to care about the community."
---
In mid-July, Nick Swartsell was four months into an unpaid furlough from his position as news editor of CityBeat, but that didn't stop him from heading to summer Black Lives Matter protests and interviewing people in the streets. Or tweeting links to earlier CityBeat coverage of race issues in Cincinnati. Or creating a photo essay of Cincinnatians in masks on the front line of the COVID-19 fight. Or staying abreast of happenings from City Hall.
"I think journalists ought to be paid, obviously, but that's not the thing that gets me up in the morning," says Swartsell. "I want to discover these stories. I want to know what the truth is. I want to understand the human impact of these things." So he continued working through the furlough that he volunteered for—returning to payroll in September—because "it's part of me."
A native of Hamilton, Swartsell, 38, fell into journalism after graduating from Miami University, first writing about tax increment financing for a Fairfield community website. Then came journalism graduate school in Austin and two internships and a fellowship in D.C. for big Texas media outlets. But instead of seeking his fortunes elsewhere, he chose to come home. "When I first came back, people would say, Oh, sorry, is someone in your family sick?"
At CityBeat, he has free rein to cover housing affordability, transit, police accountability, politics, policy, and other topics that turn him on. On any given day, he's turning out three or four short news items while working on a 1,500-word feature and polishing a 5,000-word investigative piece. He focuses mostly on web release and social media push. He calls Twitter, where he has about 4,500 followers, "maddening but needed," an essential way to connect with readers. "It creates a bond," says Swartsell. "When you have something important to tell them, they'll listen. And when they have something to tell you, you'll listen."
But he's just as likely to hit the streets as jump on Twitter. He's especially keen on walking through Over-the-Rhine, Bond Hill, the West End, or Mt. Auburn, where residents may not know a journalist. "These are folks who are living a different reality than I am living or some of our readers are living," he says. "I want to know what that reality is as much as I can."
---
Tai Sims had started his summer internship at The Cincinnati Herald a few weeks before George Floyd was killed on May 25. He quickly found himself in the streets covering Cincinnati protests related to Floyd's death by day and joining the protests by night.
At 22, the Flint, Michigan, native stepped into a renewed national conversation about how and when journalists can share their opinions on issues of the day. The Herald, with its focus on news about Black communities, gave Sims a platform to explain Cincinnati's involvement in the Black Lives Matter movement. "I have an opinion, and I know right from wrong," he says. "But I just want to report what happened and let other people make the decision on whether it's right or wrong."
Still, the University of Cincinnati senior journalism student felt moved to join the local protests because of his other involvements in politics, with earlier work for former City Councilmember Tamaya Dennard and Mayor John Cranley, as president of UC's Association of Black Journalists, and as part of UC's Black Round Table highlighting racial inequities on campus. "I've been fighting this fight for eight years," he says, having joined online BLM efforts following the death of Trayvon Martin in 2012.
When Floyd died in police custody, Sims was moved to volunteer to create video stories for The Herald's Facebook page about local protests and to become a first-time protester. During those weeks, he was doused with tear gas twice—once while wearing a Herald shirt, once while off-duty. "People are angry and tired," he says. "So, yes, I might get a water bottle thrown at me. I might get too close and get tear-gassed. That is all for the advancement of the conversation or of the movement."
In his final year at UC, Sims will continue diving for the Bearcats' swimming and diving team, if there's a season; apply to law school; keep advocating for Black students; and finish his broadcast journalism courses. Whatever career path he picks is likely to meld at least some of those interests. "I would love to go back home and serve the city of Flint in some way," he says.
---
Lance McAlister seemingly was destined for WLW-AM. Growing up in Anderson Township, he listened to Marty and Joe broadcast Cincinnati Reds games. By age 12, he was a regular caller to Bob Trumpy's sports talk show. By his sophomore year of high school, he was on the air for Carmel (Indiana) High School's radio station.
So when a four-year run in the Chicago broadcast world came to an end in 1996, McAlister, now 54, was happy to return to his hometown to host a Bengals pre-game show for what was then WBOB-AM. He became happier still to move over to WLW in 2000 when its owner bought the station.
As a high schooler, McAlister predicted he'd one day host WLW's iconic Sports Talk show. "The fact that I'm doing it and sitting in the same seat that Bob Trumpy did and Cris Collinsworth did and Andy Furman did, I don't lose sight of that," he says. "This show was manned by broadcast legends, and I get to do it now."
McAlister hosts pregame and post-game shows when the Reds play, and on non-game days he helms Sports Talk from 6 to 9 p.m., talking any and all sports with listeners. He hosts two weekly Bengals shows during football season. When he's not on air, he feeds one of the biggest media Twitter accounts in town, with more than 69,000 followers.
When COVID shut down sports leagues, McAlister had to find other ways to connect with listeners. "I enjoyed the challenge of being creative," he says. "I started each morning with a blank slate and got to build a show from scratch. I looked at my show as an escape for people. By 6 p.m., most of us have been beaten down by politics, COVID stuff, and other issues of worry and concern. I've used the show, more than ever before, to allow listeners to have fun remembering the good times of sports from the past. It made my night when callers said I was able to take their mind off of the real world."
Facebook Comments