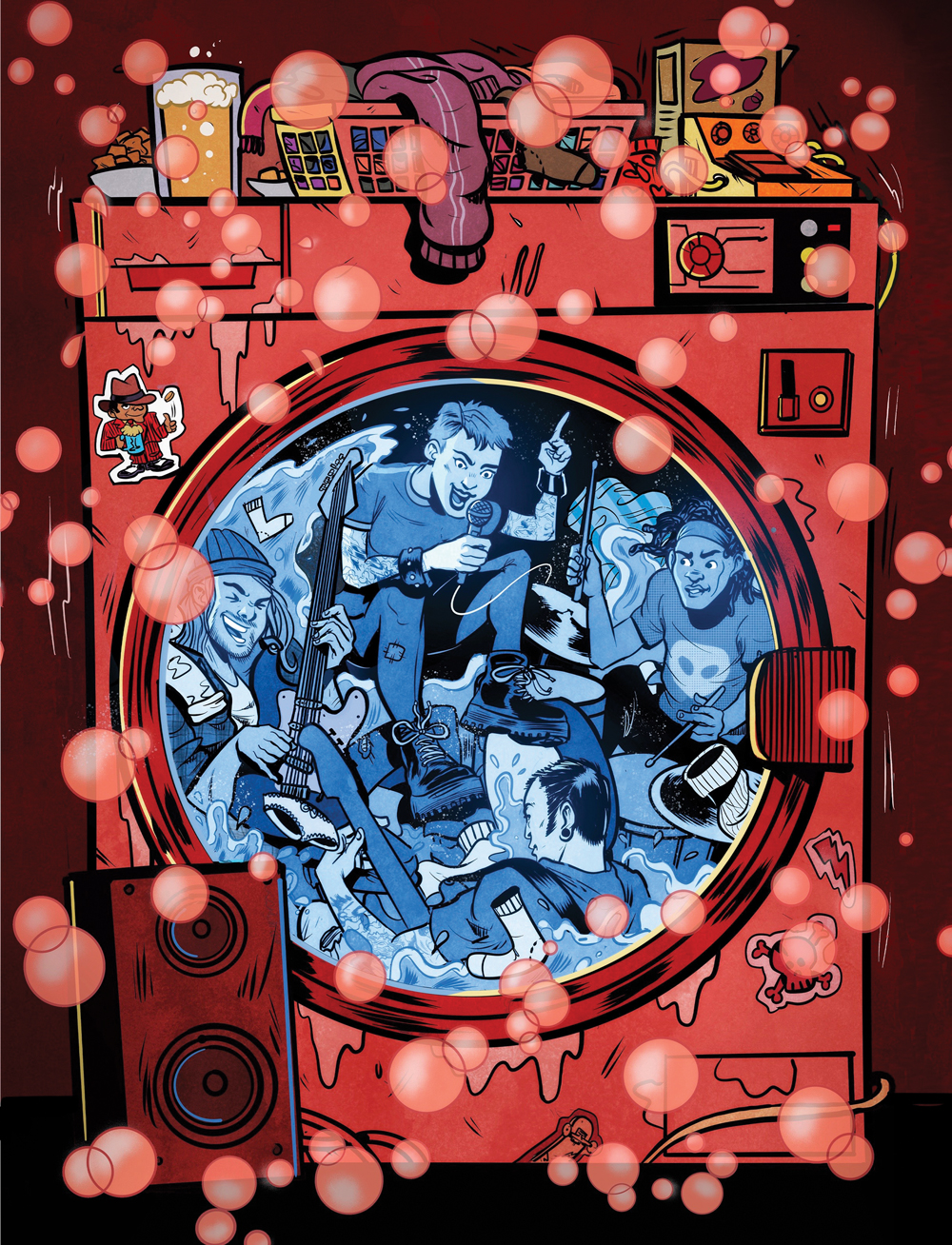 Laundromats are usually places you want to forget. Wash, dry, repeat. Yet when Sudsy Malone's Rock 'n Roll Laundry & Bar closed in 2008, the mourning began. It's been collectively remembered with unusual intensity ever since, and not for its coin-operated Maytags.
Sudsy's, as we knew it, was also a bar and music club that grew in the 1990s to national and legendary renown. The Afghan Whigs, Beck, Better Than Ezra, Jack White, Stereolab, Sleater-Kinney, Modest Mouse, Superchunk, Yo La Tengo, Guided By Voices, Jeff Buckley, Spoon, Girls Against Boys, G. Love & Special Sauce, Cat Power, The Jesus Lizard, the Jon Spencer Blues Explosion, and Over the Rhine all played its small stage. Hundreds of great local musicians got their start there. It was a Mecca for new music during a decade when rock music was changing and just before everything about the music industry would completely turn upside down.
Sudsy's stood across from Bogart's on Short Vine Street in Corryville. You entered to the right of a low, carpeted stage, scuffed and duct-taped, gouged by falling cymbals. Speakers towered around it, hung from the ceiling. The dim bar ran the length of the front room in front of a mosaic of band photos. Washers and dryers were lined up in back.
When bands played, it was so loud that the air felt pressurized, particles vibrating in sparse spotlights. And there was a lot swirling in that atmosphere: smoke, detergent, beer, whiskey, dryer lint, sweat, and brand new songs that are still being sung 30 years later.
But small clubs come and go, right? What makes Sudsy's stick in the memories of so many fans? The answers shine a light on the vital importance of small stages everywhere and on the power of live, original music to connect people to one another and to a collective "home."
---
"We're trying to go one step further and develop a character," ballet dancer and founding partner Michael Sharp told The Cincinnati Post in July 1986, when Sudsy Malone's Laundry and Libation Emporium opened. Sharp had sketched a coin-flipping, beer-swilling, pin-striped cartoon gangster, the eponymous Sudsy Malone, whose image hung outside the door for more than two decades.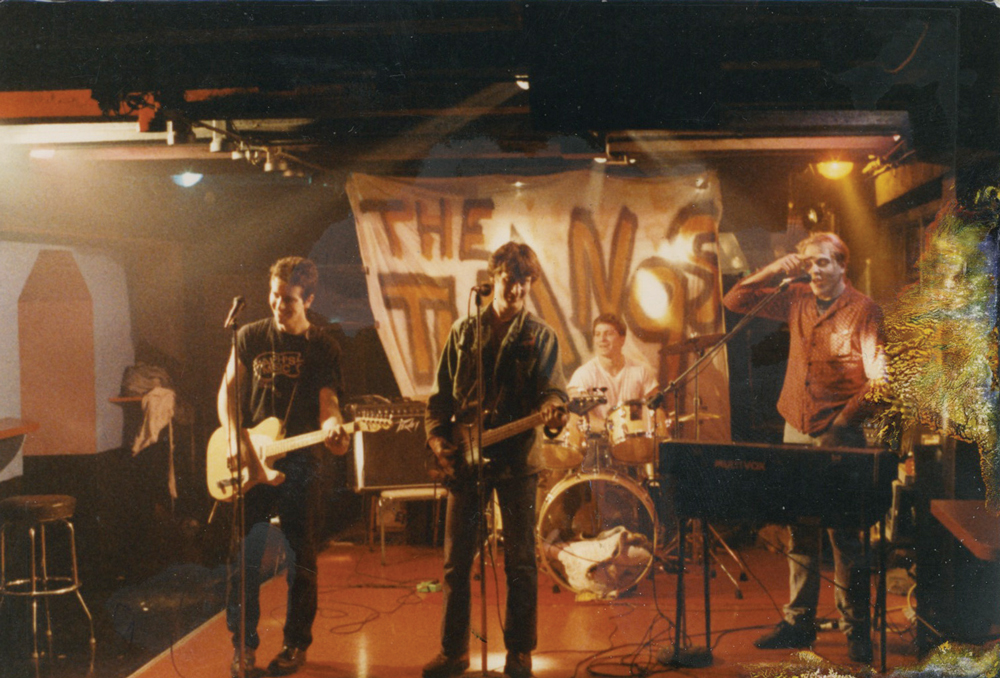 Music of the incredibly loud, electric variety took over Sudsy's within a few years thanks to a band called The Thangs. Guitarist Patrick Hennessy [read his oral history of Sudsy Malone's here], who still plays in veteran Cincinnati punk outfit The Tigerlilies, was there one Friday night watching a lone guitarist get drowned out by the happy-hour crowd. Hennessy loaned him one of The Thangs's amplifiers in exchange for permission to play the following weekend.
The next weekend the band loaded in its gear, including "these crazy huge speakers we bought from some band from the '70s," Hennessy says. "And it was packed." The owner, John Cioffi, asked them to come back the next night. The Thangs eventually played Sudsy's every weekend for nearly two months and recruited friends' bands to open. Cioffi thanked them for playing but complained his ears were ringing. "That's not your ears," Hennessy's brother and bandmate, Steve, shot back. "That's the sound of your cash register."
Sudsy Malone's Rock 'n Roll Laundry & Bar was born. There were many small clubs clustered around Bogart's, but it was one of the few featuring original music, Hennessey says.
Wesley Pence and Randy Cheek frequented Sudsy's in the early days, Cheek playing bass in Ass Ponys and Pence on guitar in Middlemarch [read their oral histories of Sudsy Malone's here]. While Sudsy's helped launch bands that, like Ass Ponys, went on to get major label record deals, it was fundamentally a place where bands played music for the music's sake, without the pretention that came with the rise of MTV, Cheek says. "After all, you were still just playing in a goddamn laundromat."
The pair watched Sudsy's morph from a sort of "underground scene clubhouse," Cheek says, to a place that was on national record companies' radar. "Bands were moving here," Pence says. "That was inconceivable to us."
"Kids who were younger than us grew up with MTV, so they knew how bands looked and acted," Cheek says. "Where we clearly didn't," Pence adds, laughing.
Pence and Cheek resurrect for me certain details about the early '90s Sudsy's scene. "Johnny Flowers" circulated through the crowd in baggy trousers, selling roses, and occasionally climbed on stage to sing Fats Domino's "Kansas City." Virtuoso harmonica player "Archie" told jokes and played the blues.
Musical genres under the Alternative Rock banner had yet to be fully defined at that point, so wildly different bands shared bills and audiences. A couple of waves of bands later, Cheek says, "the scene became more codified." Sudsy's began to attract bigger acts, and not necessarily as performers. Pence was playing Sudsy's the night Guided By Voices and The Breeders performed at Bogart's. "We went on, and all of those people were right there in the front of the audience, Bob Pollard [of GBV] and the Deal sisters [of The Breeders]," he says. Cheek remembers Elvis Costello's drummer Pete Thomas demanding to sit in. "He was pretty lit up already, and he rocked. We had a hard time getting him off the stage. He told us, Speed up, you cunts, we're not playing Bryan Adams. Then he started some stuff with our drummer, and we had to separate them."
Dan Reed, music director at Philadelphia's WXPN public radio station, was getting his start in the business around that time at WOXY-FM in Oxford, Ohio, also known as 97X [read his oral history here]. He also worked at Bogart's, crossing the street after work to check out the scene at Sudsy's. Eventually he defected to Sudsy's, bartending and booking bands, including touring acts from small independent record labels like SST, Touch and Go, and Homestead Records. "I served Izzy Stradlin and the drummer for Guns N' Roses," he says. "If there was a show at Bogart's, people would walk across the street and pay $3 to get into Sudsy's and just keep watching music." They timed shows to catch the dispersing Bogart's crowd.
Sudsy's capacity was frequently blown by local and regional bands with big draws: The Auburnaires, The Wolverton Brothers, Middlemarch, Ass Ponys, and the ferocious Brainiac, whose meteoric rise would be cut tragically short by the death of wunderkind Tim Taylor just after the band returned from a European tour in 1997 opening for Beck (who both played Sudsy's and stopped in to do his laundry there). "It was a really strange scene with all kinds of different bands and weirdos," says Reed. "And I mean that in the best possible way. We were all weirdos."
It was thrilling to hang out at a place with such a deep pool of prodigious talent, plus there was a sense that any of the regular acts might be on the verge of getting big. The Afghan Whigs were the first to go national, becoming one of the earliest non-Seattle bands signed to Sub Pop Records when that city emerged as the epicenter of grunge. "You could just watch the Whigs get great right there on that stage," says Reed. "It was really exciting to see that happen." Record company scouts with video cameras began casing band showcases at Sudsy's.
---
Bartending at Sudsy's remains one of the best jobs Suzanne Kehr Carden, assistant to the manager at San Francisco's storied Fillmore Theatre, ever had, she says. She's active on the almost 1,500-member-strong "Sudsy Malone's Cincinnati '85ish-'98ish" Facebook page, where former patrons and employees share Sudsy's ephemera galore: photos, ticket stubs, flyers, and memories.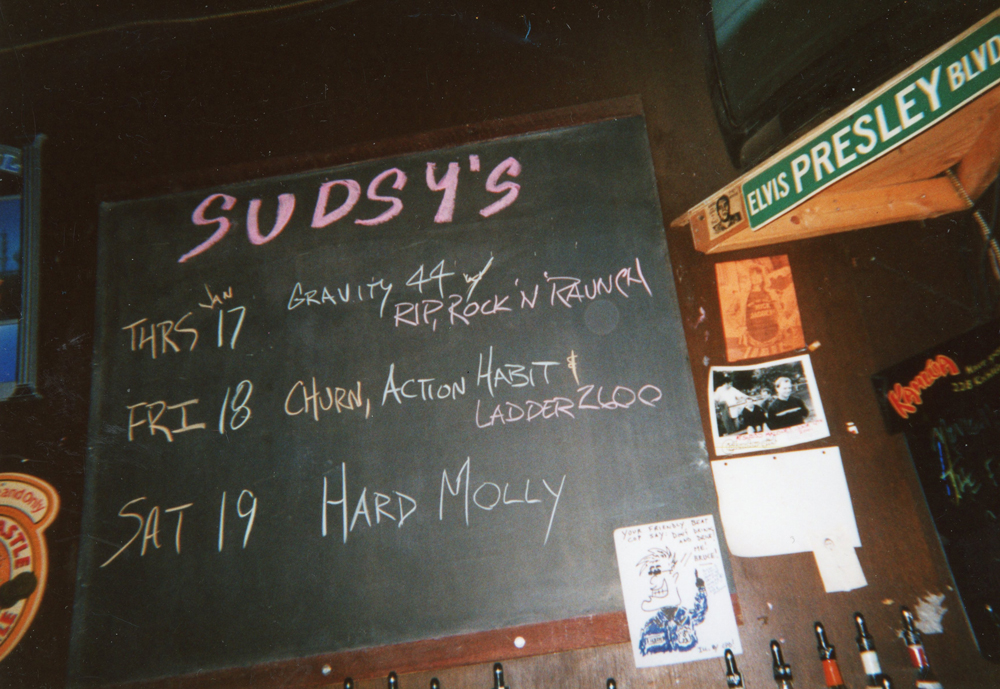 Carden's catalog of recollections is lengthy. Jackson Browne did laundry at Sudsy's when he played Riverbend, she says. Jane's Addiction mingled there after their Bogart's show. Dave Pirner of Soul Asylum slid playfully across recently mopped floors. Kate Pierson of the B-52's and Chrissie Hynde of The Pretenders stopped in to hand out flyers for PETA (People for the Ethical Treatment of Animals). Members of the Reverend Horton Heat touring outfit got black eyes in a fight with local band Milkmine. Kurt Loder came to a Whigs show with an MTV video crew. The Clash's Mick Jones hung there, as did "Weird" Al Yankovic and James Taylor. You know how there are bars where bar staff go to relax when they get off work? Sudsy's was that for musicians.
Dana Hamblen is a drummer and bassist who plays in The Fairmount Girls, Culture Queer, and Darlene [read her oral history here] and got her start at Sudsy's opening for many of her heroes, including female musicians she reveres: The Deal sisters, Babes in Toyland, and Larissa Strickland of L7 and Laughing Hyenas. The quality of the acts coming through, and bills that paired local talent with touring acts, she says, is "100 percent down to Dan McCabe," who booked Sudsy's at its apex, from 1991 to 1999, following Reed's departure for another radio job.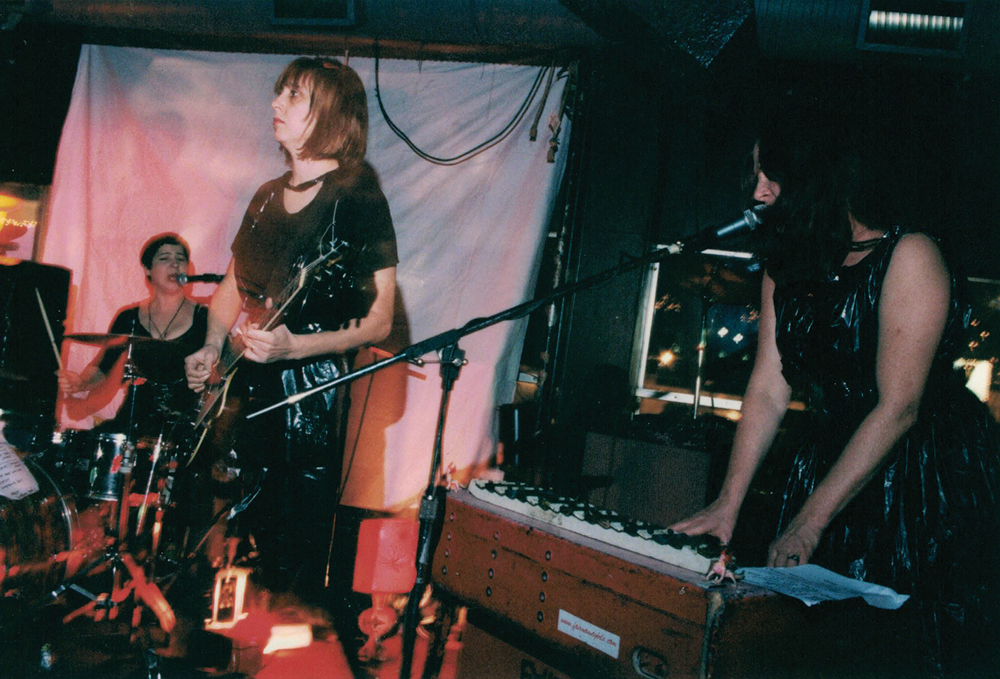 Musician Mike Montgomery, who owns Candyland Studio in Dayton, Kentucky, is half of the band R.Ring with Breeders sister Kelley Deal [read his oral history here]. He shares Hamblen's appreciation for McCabe. "You really can't stress enough what a gift he gave by booking the acts he did. And taking chances and bringing bands that had high guarantees where it's like, really, man, they could make or break a small club. He brought Hum here. He brought Swervedriver from England. Bands would show up in tour busses to play Sudsy's. It put Cincinnati on the map for a lot of bands. I would travel all over the country and people would be like, Cincinnati? The laundromat club!"
Montgomery first snuck into Sudsy's with a fake ID, and he later played there with bands Thistle and El Gigante. He also ran sound at Sudsy's. With glass windows in front and metal machines in back, he says, the place was a huge acoustic challenge. "It was a great place to learn how to make a show happen no matter what," he says. "You just had to have enough bodies in the place to absorb the sound off the glass, and then you could get a pretty good mix."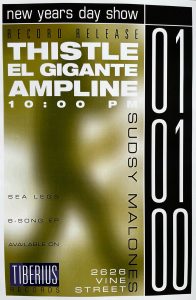 After speaking with Montgomery, I get a text from Kelley Deal, on tour in Spain with the Detroit band Protomartyr. She wants to weigh in on Sudsy's, which she first played in 1997 with her band The Kelley Deal 6000. "The show was so fun," she writes. "I just remember the good vibes there. People were so supportive of whatever music was going on. I am SURE the fun, supportive vibe had something to do with the washing machines."
The washing machines at Sudsy's have significance. They stood in harsh, fluorescent-lit contrast to the dark bar and black stage. You didn't have to pay the cover charge if you were there to do laundry, and so for broke UC students and young music fans a basket of dirty clothes got you in for free. You sat on the washing machines with your long-neck Rolling Rock to cool off from whatever sonic maelstrom was going on up front. As Pence puts it, "They gave you a pretext for being there." The laundromat area was the perfect place for commitment-averse Generation-Xers to be cool while not trying to be cool.
A portion of the Sudsy Malone's sign, rescued from the building when it was demolished in 2019, hangs in Dan McCabe's garage over a boat he's refurbishing. McCabe, 57, is an avid fisherman. Until recently, he was a partner in MOTR Pub and the Woodward Theater, which he cofounded in Over-the-Rhine. When the pandemic temporarily closed those businesses, he did a stint in the kitchen at Goose & Elder. Most recently, he's spent his days as a full-time custodian at East Fork Lake.
McCabe came to Cincinnati from Miami University in 1988. He was doing odd jobs for Cioffi when Reed left and Cioffi asked whether anyone else was interested in booking. McCabe's hand went up. He bartended, cleaned out washing machines, ran sound, and booked bands, fronting his own money to cover their guarantees and other costs, including advertising and bands' food—all of which came out of ticket sales while the venue made money from the bar. More than a couple of times, when ticket sales were short, McCabe pawned a guitar. But for seven nights a week for most of the '90s, he kept the music going at Sudsy's.
"I'm a passionate dude," says McCabe. "I've always been passionate about the live music experience." As a youngster, he played guitar in the basement with his brother on drums. "God bless my parents for putting up with it," he says. He also sings and plays trumpet and has been in outstanding local bands like Campfire Crush, Opi Yum Yum, and The Kiss Me Everlasting. In the Sudsy's era, it was Roundhead. Not that Roundhead played Sudsy's much. McCabe was reluctant to book his own band often, he says, because "credibility is something you can lose easily. It takes years to build, and it's quick to go if you're not careful."
Booking shows was an exciting opportunity at that time, he says. "In the '70s, music was this huge, alien industry. Bands had come to seem like these unapproachable monsters of rock. But they became more accessible in the '90s. I'd be thrilled to death about a new album coming out and realize, Oh, I can bring that band to Sudsy's."
Fortunately for McCabe and Sudsy's, there was an audience for edgy music in Cincinnati that sustained the place. "Live music is an adventure," he says. "That's what excites me about it. I've always maintained my childish sense of wonder. I get fascinated. So bands that were pushing things, inventing, stretching, those were the ones I chased down the hardest."
Eventually McCabe moved on, taking his booking chops to the Southgate House in Newport and producing the MidPoint Music Festival. He cofounded MOTR Pub on Main Street in 2010 and, shortly thereafter, the Woodward Theater across the street.
---
I prefer to believe that Sudsy's didn't disappear so much as disperse out into the universe like The Force from some vanquished Jedi Knight. It's still there in all of the musicians who developed into performers on its stage and in the myriad fans who still are the lifeblood of Cincinnati live music clubs. The strength of Sudsy's afterimage—the dense web of connections it casts out into the universe, the way it helped make this city a meaningful place for so many—makes you consider the importance of small stages everywhere. They create, sustain, and renew culture and draw people together to revel in creativity.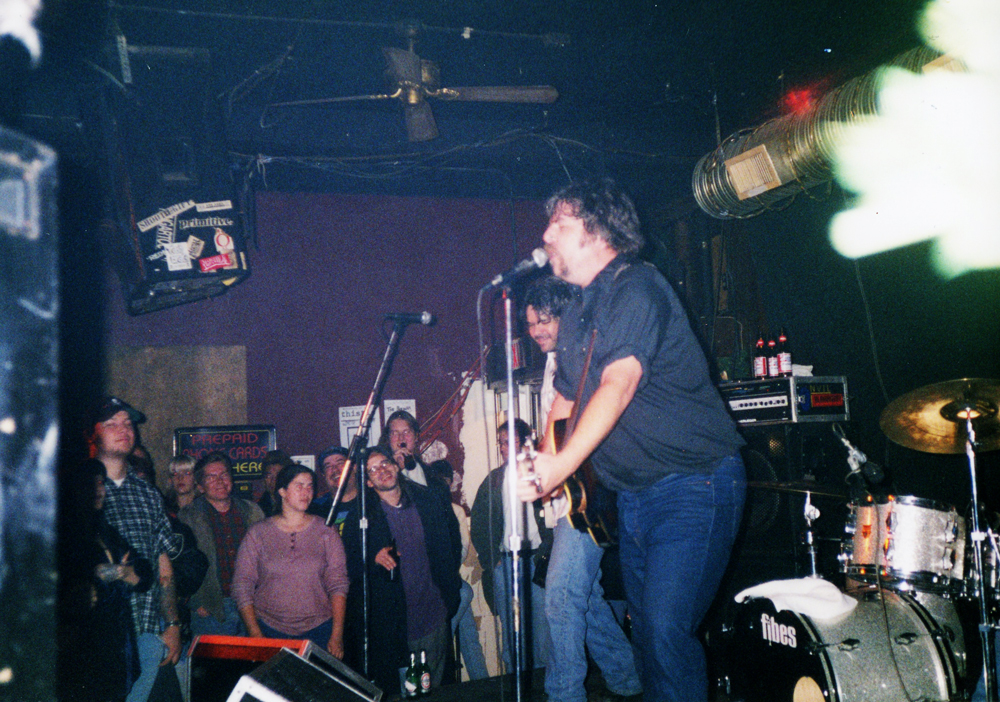 Chris Schadler sips a Guinness at MOTR Pub, which he cofounded and co-owned with McCabe until McCabe's departure from the business in 2021. With its tiny stage, walls covered with band posters, and a heavy rotation of touring bands, MOTR is about as true a contemporary manifestation of Sudsy Malone's as you can get, albeit far cleaner and smoke-free.
Also a musician, Schadler played Sudsy's with such bands as Cinema X, Spiderfoot, The Fairmount Girls, and Oyster. He booked the Southgate House for 13 years, frequently collaborating with McCabe. Along the way, he earned a master's degree in urban planning and worked in the field.
Small clubs, Schadler says, are essential to the health and vibrancy of cities. You can read all about it in a paper he authored titled "Rock and Roll Will Save Your Neighborhood," wherein he lays out the socioeconomic benefits urban planners see around live music. Music brings people out after dark, making streets safer. It helps neighborhoods and entire cities become more desirable. "Look at Austin, Texas, the live music capital of the U.S.," Schadler says. "Look at Nashville, 'Music City USA.' Companies move there because employees want to live there."
Visit the northern reaches of Main Street today, and the small businesses clustered there resemble '90s Short Vine in Corryville. That's not a coincidence. When McCabe, Schadler, and their partners opened MOTR in 2010, the property had been sitting foreclosed for five years, McCabe says. 3CDC was bringing development to Vine Street, but the neighborhood had yet to recover from the civil unrest that wracked Cincinnati in 2001. In the 2000s, as Sudsy's was on the wane, a similar flowering happened in Northside, anchored by the original music scenes at The Comet, Northside Tavern, and other establishments.
But the benefits of music run deeper than safety and dollars. For a city and region that prides itself on creative industries, including the many world-class design and branding firms that call Cincinnati home, music is a powerful attraction for the talent on which these companies rely. McCabe embraced that concept in his post-Sudsy's years, when he was recruiting sponsors for the MidPoint Music Festival. "Brand-building requires fuel from creative minds," he says. "So I was pounding on doors at Procter & Gamble and Bioré and other brands in town saying, This is vital to creating an atmosphere where you can recruit your new talent."
Local history librarian, music historian, and former Sudsy's bartender Brian Powers has a memento from his first show at the Rock 'n Roll Laundry & Bar. He bought a CD from the cowpunk rockabilly band Goober and the Peas, all the way from Detroit; years later he realized their drummer on that tour had been none other than Jack White. Powers tended Sudsy's bar and worked its door at the end of the '90s, "which is probably why my hearing's going," he says. While Sudsy's remained a great place to see a show well into the next decade, its zenith had been reached. At some point, Powers says, management decided not to book touring bands anymore. The bar's glasses got smaller, he says, and the pours more carefully measured.
The club's diviness got divier and went to seed. Even the patina had patina. I left town for a couple of years, and when I came back the Sudsy's that burns brightest in so many memories was gone.
But Sudsy's remains an important place in our local music history, a creative cauldron in a city where Black, Appalachian, and other musicians have converged, played, and recorded together since the heyday of King Records. That collision of music and cultures had a huge influence on American music and helped make Cincinnati one of three cities, along with New Orleans and Memphis, that have a claim to being a birthplace of rock and roll. For almost two decades, rock was reborn at Sudsy Malone's.
McCabe is working on another live music rebirth by restoring the Liberty Theatre in Lawrenceburg, Indiana, with plans to reopen the historic building as a live music venue in 2023, just in time for her 130th birthday. This time around, he'll be booking live, original music in a small-town, rural setting, looking at the entire states of Ohio, Kentucky, and Indiana as sources from which to attract and develop talent. Lawrenceburg isn't as different from Cincinnati as you might think, he says, in that it's a community of strivers, which he believes was a big part of what made Sudsy's work.
America, urban and rural, needs music. Despite our streaming-media saturated world, "at our base, we need interaction and have an innate need to get out and rub elbows with each other," says McCabe. "It's in our genes. It's how we've survived as a species. That thirst is still there. And it turns out beer and music are a great way to quench it." The Liberty Theatre will be "a real test, a real proof of concept for building community through live music culture."
What made Sudsy's great—authenticity and a steady flow of excellent, boundary-pushing music—works in all corners of the world, says McCabe. "And we go on to change the world from there."
See more photos taken at Sudsy Malone's below:
Facebook Comments