Dani acted as if nothing unusual had happened. Minutes after our plane took off, a flight attendant asked our 11-year-old daughter in Chinese if she wanted a beverage. But the only language Dani speaks is English.
We were headed to China last summer, the first time we would return to the nation where Dani was born. My wife, Lynda, and I, Loveland area residents, adopted her when she was 21 months old.
On this flight leaving Detroit for Beijing, Dani was sitting between us. The flight attendant, who appeared to be Chinese, asked us in English about our beverage preferences. But when she addressed Dani, she switched to Chinese. Dani replied, "Sprite, please."
Our daughter spent the first 21 months of her life in the city of Datong, a few hundred miles from Beijing, alternating between an orphanage and foster care. She was one of the millions of Chinese babies given up by their birth parents during the 35-year period when China limited couples to one child, a state effort to control the population and boost the economy. Most of the babies available for adoption were girls, because Chinese culture places a higher value on boys. Many had disabilities. Dani, born with a cleft lip, was doubly challenged in that society's eyes.
As we traveled in China again for two weeks, I thought about how far Dani had come—not only on this 7,000-mile journey but also in her 11 years of life. She's an A student at Loveland Intermediate School and one of the tallest girls in her class, plays in a highly competitive soccer league, and has lots of friends.
Despite being born in the humblest of circumstances, Dani has thrived. As clichéd as it might sound, the African proverb It takes a village helps explain why. We've been blessed to live in an area with strong schools, a top-notch pediatric hospital, a supportive congregation, and dedicated volunteer soccer coaches. And the local chapter of Families with Children from China helped us figure out how one family can straddle two cultures.
---
Our route to building a family began in 2005, when we submitted our application to adopt a child from China. Americans adopted nearly 8,000 Chinese children that year, but by 2009 the number had dropped to 3,000, largely because the availability of children had decreased and the waiting period to be matched with a child increased.
Lynda and I became impatient and frustrated, so we decided to place ourselves on a list to adopt a child with special needs, knowing we'd be matched sooner. It was a harrowing decision, because we had to place checkmarks on a list of special needs we would consider acceptable.
Within months, our Pennsylvania-based adoption agency, Welcome House, told us that a tiny girl with a cleft lip was available. We saw photos of her and fell in love. In October 2009, after indicating that we intended to adopt her, we headed to Beijing.
Paul and Laurie van Genderen of New Jersey were also using Welcome House to adopt a Chinese girl. This would be their second daughter. Hanna, then 4, had been adopted three years earlier from Guangdong Province in southeast China. This time, the family was headed to the same place as us, Shanxi Province, where they planned to adopt a girl about the same age as the one we were.
These adoption trips last a couple of weeks, with sightseeing built in to allow families to learn something about their child's birth country and heritage. There's also a lot of time-consuming red tape required by the Chinese and U.S. governments. In Beijing, our explorations featured traditional attractions: the Great Wall, Tiananmen Square, the Forbidden City, and more. We noticed that Chinese often stared at Hanna and her parents, looking at her Chinese face, then at her white parents, then back at Hanna. We prepared ourselves for the same reaction with our daughter.
The next stop was Taiyuan, the capital of Shanxi Province, where Datong is located. We had heard that couples often meet their new children in groups of a half-dozen or more, leading to a chaotic scene, with children crying and some briefly being handed to the wrong parents. Our experience thankfully would be different.
That morning, the van Genderens met their new family member in a government office where adoptions and marriages are handled. Hanna wore a shirt that said "Big Sister." Two orphanage workers brought in a 20-month-old girl with tears on her cheeks, who'd be known as Ella. As soon as she entered the room, she began crying and continued to cry the entire time we were in the office. Hanna, a usually calm girl, began crying as well, demanding to be held.
It was our turn that afternoon. As we headed back to the government building, we spotted a child in the arms of a woman exiting a taxi. Some adoptive parents have trouble recognizing their new children—they'd changed since their last photo—but Lynda and I knew our daughter-to-be in an instant. Her hair was slightly longer than we remembered, but she had the same beautiful smile.
For a moment, we were confused about what to do. China has rules about its adoption procedures. Could we approach our child outside the building? We did, of course. In fact, we walked into the building with her and her two caregivers, accompanied them in the elevator, and followed them down the hallway to the same office where Laurie, Paul, and Hanna had met Ella several hours earlier. The baby smiled at us. Inside the office, one of the orphanage workers immediately handed her to Lynda, rather than waiting for the official paperwork. She handed me a red jacket with the word "boy" on it, shoes, and a soft bun in a wrapper. Our daughter-to-be ate the bun as well as Cheerios we'd brought. She remained quiet and contented in Lynda's arms. She did the same thing a few minutes later when I held her.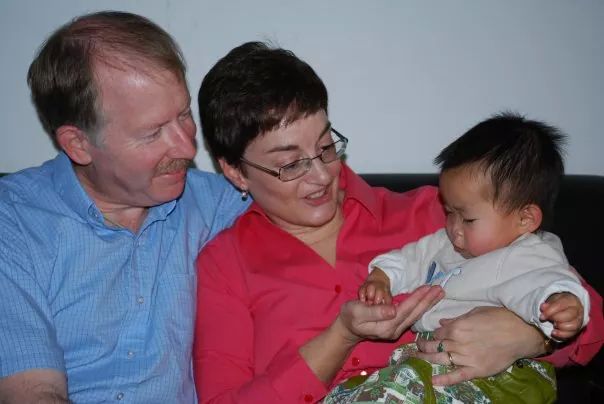 Back in our hotel room, we got to know our new daughter, whom we decided to call Dani after my father, Daniel. She remained contented, calm, and happy. I fed her Goldfish crackers one by one. When I thought she'd eaten enough, she reached for more. It was difficult to believe a tiny 20-pound girl could eat so many. She didn't walk, she struggled to stand, and she didn't make many sounds. But we knew to expect developmental delays, a common occurrence for orphanage children. We put her to bed, and she slept through the night.
Our Cincinnati pediatrician, the mother of three adopted Chinese girls, had warned us that the experience would be like a blind date. There's no way to know how a child will react to her new parents or even whether the reports we'd received about her were accurate. So we prepared for the worst and hoped for the best.
Before we left our hotel the next day, Lynda already seemed like she'd been a mother for years when it came to dressing and feeding Dani. I accidentally poured milk down Dani's shirt three minutes after we'd dressed her. Dani didn't complain.
It was time to drive to Datong, a city of more than 3.3 million people, to visit Dani's orphanage and take care of more paperwork. The facility was located on a campus of clean, modern-looking buildings called social welfare institutes. Inexplicably, we saw only one child in the 15 minutes we spent there, a toddler who sprinted out of a room before an employee caught up to him.
Dani had lived on the second floor of one of the buildings. The orphanage director escorted us to her floor but didn't allow us to walk down the hallway to visit the room she'd shared with other children. I gave our camcorder to an employee, who shot video showing 18 empty cribs in the room, some decorated with Mickey Mouse pictures.
The next day we boarded a flight for Guangzhou, a city of more than 10 million people in southeast China that's home to a major Procter & Gamble facility. All American families adopting Chinese children are required to go there; its U.S. Consulate is the only one in the country that handles documents for American families adopting Chinese children.
The next morning, in this foreign land with its amazing Great Wall, we saw yet another spectacular sight: A hotel dining room with several dozen American families, each with a Chinese child. Most were girls, 1 or 2 years old, in high chairs. Some had older brothers and sisters who came along for the trip. A few couples brought grandparents. Dani continued her quest to break the world record for eating. She ate food from the buffet, including French toast with syrup, bananas, and apples. That night we finally found a food she didn't like: broccoli.
The day's major activity was a medical exam required by U.S. law. A series of doctors examined Dani, and she cried at times. A doctor distracted her with a tambourine with a Chinese drawing on it. As we left his exam room, we accidentally walked out with the tambourine. When we tried to return it to the doctor, he motioned that we should let Dani keep it. We still have it.
In a nondescript office building, we cleared another hurdle: Getting final approval from the U.S. government to bring Dani home. We entered a waiting room, with about 100 chairs, in front of a half-dozen windows with thick glass. A banner hung from the ceiling: "The U.S. Consulate in Guangzhou joins your family in celebrating your adoption. Congratulations!!"
When it was our turn, Lynda held Dani on a metal shelf in front of a clerk. The clerk compared Dani's face to the photo in her red Chinese passport. Her U.S. visa was inside. In the meeting room, a State Department employee acknowledged three November birthdays of the adopted children, and the families cheered. He then asked the parents to raise their right hands. Paul, Laurie, and Hanna stood to our left. Ella, who was in Laurie's arms, raised her right hand too. Lynda cradled Dani in her left arm. Together we recited an oath affirming that the information we provided to the U.S. government on behalf of our adopted children was true and correct to the best of our knowledge.
The next day, we awoke before dawn and headed to the Guangzhou airport for the first of three flights. Before each one, we had to pass through security screening and re-check our bags with a 21-month-old girl in our arms. We finally had a smooth landing at Newark airport and headed for the immigration line. An officer stamped Dani's passport: "Admitted, November 5, 2009." No trumpets blared, no champagne bottled popped, no cameras flashed, but our daughter was now a U.S. citizen. And she had slept through it all.
---
The U.S. has more than 1.5 million adopted children under the age of 18, including 57,000 in Ohio, according to the 2010 Census. We know the common joys and challenges of those families, especially the families who have adopted from China.
Before last summer's return trip, for example, I was asked by family and friends whether we'd be seeing Dani's parents on the trip. We're her parents, I reminded them as calmly as possible.
In China, we suspect people are surprised to see white parents with Chinese children because many Chinese don't know that thousands of Chinese children have been adopted by foreign families. On a street in Datong, a woman began to stare at us as we passed her. She turned around and continued to stare after we were 20 feet beyond her. Even in restaurants, the staff stared at us as we ate—and not just those serving us.
On the plus side, though, Dani learned at an early age that she could enjoy the rich traditions of being Chinese and American, meaning that she probably celebrates more holidays than most of her friends. And in addition to her birthday, she gets to celebrate "Dani Day," her adoption anniversary.
Several weeks after arriving home in 2009, we took Dani to Cincinnati Children's Hospital Medical Center, where her cleft lip was repaired. As it healed, she retained a crooked nose and imperfect upper lip for a while. But I didn't see those features—just an adorable little girl who made our lives more meaningful.
Dani accumulated what seemed like a small library of children's books, but there was no question which was her favorite: A Mother for Choco. It's about a bird who was searching for his mother but couldn't find anyone who looked like him. Instead, a bear—whose other children were an alligator, pig, and hippo—became his mother. What mattered most was the love that Mrs. Bear gave her children.
Throughout the years, we've exposed Dani to Chinese culture, most notably by participating in the Greater Cincinnati Chapter of Families with Children from China, which ran educational, cultural, and social events. We often attended the chapter's Chinese New Year celebrations and Autumn Moon Festival, featuring the lion dance and lantern lighting. Even before our match with Dani, we benefitted from our chapter's Waiting Families group, which oriented prospective parents to the complexities of Chinese adoption.
As Chinese adoption grew, so too did the chapter, which had an estimated 100 families at one point. Hundreds of people attended its New Year's celebrations at times, but as the adoption rate declined, the chapter shrunk to about 20 families. It became inactive last year, though unofficial gatherings still occur. Dani has been friends with a girl in Mason since our first official event a decade ago.
---
We always knew we'd take Dani back to China to see the nation where she was born, often referred to as a heritage tour. The only question was when. So when the van Genderens invited us to join them on their return trip last summer, it was the nudge we needed.
Dani expressed anxiety about the trip at first, but not about what we might have expected, such as a visit to her orphanage. Instead, she wondered whether she'd like the food. We got her involved in the preparation. Dani helped Lynda gather gifts to take to the orphanage, including school supplies. One day, she rushed up to my home office to show me the baby clothing they'd bought. And Dani started to keep a journal about the trip. We also showed her photos and videos from the 2009 trip, hung a map of China in our kitchen with our route outlined, and watched a documentary of families on a heritage tour.
As we checked into our Beijing hotel last June, the van Genderens were relaxing in a distant spot in the lobby. Ella spotted us first, rushed up to us, and gave us hugs. Within minutes, Ella and Dani, who hadn't seen each other in a year, were off exploring the hotel's first floor. Within an hour, these two daughters of Shanxi Province were in the hotel pool together.
After sightseeing in Beijing, we flew to Datong. From the air, we could see lots of farm fields as we descended. It appeared to be a beautiful region, much nicer than the dense city I remembered from a decade earlier when we arrived by highway.
We walked to a small storefront restaurant for dinner. The staff didn't speak English. We guessed at what we were ordering based on the illuminated photos behind the counter. The girls ordered soup with noodles and meat. It was amusing to see Dani and Ella try to eat with chopsticks, having never gotten competent instruction from us. The girls repeatedly picked up single strands of noodles between their chopsticks, only to see them fall back into their bowls.
Lynda and I had agreed that if Dani felt uncomfortable on her visit to her orphanage, she should politely and discreetly let us know. We were concerned about the emotional trauma it might cause. I also worried about the greeting we might get there, since the staff hadn't been very welcoming 10 years earlier. My fears were allayed, though, when several staff members greeted us at the entrance, including the assistant orphanage director and someone with a camera.
They escorted us to a reception room, where we talked about Dani's life in China and the U.S., using our guide as a translator. An employee said she remembered Dani as an active child who was sometimes a little naughty. That's the same girl we knew too. We gave them a photo album of Dani throughout the years. Our guide and the employees laughed at the photo of Dani wearing a "Made in China" T-shirt when she was 5.
School was in session, and we were escorted from room to room, where children of various ages were seated around tables. This was the same floor we had seen 10 years earlier, but this time we were invited to tour it. We were fairly sure that the room where Dani had slept in a crib was now a classroom.
We saw children with disabilities, including cleft lips, visual impairments, and Down syndrome. We saw familiar sights, including the backdrop to the first photos we received of Dani in a play area. Dani later told us that she expected a dirty, rundown place, but it was clean, well-lit, and modern.
When we returned to the reception room, Dani's foster mother, Xue Li, was waiting. We'd never met or communicated with her. We gave her the same album of photos of Dani and asked her what she remembered about Dani, and she told us that Dani liked to play with the family's dog and dance to the ringtones of her cell phone. Lynda and I laughed, and Dani managed an awkward smile.
At one point, Xue Li asked Dani to stand. She put a beautiful silver-colored bracelet on Dani's wrist, and we all hugged. As Xue Li connected the ends of the bracelet, Lynda told me later, she thought about how symbolically that act represented the connections our family had made with a community far from our home.
Xue Li lived in a village of a few hundred people on the outskirts of Datong, and for years its residents have served as foster families for children. We were unaware of any other place in China where an entire town had that role. According to various Chinese news reports, foster mothers had raised more than 1,000 children there since the 1960s.
We expressed interest in seeing the town, to at least drive through it. We were pleasantly surprised when Xue Li invited us to visit her home later that afternoon. Dani later told us she didn't want to visit the home because of how uncomfortable she'd been feeling. We promised her that we'd stay only briefly.
The town didn't have street names or house numbers, so our driver had trouble finding Xue Li's home. She greeted us outside the walled courtyard of her one-bedroom house. It had a kitchen with an additional bed. It also had a bathroom with a modern shower but no indoor toilet. Her home was spotless and orderly, with shoes neatly lined up just inside the door. Not far from the door, a table held a religious shrine with a figurine of Buddha and an incense burner. She served us hot water in glass teacups.
Xue Li took us into the bedroom to meet a boy who was laying on a bed. This was her foster son. She had been caring for him for more than a decade, meaning that she had cared for him and Dani at the same time. It was obvious he had multiple disabilities. He appeared unable to walk or even fully sit up, or talk.
We eventually walked back to the van, where there were more hugs. As we left, Xue Li wiped tears from her eyes. Her home was the only one we visited in China, and it left an impression on Dani. "Their homes are as small as toothpicks," she said. If they would come to visit us, they'd think we live in a "mansion," she said, referring to our four-bedroom house. I pointed out that there are millions of millionaires in China who live in larger homes than Xue Li.
Meanwhile, the van Genderens had their own emotional visits to their daughters' birth places. They told us later that when they arrived at the home of Ella's foster mother they were greeted by several generations of the foster mother's family as well as neighbors. The foster mother, now 80 years old, cried, and one of her granddaughters, who had played with Ella a decade earlier, held hands with Ella during the reunion. "Ella was treated like a celebrity," Laurie said.
The foster mother asked the van Genderens to call her grandmother, and Ella hesitated because she felt like a stranger. "I was in a room with a bunch of Chinese people who didn't speak my language," Ella recalled later. She called the experience "overwhelming" and, like Dani, asked to end the visit early.
When the family arrived at Hanna's orphanage in Yangchun, Guangdong Province, Hanna said she felt like a "foreigner" even though some of them had helped to care for her. "Chinese culture and American culture are so different," she said, "even though I look like them."
We've spoken with the van Genderens about returning once again to this nation that gave us the most precious gifts we'd ever received. And because some of us are sports enthusiasts, we're considering a trip in 2022, when the Winter Olympics will be held only a few hundred miles from Datong.
"I felt at home here," Laurie van Genderen said last summer. "I feel like I'm Chinese by adoption."
Facebook Comments