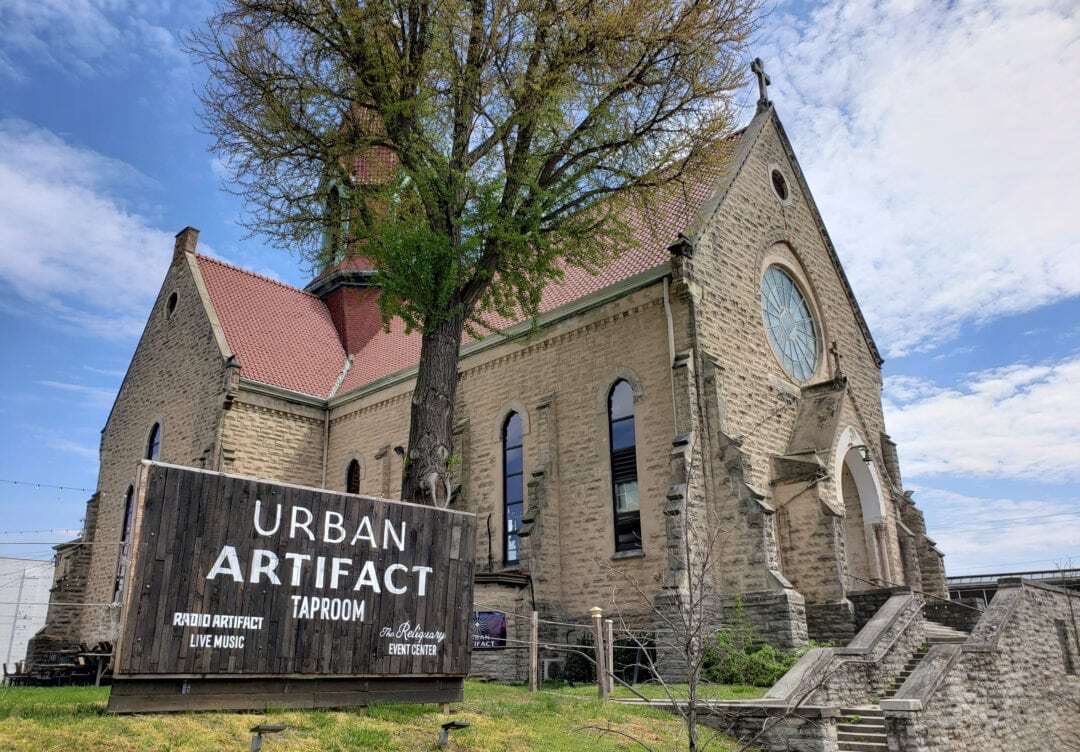 The origin story of Urban Artifact, which celebrates its eighth anniversary this month, is actually a tale of two brewery dreams. It's also the story of high school homebrew hijinks, an interrupted Appalachian Trail hike, and a business partnership gone very wrong.
Growing up in rural Ohio, Bret Kollmann Baker, chief operating officer at Urban Artifact, had a desire to party and very limited access to illicit libations. But he did have a bunch of apples at his disposal.
"I worked on a buddy's farm in Wooster, and on this farm, he had some apple trees that were just for personal consumption," explains Baker. "We read this thing where, if you add yeast to apple juice and some extra sugar, you can make alcoholic apple wine. We picked a bunch of apples, pressed some juice, put in a bunch of sugar and cinnamon sticks, and we tossed in some bread yeast. A couple of weeks later we had this alcoholic apple drink. We threw a big party and had a lot of fun."
A few years later, in college at Ohio State, Baker and his friend, Scotty Hunter (head of sales and chief financial officer at Urban Artifact), were both chemical engineering majors. They refined their passion for fermentation by starting the university's first homebrew club. Hunter went on to pursue an MBA, while Baker also returned to school for a second degree in brewing science. With a clear desire to make their careers in brewing, the two set to work on a business plan over the next three-plus years. They decided to brew sour fruit beers, a less-known class of libations that, they figured (correctly), would allow them to carve their own niche.
Which is about the point in the story when Baker, 45 days into hiking the Appalachian Trail, got a call that soon after led him and Hunter to cross paths with the third Urban Artifact founder, Scott Hand, Urban Artifact's chief brand officer.
"Originally, Scott Hand got approved for a loan for a brewery," Baker recalls. "He had another partner at the time, and they found a property that they were going to be closing on. But his partner—who was going to handle the brewing side—two days before they were going to close on the loan had to come and tell Scott he made a couple of bad investments with the money that was supposed to be for the down payment of the loan. He was pulling out."
Duly freaking out, Hand got a two-week extension on the loan and fired off a Facebook post asking if any experienced brewers just might want to partner with him on a new Cincinnati brewery.
"A friend of a friend saw that post and reached out," says Baker, who tasked Hunter with getting in touch. "I went back into the woods for four days. When I got out, I had about 40 missed calls from Scotty who said, 'Hey, this guy is for real. You need to get back to Cincinnati immediately. It looks like we're going to start a brewery.'"
With a business loan and a contract on a historic Northside church, the newly introduced trio of brewing businessmen launched Urban Artifact, which opened for business in April 2015.
Today, Baker handles the brewing side of things while Hunter manages the business and Hand oversees the taproom experience. In the ensuing years, Urban Artifact quickly came to own the market on fruit sour beers and tarts, all the while welcoming musicians and other event hosts to the taproom for a unique cultural experience. The brewery quickly became a Northside staple.
"We are as much Northside as Northside is us," Baker says. "It's really been fantastic making weird beers in the weirdest neighborhood in Cincinnati."
The three have learned a lot about what Baker calls "ethical capitalism" in the ensuing years ("You can do right by your consumer and your employees and make the world a better place if you're not only pursuing profits"), proven by Urban Artifact's development into something of a business incubator over the last eight years—brands like Radio Artifact (a recording and broadcast studio) and Fruitblood (high-end fruit wines) operate as independent businesses under the brewery's overarching brand.
All of this deserves celebrating, which Urban Artifact will do from noon to midnight this Saturday, April 29, with a free party featuring old favorite recipes, food vendors, live music, and more. The event takes place at the brewery's taproom at 1660 Blue Rock St. in Northside.
With a decade in business just around the corner, Baker has one big idea for Urban Artifact's future. "We're going to continue to do what we're doing," he says.
Facebook Comments