From breweries and food halls to Cuban cuisine and live entertainment, Newport on the Levee is in the middle of a big revamp, and even more dining and shopping options are coming to 1 Levee Way this year and beyond.
Since it opened in 2001, the hub has been a destination for shopping, dining, and entertainment. Located on the south bank of the Ohio River with beautiful views of downtown Cincinnati, the Levee draws 4.5 million guests each year.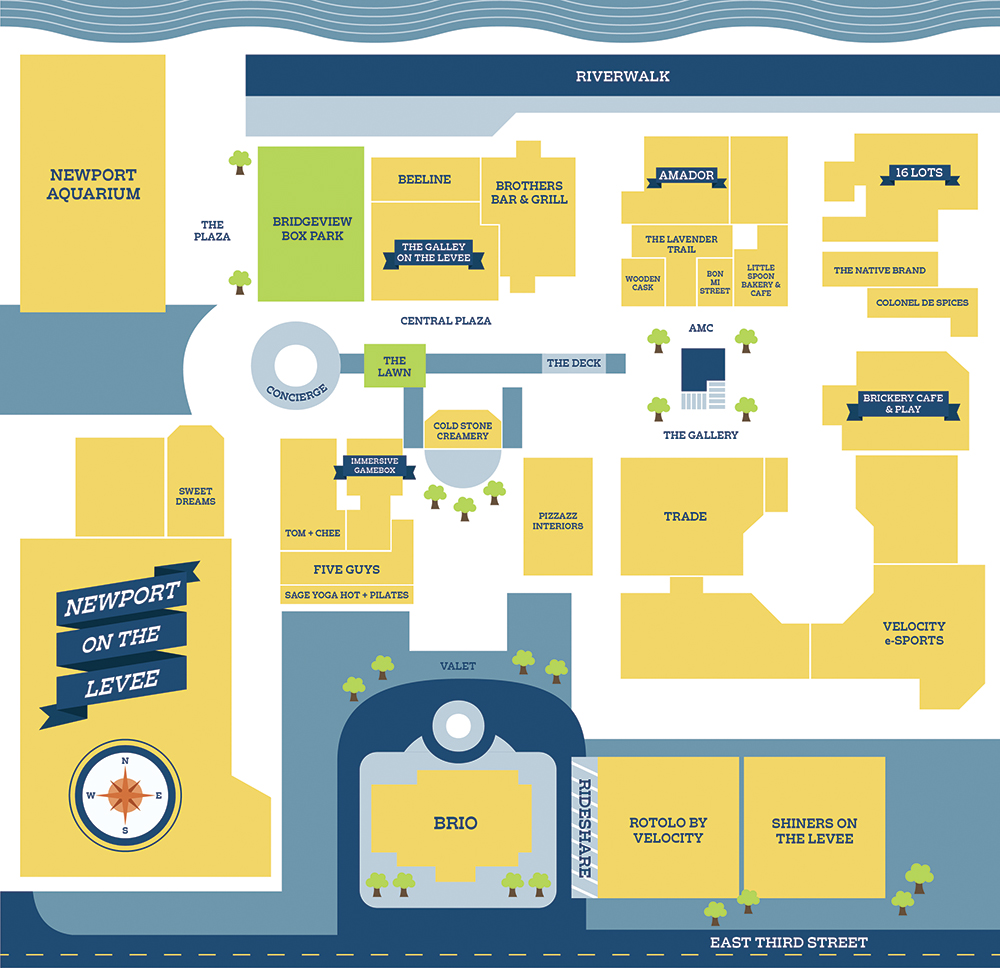 When North American Properties acquired the Levee in 2018, work began to create a vibrant space that enhanced the overall guest experience. "NAP has transformed the dated property into a family-friendly entertainment destination," says Britni Johnson, NAP's director of public relations. So far, NAP has brought in new attractions like Rotolo by Velocity, a bowling alley with an Italian-inspired restaurant now run by Velocity Esports, and Shiners on the Levee, a barbecue restaurant with live country music and entertainment on the weekends.
More changes are coming. Amador, a Cuban restaurant and rum bar, will open along the Levee's riverwalk this spring (Editor's note: Amador opened May 3, 2023. See a sneak peek inside the new restaurant in the video below). Galley on the Levee, a food hall featuring four restaurants and a signature bar, is opening near the central Plaza this summer. Immersive Gamebox, a group gaming experience where players use their bodies as controllers, and The Brickery Café and Play, a first-of-its-kind LEGO café with a retail store and play zone, are also coming soon.
 

View this post on Instagram

 
After our April issue went to press, Newport City Commissioners gave the go-ahead on a projected $140 million Jimmy Buffett's Margaritaville resort development at the Levee. Commissioners heard plans on April 24 for a 264-room hotel to go up in the empty lot near Newport Aquarium and the former IMAX theater, plus a rooftop pool with skyline views, a 2,000-square-foot events center, and three restaurants. Construction is expected to start in roughly a year and the resort could open sometime in 2026, so we'll be counting down the hours 'til it's 5 o'clock at the Levee. In the meantime—has anyone seen our shaker of salt?
Facebook Comments