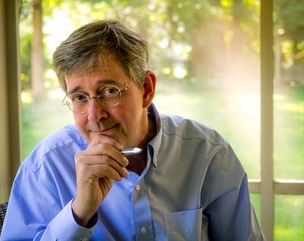 This year, Terrace Park–based author and illustrator Will Hillenbrand published his 70th children's book in roughly 30 years. To mark this major career milestone, we caught up with Hillenbrand to discuss what's changed in his world, what's stayed the same, and what projects he has coming up next (plus some rock solid publishing advice for aspiring authors).
How has the children's book industry changed since you started?
The introduction of picture books as electronic books was a big industry milestone. And there weren't very many independent booksellers 30 years ago in this area—now there are and that's a good thing. The thing that remains consistent is, from the nursery to the nursing home, reading aloud never gets old. If an adult can make time to read to a person they love, that love will be reciprocated.
You recently completed a stint as author and illustrator in residence for Kent State University; now you're doing the same for your alma mater, the Art Academy. Tell us what that entails.
My role at Kent State would be for conferences or seminars; along with that I'd be working with students. I could [also] be 'borrowed' by any department on campus, so if the medical students wanted to know what importance reading aloud would have for patients, I would do that. They have an early childhood center so I would read aloud to children and do programs for adults to talk about why this is something you should make a routine. [At] the Art Academy, I'm mostly there to be a person a student could ask for advice. Everybody needs a champion, so I'm the students' champion—I'll look to their work and try to bring a focus to the energies they have to make what they're doing sharper and finer.
This year, you published two books—the first in a series, Mighty Reader and the Big Freeze, and Santa's Story, for Christmas. What's next?
The next book I have is called Snow Friends, out in the fall of 2020. The current book I'm working on is called Zee's Tree, about a girl who, along with her family, owns a tree farm, [and] a douglas fir is growing up along with her. But within the story there's the science that goes along with the narrative; that's kind of new for me, thinking about how I blend the [two]. And the Mighty Reader book coming [next] is Making the Grade with Partner Power.
You've been sharing some still life art on Instagram; is this a new chapter for you and your craft?
I love linen so they're paintings on linen, but they're all digital. [Even] when you're doing your regular work, as a creative person, there are other things still inside you. It's important to let these things vent; otherwise they bottle up steam inside. Partly it's because my mom passed away a few years back—she had a green thumb; I might have a green brush!
Any words of inspiration or advice for aspiring children's book illustrators and/or authors?
My grandmother told me oral stories from her family when I was a kid; I loved those and nobody else owns those but your family. If you want to write a story in an afternoon because you want to read it to your grandchildren because you love them, that's perfect and that's complete. But If you want to do this professionally, you need to have a professional approach. A children's book is seemingly simple, but—like with anybody—when you do your work professionally, it looks easy. Writing a story is hard enough—getting it published will be at least as hard as that. [Either way,] the very first step I would recommend is becoming a member of the Society of Children's Book Writers and Illustrators. 
For more on Hillenbrand, see this 2012 story from our archives.
Facebook Comments