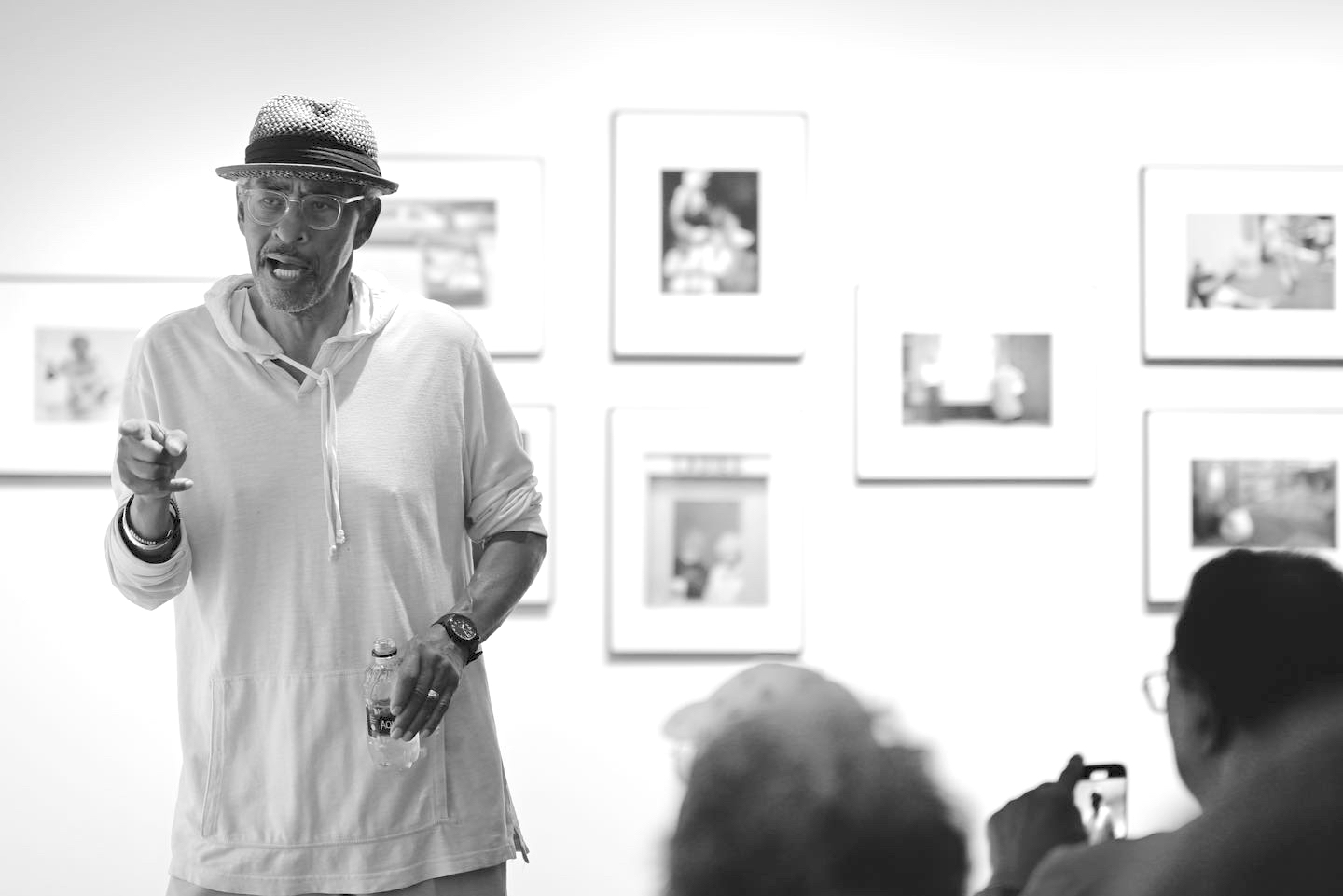 It's always about the work. The phrase became a mantra for Melvin Grier over his 33 years chronicling the area's people and events as a photojournalist for The Cincinnati Post newspaper, capturing images of everything from riots, protests, and military funerals to ladies in pearls and men with tattoos. He was inducted into the Cincinnati Journalism Hall of Fame in 2003.
Over the years, people sometimes referred to his photos as art. "As a matter of fact, in the newspaper business they would say, Do we have art for this story?" says Grier, shaking his head at what he sees as an illogical description of what he churned out daily for his employer, which ceased publishing in late 2007. "I tend to call it 'the work' because that's what it was. It was work. Art was always more elevated to me, more like something I saw in museums or galleries."
This summer, though, Grier's "work" mantra seems a little ironic. The Weston Art Gallery downtown is displaying 94 of his photos in a retrospective exhibition that runs through August 20. Meanwhile, University of Cincinnati Press has combined his images with biographical information and anecdotes into a memoir scheduled for release in August.
The book gives glimpses into Grier's life beyond the camera, including stories about his childhood in the West End and his discovery of photography after winning a U.S. Air Force photo contest in the 1960s. The exhibit leads visitors to analyze the aesthetics of his image of a painter stretching precariously across a ladder to reach a building's awning. It prompts others to compare the color and composition of his moody photos of trumpet players, drummers and saxophonists performing in local jazz clubs. In short, many people are now embracing Grier as an artist.
---
Dennis Harrington, director of the Weston Gallery, says Grier may have started his career as a working man documenter of newsworthy moments—but over the years of photographing mayors, musicians, parades, police lines, and the occasional belly dancer, he fully evolved to the level of photographer virtuoso. "As you're looking through the camera, you're framing an image, making decisions about what you're including," says Harrington. "Therein lies the art."
Harrington wonders if artists like Grier will disappear thanks to current shifts in technology and society. "The world is flying by us," the gallery director says. "We're bombarded by images on our cell phone. We don't take time to look around us. Melvin was forced to, no pun intended, focus on specific things and capture a moment that speaks to the story he's trying to document. Through that process, his art developed and flourished."
Grier's memoir, which like the Weston exhibit, is titled It Was Always About the Work, also makes the argument that he's clearly earned the designation of artist. In the foreword, former Post Managing Editor Mark Neikirk compares Grier to jazz musicians. "His instrument was his camera," Neikirk writes. "A Nikon camera in the hands of Melvin Grier was like a Martin Committee trumpet in the hands of Miles Davis. Expect music. Not just any music. Something elegant. Something relevant. Maybe a little edgy and with something to say. To provoke. To move. To stir. Something with tones you know but something more beautifully assembled."
Given this recognition of Grier's artistic achievements, you might think he would reconsider the words he uses to describe his craft. He hasn't.
On a Tuesday night in mid-June, more than 150 people—five times the typical crowd for a Weston artist gallery talk—jam into the space to hear Grier share insights into his creative process. He never references art. "It was always about the work," he says.
The crowd includes dozens of former Post copy editors, reporters, and fellow photographers, as well as friendly rivals from The Cincinnati Enquirer. As a former Postie myself (1984-2001), I feel the sense of family in the room. Grier tells us that his all-about-the-work philosophy connects to his revelation about the mission of newspapers. "When you first start something, sometimes you think it's about you," he says. "Look at me. I can go to this game or do this or do that. Then you have the small realization that you're not working for yourself. You're working for the people who spend their money on your newspaper. My job was to make a good photograph."
Despite Grier's stance on the art vs. work dichotomy, the people collaborating with him on the exhibit and the book clearly respect his artistic abilities.
Like all art, Grier's photos have a message for viewers, says Harrington, who intentionally sought opportunities for dialogue between images as he created a visual rhythm on the gallery walls. He paired a photo of two Cleveland Browns players in fur coats with a shot of Bengals fans painted in stripes. He coupled perfectly coifed models in designer fashions with a shot from a demolition derby where the subject's pants sag below his boxers.
The results are highly subjective, Harrington acknowledges. "To me, that spoke to the richness and variety of people in his photos. He's captured people from all walks of life and human conditions, and he's captured them in such beautiful ways—from the most humble person on the street to politicians and celebrities like Ken Anderson, Pete Rose, and Simon Leis."
Elizabeth Scarpelli, director of University of Cincinnati Press, says Grier's philosophy led her to make some adaptations in the book. "When we met and talked about the idea of doing a memoir, Melvin came right out and said, You can do a book about the work I've done, but it's not about me," she recalls. "A lot of memoirs have pictures of the person on the front cover. He was saying no. He said, It's about the work. It's not about me."
Scarpelli and Grier's co-author, former Post colleague Molly Kavanaugh, honored Grier's request by structuring the book as more of a conversation than a traditional memoir. "It's more like you're sitting down with him as opposed to a soup-to-nuts history or comprehensive look at his entire life," says Scarpelli. "A lot of the book focuses on the hows and whys of the pictures he took."
Like other admirers of Grier's work, Scarpelli notes the collection's connections to larger societal issues. "He's not just a Cincinnati photographer per se. His work depicts what sometimes goes unnoticed. What you didn't see, what you didn't expect."
She mentions the 1989 photo of the Browns players wearing fur coats and a pre-Post era photo of two men playing checkers that focuses on the board rather than the people. "There's always something unusual or ironic about his photographs," she says. "He takes really simple things and captures that unbelievable view. I think that relates to Cincinnati, which I see as a hidden jewel in the Midwest that has a lot of surprising features."
Grier appreciates such interpretations of his work. "I consider the photographs themselves to be an interaction with the public," he says. "What you're seeing on the walls in the gallery is what I see in that instant I release the camera shutter. Sometimes people see things in photographs that were not my intention. That's interesting."
And Grier is more than happy to talk about those different perspectives. "I like when people ask me questions about the photographs. I throw in an anecdote or two or three. Or four. Or five. Or six. Or seven. Each photograph I look at brings back a memory."
Grier says he has trouble singling out his favorites, though. The jazz photos, featured in a 2016 Kennedy Heights Art Center exhibit called Homage to a Sound, are a passion project. And he's especially proud of a series of streetside memorials to shooting victims he published with text by the late Kathy Y. Wilson in Cincinnati Magazine in 2008. The book includes an excerpt from Wilson's article. "I don't have the words to describe Kathy," he says. "God, that woman could write."
He also mentions a body of work he calls "Storefront Churches." He developed attachments to "here-today-gone-tomorrow places of Godly worship growing up across the street from the Bibleway Church of God in Christ in Cincinnati's West End," he writes in his book. At the gallery talk, he shares a story about his church experiences. "They would do a call-and response thing," says Grier. "The pastor would call out, What do you say about Jesus?" As if on cue, several people in the gallery audience respond immediately with "Jesus is alright!" Grier grins broadly. "That is part of the fabric of my life, my existence," he says.
---
When Grier started at The Post in 1974, he was the paper's first and only African-American photographer. He maintained that status for 32 years, until his daughter Samantha became the second Black photographer just a year before the paper closed. "It's sort of interesting when you think about it," he muses. "In that whole span, we were the only ones. I wish that we had had more Black photojournalists at the paper."
As an African-American photojournalist, Grier often was the only person of color at Greater Cincinnati events. He highlighted that unique perspective with a 2011 exhibit titled White People: A Retrospective, which received extensive media attention and broke attendance records at the Kennedy Heights Arts Center.
But Grier recalls a photo he shot of African-American children at Lincoln Heights Elementary School as possibly his most popular. "We were doing a story on how General Electric settled in Evendale across I-75 from the city of Lincoln Heights," he recalls. "Evendale got the benefits of the taxes, and Lincoln Heights was left out. On my way there, I was visualizing photographs of the kids playing at recess." He arrived after recess was over, unfortunately, and students were ready to go back into the building. He adapted quickly and noticed them forming a line. "As luck would have it, the lens I had was a 400-millimeter, a very large telephoto lens," he says. "It has the effect of making things compressed. Everything looks closer together."
"One by One" shows a tight line of Black children, including a lone boy peeking around his classmates, possibly to spy the photographer. Harrington speculates that the composition and subject matter make it resonate with viewers. "It captures the innocence and playfulness of children," he says. "They're kind of in order, but not really. They're being forced to stand in line, but at any moment they're ready to break free of that. That's where you get the sense of 'one by one.' It's the idea of a group effort or collective forming something stronger. You can go in a lot of directions with that photograph."
Harrington posted the image online on Juneteenth, the holiday commemorating the emancipation of enslaved people in the U.S. "I thought it conveyed the notion that this is the way change is made," he says. "It takes a collective, a group effort, to get something done."
Grier has long recognized the importance of a team approach in the news business. "I can name every photographer in here," he says as he looks around the packed gallery on the night of his talk. "Every writer. Every person on the copy desk. This is my professional life hanging on the walls. But also what I've come to appreciate are the other people who made this possible. Sometimes I would agree with them. Sometimes not."
He cites the handling of "One by One" as an example of the not. When the paper came out the following day, Grier discovered an editor had cut the image in half. "I saw that thing cropped, and I sat on a bench in front of The Post and actually cried," he tells the gallery crowd. Fellow photographers shake their heads in recognition of a common source of newsroom tension.
But such disappointments were fleeting in the news business, Grier says. "I always maintain I was only as good as the last photograph I shot. You could not rest on your laurels. Each and every day was different. We don't get to ponder. We don't get to think about the meaning of life. We've got to go out and shoot it and get it into the paper."
More than 15 years after its closing, Grier still misses The Post. "It was my life every day, five days, sometimes six days a week." Still, the exhibit and the book project have been great experiences. "The nature of photography is we learn something every day," he says. "And that's what's fun." Even if he calls it work.
"It Was Always About the Work" is on display through August 20 at the Weston Art Gallery in the Aronoff Center for the Arts, 650 Walnut St., downtown. "It Was Always About the Work: A Photojournalist's Memoir," by Melvin Grier with Molly Kavanaugh is expected to be released in August. A book signing at The Mercantile Library is tentatively scheduled for fall. Updated information will be on the University of Cincinnati Press website.
Facebook Comments