Editor's Note: In October 2014, Judge Tracie Hunter was convicted on a single count of having an unlawful interest in a public contract, based on giving confidential documents to her brother, a juvenile court employee who was being fired. In December 2014, Judge Norbert Nadel sentenced Hunter to six months in jail. That sentence was stayed by the Ohio Supreme Court later that month, pending Hunter's appeals. Her conviction was upheld by a state appeals court in January 2016, prompting Hunter to file a federal habeas corpus petition, and resulting in a federal stay of the sentence in May 2016. The following year, a federal magistrate judge recommended denying the petition, and in May 2019, U.S. District Judge Timothy Black issued a decision allowing Hunter's sentence to be imposed. On July 22, 2019, Judge Patrick Dinkelacker executed the sentence. Hunter was dragged from the courtroom amid the shouts of her supporters.
It's shortly before 9 a.m. on a morning in late June 2013 and I'm sitting on a hard chair in sallow lighting outside the drab and dated outer office of Hamilton County Juvenile Court Judge Tracie Hunter. Parents of kids scheduled for court wait anxiously while attorneys arrive in their dark off-the-rack suits and practical shoes, i.d. badges swinging from their necks. A faded poster with the words "How to really love a child" hangs on a nearby wall. Somewhere beyond my line of vision, chains jangle, clunk, and drag. It's the sound of juvenile offenders being delivered to court.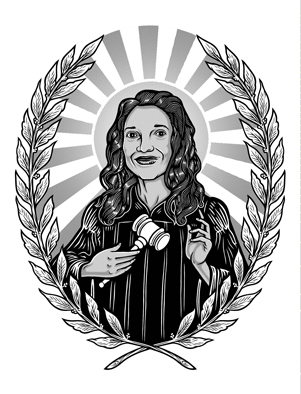 I can't see them, but I know the scene. Their wrists are shackled together. A long chain from their cuffs is cinched around their waists and drops to their ankles, which are similarly shackled and chained. The arrangement forces their feet close together, so they do a shhh-shhh-shhh shuffle in their county-issued shoes and scrubs. I makes me think of slaves being brought to market for inspection.
They are accused of all manner of juvenile wrong turns: assault, theft, possessing a firearm. According to Hunter's orders, they are not to be seen in shackles by the public, their families, or guardians. From my seat, I hear the clanking as sheriff's deputies unchain them behind closed doors.
I'm directly in front of the judges-only elevator when she arrives, escorted by Avery Corbin, her bailiff. She passes in front of me, head down, looking tired.
"Good morning, judge," I say loudly. Hunter smiles feebly and keeps moving.
We've not yet been formally introduced and I haven't filled out applications to be in court. I am hoping to sit in as a non-note-taking observer this particular morning. But just before the first case of the day, Corbin comes back into the hallway.
"Kathy Wilson? Kathy?"
"Yes?" I shoot to my feet, surprised to hear my name.
"The judge would like to see you."
I am in madras plaid shorts and sneakers—woefully underdressed to meet a judge. But I trail Corbin into her chambers. This is my first time laying eyes on the judge in person. She is skinny, big-eyed, slumped slightly forward, and her long black hair needs one last good brushing. Still, she is far more attractive than the deer-in-headlights photograph The Cincinnati Enquirer regularly runs.
"I wanted to apologize for not recognizing you," she says of our ultra-brief encounter minutes earlier in the hallway.
The look on my face registers confusion.
"I read you," she explains. "Yeah. I always liked your column." She is talking about the column in CityBeat I wrote years ago and recently resuscitated.
"Oh, Judge," I say. "I didn't expect you to know who I am but I appreciate you reading my work."
"Do you know anything about cell phones?" She is holding out what appears to be a Blackberry, looking at it longingly. She explains that she was eating in bed the night before and spilled salsa on it and now the keys stick. Calls and texts flurry in, alarms ring and alerts buzz, and there's nothing she can do about it.
The conversation meanders into the subject of her visage in the media. She says she often catches glimpses of her face on the Enquirer's front page as a teaser to an inside story. One day, a friend pulled the newspaper out at breakfast and there she was. She felt deflated, she says, and sighs heavily. "Can't I ever just get a break?"
I seize my chance. "I'm working on a profile of you," I tell her. "A magazine profile. And I'm wondering if you'd be open to answering some questions down the road.
"It could be," I hear myself rounding third in my feeble pitch, "your chance to answer your critics."
That seals the deal. We will talk, she tells me. "I'll do everything I can," she adds. "Just go through Ms. Farris to get on my calendar."
And so I had my introduction to arguably the most controversial—and complicated—judge seated on the Hamilton County bench. I expected it would be a challenge to get within interviewing distance of the woman whose every judicial move has turned into something of a local media obsession—to pull up a chair with a public figure who, despite all that coverage, no one really seems to know. What I didn't expect—and couldn't have guessed—was that Hunter's chance to answer her critics would come in court. And that she wouldn't be the one holding the gavel.
---
On January 10, 2014, Judge Tracie Hunter was indicted by a Hamilton County grand jury on eight felony counts. Four days later, a ninth was added. As this article goes to press, she is scheduled to be tried in Common Pleas Court in Judge Norbert Nadel's courtroom beginning on September 8. Hunter was charged with two counts each of forgery, tampering with evidence, having an unlawful interest in a public contract, and theft in office, plus one count of misuse of a county-issued credit card.
According to a statement released by special prosecutors Scott Croswell and Merlyn Shiverdecker, the tampering and forgery charges pertain to prosecutors' belief that Hunter backdated and signed court entries to make them appear as if they had been created on different dates. Hunter has also been charged with "unlawful interest" in regard to the employment of her brother, Stephen Hunter, a juvenile corrections officer. The charges of theft and misuse of a credit card? That refers to her alleged unauthorized use of public monies to pay filing fees with the Ohio Supreme Court. In a Motion to Dismiss filing, Hunter's attorney, Clyde Bennett II, claimed: "The prosecutors knew when they filed these bogus charges that Judge Hunter had been sued in her official capacity as Judge and only used her court credit cards for judicially related court business." As Corbin, her bailiff, whispered to me during a pre-trial hearing, "It's not like she was shopping at Macy's."
The charges were made public during a work day, and before she left the building—perhaps riding that judges-only elevator one final time—she penned a lengthy e-mail to Juvenile Court staffers. Time-stamped at 4:57 p.m., dated January 10, 2014, addressed to "Everyone at Juvenile Court," with the subject line "THANK YOU AND GOODBYE FOR NOW," Hunter acknowledged the charges and talked about the juvenile justice system and her efforts to change the status quo.
"I want you to know it has been my humble pleasure to serve you," she wrote. "Many of you expressed and understood that Hamilton County Juvenile Court was not ready for its first African-American and Democrat judge."
She said she understood that change is difficult for an institution, "especially after 110 years." (Juvenile Court Law was enacted in Hamilton County in 1904.) Then she rattled off changes she had made to the administration of juvenile justice and the inner workings between staff and juvenile offenders at the Youth Center: increased staff training; changing dress among offenders to diminish fights; assigning second drivers to transport offenders to court to reduce crowding on vans; and the distribution of more underwear to teen offenders, who, she had discovered, were not allocated enough and were forced to share.
"Thank you for continuing to do your best to do right by all people," she wrote in closing. "If you do what is right, your labor will not be in vain. God bless you and thank you for allowing me to serve you to the best of my ability."
The letter—equal parts CV, farewell, and her own prequel version of Letter from Birmingham Jail—is classic Hunter. Wild-eyed though she may appear, she is calm in the mixed company of the court of public opinion. Addressed to everyone at Juvenile Court—including her detractors—it's a jump-off, a throwback, and an answer. It says, in effect: This is what they've accused me of, but this is the platform I ran and won on and remain committed to, and here are answers to those questioning my mission.
It says nothing of vindication. Hunter, who is now 47, doesn't have the hubris to crow about regaining her seat on the Juvenile Court bench. But she doesn't sound defeated, either. Rather, she sounds like a woman who has been baptized in the bloodsport of the Hamilton County judicial system, a little-known aspirant who came as close as any black, Democrat, and/or woman has come to challenge that judicially and fiscally powerful god.
Her path to power—however fleeting or lasting it turns out to be—has been its own kind of Golgotha, flanked on all sides by naysayers, skeptics, and detractors. And the final destination is very much shrouded in doubt.
---
Tracie Marie Hunter—a heretofore politically anonymous black woman without the backing of her political party—threw herself into the burning ring of fire that is Hamilton County politics because, she believed, it was God's will. So much so that when she was declared the loser in her election, she remained convinced that she'd won. And she was right.
It all started in early 2010 when, at the eleventh hour, Hunter filed papers to run for Hamilton County Juvenile Court Judge. Her seemingly last-minute decision had in fact been marinating for nearly 20 years. After graduating from the University of Cincinnati College of Law in 1992, she worked for ProKids as a guardian ad litem—a specially-trained protector of a juvenile involved in legal cases—and as a "contracted attorney" for the public defender's office. She has said that the sight of countless juveniles in court without proper legal representation drained her, but it also inspired much of what she tried to do as a judge—especially unshackling juvenile offenders in her courtroom and keeping their names and faces out of the press.
"Quite honestly, I'm doing what the system should've been doing when I started practicing in juvenile court," she told me when we talked last September.
"I got into the profession to help the least of these," she added, paraphrasing Matthew 25:40. "I stopped practicing in juvenile court for a while because I couldn't take it. I determined if I ever went back to juvenile court I would go back as the judge."
Her opportunity came with the retirement of Judge Thomas R. Lipps, a Republican. "Tracie decided to run for judge literally 24 or 48 hours before the filing deadline," explained Tim Burke, chair of the Hamilton County Democratic Party. "If we'd had any hint [she] was interested, she'd have gotten serious consideration." But the Democrats already had their candidate—Daniel Donnellon, son of the late Ed Donnellon, a longtime Municipal Court judge.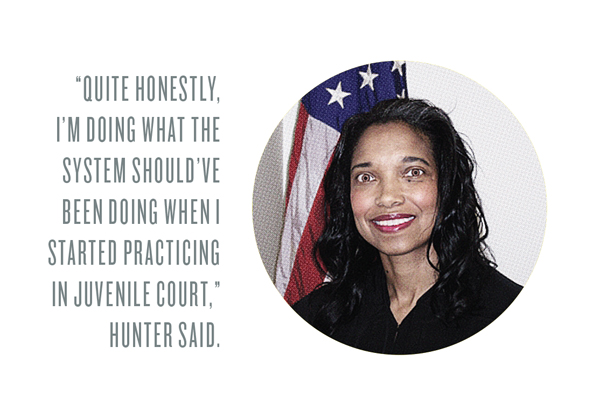 Despite the fact she was upsetting the party's well-laid plans, Burke was impressed with her campaign gusto. "When she spoke about why she should be the candidate she had a great rap," he recalled. Her supporters were everywhere they needed to be, including large-scale events with big-name politicos. When Bill Clinton appeared at Memorial Hall on the stump for the Strickland/Fisher gubernatorial ticket that year, a huge Hunter campaign banner hung directly across the street from the event, impossible to miss.
Which explains how she trounced Donnellon in the primary, 20,626 to 9,202 votes. "Dan worked very hard in the primary and in spite of that she blew him away," said Burke. "Blew. Him. Away."
Hunter emerged as an unknown variable but a viable threat to the seat. That, according to Democrat and Ohio State Senator Eric H. Kearney, is what unhinged an otherwise routine race and remains a sore point today. "I think it's ultimately about power and control of the courthouse," Kearney told me last August. "She didn't come through the traditional means. She wasn't a prosecutor. She didn't come through the status quo. So she threatens people's power."
Her primary victory meant she would face John Williams, a stalwart Republican who had held a string of political jobs (including administrator of Hamilton County Clerk of Courts, director of Hamilton County Board of Elections, and nearly two decades as a prosecutor and magistrate) and was a close friend of Hamilton County Republican Party Chairman Alex Triantafilou. When I talked with Williams about that race, he said he only vaguely "knew of" Tracie Hunter beforehand, but that he certainly didn't take victory for granted. "How can you take anything for granted when you're a first-time candidate?" he said.
It was Hunter who had faith in the outcome. On election night, she felt certain she'd win. "I was at my headquarters and all my people were there," she recalled during one of our interviews. "I had just received a call [that] about 90 percent of the votes were counted and I was winning. And then all of a sudden, somehow [Williams] had swept past. I didn't believe it. I didn't experience a great letdown because I was just so sure I'd won and I was going to be judge."
At issue were provisional ballots cast, in the parlance of elections, at the "right church, wrong pew." It took 17 months, 25 days, and a federal lawsuit to get those provisional votes counted—a nasty wrestling match resulting in a judicial decision that led to a statewide change that now ensures a ballot cast at the correct polling location but incorrect precinct table will be counted. Last year, when I spoke with Jennifer Branch, a civil rights attorney who represented Hunter in the election case, she said that Hunter should be "proud of it.… Everything we were fighting for with Tracie Hunter, no one will have to fight anymore."
Hunter won by 71 votes and was sworn in as a juvenile court judge on May 25, 2012. It was an historic arrival tamped down by a bittersweet reality. In November 2011, her former opponent had been appointed by Governor John Kasich to fill a different vacancy on the bench. The appointment, which happened while Hunter's battle over ballots dragged on, made John Williams the senior juvenile court judge and the court's administrator. So the two adversaries would now serve together, with Hunter relegated to a subordinate position.
Which made me wonder: How much of the Hunter vs. Williams smackdown was about ballot discrepancy and how much was really about political machinations—about the pettiness of shaming the other party?
"The Republican Party was embarrassed that they'd lost the juvenile court that they'd held since the beginning of time, and they lost to a female African-American who had to litigate to get that seat," Branch told me in July 2013. "The repercussions [of that court ruling] are still being felt to this day."
---
Judge Hunter's relationship with the media became contentious early, beginning with the case of the infamously "bored" black teenagers who brutally beat a white North College Hill man on August 11, 2012. Hunter issued an order barring media from naming and/or photographing the teens (or their parents), and videotaping the teens from the waist up. This kicked off a marathon of legal action—including four lawsuits filed by The Cincinnati Enquirer and one filed by WCPO's Channel 9 News.
At issue in each suit was access to Hunter's courtroom by reporters and broadcast cameras. She'd also gone so far as to bar media from naming juveniles or their parents even when juvenile suspects had already been named in public documents (such as police reports). Additionally, both news organizations contested Hunter's practice of requiring 24-hour written consent for courtroom attendance. At the time, Burke contended that Hunter was merely exercising the "Rules of Practice" for Hamilton County Courts, which stipulate that requests for permission to broadcast, televise, photograph, or record courtroom proceedings shall be submitted in writing to the presiding judge or magistrate, who may waive the advance notice provision for good cause.
According to the Ohio Supreme Court, in juvenile cases there is "no presumption that the proceedings be either open or closed." To Enquirer attorney Jack Greiner, that means "it's a big deal to close a proceeding.
"What [Hunter did] in this case is to put these conditions on [media] not to name the juveniles or their parents," Greiner explained. The Enquirer ultimately named them, he acknowledged, after getting the identities from North College Hill Police.  In terms of news gathering, that is normal operating procedure. "It's public record," Greiner said.
The First District Court of Appeals ruled on March 29, 2013, that Hunter had to allow the Enquirer into juvenile court. Hunter did so, but insisted that reporters not reveal the identities of suspects. WCPO ended up suing Hunter for blocking news photographers from filming juvenile defendants above the waist and barring broadcast of names of suspects and their parents. From WCPO's point of view, Hunter's restrictions were tantamount to "prior restraint." Last December, the court found in favor of WCPO.
The Enquirer's legal fight for juvenile court access has been far more convoluted, with—among other things—Hunter threatening to kick Greiner out of court and Greiner filing an affidavit of disqualification against the judge in an effort to have her removed from all proceedings involving the newspaper. Last fall, Ohio Supreme Court Chief Justice Maureen O'Connor ruled in Hunter's favor in response to Greiner's affidavit, finding that "no basis has been established to order the disqualification of Judge Hunter." (Of the four suits filed by the Enquirer, as of early August only one—having to do with Hunter's practice of using only initials to identify juveniles on her case docket—was still awaiting a decision by the Ohio Supreme Court.)
If that were the sum total of the conflict surrounding Judge Hunter, it would have been plenty to keep her name in the news. But her indictment in January made her battles with local media pale in comparison. And all of it only deepened the question of what the driving force is behind her wild ride into politics and public life.
---
I got my opportunity to speak extensively with Hunter last fall in three interviews that took place in the basement of Western Hills Brethren In Christ Church, where she has served as pastor since July 2009. Our conversations were frank and long; often Hunter's responses were tangents that led to more tangents. I never felt she was dodging my questions, but there were times when she seemed to move to a whole different wavelength, flashing glimpses of that saucer-eyed stare captured in numerous Enquirer photos. Often she jumped so quickly from her own words to quotes from Scripture that it sometimes felt like she was creating a God/Hunter mix tape.
Me: What level of emotional toll does this work take on you?
Hunter: My faith and my relationship with God is how I deal with everything. Cast your cares and your burdens on Him. Some of these youths come from complex living situations; some of these parents aren't able to care for them. It's hard because I care. I tend to take the cases home with me. Pray: That's how I handle everything.
It could be that her brain was whirring on multiple cylinders trying to figure out if she could trust me. Would I get it right? Would my race and gender (black, female) expand my rendering of her story and lend it sympathies unreachable by the white, male-dominated media and county governance that had been dogging her? That appeared to be part of the equation. One thing was certain: She seemed relieved to finally divulge what her life had been like since she was sworn in.
Me: Has it so far been worth it—the protracted vote count, court suits, and all the
haranguing with the Enquirer and with Channel 9?
Hunter: Absolutely it's worth it. I'm doing what I'm supposed to be doing. The attacks, the lawsuits—most of them, at their foundation, are worthless. We control a lot of resources for the county. There's never been a black woman [in this juvenile court position] before. That's a threat to many…. The real issue is politics. The real issue is money. I don't shrink from my responsibility. In Hamilton County we just don't follow the rules. The lawsuits that are against me…. I follow the rules. It's [as if] I've created this whole new body of law [when in fact] it's in black and white.
Hunter has a backstory that paints her as a hard-working, obedient kid with a faith that was tested early and often by challenges that have given her Oprah-caliber talking points. She grew up in Forest Park and attended Ursuline Academy for three years before her parents switched her to Forest Park High School her senior year. It was, she says, "culture shock." She has never been married. I asked if she was in a relationship. "Just with God," she told me. When I asked her to describe her childhood, she named her siblings—Erica and Stephen. "I am the oldest," she told me. "I was more of the babysitter. I was probably more like their parent."
What she didn't tell me—and I later learned—is that her parents Charlotte and the late Stephen Edward Hunter Sr., had four children: Tracie, Edward Louis, Erica, and Stephen Edward Jr.
On Friday, May 23, 1986, when Edward was a 17-year-old Forest Park High School student, he embarked on a robbery spree through Springdale and Glendale, armed with .38-caliber handgun. He held up a maternity shop, stole a pound of candy from a candy store, then made off with a box of long-stemmed red roses and a bag of cash from a florist. After a four-hour manhunt, he was confronted by cops on Willow Avenue in Glendale. Surrounded, he shot himself in the right temple.
Tracie Hunter was 19 years old at the time. She has attributed her passion for juvenile justice to other things but it's not farfetched to assume that the public suicide of a teen-aged sibling would also be enough to sear into the psyche of a sad older sister the drive to intervene in the lives of troubled youth.
---
"When God's hand is on you it always is," she told me during one of our sessions. "I remember being always on a search for God. When I went off to Miami University that was the first time I'd ever experienced a black church. I went to wherever the black students went. I was looking and trying to find something more."
Hunter was raised Catholic. In October 1987, during her senior year at Miami, she was involved in a horrific car wreck. The accident—and Hunter's survival—provides some context for her fervent religious belief.
Hunter and others were returning from a Black Student Action Association leadership conference at Howard University. The Miami contingent had taken the bus back from the conference, and Hunter was driving five of her fellow students from the bus's drop-off point to campus when she swerved on a rural road to avoid hitting a deer. The crash broke her right arm, ripped her left knee open, and crushed her right ankle. She sustained serious head and facial injuries, and both of her legs were temporarily paralyzed. She turned 21 in Miami Valley Hospital, lying in a full body cast, with metal rods in her back.
"I was broken from head to toe," she told me. "I've always been a square child, kind of conservative. I remember just praying, 'God, if you let me walk again . . ."
Back home, Hunter's father set up a hospital bed in the family room, her mother gave her sponge baths, and a physical therapist came to the house. "Literally, God is the reason why I'm walking," she told me. "The majority of the feeling in my left leg is gone. That's why I know it was a miracle. Even without feeling I learned to walk again."
By January 1988, she was back at school, slated to take 34 academic credit hours in one semester. "And I graduated on time," she said. "That was my God and I never looked back."
Sometimes when she talks about faith and divine intervention, she can come across like a Sunday morning televangelist. She insists that God told her to run for the juvenile court seat, and that God told her she had won the election even when the vote seemed against her. "God is not a man that should lie," she said at one point.
It's a conviction that should endear her to conservative faith-centric politicos. But that would take a real miracle.
---
Me: Do you feel disrespected?
Hunter: Absolutely. I am certainly being treated differently than other judges.
Me: Do you think you've been naive to Hamilton County political warfare?
Hunter: I knew that it would be a battle. I knew they would not accept me. There's a reason why there's not an African-American judge of any gender in that position.
In one of our conversations, I asked Hunter something I'd long wanted to know: Is she bothered by the public perception of her as a misguided woman—"crazy" even?
"I absolutely do care," she said firmly. Then she got quieter. "It hurts. I can't even begin to imagine, based on all the untruths put into the public arena about me—I only wish there was a vehicle to get the truth out. The judiciary has always been the branch that's less public, and with good reason."
Like many other striving black American women, Hunter has her pick of whom she wants to be on any given day: female, black, Democrat, educated or not, accomplished or not. But it's her blackness that is the elephant in the room. In an Obama-like way, Hunter dances a private jig when it comes to race; much like the president, she can't publicly register the hostility or confusion over the (overt and covert) racism directed toward her as a powerful black figurehead. But where Obama intellectualizes his blackness, eschewing the historical import of his two terms and choosing instead to frame his success in the broad strokes of The American Dream—he only "explains" his blackness when the din becomes too loud to ignore—Hunter addresses her race in boldface historic terms, owning up to being a black female Democrat judge who up-ended the norms of the Republican party's control of the county's judicial power structure. She says her travails have been rooted more in politics; any racism is just collateral damage.
The mash-up of race, gender, and politics was bandied about publicly last year by two white men with party clout who went at it hammer-and-tong over the respect afforded—or rather, denied—black women in the public sphere. In an April 24, 2013, letter published in the Enquirer, Republican county chairman Alex Triantafilou, one of Hunter's major public detractors, described the lackluster political skills of Pamula Thomas, wife of former Democratic Councilman Cecil Thomas, as "incompetent." In November 2012, Pamula Thomas had lost her election bid for Clerk of Courts; that was followed by another loss in the November 2013 race to keep the council seat she'd been appointed to when her husband left to run for state senate.
After Triantafilou's statement appeared in the paper, Democratic county chairman Tim Burke returned fire, noting in a letter to the editor "a disturbing pattern that has developed with the repetitious Republican Party attacks on black women as incompetent." In his letter Burke cited GOP attacks on Hunter and an incident in which Judge Ralph "Ted" Winkler, husband of Clerk of Courts Tracy Winkler, also called  Janaya Trotter—a black female attorney who Hunter requested to have represent her—"incompetent." Burke finished with a flourish: "Is it any wonder that your party continues to struggle in its efforts to communicate with and respond to the need of the African-American community, other minority groups, and women in general?"
Triantafilou responded, admonishing Burke for playing a divisive racial game. "Unfortunately, you have chosen, again, to go down the path of low-ball racial politics," he wrote. "Playing the underhanded race card to further divide this community in such a public manner is shameful…. Someday, perhaps, the Democratic Party will stop seeing a racial motivation for every action and begin to live out Dr. King's true creed of judging people by their character—not their skin color."
When I talked with Triantafilou last year at the beginning of my reporting for this piece, I posed this question: If calling a trio of prominent black women "incompetent" isn't racist, well, isn't it at least racial? Could he see, I asked him, how someone like me could find the racial overtones in such a statement?
"I called [Pamula] Thomas incompetent," he said. "I regret it—and not because of Tim Burke's letter, but because I don't know her. Should I have chosen a different adjective? I suppose. 'Unprepared' would've been a better word for her running for clerk's office. I watched her campaign for clerk. I didn't think she was prepared to run for Clerk of Courts."
While white men play with semantics to describe some of the county's black women, the public conversation about Hunter within the black community has been much less complicated. Blacks don't want to see high-profile blacks "messing up." Full stop. Marcus Coleman, a black defense attorney who has represented juveniles in Hunter's courtroom as a guardian ad litem, says blacks are inescapably associated, whether they want to be or not. "I don't think it's possible to ever divorce ourselves from blackness. I never want [Judge Hunter] to ever, ever look bad," he told me last December, as her conflicts with the media and the prosecutor's office mounted. "We don't ever want another black person to look bad."
It may already be too late for that.
---
Hunter has been cast in the (mainstream) media, on blogs, and in the brutal court of public opinion as an incompetent, inexperienced, and overwhelmed screwball. Is she just unbelievably naive? That was the question I put to Eric Kearney last fall.
"She seems new to the political process and not fully familiar with how people will act sometimes," Kearney said. When I used the word "missteps" to describe Hunter's shaky trajectory, he called it a "learning process." Black or not, he pointed out, public figures have to be media savvy. "She has to learn to use the media to her advantage. And that's true of anyone in the public light. You have to be cautious and sophisticated."
But Hunter also seems to lack the public support of the city's traditional black power brokers in the legal community. I'd heard that Municipal Court Judge Cheryl Grant was in Hunter's corner, but she declined to speak with me, saying through a staffer that it's bad form for one judge to remark in public about another. I asked radio legend Lincoln Ware, longtime host of a blustery and bombastic news talk show on 1230-AM WDBZ, what he'd heard regarding Hunter's predicament. "Other judges are telling me that she should reach out to them for help, [but] that she's not reaching out," he said. "She's pretty much out there on her own, that's for sure."
It is the rank-and-file black church community that carries her banner. They show up at her pre-trial proceedings and weigh in heavily on a Facebook page titled "Stop Disrespecting Judge Tracie Hunter" with electronic prayers, exuberant well-wishes, and attacks on the Enquirer and its reporters. A post this past March thanked the 250 people who attended a "Stepping in the Name of Love" dance party and benefit for Hunter's defense fund. A prayer posted in June asked God to "raise the hedge of protection high around Judge Tracie Hunter," and to "Let the enemies of Judge Tracie Hunter see Your might and power demonstrated by victory and let those who hate her be confounded."
Ware, who has been a black radio broadcasting presence in Cincinnati for 40 years, says Hunter is often the topic of discussion on his show. And he notes the marked difference in how she's treated in the city's various media. "Black media gave her compassion," he told me, "and they felt like she's being discriminated against…. Black media portrayed her as the victim, and white media portrayed her as wanting to be the victim."
Bishop Bobby Hilton, head of the Greater Cincinnati Chapter of the National Action Network, aligns himself with Hunter when it comes to the racial/political paradigm. "I understand [looking] from a distance and [saying] this is gender-based or race-based," he says. "But as a person who's been there from the beginning, I stand on it being political because of how it started. The Republicans have had a stronghold on the Hamilton County Municipal Courts and they don't want to let that stronghold go."
The political hot-potato toss has begun again for Hunter.
In a July 15 pre-trial hearing, Judge Nadel ruled on a series of motions put forth by Hunter's attorney, Clyde Bennett II. Bennett argued that Nadel should dismiss the charges "for abuse of prosecutorial discretion, prosecutorial vindictiveness, selective prosecution, and an un-remediable conflict of interest." He asked for a change of venue to ensure an impartial jury, and also requested that Nadel bundle the nine charges against Hunter into groups of three charges each—making for three trials—to limit jury confusion and so that Hunter wouldn't be perceived "as a nefarious character."
Nadel initially thought Bennett wanted nine trials, a misunderstanding that gave the hearing a brief moment of levity. "Are you suggesting nine separate trials?" the august jurist asked. "Because I was going to check my life expectancy."
This is not the first time Bennett and Nadel have been across the bench from one another. In 2007, the feds prosecuted Bennett for depositing $124,000 into his own account in increments less than $10,000 to sidestep federal rules governing the reporting of large deposits. Bennett pleaded guilty to one federal charge of making illegal financial transactions and served 18 months of a two-year sentence, regaining his suspended law license from the Ohio Supreme Court on April 29, 2011. When he returned to criminal practice—defending Marcus Anthony Isreal, who was charged with killing Warren County Deputy Sgt. Brian Dulle during a high-speed chase—Judge Nadel was his first stop.
"He's one of the best trial lawyers I've ever seen," Nadel said of Bennett at the time.
Bennett is known for taking on controversial, high-profile, seemingly untenable cases. His persona outside court is a version of the one he projects inside it. In the era leading up to his own legal troubles, I recall Bennett driving around downtown in one of his old-school, drop-top whips or straddling a glistening hog with supernaturally loud pipes. If he was on foot, folks got a good look at one of his custom-tailored suits with wide Dynasty-era shoulder pads, severely cinched-in waist, and his full name stitched on the shirt collar or French cuffs.
Those flamboyant, bespoke suits reflect his customized courtroom and media bluster: He can be obstreperous, indignant, and sarcastic, with a wink-wink tone and expression, letting the rest of us in on an attitude that vacillates somewhere between aggression (when he's making a sticky point) and faux boredom (while his opponents have the floor).
His manufactured gravitas aside, Bennett is a fighter—wily and wildly successful in court. His presence as Hunter's defense attorney signals that she is dead serious about salvaging her judgeship and, thereby, her name. With Bennett, Hunter is furthering her reputation as a judicial sweat bee—a mildly annoying little thing at first, but so persistent it won't go away until it's smacked down.
Bennett is at least the fifth attorney to work with Hunter since her battle to win her juvenile court seat. Ohio Justice & Policy Center Executive Director David Singleton and Terence R. Brennan, an attorney specializing in civil rights and employment, were her "legal advisors" during her suits with WCPO Channel 9 and the Enquirer; Hunter used them because she did not trust the lawyers appointed her by Hamilton County Prosecutor Joe Deters. Cleveland-based attorney Richard H. Blake was Hunter's attorney when the indictments were first handed down. And civil rights attorney Jennifer Branch successfully defended Hunter in the lawsuit against the Hamilton County Board of Elections.
Bennett rankles Deters. Or maybe it's the way Bennett portrays the prosecutor's office. After a June pre-trial hearing during which Bennett claimed the special prosecutors were "in bed" with Deters and that "the Hamilton County Prosecutor's Office runs this county," Deters shot back, telling the media: "I'm not responding to people who were in federal prison."
Ultimately, during the July 15 pre-trial decisions, Nadel denied Bennett's motions to dismiss the charges, as well as his request to separate the cases into three trials. For now, the trial will proceed in Hamilton County; Nadel has said he wants to at least see if an impartial jury can be seated.
---
At the end of it all—a year of my life watching, taking notes, conducting interviews, going to church and court—I don't know what I'm supposed to feel about Tracie M. Hunter, the woman in this complicated world of hurt. Despite my understanding of journalistic detachment and objectivity, I cannot shake the empathetic feelings I have for her—or how confused I am by her.
I think back to our final meeting last October and recall what could have been an awkward moment for another writer of a different race, gender, or faith. As we stood to leave, I told her what a massive and important story this is, a story with a lot of moving parts. I said I'd been praying for clarity, truth, and stamina during my reporting. "I always pray when I'm writing," I added.
"Would you mind if I pray for you?" she asked.
A nanosecond passed between us before I answered. "Please do."
We grasped hands and bowed our heads. "Dear Lord," she began in a sweet voice, "Kathy is assigned with a serious task and one she's expressed repeatedly that is an important one and one in which she's committed to telling the truth, oh Lord. We come to you today to ask that you bless Kathy with all the words she needs and with that truth, Lord. And, Lord, we know that Kathy is your child and that she believes in you, Lord, because she's said so. We know this story will be well served, not because it's about me, but because you will bless it, Lord. And Lord we know anything you bless is good."
We squeezed hands punctuating the "amen"—a gesture praying church folk know to do. I never thought that I had crossed some ethical line. God is God.
In November, not long after our basement prayer moment, Hunter's father died. Shortly after that, Hunter herself was hospitalized—first for an undisclosed illness, then after passing out in her courtroom. (The second incident required her to be rolled out of juvenile court on a gurney.) The next day former Councilman Cecil Thomas and Bishop Bobby Hilton descended on a Hamilton County Commissioners' meeting and demanded an investigation of juvenile court for what they deemed unfair treatment of Judge Hunter.
Last December, I went to Hunter's office late in the afternoon to inquire about her condition. "She's recuperating," her assistant Erica Farris told me.  "She's been discharged—from the hospital, not from here."
At the time, it seemed a strange distinction. Looking back now, it seems prescient.
"Could you please pass on my condolences? I heard about her father dying. It's a lot," I said. "It's a lot."
When I got off the elevator, the stately old lobby of the ornate Times-Star building was dark, making me feel like I was navigating the foreign territory of someone else's house by candlelight. I fumbled my way through an exit and just made it back to the car before a wintry mix started to smear the windshield. As I sat there in the cold and creeping darkness of an early winter afternoon, I thought that maybe I should pray for Tracie Hunter's story. The one she's living out.
Facebook Comments