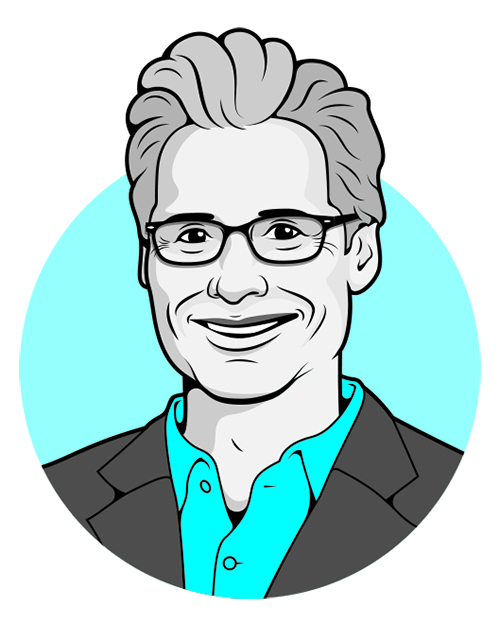 If you're at a music festival in Cincinnati, there's a good chance Bill Donabedian had something to do with it. The 52-year-old Milford resident and longtime local drummer (The Simpletons, Crosley, Clabbergirl, Messerly & Ewing) cofounded MidPoint, started Bunbury (he remains a minority owner under AEG/PromoWest), and spearheaded Fountain Square's live music program. You can also blame him for Cincinnati SantaCon. Next up, Bellwether, which brings the likes of Guided By Voices, Cake, and Beach House to Renaissance Park in Waynesville for its second edition August 9–10.
Music is just a small part of Donabedian's festival portfolio. His ESK Presents promotion company is also behind last spring's PiviP e-sports tournament and gaming conference at Kings Island, as well as the branding and marketing conference Brandemonium, which returns to the Hilton Cincinnati Netherland Plaza October 1-4. That will run concurrently with Brewmania, a new craft beer event October 1–3, followed by Kentucky's Edge, a bourbon festival in Newport and Covington on October 4 and 5.
Donabedian, who went to Miami University and also worked for Convergys and 3CDC, never saw himself as an events and festival professional, but that's what he does now. "I guess I do," he says. "I'm a producer and a promoter. I never planned it. It just kind of happened, slowly but surely. It's a tough business though. A tough life. It's so risky all the time. Definitely stressful, and not for the faint of heart."
---
Having sold Bunbury, did you have the itch to get right back in the game, or is Bellwether something that you wanted to do anyway?
Really, the guys who own the Renaissance Festival approached me. It seemed like an awesome place to have a festival, but with camping, because of all their property. And I had met this guy Patrick Ryan, who books Daryl's House [the upstate New York club owned by Daryl Hall]. We had hit it off, and he had never done a festival, so when this opportunity came up, I called him right away.
What makes Bellwether different?
It's just a little more boutique, and intimate. People talk about, "there are too many festivals." But there's so much great music out there. I really wanted to get back to the idea of a truly alternative music festival. Find some great up-and-coming acts, as well as some existing bands with staying power. A combination of giving people something they didn't know about and something they can get excited about right away.
A lot of festivals are trying to be everything to everyone. There's nothing worse than going to a music festival and one year, it's a country act, and then there's a hip-hop act the next, and then a DJ or EDM. I mean, come on. What the hell is Ariana Grande doing playing at Coachella? If you're going to have fans that come back, you need to be consistent. You've got to tell a story.
What are you most personally excited about this year?
I'm a big GBV fan. I think Bob Pollard crafts the perfect two-minute pop song: hook after hook after hook. I'm a sucker for that. And I'm really most excited about Beach House. Patrick was all over that. He's like, "I'm telling you, these guys are awesome, they're selling out here, they're selling out here, we've gotta get 'em, it's going to be the perfect music for the night." And I think he's right.
Did you camp last year, or is there VIP digs for staff?
Well, I wouldn't call it VIP. But I wasn't in a tent. How about that? I'm too old to do that crap. Even if I just camp out overnight in the backyard with my kids, my back is too stiff the next day.
Do you think Bellwether can also be a feeder festival for Bunbury, or AEG/PromoWest's proposed Newport music venue?
It could be. I'm excited that there's all this development, and all this music is coming to the area, because it's been a long time coming. We've lacked the different venues. We've lacked some truly curated booking, as opposed to passive booking, where whatever's coming through is fine. So I think Cincinnati and Greater Cincinnati is definitely going to benefit. More choices, more artists. Kind of shake things up in this market.
So you're bullish on the future of Cincinnati, and for Cincinnati audiences.
I am. I'm bullish on events, period, because you can see it: people aren't buying as much stuff. They're buying experiences.
Some people say, "oh, the music festival bubble, it's burst." And I know that ticket sales across the board are kind of down. Well, the large four-day festival that is just like the festival that happened in another large market two months earlier, which just happened in another large market three months earlier—I think there aren't going to be many of them.
But I do think that people still want great experiences, and they don't want to be in such a large herd. It's almost like they're looking for that special someone kind of thing. And once they find it, if you do the right thing, they're a customer for life.
If you can find something that people are really passionate about and pair it with music or pair it with some other activity, you'll have a really strong successful event. There's a festival that's doing really well up in Mansfield, Ohio, called Inkcarceration, that's all about people with tattoos, and it's a music festival. Same with Kentucky's Edge, which is our bourbon event. Bourbon is white-hot and bourbon fans are big fans. There's a culture around it.
Are Kentucky's Edge, Brewmania, and Brandemonium meant for the same people, or are they bundled together more as an infrastructure thing?
Brandemonium is a branding and marketing conference. And we realized a lot of people [attending] wanted to know what was happening in Cincinnati, and they wanted more networking opportunities. So, you know, Cincinnati has an awesome history in beer, and a great craft beer scene right now, and the Brewery District. So it was a no-brainer—"We need to do a Cincinnati craft beer festival." It's an event that Brandemonium attendees get to experience just by being there, and if anyone else wants to come, come on down!
And we always wanted Kentucky's Edge to follow. Cincinnati and Northern Kentucky have three really big competitive advantages: branding—brand management was born here, beer, and bourbon. We wanted to create a week that really highlights the region.
Will the PiviP e-sports conference be an annual thing for sure?
I'm about 99 percent sure. I think we've got a great idea, and a great partner in Kings Island. I think of all the things that I'm working on, the one that could be the biggest is PiviP, because the video game industry is bigger than the music and movie industry combined. E-sports is now an over $1 billion industry. And I'm focusing on the market that I think a lot of people are ignoring, and has the most growth potential, and that's amateurs, and collegiate athletes. I think it's going to be something special.
I forget what I was reading the other day, but someone was just talking casually about playing Fortnite, and meeting someone through Fortnite. It really is just part of the culture now, like music on the radio.
People play video games all the time—even if they're just playing Angry Birds or Candy Crush on their phone—but they kind of look at the idea of e-sports, or some of these conferences, as a little strange. It's like, wait a second, you're already in this culture, you just don't know it! And if you'd spend more time in it, you'd probably have a little fun.
We're already so connected through social, but what's even more fun is to play together. You can be playing with people who are halfway around the world. Totally different culture, totally different background, whether you're competing against them, or working with them on some type of mission. Think about how powerful that is.
And the people who become the cream of the crop [in gaming]? When they're online, people can chat with them. You can't chat with Ben Roethlisberger when he's in the huddle.
You've mentioned that another reason why you started PiviP was because your kids are into e-sports. Are they into music too?
Oh yeah. I made sure that they didn't listen to that Barney crap, or Teletubbies. I'm exposing them to lots of great music, from a lot of decades, and all different kinds of genres. We listen to classical music, and we listen to classic rock, and a whole bunch of other stuff, from music I wrote, to some of the biggest bands today. They both love Imagine Dragons. That's their favorite band right now.
It's fun to see them respond and react. You get to almost discover music all over again. I remember one time driving home, "Tom Sawyer" came on. I fricking love Rush—that's how I learned how to drum. I turned it up and I could see my boys were like, YEAH! So I think I'm doing a good job as a parent [laughs].
Facebook Comments