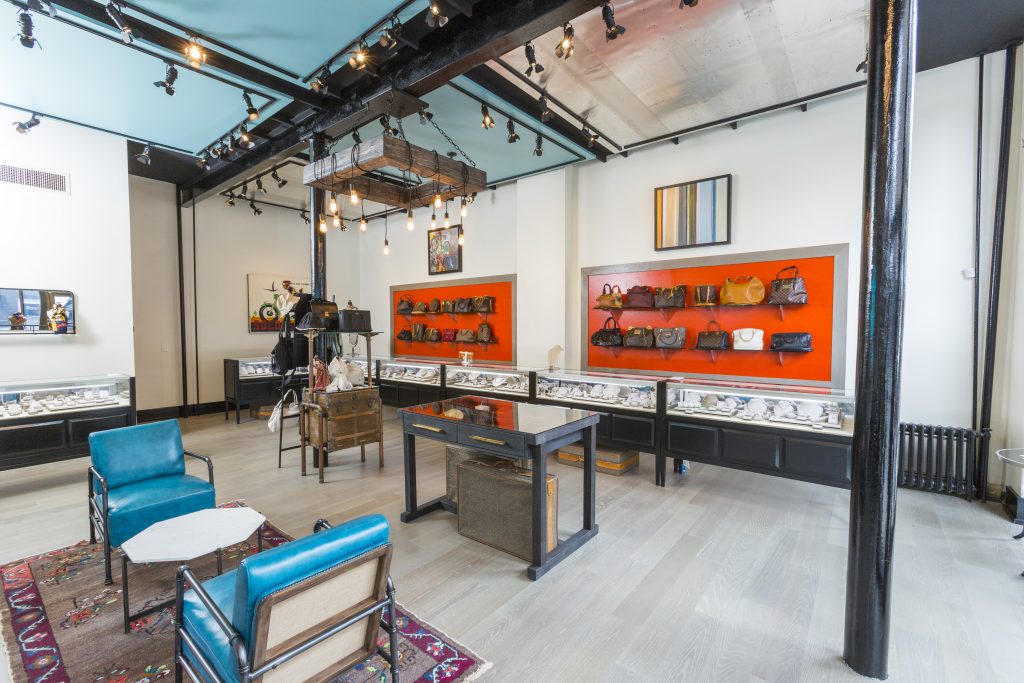 Rows of vintage and new designer handbags line the walls of a quaint Hyde Park boutique. From Tom Ford to Chanel to Louis Vuitton, no single designer dominates over the others and each high-end brand shares equal space atop the shelves. Sunlight shines through the boutique's ceiling-to-floor windows and glass door, illuminating cases of diamond, gold, and silver jewelry, from designers like Tiffany & Co. and David Yurman.
Loacted just around the corner from Hyde Park Square, Shop Jacob James boasts the most elite brands, seemingly embodying all of New York City's Fifth Avenue under one roof. The best part? All of the shop's items have been re-sold, refurbished, and are now selling for a fraction of the original price.
Stafford Jewelers' Amy Stafford and her sons, Jacob and Jimmy opened Shop Jacob James on June 1. After more than 20 years in the diamond industry, the Staffords learned a thing or two about selling luxury items. They also noticed that more and more customers were looking to sell their gently used, high-end items. "A lot of people want to get a new bag and they want to get rid of the ones that have been sitting in their closet," Michelle Randle, Shop Jacob James' store manager, says. "Today we live in such a green, recycled world that Shop Jacob James is the perfect fit."
Although digital retailers like the RealReal and Poshmark have dominated this industry online, there are few stores that offer a tangible shopping experience for customers in the market of pre-owned luxury items. "There's nothing else in the city like this, so there was a need for it," Randle says.
Stafford emphasizes that Shop Jacob James does not consign products. Instead, they buy new (some even still with the original tags) or gently used items from local sellers. Within 24 hours of bringing a product into Shop Jacob James, the shop's staff will research the item and make an offer to the seller. Randle says the team conducts thorough research to find a fair market value and then meticulously refurbishes purchased items (designer bags are even resold with authentication certificates).
Most of the refurbishing is done by Shop Jacob James, with the exception of occasional products that need to be sent to partnering companies. "What's nice about the jewelry is that we are jewelers," Randle says. "So, we can refurbish the jewelry back to complete new condition. It's like buying a new piece of jewelry but for a fraction of the price."
The Stafford's history in the jewelry industry also allows room for creative movement in terms of what jewelry can be sold at Shop Jacob James. If the items in the display cases aren't quite what you're looking for, Randle says, they most likely have a way of finding exactly what you want.
Hyde Park is centrally located between the Montgomery and downtown Stafford Jewelers stores, so opening Shop Jacob James right off the square was the obvious option. "We [want to] reach a larger market of Cincinnati," Stafford says. The family also wants to continue building lasting relationships with their customers. Rather than just being a faceless name behind the brand, the Stafford family has made a point to regularly work in the store and be involved in the day-to-day operations. "It's a face-to-face type of business," Randle says. "It's just a friendly atmosphere."
Shop Jacob James, 3446 Edwards Rd., Hyde Park, shopjacobjames.com
Facebook Comments